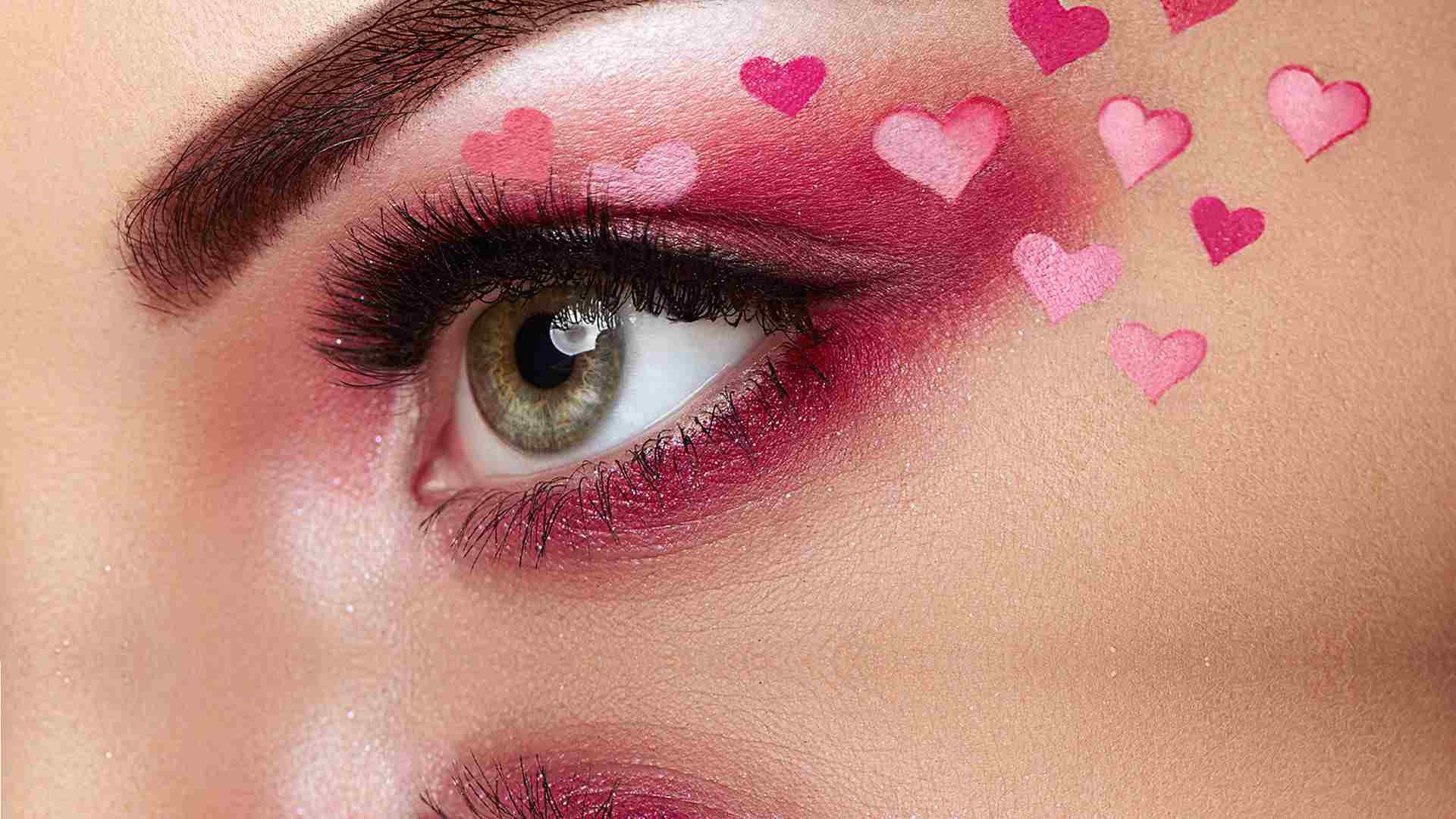 makeup looks
18 Gorgeous Valentine's Day Makeup Looks
Valentine's Day—it's a time for love, lots of chocolate, and rocking a romantic makeup look. We'll leave the chocolate to you, but we can certainly help with finding your perfect Valentine's Day makeup look. Valentine's Day only comes once a year, but we guarantee you'll fall head over heels for these makeup ideas—so much so that you'll continue wearing them long after this February 14th has passed.
Whether you're celebrating by hanging out with your best girlfriends, watching a rom-com, or meeting your significant other for dinner, find the Valentine's makeup look that best suits your plans, and love will surely be in the air.
1. RED LIPSTICK
Red lipstick is a beauty staple for a reason. This rich hue gives your pout a sultry and sexy look that couldn't be more on-trend for Valentine's Day. Let your lips do the talking with the help of the L'Oréal Paris Infallible Matte Lip Crayon, Lasting Wear, Smudge Resistant in Caramel Rebel. This matte lip crayon not only goes the distance, but it also will prevent your pout from smudging or feathering for a picture-perfect finish.
2. PINK EYESHADOW
In the mood for a soft and pretty beauty look? Look no further than pink eye makeup. Pink eyeshadow will provide a playful yet sophisticated vibe that won't go unnoticed. And if you want to pull out all the stops this Valentine's Day, this eyeshadow color is sure to take you there. Color your lids with the L'Oréal Paris Infallible 24HR Eyeshadow in Always Pearly Pink to make a lasting impression.
3. HEART EYES
Want to go all-in with the Valentine's Day theme? Well, there couldn't be a more perfect occasion to adorn your eyes with hearts. Create a pretty pink eyeshadow look of your choosing, then scatter hearts, so they flow outward from your outer corner. Use pink and red eyeliners to draw on your hearts, or, if you're not quite so artistically inclined, grab a pack of stickers and quickly reinvent your look.
4. GLOSSY LIPS
A glossy look will never steer you wrong. The perfect way to enhance the shape of your lips and call attention to your pout, you'll never look at lip gloss the same. Best of all, you don't need to worry about a sticky pout when you use the L'Oréal Paris Infallible 8 HR Gloss. Its hydrating formula works wonders to keep your lips soft and smooth for a polished finish.
5. METALLIC EYES
If you want all eyes on you, metallic eyeshadow is a top choice. These shimmery shadows will work to give your eyes a lustrous touch that draws the eye. Whether you opt for a single shadow look or a blend of metallic shades for a smoky effect, this idea will pair well with any look you dream up. Use the L'Oréal Paris Brilliant Eyes Shimmer Liquid Eyeshadow Makeup to give it a try.
6. VIOLET LIPS
Who says you have to stick with tradition when it comes to your makeup look? Instead of celebrating Valentine's Day with your signature lip color, switch things up with violet lips. This rich color will give your pout an irresistibly full look. Swipe on the L'Oréal Paris Infallible Pro-Matte Les Macarons Scented Liquid Lipstick in Blackcurrant Crush to see what we mean.
7. VOLUMINOUS LASHES
One of the easiest ways to upgrade your makeup look for Valentine's Day is to focus on your lashes. Voluminous lashes add an extra touch of glam to your look with little to no added effort. Swipe a few coats of the L'Oréal Paris Bambi Eye Waterproof Mascara, Lasting Volume on for a flirty fringe.
8. HALO EYE
If you've been MIA lately, halo eyes are totally in! This look places a bright pop of shimmer on the center of the lid and has darker eyeshadow radiate outward for eyes that look bigger and rounder. Get ready to show off your blending skills with a little help from our article, What Is Halo Makeup? Here's How to Rock This Buzzy Makeup Trend.
9. DEWY SKIN
Valentine's Day falls smack dab in the middle of winter, which can lead to your skin looking a little, well, duller than usual. That's where a dewy foundation, like the L'Oréal Paris Infallible Pro-Glow Foundation, comes in handy. Imagine how amazing luminous-looking skin will look against a candlelit backdrop during your date? Use a makeup blender, like the L'Oréal Paris Infallible Blend Artist Foundation Blender, and apply the foundation onto your skin in rolling and dabbing motions for seamless coverage. Trust us, your skin will thank you!
10. SMOKY EYES
You can't talk about an occasion that's known for being a popular date night without covering the smoky eye. A go-to for all sorts of dates, smoky eyes are the gift that keeps on giving. Head on over to our article, The Perfect Smoky Eye for Every Shape, to learn how to smoke out your shadows, and consider incorporating a burgundy or fuchsia shade for a Valentines-appropriate twist.
11. ROSE GOLD LINER
In our opinion, Valentine's Day is the perfect holiday to try out the gorgeous rose gold makeup trend. After all, what makeup shade is more romantic than rose gold? A subtle rose gold eyeliner is easy to apply and easy on the eyes. Line your lids with the L'Oréal Paris Voluminous Lash Paradise Liquid Eyeliner in Rose Gold for a head-turning look.
12. CAT EYE
There is nothing more feminine than a stunning cat eye! This look works to enhance the shape of your gorgeous peepers while serving up some serious sass for an unforgettable look. A great way to usher in Valentine's Day on a super-girly note, you can't go wrong with giving this look a go. Reach for the L'Oréal Paris Infallible Flash Cat Eye Waterproof Brush Tip Liquid Eyeliner for a perfectly sculpted cat eye.
13. CUT CREASE
If you're game for adding a dramatic touch to your beauty look, it's time to brush up on your cut crease skills. Super-pretty and chic, this look is all about carving out the crease of your eye with a dark eyeshadow for a glamorous touch. Head on over to our article, How to Create a Cut Crease to bring this look to life.
14. PURPLE UNDERLINER
Lining under your eyes has become one of the hottest beauty trends, so you can count on seeing bottom eyeliner all over this Valentine's Day. A great way to spice things up, shifting your eyeliner to your lower lash line will help make your eyes stand out. Even better, use the L'Oréal Paris Infallible Pro-Last Waterproof, Up to 24 HR Pencil Eyeliner in Purple for a fun streak of color.
15. GLOWING HIGH POINTS
If you want to embrace your inner angel, why not glow like one this Valentine's Day? To do just that, apply highlighter to all the right places. Pick up the L'Oréal Paris True Match Lumi Glow Amour Glow Boosting Drops, and sweep it on above your cheekbones, down the bridge of your nose, and on your forehead and cupid's bow. You can even give your full face a gorgeous glow by mixing a few highlighter drops into your foundation or primer.
16. MONOCHROMATIC MAKEUP
Ready to take some cues from Hollywood A-listers? Welcome to the wonders of monochromatic makeup. This look keeps your makeup simple by only relying on one hue for your eyes, face, and lips. The end results are undeniably pretty, and it's an excellent option for a quick and easy makeup look. Head on over to our article, 5 Trendy Monochromatic Makeup Looks, for ideas.
17. BLUE LINER
While we're sure you won't be feeling blue on Valentine's Day, adding a blue liner to your look is not a bad idea. This color offers something different than your traditional black liner and allows you to play with color. Step outside of the box and use the L'Oréal Paris Matte Signature Liquid Dip Eyeliner, Waterproof in Blue for a pop of color you won't be able to get enough of.
18. INNER CORNER HIGHLIGHT
Who says that highlighter is reserved for your cheekbones? An inner corner highlight can take your eye makeup game to new heights. Perfect for those who want to try something new, this glowing touch doesn't skimp on glamour. Give your eyes a beautiful accent with the L'Oréal Paris True Match Lumi Shimmerista Highlighting Powder. Using a small makeup brush, apply the highlight to the inner corner of your eye for a bright-eyed effect.
Next: 14 Gorgeous Hairstyles That Are Perfect for Valentine's Day
Discover more tips & tricks
Keep your skin happy
See all articles