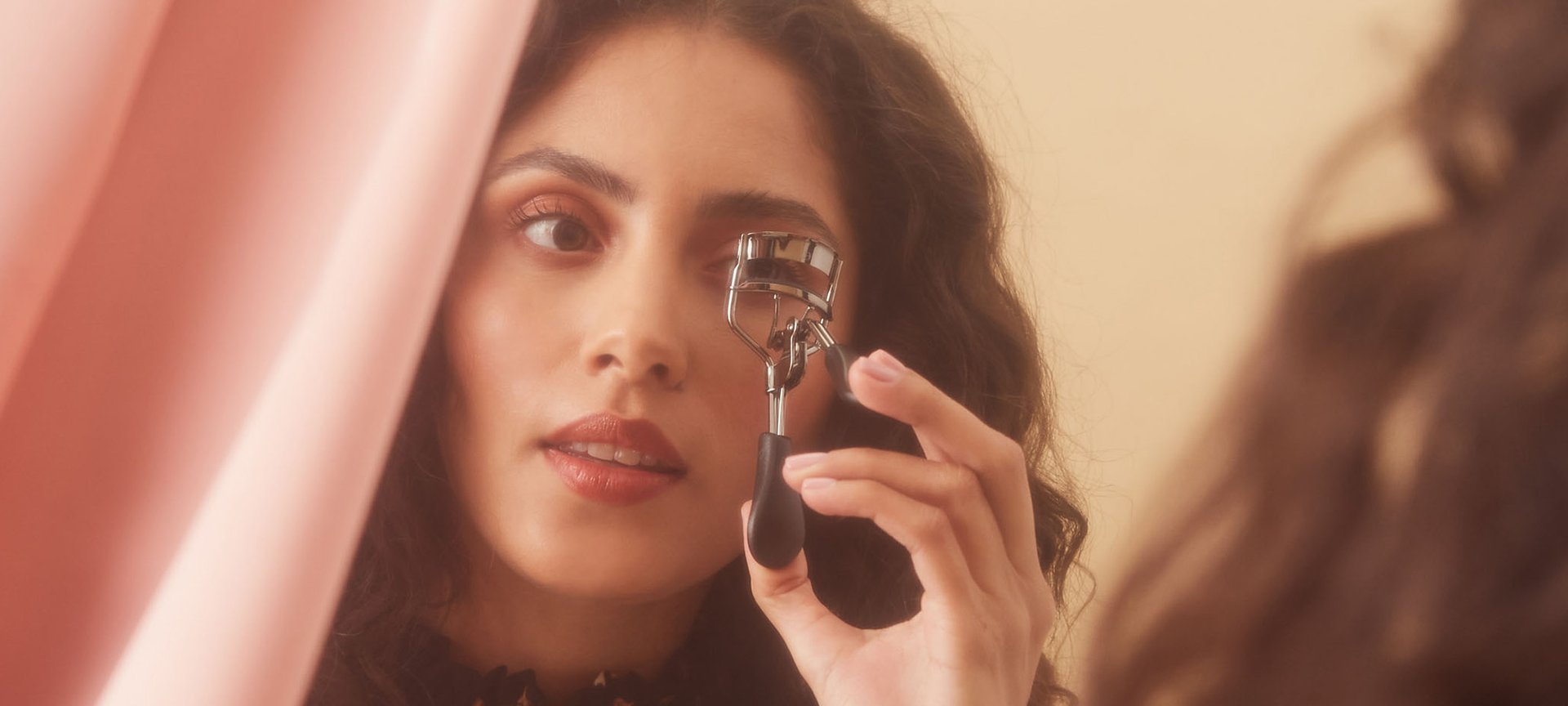 makeup looks
How To Properly Use An Eyelash Curler
The foundation for gorgeous, dramatic lashes.
There's nothing quite like the appearance of curled lashes — especially as a starting point to a dramatic, fanned-out lash look. But if curled lashes is one beauty look you've just not quite mastered, then it's time to add an eyelash curler to your makeup bag. We know what you're thinking: It's an old, well-known tool you haven't invested in for a reason. Do eyelash curlers really make a difference? Yes — they do! It's all about knowing the proper way to use one.
The thing is, if you've never learned how to use an eyelash curler before, you may not be sure how to make it a part of your daily makeup look. And if you're just learning how to apply eye makeup, you'll soon find out that it's a must-have. Luckily, a lash curler is actually pretty easy to use. Below, we're spilling trade secrets on how to curl eyelashes and upgrade your eye makeup routine.
The Right Way To Use An Eyelash Curler
If you've ever wondered whether eyelash curlers are bad for your lashes, the answer is, they're not — if you use them correctly. Before we get into how to curl your eyelashes with a lash curler in your makeup routine, let's go over the do's and don'ts so you can avoid unnecessary damage to your lash fringe.
1. Always Use A Clean Tool
Eyelash curlers need to be cleaned, just like your makeup brushes do. Neglecting to clean your curler can lead to an eye infection — so make sure to add your eyelash curler to your list of makeup tools that are due for a cleaning. You can simply wash it with soap and water for a clean, blank slate.
2. Curl Your Lashes Before Mascara
Do you use an eyelash curler before or after mascara? Well, you should always curl your lashes prior to applying mascara — not after. Not only can working in the opposite order lead to a dirty lash curler, but curling after can actually crack your lashes in the process since mascara makes your lashes stiffer. This is why eyelash curlers can sometimes get the rep for being bad for your lashes. It's not the curler, it's how you're using it!
3. Don't Forget To Curl Upward
A lot of the time, people forget to clamp their lash curler over their lashes and to gradually work the curler upward but you don't want to skip this step. Doing this will give your lashes an instant lash lift along with some curl — not to mention it will keep your eyelashes curled for longer.
4. Don't Keep The Same Curler Forever
Generally, lash curlers aren't the type of product you can keep forever and never replace. Over time, the pads that help curl your lashes wear out, and you'll notice your curl isn't quite as nice. You can buy replacement pads for some eyelash curlers, which lets you keep your curler for the long haul, but others might require buying a whole new lash curler altogether.
How To Add A Lash Curler To Your Makeup Routine
Now that you know the basics on what to do and what not to do with your curler, let's get into incorporating it into your daily makeup routine. Follow these six steps for curled lashes and an easy eye makeup look.
Step 1: Clean Your Lashes
Remember, it's best to begin with clean, bare lashes (this is especially important if you use a heated eyelash curler). Curling lashes that are already coated in mascara can leave you with a crusty, gunky curler, making it harder to use. Since we're sure we can all agree that's a situation worth avoiding, give your lashes a quick wipe down — to remove any mascara residue — before grabbing your lash curler.
Simply hold a cotton pad soaked in cleansing micellar water, like the L'Oréal Paris Micellar Cleansing Water Complete Cleanser Waterproof - All Skin Types, over your eyelids for a few seconds, then wipe to remove any eye makeup that may be lingering on your lashes. Micellar water is a convenient cleansing option, as it doesn't require any rinsing. You can also use it to give your lash curler a quick wipe down after each use.
Step 2: Curl Your Lashes
Yup — and just like that, you're ready to pick up your eyelash curler. Start by holding the lash curler up to your eye. While your eye is open, open the curler. Place your lashes between the clamps, getting as close to the base of your lashes as you can without pinching your eyelid. Close the clamp on your eyelashes, and hold it for five to seven seconds. After you release, walk the eyelash curler out and repeat once in the middle of your lashes and once at the tips for a complete curl.
Step 3: Add Remaining Eye Makeup
If you're going for a no makeup, makeup look, feel free to skip this step. Otherwise, you'll want to apply eyeshadow and eyeliner before mascara, or you could end up with lashes covered in eyeshadow fallout — and that'll just add more time to your makeup routine. Sweep a neutral shadow from the L'Oréal Paris Colour Riche Monos Eyeshadow collection onto your lids, then use the L'Oréal Paris Le Liner Signature Easy-Glide Mechanical Eyeliner, Waterproof in Noir Cashmere for an invisible eyeliner effect. This technique, called tightlining, is done by gently pulling up on your eyelid and lining directly on your upper waterline.
Step 4: Swipe On Lash Primer
Obviously, this tutorial is all about the lashes, which means you'll want to make use of a lash primer. Trust us, adding this one extra step to your makeup routine is seriously worth the results. In fact, a quick coat of primer can help your lashes maintain their curl for way longer. Not only that, but a single coat of the L'Oréal Paris Voluminous Lash Paradise Mascara Primer/Base can help your mascara apply more smoothly and boost its effects.
Step 5: Apply Mascara
You knew this was coming — it's time to apply your mascara. Try the L'Oréal Paris Voluminous Lash Paradise Washable Mascara or the L'Oréal Paris Voluminous Noir Balm Washable Mascara. Place the brush at the base of your lashes, then gently sweep up to the tip, being sure to completely coat your lashes and cover up any visible pink left by the primer. For an added boost of boldness, brush on an extra coat.
Step 6: Add An Inner Corner Accent
Your cheeks aren't the only spot that can benefit from getting their glow on. Apply a light, icy eyeshadow, like the L'Oréal Paris Brilliant Eyes Shimmer Liquid Eye Shadow Makeup in String of Pearls, to the inner corners of your eyes and below your brows to give your eyes some brightness and a wide-open look.
Next: How to Contour Your Lashes
Edited by: Shalwah Evans, Photo Credit: Chaunte Vaughn
Discover more tips & tricks
Keep your skin happy
See all articles
Shop Featured Skin Care products
Discover More