face makeup
How to Find Your Skin Undertones for Perfect Makeup Application
March 20, 2020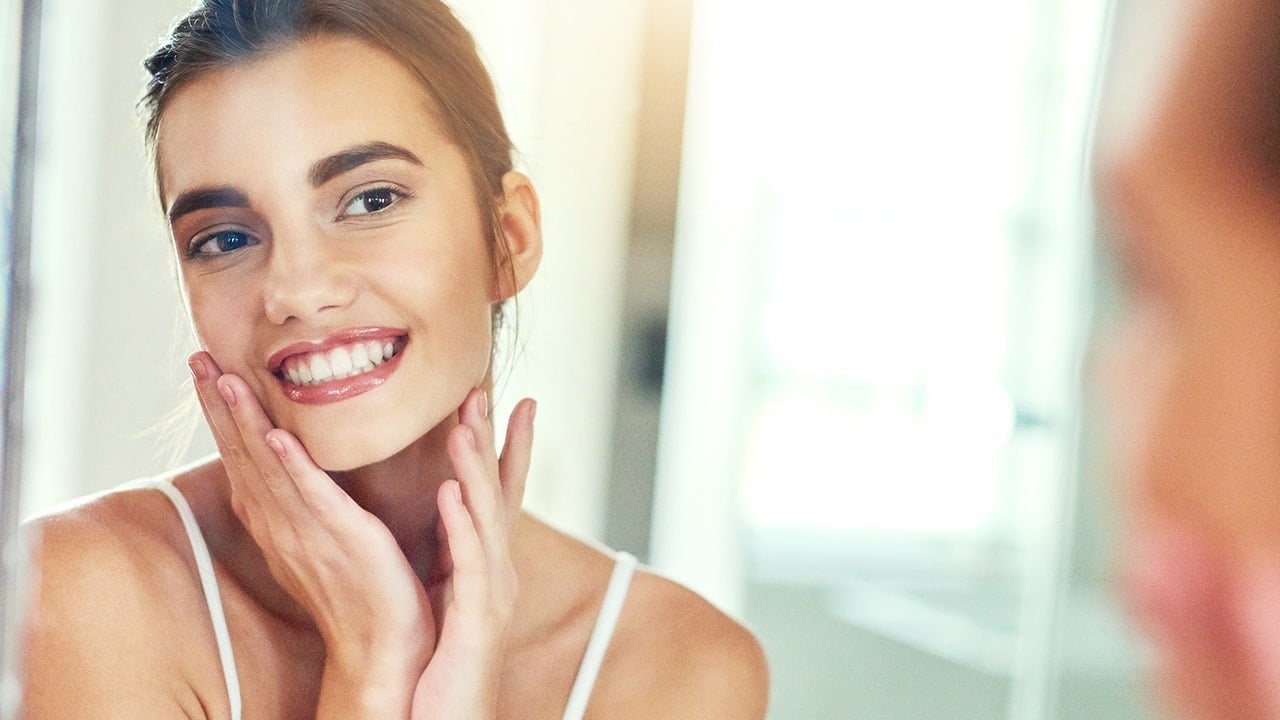 Ever wonder how makeup artists get Hollywood's hottest celebs to look flawlessly natural even when wearing a full face of makeup? It all comes down to skin undertones (well, that and acquiring skills through years of practice). Understanding how to find your undertone is the key to finding your best foundation match and more, ultimately ensuring the most seamless face makeup, eye makeup, and lip color application. Skip the 'what is my undertone' Google search—we've got the lowdown on cool undertones, neutral undertones, and warm undertones right here. Ready for a crash course on undertones? Let's get started!
WHAT ARE SKIN UNDERTONES?
So, what does "skin undertones" mean in the first place? While it's pretty common for people to use skin tones and undertones interchangeably, they aren't the same thing. While related, your skin tone is the color of your complexion, which can change over time, like when you get a tan. Undertones, on the other hand, (as the name suggests) refer to the colors that sit under the surface of your skin. These don't change no matter the season or how much self-tanner you apply.
There are three types of undertones you can have: warm, cool, and neutral. While you may not be able to take a quick look and determine which you have, there are ways to find out, which we'll get into below.
HOW TO DETERMINE YOUR SKIN UNDERTONES
So, how do you know if you have warm or cool undertones? Or maybe your skin is neutral—who knows? Here's what you need to know to identify your skin undertones.
If you have warm undertones…you'll notice hints of peachy, golden, or yellow hues—hence why these are sometimes referred to as yellow or olive undertones.
If you have cool undertones…your skin leans on the pink, red, and bluish side.
If you have neutral undertones…look for an even mixture of warm and cool tones that balance each other out and make your skin's natural shade more obvious.
If you peek in the mirror and are having trouble clearly identifying your undertone, no worries! There are a few questions you can ask yourself to help easily identify your peek-a-boo hue and make finding the perfect makeup that much more of a breeze.
QUESTION #1: WHAT COLOR ARE YOUR VEINS?
Flip your wrist over and take a peek at your veins. What do you see? If your veins lean toward the blueish-purple end of the spectrum, you have cool undertones. Veins look slightly greener? Warm undertones, we see you! If you're unable to really nail down what color your veins are, congrats: You're neutral!
QUESTION #2: YOU'RE AT THE BEACH: DO YOU BURN OR TAN?
If you're a perpetual lobster come summertime, there's a good chance you're rocking cool undertones. On the other hand, tan gals tend to have warm or neutral undertones.
QUESTION #3: DOES SILVER OR GOLD COMPLEMENT YOU BETTER?
Sure, you can absolutely accessorize with both, but take a minute to really consider which metal looks most flattering on you. Cooler undertones tend to look better in silver, while warm undertones are generally flattered most by gold.
HOW TO FIND THE BEST FOUNDATION AND CONCEALER FOR YOUR UNDERTONE
To determine which foundation and concealer will pair best with your undertones, simply dab a little on your neck. This way, you'll be able to match your undertones and ensure that you won't have an intense line of demarcation. While you might feel like you've hit the jackpot on the first swatch, be sure to try a few on for size so that you can compare to find the truest match—you'll be amazed by just how natural your coverage will look.
OUR BEST FOUNDATION AND CONCEALER FOR EVERY UNDERTONE
Now that you're armed with everything you need to know about undertones, it's time to stock up on face makeup. Here are a few options to get you started.
L'Oréal Paris Infallible Up to 24HR Fresh Wear Foundation, Lightweight: Available in 30 shades for every skin tone (and undertone), this foundation provides medium-to-full buildable coverage that lasts all day and allows the skin to breathe. The formula's three oil absorbers resist sweat, water, and transfer.
L'Oréal Paris Infallible Full Wear Concealer Waterproof, Full Coverage: This concealer can be used to shape, cover, and contour. Available in 25 shades, the waterproof formula provides full coverage that won't transfer, fade, or flake!
L'Oréal Paris True Match™ Super-Blendable Makeup: Available in 45 shades in warm, cool, and neutral ranges, matching your undertone has never been easier. The undertone of each foundation is even included in the shade name!
L'Oréal Paris True Match™ Super-Blendable Multi-Use Concealer: You can use this concealer, available in 10 shades in different undertones, for sheer or heavier coverage depending on your needs.
L'Oréal Paris True Match™ Color Correcting Crayons: Redness? Dark circles? Sallow skin? These concealer crayons provide a correcting solution for every unwanted hue that makes an appearance on your face. Say hello to your most even-looking skin tone yet!
HOW TO FIND THE BEST BLUSH AND HIGHLIGHTER FOR YOUR UNDERTONE
Beyond foundation and concealer, you likely also apply highlighter and blush. You should decide on shades for both products based on your undertones. Bronze, rust, and orange shades work best with warm undertones, while pearlescent silvery finishes, plums, and cool pinks are gorgeous on those with cool undertones.
OUR BEST BLUSH AND HIGHLIGHTER FOR EVERY UNDERTONE
Want a blush and highlighter that works on everyone? Take your pick from our options below!
L'Oréal Paris True Match™ Blush: This blush is available in a wide array of shades in neutral, warm, and cool undertones, so you can easily find the one that pairs best with your skin.
L'Oréal Paris Infallible Longwear Blush Shaping Sticks: Get a gorgeous, long-lasting flush with this creamy blush, available in two shades—Sexy-Flush for cool undertones and Cheeky Dimension for warm undertones.
L'Oréal Paris True Match™ Lumi Glow Amour Glow Boosting Drops: Highlighter drops are a great way to add illumination to your face. These highlighter drops come in one shade for warm undertones (Golden Hour) and another for cool undertones (Daybreak).
L'Oréal Paris True Match™ Lumi Glotion Natural Glow Enhancer: For days when you don't want to wear a full face of foundation, reach for this highlighter lotion, which comes in a variety of shades that work on all undertones.
L'Oréal Paris True Match™ Lumi Glow Nude Highlighter Palette: Customize your glow with this palette. Try Sunkissed for warm undertones and Moonkissed for cool undertones.
L'Oréal Paris True Match™ Lumi Shimmerista Highlighting Powder: Add a touch of shimmer to your collarbone with this pretty loose highlighter powder. Try Sunlight for warm undertones and Moonlight for cool undertones.
HOW TO FIND THE BEST EYE SHADOW FOR YOUR UNDERTONE
Beyond face makeup, you can select eye makeup shades based on your undertones as well. Choose eye shadows that have the same undertones as your complexion. So, if you have warm skin, use bronze-y shades reminiscent of sunsets, and if you have cool skin, opt for pink, mauve, navy blue, white, and gray.
OUR BEST EYE SHADOW FOR EVERY UNDERTONE
Ready to find an eye shadow that flatters your undertones? Try one of the following shades!
L'Oréal Paris Brilliant Eyes Shimmer Liquid Eye Shadow Makeup: This eye shadow is a shimmery option that's super-pretty. Use Bronze Light on warm undertones or String of Pearls on cool undertones.
L'Oréal Paris Colour Riche Monos Eyeshadow: This eye shadow collection features a wide variety of shades with matte and shimmer finishes for different undertones. Try Acro-Matte, Matte-ison Avenue, Little Beige Dress, and Sunset Seine for warm undertones or Mademoiselle Pink, Pain Au Chocolat, Meet Me in Paris, and Grand Bleu for cool undertones.
L'Oréal Paris Infallible 24 HR Eye Shadow: This velvety, waterproof eye shadow formula comes in 21 beautiful shades. If you have warm undertones, give Bottomless Java or Eternal Sunshine a try. If you have cool undertones, swipe on Always Pearly Pink or Timeless Blue Spark.
HOW TO FIND THE BEST LIP COLOR FOR YOUR UNDERTONE
Last but not least, let's talk about lipstick! Your makeup routine wouldn't be complete without some lip color, but which one should you choose? Here are some guidelines: For warm undertones, oranges and orange-based reds will be stunning. For warm undertones, blue-based reds, fuchsias, and blue-based berries will look beautiful.
OUR BEST LIP COLOR FOR EVERY UNDERTONE
Here are our best lipsticks for your undertone.
L'Oréal Paris Rouge Signature Matte Lip Stain: Are you a fan of matte lipstick? Then this is the lip pick for you! Try I Radiate for warm undertones or I Rule for cool undertones.
L'Oréal Paris Colour Riche Shine Lipstick: More of a shiny lipstick kind of person? In that case, reach for this lipstick. Try Luminous Coral for warm undertones or Laminated Fuchsia for cool undertones.
L'Oréal Paris Colour Riche Lipcolour: Enjoy a natural lipstick finish? Paint your pout in Ballerina Shoes if you have cool undertones and I Pink You're Cute if you have warm undertones.
Next up: Now that you know how to tailor your makeup to your undertones, why not coordinate your hair color with your complexion, too? Our articles, How To Find The Best Shade of Brown Hair For You and The 50 Best Blonde Hair Colors for Every Skin Tone, will lead you in the right direction.
Discover more tips & tricks
Keep your skin happy
See all articles
Shop Featured Makeup products
Discover More