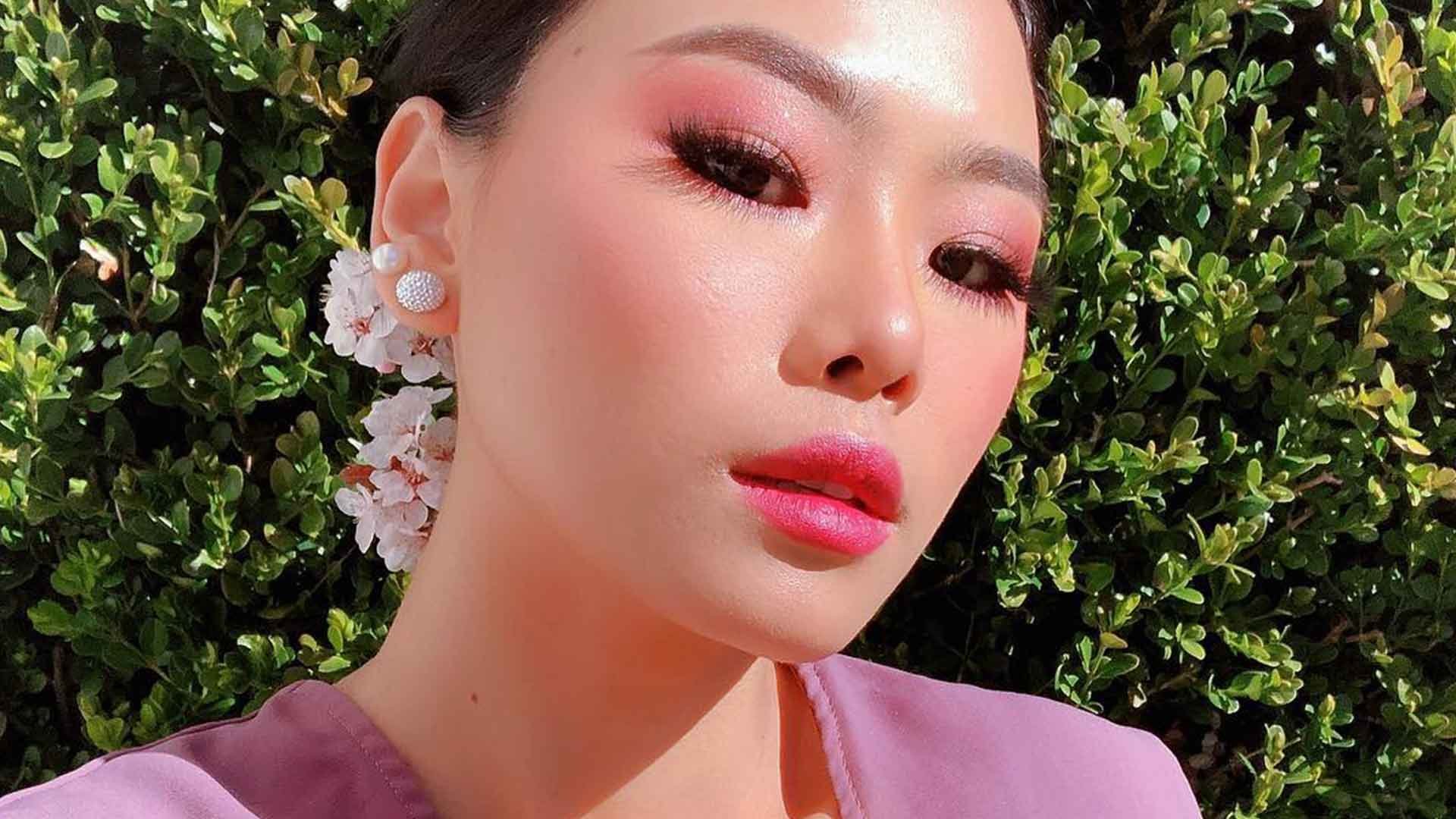 makeup looks
This Baby Pink Monochromatic Makeup Look Is Perfect For Summer
From nail designs to clothing and of course, makeup—monochromatic looks are on trend. And a baby pink monochromatic makeup look goes with summer the way an alluring, deep burgundy lip goes with the fall. Now, we know you may be used to rocking a soft pink lip and might feel a bit hesitant about wearing this hue all over your face. But we're here to show you just how wearable an all-pink makeup look can be. In addition to giving you a full tutorial on creating a baby pink monochromatic look, we're also including the beauty products you'll need to achieve it. So grab your makeup brushes and keep reading to learn how to create this look on yourself.
How To Create A Baby Pink Monochromatic Makeup Look
Rocking an all-over pink makeup look is not as hard as it may seem. Plus, it's a great color to help brighten up your face and give you a natural-looking flush under the summer sun. Ahead, check out our step-by-step tutorial to create a monochromatic makeup look.
Step 1: Pick The Right Shade Of Pink
Start by choosing a shade of pink that complements your skin tone. There are several different hues of soft pink and you'll want to make sure the color you choose shows up well on your skin. The deeper your skin tone, the more vibrant your pink hue should be to keep it from looking ashy. Lighter to medium skin tones can opt for rosy and berry-toned pinks, which will help to warm up the complexion. To learn more about finding the right makeup colors for your skin tone, read our article, The Best Makeup Colors for Every Skin Tone.
Step 2: Apply Your Base Makeup
Lay down a flawless base for your pink makeup by using the L'Oréal Paris Infallible 24 Hour Fresh Wear Foundation, Lightweight and the L'Oréal Paris Infallible Blend Artist Foundation Blender. Be sure to apply your foundation with rolling and dabbing motions for seamless coverage. If you prefer powder foundation, opt for the L'Oréal Paris Infallible 24 Hour Fresh Wear in a Powder, matte finish. It comes with a sponge applicator that you can use to get an even and natural-looking finish.
Step 3: Create A Soft Baby Pink Eyeshadow Look
Monochromatic makeup generally features a simple eyeshadow look. So you'll only need to color in your lids with one hue. Grab a fluffy eyeshadow brush and choose your favorite pink hue from the L'Oréal Paris Colour Riche Pocket Palette Eyeshadow in Avenue Des Roses. Or you can mix both pink shades to create one flattering hue. Be sure to sweep the color all over your eyelids, into the crease, and along the bottom of the lids to create a balanced eye makeup look. It should look like one seamless wash of pink across your entire eyelid.
Step 4: Coat Your Lashes With Mascara
What's an eye makeup look without mascara? Swipe on a few coats of the L'Oréal Paris Air Volume Mega Mascara, Waterproof, Lightweight in Blackest Black for a pop of bold lashes to add to the look. Waterproof mascaras are the safest tools to go for as you won't have to worry about getting raccoon-looking eyes when you go to the beach or pool this summer. And this mascara has a weightless air whipped formula that will stay put for up to 24 hours.
Editor's Tip: If you have sensitive eyes or allergies, opt for the L'Oréal Paris Telescopic Original Waterproof Lengthening Mascara. Its formula has been ophthalmologist and allergy-tested and deemed suitable for those who wear contact lenses.
Step 5: Add Color To Your Cheeks
Mimic a natural flush by applying a soft pink blush on the apples of your cheeks. Try the L'Oréal Paris True Match Blush in Baby Blossom and Tender Rose. You can even use the draping technique, which involves applying blush along the temples and in the spots, you would normally place your contour powder.
Step 5: Swipe On Color To Your Lips
When it comes to picking out a lip color to complete your monochromatic makeup look, opt for a sheer wash of pink to match. Avoid using heavily pigmented lipstick, as this can overpower the soft baby pink hues on your eyes and cheeks. Use the L'Oréal Paris Infallible 8 Hour Pro Lip Gloss, hydrating finish in Blush, Shell Pink, and Pink Opal. Its hydrating formula will help keep your lips moisturized and soft for up to eight hours. The color also does not fade or feather, so you can keep sipping on your refreshing iced tea poolside, without having to reapply your gloss constantly.
Photo Credit: Irene Chin, @irenechin_
Discover more tips & tricks
Keep your skin happy
See all articles
Shop Featured products
Discover More