skin care essentials
L'Oréal Paris Revitalift Derm Intensives Hyaluronic Acid Serum Review
May 12, 2020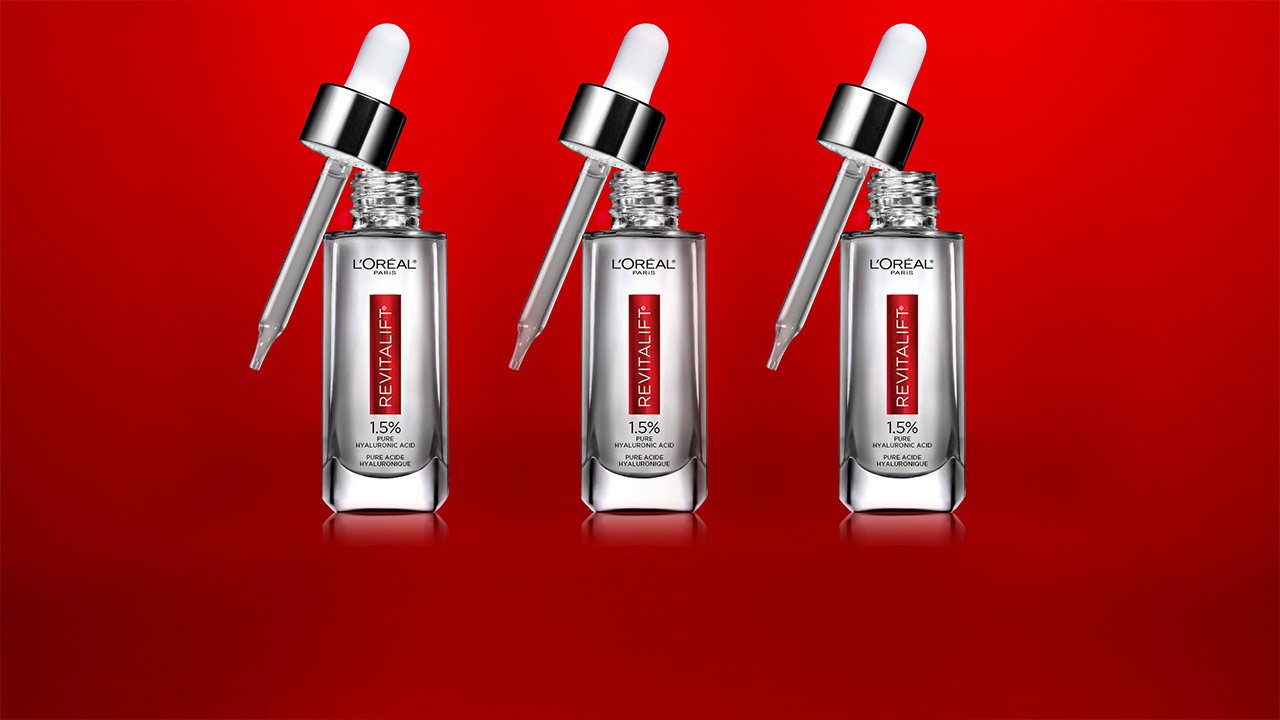 If you're always on the hunt for new skin care products and ways to update your skin care routine, consider adding a hyaluronic acid serum to your routine. The popular, dermatologist-beloved skin care ingredient has plenty of benefits, making it a worthwhile decision. According to the Journal of the American Academy of Dermatology, hyaluronic acid can help improve skin's moisture levels and reduce the appearance of lines. Sold? Then you'll probably want to introduce your skin to the L'Oréal Paris Revitalift Derm Intensives 1.5% Pure Hyaluronic Acid Serum, which is part of L'Oréal's Derm Intensives line. Here's everything you need to know about our derm-validated serum formulated with hyaluronic acid, backed up by reviews from the L'Oréal Paris site:
L'ORÉAL PARIS HYALURONIC ACID SERUM REVIEW
As we mentioned above, this hyaluronic acid serum was validated by dermatologists. Instead of having dermatologists recommend the Derm Intensives line, L'Oréal went a step further and gave access to an advisory panel of highly respected dermatologists, who go behind the scenes and validated the products. Selected based on their deep skin care expertise, unique backgrounds, and credibility, the panel audited and validated the Derm Intensives line, doing their part—in conjunction with L'Oréal's scientific knowledge and powerful solutions—to make it the best it could be by dissecting testing protocols and results from independent clinical research facilities.
Back to speaking specifically on the hyaluronic serum, the formula—which will immediately leave you with skin that feels suppler—contains 1.5% pure hyaluronic acid and can help leave you with smoother-looking, hydrated skin. It's moisturizing formula doesn't go unnoticed. "My skin feels soft and nourished. And I love how you don't need much of it," says esc78.
If you've ever asked what percentage of hyaluronic acid you should use, this 1.5% concentration is actually key since, according to the National Center for Biotechnology Information, only a very low molecular weight of hyaluronic acid is able to penetrate the skin. That means searching 'what serum has the most hyaluronic acid' isn't necessarily the best way to go about finding one! How it's formulated really matters.
Now, do hyaluronic acid serums really work? We can only answer for our serum. The lightweight liquid serum quickly absorbs into your skin without leaving behind a tacky or sticky feel. Immediately, skin is deeply replenished with hydration and feels more supple and soft—making it a total dream for those with dry skin. Toothfairy0426 shares, "This gives me a nice hydration without feeling heavy or sticky."
After using the serum consistently for a week, your skin will appear to be visibly plumped, have a bouncy, firm feel, and look well-rested and healthy. As for major anti-aging benefits, after just two weeks of use, wrinkles will be visibly reduced. With this knowledge, it's easy to see why our serum is the #1 serum in the US—with a serum sold every minute*.
HOW TO USE L'ORÉAL'S HYALURONIC ACID SERUM
Ready to add our best hyaluronic acid serum to your daily face care routine? We have you covered!
STEP #1: CLEANSE YOUR SKIN
Just as with any skin care routine, the first thing you want to do is cleanse your skin of any impurities. Use the L'Oréal Paris Revitalift Radiant Smoothing Cream Cleanser to gently exfoliate, nourish, and boost the radiance of your skin. The anti-aging formula will leave your skin looking brighter and more refined. To apply, moisten your face before gently massaging the cleanser onto your skin to create a rich, soft lather. Rinse thoroughly.
STEP #2: USE THE SERUM WITH HYALURONIC ACID
Once your skin is cleansed, it's time to apply your serum. Every morning and evening after you've cleansed, apply two to three drops to your face and neck, allowing it to absorb.
Editor's note: Think your skin care routine needs something more before moving on to moisturizer? Sounds like you might want to add a vitamin C serum into the mix! If you do, apply a dime-sized amount of the L'Oréal Paris Revitalift 10% Pure Vitamin C Serum—also part of the Derm Intensives line—after your hyaluronic acid serum. Formulated with 10% pure vitamin C, the serum will leave you with skin that is brighter, more vibrant, and refined after one week. After two weeks of consistent use, the serum visibly reduces fine lines and wrinkles.
STEP #3: APPLY A FACIAL MOISTURIZER
For the last step of your skin care routine, make sure you use a facial moisturizer. You want to ensure your skin is hydrated, especially after removing excess oils with your facial cleanser. Consider one of the following two moisturizers:
L'Oréal Paris Revitalift Triple Power™ Anti-Aging Moisturizer: This luxurious, lightweight moisturizer will not only hydrate your skin but also help protect it from the sun's harmful rays. The formula, which contains patented Pro-Xylane and hyaluronic acid, improves the appearance of wrinkles and dark spots with continued use over time, while brightening and evening skin tone. This beloved moisturizer is trusted by women all across the United States—as evidenced by the recent #RevitaliftChallenge where over 10,000 women tried the day cream, saw results in just one week, and when polled afterward, shared they trusted the product and would continue to use it.
L'Oréal Paris Revitalift Triple Power™ Day Lotion SPF 30: If you don't care to layer sunscreen over your moisturizer in the morning, we recommend using a moisturizer formulated with SPF. This lotion, which offers SPF 30 is also formulated with patented Pro-Xylane and can help aid in transforming the look of aging skin for a more radiant complexion. Apply (and reapply) as directed and take other protective measures, including limiting time in the sun during its peak hours and wearing UV-blocking sunglasses.
Starting to understand why everyone is a little bit obsessed with hyaluronic acid? To take your own obsession to the next level, read our article on How Hyaluronic Acid Benefits Skin.
*Based on units sold in full year 2019. Source: LRL Form: Serum, Nielsen Mass Market Data.
Discover more tips & tricks
Keep your skin happy
See all articles
Shop Featured Skin Care products
Discover More