eye makeup
How to Clean and Reuse False Eyelashes
June 12, 2020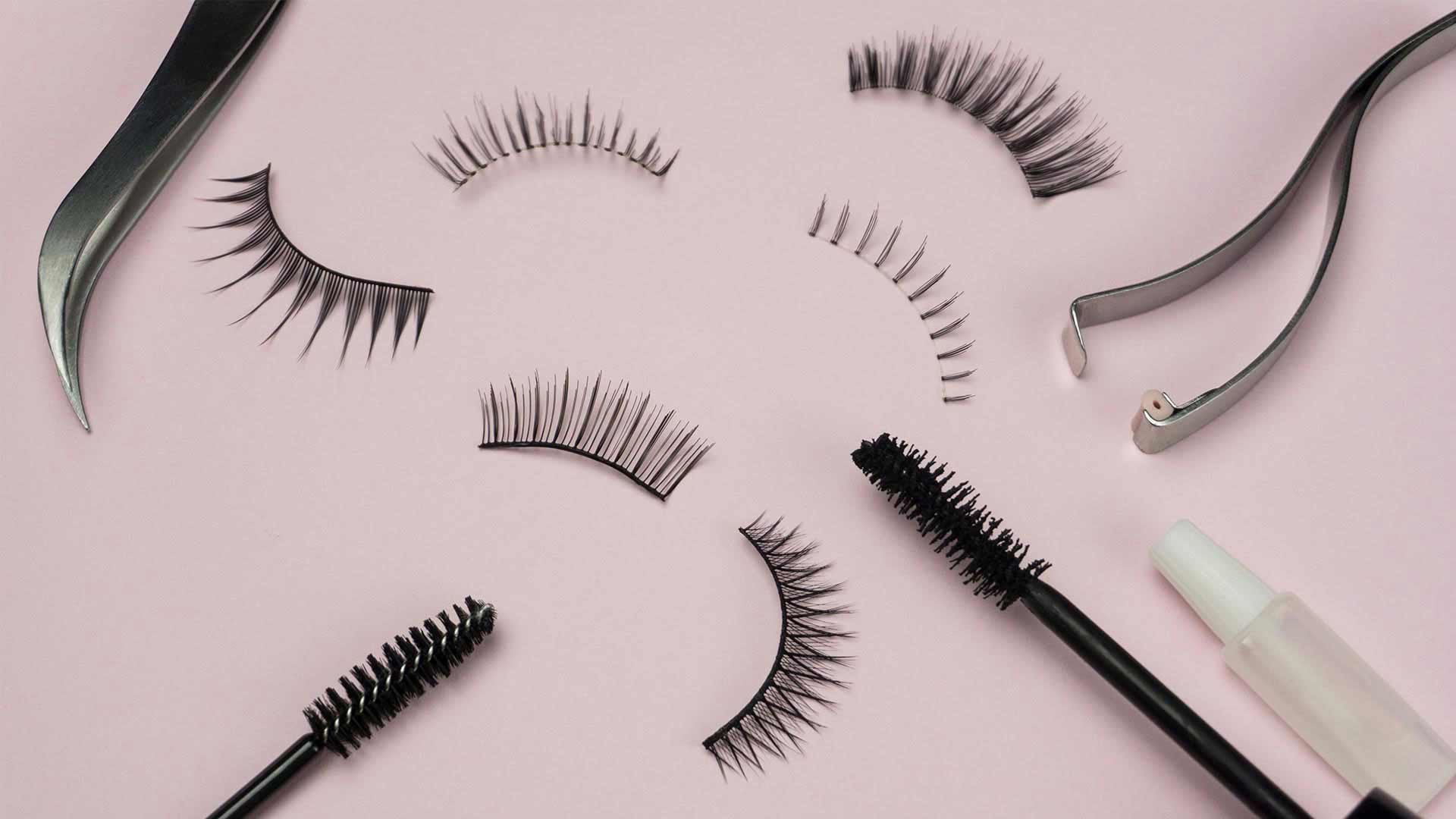 There is no denying that false eyelashes make a big impact on your overall beauty look. Whether you're in the mood for full, natural-looking lashes or prefer a more dramatic fringe, the right pair will get the job done. While you may be accustomed to tossing your false eyelash set after a night out on the town, we're here to tell you that you can totally reuse them as long as you know how to clean false lashes. That's right, if you clean your fake eyelashes properly, you can flaunt your falsies a few more times. Intrigued? Follow along as we give you the 4-1-1 on how to clean and reuse false eyelashes.
HOW TO CLEAN FALSE LASHES
If you're wondering how to make your fake eyelashes look new again, it's time to listen up! Below, we're sharing a step-by-step routine to help you learn how to clean false eyelashes like a pro.
STEP #1: WASH YOUR HANDS
Before you pick up a set of false eyelashes, it's essential that you wash your hands. After all, you don't want any dirt, oil, or impurities to transfer to your falsies. Go ahead and suds up and rinse, then you're ready for step number two.
STEP #2: REMOVE EYELASH GLUE OR ADHESIVE
Next, you'll want to ensure that you remove any glue from the base of your eyelashes. The easiest way to remove glue is to use a salon-quality set of tweezers. Gently remove the adhesive without pulling at your falsies. If there's stubborn glue that won't come off, you can use an oil-based eye makeup remover to break it down, just like you would get the lashes off your eyes.
STEP #3: CLEAN YOUR FALSE EYELASHES
Once the eyelash glue is removed, it's time to really clean your falsies. This step will remove any makeup that ended up your false lashes (essential if you applied mascara on top of them) as well as other impurities.
Place your false eyelashes on a paper towel, then saturate a cotton swab with the L'Oréal Paris Micellar Cleansing Water Complete Cleanser Waterproof – All Skin Types. Gently wipe the base of your lashes and the false lash "hairs" to lift and remove leftover mascara, dirt, and excess oils for a thorough cleansing.
Editor's note: If you have mink eyelashes, you should skip this step. Eye makeup remover can potentially ruin the look of your lashes, and that's the last thing you need. Instead, you'll want to learn how to clean fake eyelashes with water. Use a cotton swab dipped in water to wipe the lashes clean, but don't submerge them in H2O—it can damage the lashes.
STEP #4: DAMPEN YOUR EYELASHES
Think of this step as an extra precaution to ensure that your lashes are fully clean. Get a small bowl of warm water and dampen another cotton swab, using it to wipe from the base of your lashes to the ends. Once you're satisfied, leave your lashes on the paper towel to air dry.
STEP #5: MIST WITH ALCOHOL
Now that your lashes are nice and clean, it's time to disinfect! Since false eyelashes—and pretty much anything that goes near your eyes—can be a breeding ground for bacteria, you'll want to take the appropriate measures to keep your lashes in good shape. Lightly mist your lashes with rubbing alcohol, then lay them flat to dry.
STEP #6: STORE YOUR LASHES
Congratulations, you've made it to the finish line! Since your cleansing session went off without a hitch, it's time to store your lashes properly. Simply place your false eyelashes back in the packaging they came in, and keep them in their original position to help maintain their shape. Once you're ready to reuse the lashes, the application process will be a breeze.
HOW MANY TIMES CAN YOU REUSE FALSE EYELASHES?
Now that you know how to clean fake lashes, you're probably interested in reusing them. That's what all this effort was for! How many times you'll be able to glue and un-glue your eyelashes comes down to the type of lashes you're using. False eyelashes made out of synthetic material can be reused up to five times.
On the flip side, if you're working with mink eyelashes, you're in luck! You can reuse them up to 20 times. As long as you handle your lashes with the right care, you'll be able to wear your falsies with all of your beauty looks, making it a budget-friendly investment. Speaking of which…
HOW TO REAPPLY FALSE EYELASHES
Instead of buying a new set of eyelashes, your clean set of falsies will get the job done. Best of all, the application process is sure to be quick and easy, since you've worn them before. That means no trimming or bending the lashes to get the perfect fit; you already did that. All you need to do is remove your falsies from the packaging, apply glue to the base, and let it get tacky. Once the glue is nice and tacky, place them on your lash line with your fingertips or tweezers. Easy, peasy! If you feel like you need more instruction on how to apply false eyelashes, here are 12 Hacks to Make Applying False Lashes Easier.
Give yourself a pat on the back! You've mastered the art of cleaning and reusing false eyelashes. Ready for another lash-centric beauty lesson? Head on over to our article, How to Use Eyelash Primer to Boost the Effects of Mascara.
Discover more tips & tricks
Keep your skin happy
See all articles
Shop Featured Skin Care products
Discover More