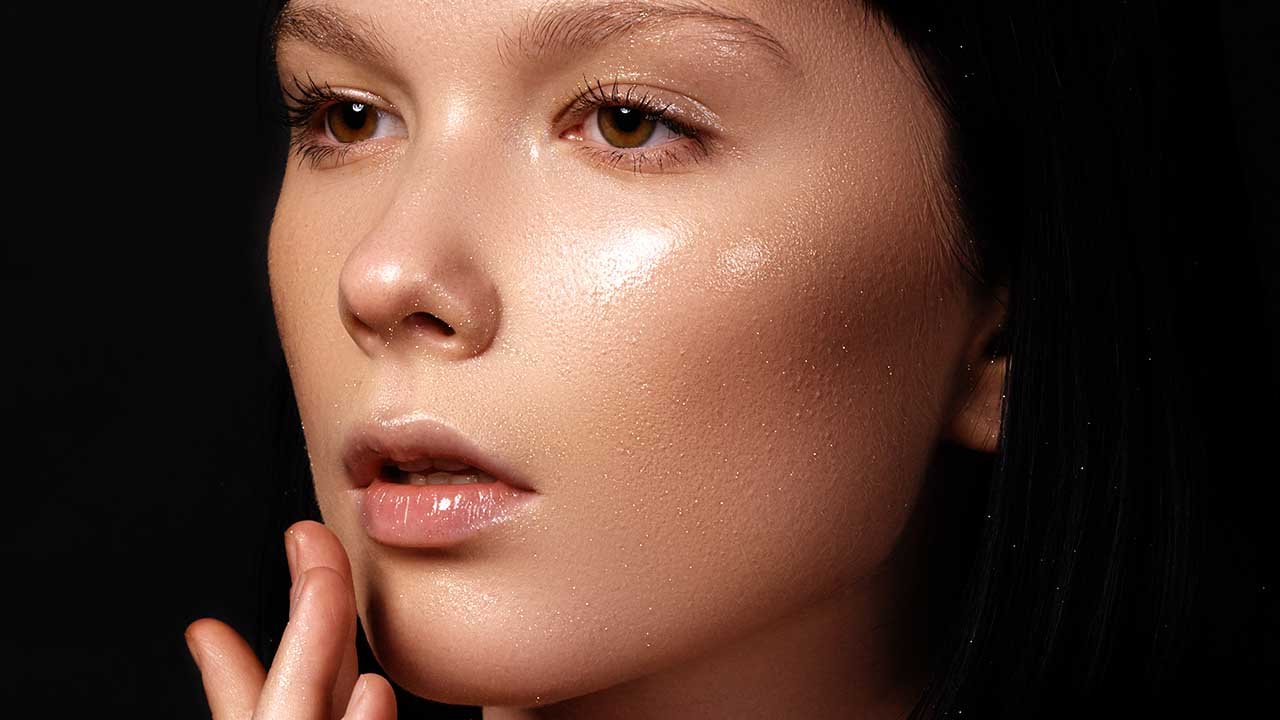 skin care essentials
How to Try the Glass Skin Trend
If we had to name one Korean beauty trend that has taken over the skin care world, glass skin easily takes that top spot. And it makes perfect sense. Everyone loves clear and healthy-looking skin, and the glass skin trend does just that. Glass skin is meant to evoke the idea of a crystal clear piece of glass, meaning it's all about skin that looks completely clear. Poreless, dewy, baby-soft skin is the ultimate goal.
Of course, as with most K-beauty trends, glowing, glass skin can't be achieved with a few quick steps. Don't you remember the 10-step Korean skin care routine? That means getting glass skin isn't something you can wing, you'll need to follow a strategic nine-step skin care routine—as outlined below. Read on for our step-by-step guide on how to get glass skin, including tips on creating a complementary makeup look.
HOW TO GET GLASS SKIN
The Korean glass skin trend is all about cleansing and layering lightweight, hydrating skin care products to help create the appearance of glowing, dewy skin. Here's how to try the glass skin trend for yourself:
STEP 1: START WITH A GENTLE CLEANSER
As with any skin care routine, facial cleanser should always be the first step. Cleansing removes dirt and impurities from the surface of your skin for a clean finish. Because you're going to be following up cleansing with an exfoliant, pick a facial cleanser that is both gentle and effective.
Since the glass skin look is the ultimate goal, you should also look for a cleanser that can help brighten the appearance of your complexion, like the L'Oréal Paris Pure-Clay Detox & Brighten Cleanser. Squeeze a small amount of facial cleanser into your (clean) hands and add water to transform it from a clay to a mousse consistency. Gently massage the facial cleanser onto your face, then rinse off thoroughly with lukewarm water and gently pat dry with a washcloth.
Editor's tip: When it comes to Korean skin care, it's pretty much considered fact that the only way to turn your skin into a fresh and smooth canvas is with double cleansing. This method begins with a cleanser that removes your makeup and starts to cleanse the skin, then follows up with a second facial cleanser meant to rid the skin of remaining dirt and impurities. We recommend using a cleansing oil first, then using the clay cleanser mentioned above.
STEP 2: EXFOLIATE WITH A FACE SCRUB
Now that your face is clean, it's time to reach for a face scrub. Exfoliating regularly from head to toe should be a key part of any skin care routine. Still, it's an especially crucial step in getting glass skin because it buffs away all the dead, dull-looking skin cells from the surface of your complexion. Be sure to choose a face scrub that's formulated for your specific skin type and issues. Remember, the goal with any facial scrub is to achieve gentle exfoliation that reveals a bright, fresh-looking complexion—no redness allowed!
So, if you've got dry skin, choose a nourishing scrub. If you tend to get blackheads, pick a scrub formulated to deeply penetrate pores, and so on. Here are our best options:
The L'Oréal Paris Pure-Sugar Resurface & Energize Kona Coffee Scrub is formulated with real Kona coffee grounds and helps energize tired, dull-looking skin.
The L'Oréal Paris Pure-Sugar Nourish & Soften Cocoa Scrub contains rich cocoa butter and nourishing coconut oil, making it a great choice for those who tend to have dry skin.
The L'Oréal Paris Pure-Sugar Smooth & Glow Grapeseed Scrub will give your skin a baby-soft, glowing finish, thanks to its formula, which contains finely ground acai and nutrient-rich monoi and grapeseed oil.
The L'Oréal Paris Pure-Sugar Purify & Unclog Kiwi Scrub is formulated with real kiwi seeds and helps to polish away dead skin cells and deeply purify and unclog pores.
Once you've chosen the right face scrub formula for your skin, smooth a small amount of the scrub onto damp, clean skin and gently massage it over your face with wet fingers. Remember, don't scrub too hard and rinse thoroughly with lukewarm water.
Bonus: You can also use all of the aforementioned face scrubs on your lips! Here's How to Use a Lip Scrub Before Applying Lipstick for a little guidance.
STEP 3: REACH FOR A SHEET MASK
Who says you can't add a little pampering into your glass skin routine? Sheet masks are a great way to give your skin a nourishing treat while addressing your skin care concerns. One of our favorite ways to face mask, this essential deeply penetrates the skin to boost moisture and brightness. Simply pop one on to give your skin a quick dose of TLC.
STEP 4: USE A HYDRATING TONER
Contrary to popular belief, not all toners dry out your skin. The key is to use a hydrating offering that's free of alcohol, like the L'Oréal Paris HydraFresh Toner, which is formulated with pro-vitamin B5 and helps protect against moisture loss and leaves skin feeling soft and supple. To use, moisten a cotton ball and smooth over your face and neck.
STEP 5: APPLY A HYDRATING SERUM
Glass skin is all about a healthy-looking, dewy complexion, so hydrating your skin is an absolute must! After cleansing and toning, apply a facial serum onto damp skin. If you're not already using a face serum regularly, it would behoove you to learn about all the beauty benefits that serums can offer (to get you started, here's our article, What Is a Face Serum and Why Should You Use One).
For Korean glass skin, in particular, hyaluronic acid is a great ingredient to look out for in a serum because it's often found in intensely hydrating formulas. Try the L'Oréal Paris Revitalift Derm Intensives 1.5% Pure Hyaluronic Acid Serum, which absorbs quickly and gives skin a visibly plumped, youthful look. To use, apply a few drops onto your face and neck, then gently smooth over your skin in upward motions, being careful to avoid your eyes.
STEP 6: LAYER ON A LIGHTWEIGHT MOISTURIZER
Next up: Moisturizer! Yes, that's right—you'll want to layer a moisturizer on top of the serum, which will effectively lock in moisture and help give you a radiant glow. Obviously, with any facial moisturizer, the overall goal is to moisturize your complexion, but just as you chose your previous products based on your skin type and concerns, you'll want to take the same approach here.
Our Hydra Genius line is a great choice when trying to achieve the glass skin look because the moisturizers are super lightweight and water-based. Take your pick from one of these options, based on your skin type: the L'Oréal Paris Hydra Genius Daily Liquid Care – Normal/Oily Skin, The L'Oréal Paris Hydra Genius Daily Liquid Care – Normal/Dry Skin, or the L'Oréal Paris Hydra Genius Daily Liquid Care – Extra Dry Skin. To use, apply a light, even layer of your moisturizer of choice over your entire complexion, smoothing until thoroughly absorbed.
STEP 7: APPLY YOUR FOUNDATION
To really ensure a glowing, glass-like final look, use a foundation that's moisturizing and doesn't have a matte finish—matte makeup will give you the opposite of a glass skin look. A medium-coverage foundation is a great way to build up to your desired look without over-doing it and causing your skin to look cakey (also wrong for achieving the glass skin look). Your best bet is using a foundation with a radiant finish, like the L'Oréal Paris Infallible Pro-Glow Foundation.
STEP 8: APPLY A HIGHLIGHTING LOTION
Now that your skin has been properly cleansed, exfoliated, and hydrated for a glowing finish, all that's left is adding an extra bright sheen. To get the look, squeeze some of L'Oréal Paris True Match™ Lumi Glotion Natural Glow Enhancer onto your fingertips and massage it onto your skin, paying close attention to your cheekbones and the tip of your nose.
STEP 9: ADD A FINAL LAYER OF TARGETED GLOW
Hang in there; you're almost done! Last but not least, apply a final layer of a glow-boosting highlighter, like the L'Oréal Paris True Match™ Lumi Glow Amour Glow Boosting Drops, onto the top of your cheekbones, bridge of your nose, center of your forehead, and cupid's bow. Apply a drop or two to each area, then blend everything out with a makeup blender, like the L'Oréal Paris Infallible Blend Artist Foundation Blender.
HOW TO COMPLETE YOUR GLASS SKIN LOOK
Now that you know how to get glass skin, you can move on to completing your makeup look! With the Korean glass skin look, we recommend keeping your makeup look relatively light. Here are our suggestions:
1. GIVE CHEEKS SOME COLOR
A glass skin look definitely requires a bit of color on the cheeks. Stick with a natural look with a shimmery finish to match your glistening skin. For bronzer, apply the L'Oréal Paris True Match™ Lumi Bronze It Bronzer to your cheekbones and temples. Next, use your fingertips to apply a light dusting of rose-tinted highlighter onto your brow bone, the tops of your cheeks, and your cupid's bow. We love the L'Oréal Paris True Match™ Lumi Glow Nude Highlighter Palette for this step.
2. KEEP EYES SUBTLE
Since you've just put so much time and effort into achieving Korean glass skin, keep your eye makeup simple and subdued so you can really show off your new, dewy complexion. Try a thin line of liquid eyeliner, like the L'Oréal Paris Infallible The Super Slim Liquid Eyeliner, on your upper-lid. Keep your eyeshadow minimal and nude-colored, using shades in the L'Oréal Paris Colour Riche La Palette Nude, and finish everything off with a few swipes of a lengthening mascara, like the L'Oréal Paris Voluminous Lash Paradise Washable Mascara.
3. PERFECT YOUR ARCHES
In our book, no beauty look is ever complete without filled in brows! Keep it quick and easy here too, with a little bit of the L'Oréal Paris Unbelieva-Brow Longwear Waterproof Brow Gel.
4. PLAY UP YOUR POUT
Glossy lips are the perfect complement to glowing skin. Go for a gloss with a shiny but not sticky finish, like the L'Oréal Paris Infallible 8HR Le Gloss.
Now that you're an expert on the glass skin trend, why not expand your K-beauty knowledge? Next, check out our article, What Is Cloudless Skin? Here's What You Need to Know About the Latest K-Beauty Trend.
Discover more tips & tricks
Keep your skin happy
See all articles
Shop Featured Skin Care products
Discover More