Panel 1

Panel 2

Panel 3

Panel 4

Panel 5

Panel 6
A hydrating facial serum that's derm-validated, non-greasy, fragrance-free, paraben-free, mineral-oil free, non-comedogenic, absorbs quickly and is suitable for all skin types.
$32.99
PRODUCT DETAILS

Revitalift Derm Intensives 1.5% Pure Hyaluronic Acid Serum is our most potent hydrating formula with our highest concentration of pure hyaluronic acid. So effective, it immediately hydrates, plumps skin in 1 week, and reduces wrinkles.

What Does Hyaluronic Acid Serum Do?

Hyaluronic Acid Serum is an anti-aging face serum for visibly bouncy and more youthful-looking skin. This lightweight hydrating serum absorbs quickly with no tacky feel or leftover residue and replenishes hydration with the following results:

Immediately, it delivers intense moisture that leaves the skin with a fully hydrated and dewy glow.
In 1 week, skin is visibly plumped and feels firmer and more elastic. The youthful, bouncy feel returns and skin is visibly refreshed and glowing with moisture.
Overtime, fine lines and wrinkles are visibly reduced.

What Makes Our Hyaluronic Acid Formula Special?

Our potent formula combines high and low-molecular weight pure hyaluronic acid for a dual replumping and hydrating effect. Here's how it works:

0.5% high molecular weight pure hyaluronic acid intensely re-hydrates the skin's surface and stays on top of the skin to help lock in moisture for dewy-looking skin.
1% low molecular weight pure hyaluronic acid absorbs more easily to help smooth skin texture and instantly plump skin.



WHO SHOULD USE IT

The short answer is everyone. Skin hydration is a necessity whether you're 22 or 52. "Hyaluronic acid is like the popular kid at school who is friends with everyone," explains Dr. Joshua Zeichner, board-certified dermatologist. "It can be combined with almost all other skin care ingredients since it helps to hydrate, plump, and protect the outer skin layer."

Read More on

Beauty Magazine

.

You should especially reach for this serum if you have:

Very Dry skin
Sensitive Skin
Mature Skin
Wrinkles
Sagging
WHEN TO USE IT

When it comes to applying skin care products remember this rule: Thinner goes first. Layer your 1.5% Pure Hyaluronic Acid Serum after your cleanser but before your moisturizer. If you're using more than one serum, start with the lightest consistency so that it can absorb into the skin easily.

Pro tip: Apply 1.5% Pure Hyaluronic Acid Serum on damp skin to help retain moisture.
HOW TO USE

Get the most of this anti-aging serum by incorporating it into your skin care routine with the following steps:

Step 1. Cleanse with Revitalift Derm Intensives 3.5% Pure Glycolic Acid Cleanser to remove impurities and prep skin for serums.

Step 2. Apply Revitalift Derm Intensives 1.5% Pure Hyaluronic Acid Serum for deep hydration, visibly plumped skin and reduced wrinkles. For an intense anti-wrinkle routine at night, follow with Revitalift Derm Intensives Night Serum with 0.3% Pure Retinol.

Step 3. Moisturize with Revitalift Triple Power Day Lotion SPF 30 in the daytime to visibly reduce wrinkles, firm, and brighten the skin. At night, follow your serum with Revitalift Triple Power Anti-Aging Moisturizer to firm, brighten, and visibly reduce the appearance of wrinkles in one week.
INGREDIENTS

Hyaluronic Acid (HA) is a potent hydration-attracting molecule naturally found in the skin, but we lose it as we age which leads to lack of firmness and dryness. It forms an imperceptible film on the skin which also prevents moisture loss. Hyaluronic acid is a safe ingredient used by dermatologists for its intensely hydrating and replumping properties.

HEPES, or 4-(2-hydroxyethyl)-1-piperazineethanesulfonic acid is initially a substance used in cell biology to stabilize pH. Its physiological pro-peeling properties were patented by L'Oréal Research & Innovation. By promoting the activity of enzymes that break down proteins and enzymes, HEPES, helps recreate the conditions to favor good shedding and peeling. The result? Skin is smoother, softer and more radiant.

Other Ingredients: 899297/21, Water, Glycerin, Hydroxyethylpiperazine Ethane Sulfonic Acid, Sodium Hyaluronate, PEG-60 Hydrogenated Castor Oil, Secale Cereale Seed Extract/Rye Seed Extract, Calcium Pantothenate, Dipeptide Diaminobutyroyl Benzylamide Diacetate, Ascorbyl, Glucoside, Disodium EDTA, Pentylene Glycol, Phenoxyethanol, Chlorphenesin
DERM VALIDATION

Our Derm Intensives formulas have been validated by an external panel of dermatologists that had unprecedented access to the clinical testing, stability, safety, and ingredients used in these products.

"In my practice, I often use Hyaluronic Acid as injectables but when applied topically, it has been shown to help visibly replump and reduce lines."

Dr. Melissa K. Levin, MD
Board-Certified Dermatologist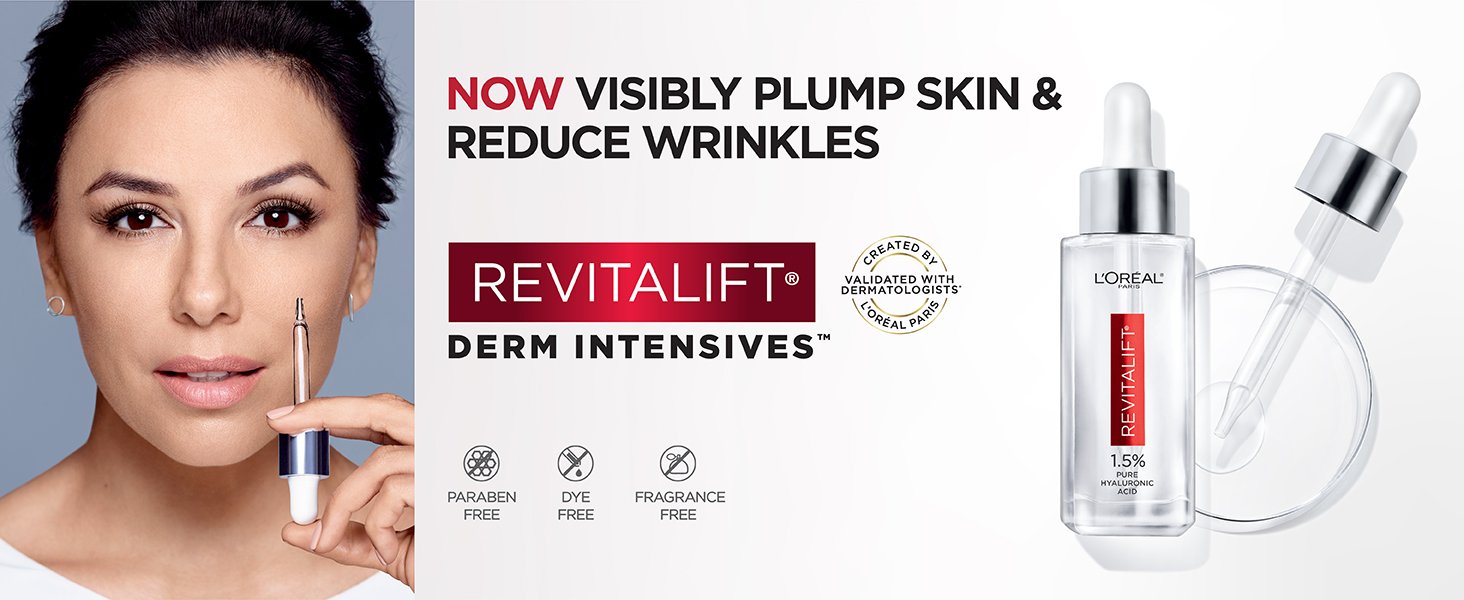 Frequently Asked Questions
How do I apply this serum?

Hyaluronic Acid can be applied topically in a serum directly to your face and neck morning and evening after cleansing. You can apply to damp or dry skin.
Is Hyaluronic Acid good for your Skin?

Hyaluronic Acid is naturally found in our bodies, but its production decreases overtime. It can plump & visibly smooth skin while reducing fine lines & wrinkles. It's also a great source of intense hydration & highly recommended by dermatologists.
Who should use this Hyaluronic Acid?

One of the best things about Hyaluronic Acid is that it can work for all skin types – including sensitive skin. Revitalift Derm Intensives 1.5% Pure Hyaluronic Acid has also been validated by dermatologists.
When do you apply Revitalift Derm Intensives Hyaluronic Acid Serum?

We recommend you apply every morning & evening, apply 2-3 drops to the face and neck, and gently smooth into skin. Make sure to avoid the eye area.
How do Hyaluronic Acid products interact with other skin care items?

We recommend using this Hyaluronic Acid Serum with other Derm Intensives Serums and with Triple Power Moisturizer.
Need More Help? Try our skin analysis tool for a custom skincare routine.
Watch & Learn More
What You Need To Know About Hyaluronic Acid
Re-Plumping Power of Pure Hyaluronic Acid
Revitalift Derm Intensives 1.5% PURE Hyaluronic Acid Serum is our most potent hydrating formula with our highest concentration of PURE Hyaluronic Acid.
L'Oréal Paris Revitalift Derm Intensives Hyaluronic Acid Serum Review

READ MORE
SKIN CARE COMPARISON
COMPARE L'ORÉAL SKIN CARE PRODUCTS
Key Ingredient
Hyaluronic Acid
Ratings and Reviews
Discover more tips & tricks
Keep your skin happy
See all articles
Improve your routine
Show your new look more love:
makeup
1 fl. oz.
Revitalift Derm Intensives
1.5% Pure Hyaluronic Acid Serum