lip makeup
How to Get Glassy Lips
May 08, 2020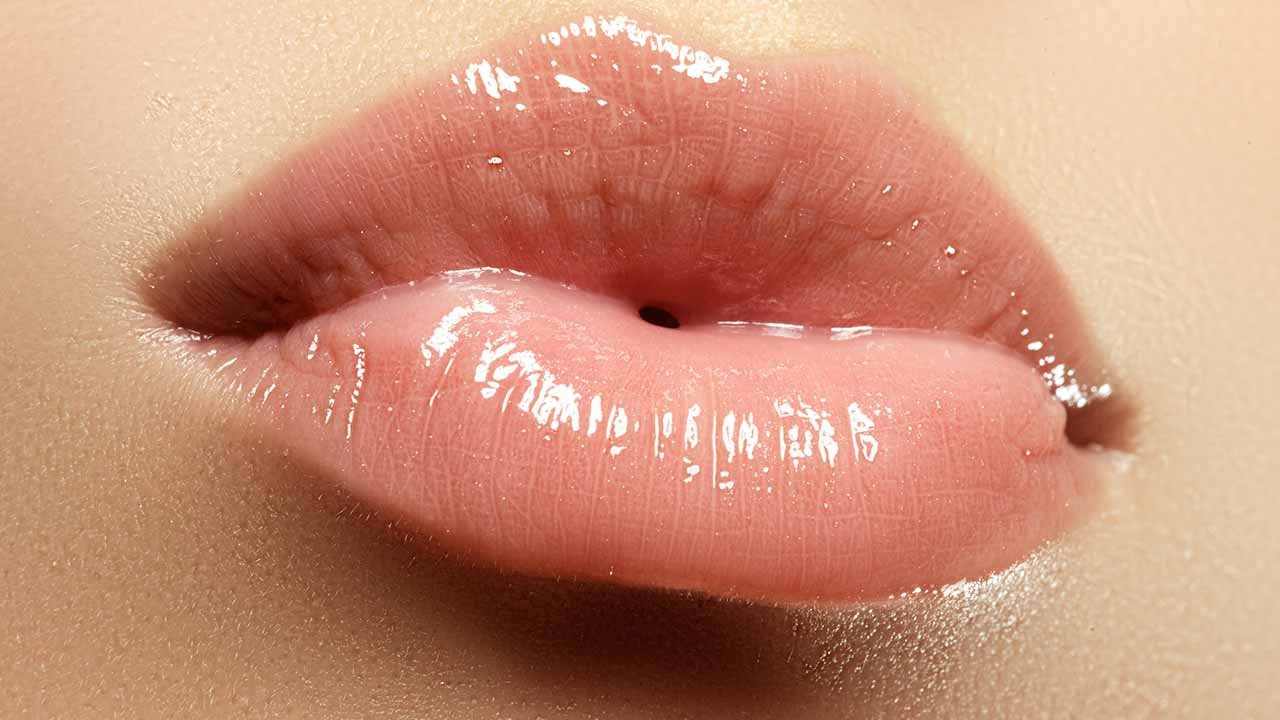 If you tend to stay on top of what's in vogue in terms of skin care, the latest makeup trend to hit the masses should come as no surprise. Recently, everyone and their mother has been fawning over dewy skin with a high-shine finish (achieved with the help of illuminating moisturizers and serums aplenty). This Korean beauty trend is known as glass skin. Now, we're seeing the glass skin trend translate to what's popular in makeup, too. Instead of sporting matte lipstick exclusively, glassy lips with a shiny, reflective quality are taking over.
If you've ever wondered how to make your lips look glossy, this trend is for you! Ready to take lacquering your lips to the next level? Here's how to achieve glossy lips in five easy steps. Plus, read 'til the very end to find out how to match the rest of your makeup to your glassy lips.
HOW TO ACHIEVE GLASSY LIPS
Let's get right into it! Follow these steps to give your pout a glass-like look.
STEP 1: HYDRATE YOUR LIPS
The drier your lips are, the more of a struggle it'll be to turn them into glass. Before breaking out a lip color, slather on a hydrating lip balm.
STEP 2: APPLY LIPSTICK WITH A SHINY FINISH
We love lipsticks with satin or matte finishes, but now's not the time! Opt for a lipstick with a super-shiny finish, like the L'Oréal Paris Colour Riche Shine Lipstick, and swipe it on. As for which color to choose, it's up to you! Have your pick from the 16 available shades—your glossy lips can be any color you like.
STEP 3: LAYER CLEAR LIP GLOSS ON TOP
Next time you question, "How can I make my lips look glossy?", know there's an obvious answer: lip gloss. To amp up the uber-glossy, glass-like effect you're going for, add a layer of high-shine lip gloss over your lipstick. Try the L'Oréal Paris Infallible 8 HR Le Gloss.
STEP 4: ADD SHIMMER AT THE CENTER
Don't be afraid to add a little shimmer into the mix. Using a highlighter, like the L'Oréal Paris True Match Lumi Shimmerista Highlighting Powder, dab a bit of shimmer onto the center of your lips. Not only will they look extra glassy, but this little trick can also make your lips appear bigger.
STEP 5: HIGHLIGHT YOUR CUPID'S BOW
To finish off your lips, use the same highlighter to add a touch of shimmer to your cupid's bow.
HOW TO COMPLETE YOUR GLASSY MAKEUP LOOK
Round out your makeup look with radiant skin, glossy lids, and highlighted cheeks.
STEP 1: APPLY PRIMER
To make sure your makeup look lasts, start with the L'Oréal Paris Infallible Pro Glow Lock Makeup Primer. Apply a thin layer of primer; then it's on to your next step.
STEP 2: USE FOUNDATION WITH A RADIANT FINISH
Matte foundation is likely to clash with your glossy lip look. Instead, apply the L'Oréal Paris Infallible Pro Glow Foundation, which has a radiant finish.
STEP 3: CONCEAL UNDER YOUR EYES
Brighten your under-eye area with the L'Oréal Paris Infallible Pro Glow Concealer. Dot the concealer on in the shape of an upside-down triangle, then blend out with a makeup sponge.
STEP 4: MAKE LIDS LOOK GLASSY, TOO
Glassy makeup isn't reserved for your lips. Give your eyes the same effect by swiping a clear eye gloss across your lids for an ultra-glassy look.
STEP 5: COAT YOUR LASHES
A couple of coats of mascara may not contribute to the glass-like look of your makeup, but coating your lashes will help your look seem more complete. Try the L'Oréal Paris Bambi Eye Washable Mascara, Lasting Volume to pump up the volume on your lashes.
STEP 6: SWEEP ON A BRIGHTENING BLUSH
Don't let your cheeks fall flat! Blend the L'Oréal Paris True Match™ Blush onto the apples of your cheeks to add a dose of color to your complexion.
STEP 7: HIGHLIGHT KEY SPOTS
You're almost done! For a natural-looking glow, dab the L'Oréal Paris True Match™ Lumi Glotion Natural Glow Enhancer onto the highpoints of your face—i.e., above your cheekbones, under your arches, and down the bridge of your nose.
Next: Glitter Lips Are In, Here's How to Rock Glitter Lip Gloss
Discover more tips & tricks
Keep your skin happy
See all articles
Shop Featured Makeup products
Discover More