skin care essentials
The Glycolic Acid Serum Your Skin Care Routine Needs
Introduce your complexion to this powerhouse.
May 12, 2020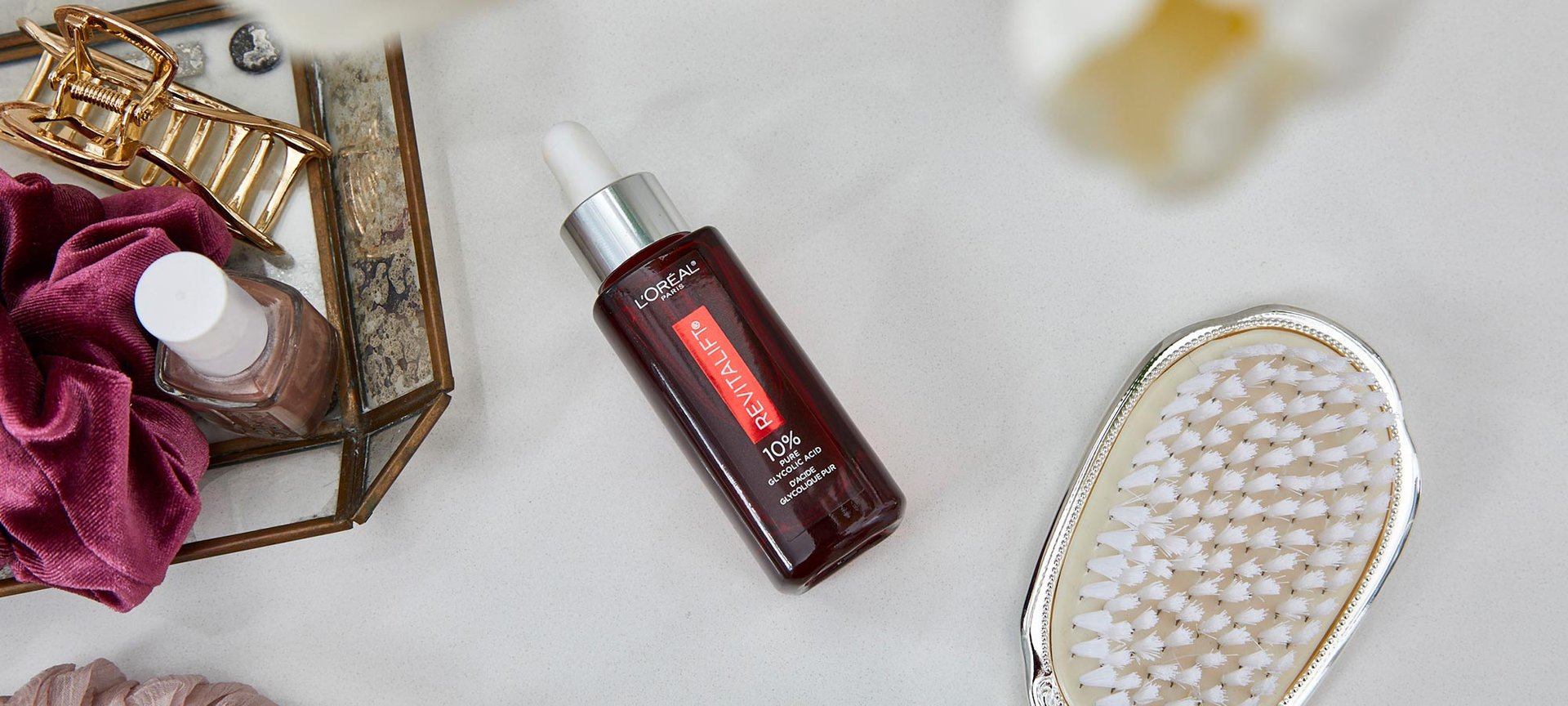 Following a skin care routine is key to keeping your skin looking its best. And choosing the right skin care ingredients also plays an important role. One of the most popular ingredients for anti-aging, fighting acne, and other skin concerns is glycolic acid. Known for its exfoliating and skin-brightening benefits, glycolic acid is a dermatologist favorite and can work wonders on the skin when used consistently. One way to get a daily dose of this acid is through a facial serum, like the L'Oréal Paris Revitalift Derm Intensives 10% Pure Glycolic Acid Serum. Read on to find out more about this serum, complete with benefits and a guide on how to use it to keep your skin healthy and youthful-looking.
How To Determine If Your Skin Needs Glycolic Acid
Before adding any new products to your skin care routine, be sure to figure out your skin's needs. That's where the L'Oréal Paris Skin Genius feature comes in. Powered by advanced artificial intelligence, this tool will analyze five of your skin attributes—firmness, radiance, pore quality, even tone, and fine lines and wrinkles—to create a custom routine, complete with products you can use to treat your skin concerns. All you have to do is upload a makeup-free selfie, input your age, skin type, and let the Skin Genius tool work its magic. It's a simple skin assessment that can be done right from the comfort of your home. You can also order all the product recs online, including the L'Oréal Paris Revitalift Bright Reveal Brightening Daily Scrub Cleanser, the L'Oréal Paris Revitalift Bright Reveal Brightening Daily Peel Pads, and of course the L'Oréal Paris Revitalift Derm Intensives 10% Pure Glycolic Acid Serum. If you haven't used a glycolic acid serum before, keep reading to learn more about the benefits and how you can incorporate it into your own skin care routine.
The Benefits Of The L'Oréal Paris Revitalift Derm Intensives 10% Pure Glycolic Acid Serum
As we get older, our skin loses its ability to shed dead skin cells from its surface, leading to build-up and dull-looking skin. Glycolic acid works to exfoliate the outermost layers of the skin, polishing away those dead cells. Formulated with 10 percent pure glycolic acid and aloe, this serum works to even the skin tone, reduce dark spots, and reduce the appearance of fine lines and wrinkles. The formula is free of parabens, dyes, fragrances, and mineral oil, making it suitable for all skin types, including sensitive skin. And the 10 percent concentration is the highest percentage that's safe for use without a prescription, according to the Food & Drug Administration (FDA). Thanks to its dose of aloe, your skin will be left feeling nourished and smooth. It also absorbs quickly, doesn't feel greasy, and won't clog pores. With continued use, you'll begin to notice a softer, visibly younger, more radiant-looking complexion.
How To Use The 10% Pure Glycolic Acid Serum
Prepared to make room in your routine for this derm-validated skin care essential? Here's how to add our serum to your nighttime skin care routine.
Step #1: Cleanse
Serums are typically intended to be applied to clean, dry skin—which means you'll want to wash your face before reaching for this serum. Use the L'Oréal Paris Revitalift Bright Reveal Brightening Daily Scrub Cleanser as an added boost. It's formulated to exfoliate the skin without over-drying it. Wet your skin with water first and then lather the formula into your hands. Massage it into the skin with gentle circular motions, then rinse thoroughly.
Expert tip: Dr. Rocio Rivera, Scientific Communications Vice President, L'Oréal Paris, recommends using this cleanser once or twice a week at night to replace your daily facial cleanser.
Step #2: Apply The Serum
This serum is recommended to be used in the evenings because products formulated with glycolic acid can cause photosensitivity. Pump four to six drops of the serum directly onto your fingertips and gently pat it over your entire face. For sensitive skin, start by using the serum two times per week and build to nightly use.
Step #3: Follow Up With Moisturizer
To complete your nighttime skin care routine, finish off by applying a moisturizer like the L'Oréal Paris RevitaLift Triple Power Anti-Aging Overnight Mask. This rich, hydrating leave-on creamy face mask works to form a protective shield over the skin. It's formulated with good-for-you skin care ingredients like pro-retinol, vitamin C, and hyaluronic acid, which will help reduce signs of aging and brighten your complexion. Massage a generous amount into your face, neck, and jawline, and then head off to bed.
Editor's Tip: Remember we mentioned increased photosensitivity? Well, it's important to use skin care with sun protection the following morning. Reach for a double-duty moisturizer like the L'Oréal Paris Revitalift Triple Power Day Lotion SPF 30. It's formulated with vitamin C, pro-retinol, hyaluronic acid, and SPF 30 to help soften and soothe the skin while offering a layer of sun protection.
Photo Credit: Sarah Duvivier
Next: Our Best Skin Care Products Formulated with Glycolic Acid
{ "@context": "https://schema.org/", "@type": "WebPage", "speakable": { "@type": "SpeakableSpecification", "cssSelector": ["speakable-content"] }, "url": "https://www.lorealparisusa.com/beauty-magazine/skin-care/skin-care-essentials/glycolic-acid-serum-review" }
Discover more tips & tricks
Keep your skin happy
See all articles
Shop Featured Skin Care products
Discover More
{ "@context": "http://schema.org", "@type": "BreadcrumbList", "itemListElement": [ { "@type":"ListItem", "position": 1, "item": { "@id": "/", "name": "Home" } } , { "@type":"ListItem", "position": 2, "item": { "@id": "https://www.lorealparisusa.com/beauty-magazine", "name": "Beauty Magazine" } } , { "@type":"ListItem", "position": 3, "item": { "@id": "https://www.lorealparisusa.com/beauty-magazine/skin-care", "name": "Skin Care For Every Age" } } , { "@type":"ListItem", "position": 4, "item": { "@id": "https://www.lorealparisusa.com/beauty-magazine/skin-care/skin-care-essentials", "name": "Skin Care Essentials" } } , { "@type":"ListItem", "position": 5, "item": { "@id": "https://www.lorealparisusa.com/beauty-magazine/skin-care/skin-care-essentials/glycolic-acid-serum-review", "name": "glycolic-acid-serum-review" } } ] }