face makeup
How and Where To Apply Concealer
November 24, 2020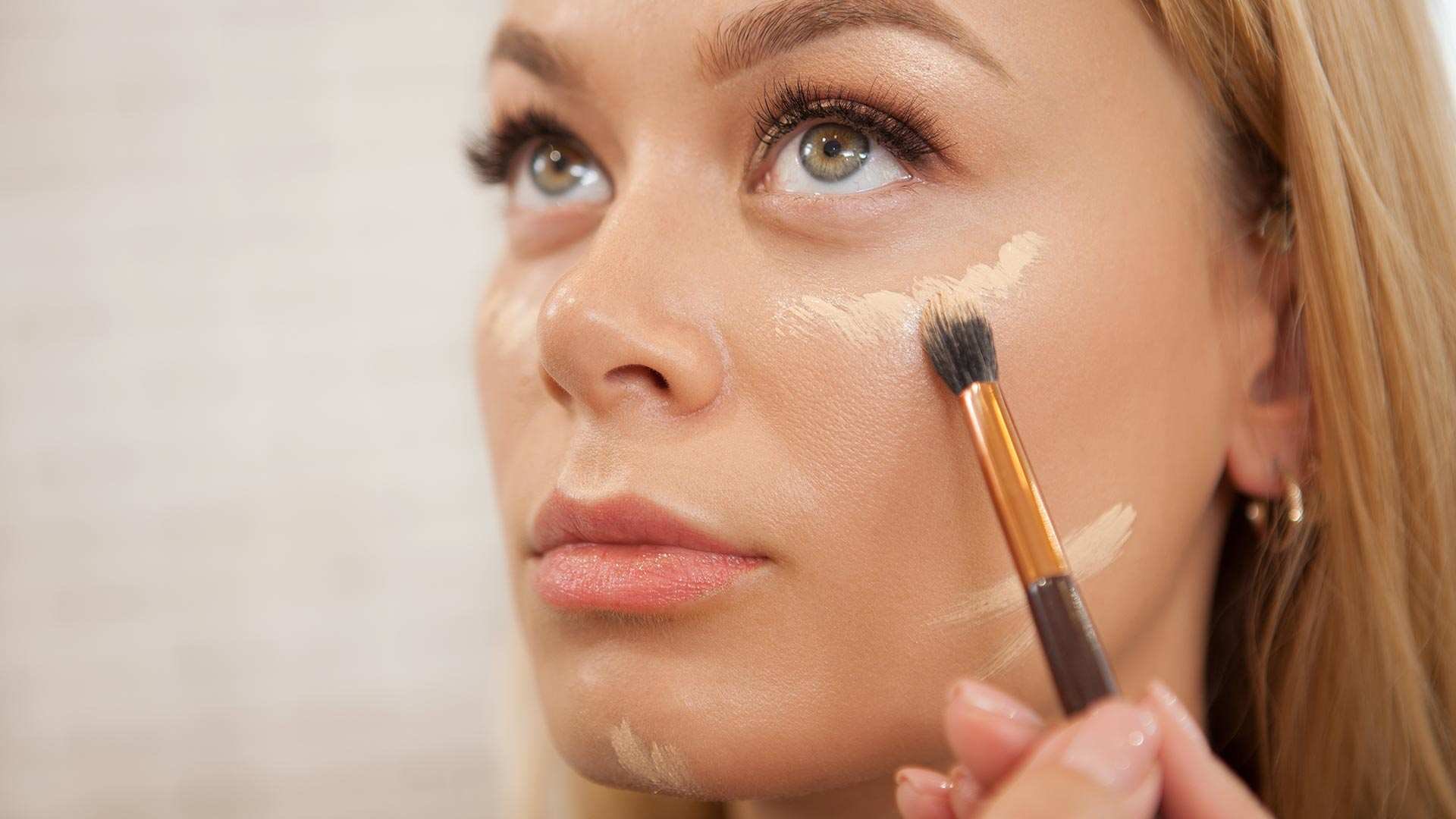 If there is one makeup product that's an absolute must-have for your collection, concealer takes the top spot. And just like any makeup product, the key to getting the best out of this essential is to know exactly how to apply concealer—and where to put it. While most people already use this makeup staple to disguise under-eye bags and imperfections, knowing all the right tips and tricks can take your beauty look to the next level. Consider this your go-to guide on where to apply concealer and how to use it.
1. DON'T OVER-APPLY
It might seem logical that the more concealer makeup you apply, the more you're able to cover up imperfections. Maybe that makes sense on some level—but it's not the reality of how concealer works. When you load on too much product, you'll actually end up drawing attention to the spots you were trying to hide. Instead, apply a thin layer of concealer to start. You can always add a little more if necessary.
This is one of the most key facets of how to apply concealer, so listen up: You also don't want to put concealer all over your face—that's what foundation is for. Stick with applying it on key spots only—which we'll break down more as we go.
2. FOUNDATION FIRST, THEN CONCEALER
You've likely heard it argued both ways, but foundation comes before concealer. Applying concealer before foundation is one of the biggest and most common face makeup mistakes, so make sure your routine is in order.
3. USE A TRIANGLE SHAPE TO CONCEAL UNDER YOUR EYES
If you didn't get enough beauty sleep last night, no worries! Simply reach for your eye concealer makeup and get to work. If you want to hide dark under-eye circles, start off with a peach color-correcting concealer, like the L'Oréal Paris True Match Color Correcting Crayon in Peach. The pale color can help counteract the bluish look of dark circles since they're opposites on the color wheel.
As for where to apply eye concealer, draw an inverted triangle shape under each eye and blend with a makeup blender, like the L'Oréal Paris Infallible Blend Artist Foundation Blender, to help brighten your look. Follow up with a concealer that matches your skin tone. Bonus points if you use the L'Oréal Paris True Match Eye Cream in a Concealer, 0.5% hyaluronic acid, which is a concealer and eye cream in one.
4. PRIME YOUR EYELIDS WITH CONCEALER
Eye primer can help create a smooth, even base for your eye makeup, as well as help keep it in place—and eye concealer acts as the perfect stand-in if you find you're at the end of the tube. Use just a tiny dab of the L'Oréal Paris Infallible Pro-Glow Concealer on each lid before moving on to your eyeshadow and eyeliner application. Trust us, this little trick will be especially useful during warmer days or when you know you'll be running around a lot.
5. CAREFULLY COVER BLEMISHES
Not to state the obvious, but concealer is a miracle worker when it comes to hiding blemishes. If you have a pink or reddish spot you don't want anyone to see, the trick is to use a green concealer—and no, you won't look like a witch. For example, use the L'Oréal Paris True Match Color Correcting Crayon in Green to cover acne. Because green sits opposite of red on the color wheel, it will help neutralize the look of your blemish. Follow up with the rest of your makeup routine, applying a non-comedogenic flesh-colored concealer.
Editor's note: Use a clean concealer brush to apply the product over any blemishes. This is a better move than applying the concealer directly onto any acne spots, as the bacteria from your breakouts can end up on your concealer.
6. BRIGHTEN DULL AREAS WITH CONCEALER
If you notice your complexion looks a little on the lackluster side, we've got one piece of advice for you: conceal, conceal, conceal. To help hide the look of dullness, apply a pale lavender color-correcting concealer to any areas that you think look like they need a little perking up. As with any other time you use a color-correcting concealer, using a lavender corrector calls for topping things off with a flesh-colored concealer, like the L'Oréal Paris True Match Super-Blendable Multi-Use Concealer.
Of course, there's more than one way to get a brighter look with a concealer. You can also brighten things up and give your face a glowy look with a concealer that has a radiant finish. One option: Apply a concealer that's one to two shades lighter than your skin tone on key spots. When it comes to where to apply concealer for illuminating purposes, those key spots will be down the bridge of your nose, above your cheekbones, on the center of your forehead, and in the middle of your chin—the same spots you would apply highlighter.
7. CLEAN UP YOUR EYEBROW SHAPE
For a way to define your natural brows, look no further than your trusty concealer. Kick things off by using the L'Oréal Paris Brow Stylist Definer Waterproof Eyebrow Mechanical Pencil to outline and fill in your eyebrows. Be sure to use feathered strokes to mimic your natural eyebrow hairs, then use a spoolie brush to soften any harsh lines.
Here's where your concealer comes in: Grab a small brush, dip it into your concealer, and apply it along the top and bottom edges of your eyebrows. Be sure to blend until it's even. Finish things off with a bit of the L'Oréal Paris True Match Lumi Shimmerista Highlighting Powder under your arch, then seal the deal with a swipe of the L'Oréal Paris Unbelievabrow Longwear Waterproof Brow Gel to set your brows in place.
8. PERFECT YOUR POUT, TOO
If lipstick bleeding and smudging is practically the bane of your existence, we have news you'll be happy to hear: concealer makeup can save the day. All you need is a fine-tipped brush and a long-wear concealer to get the job done. Simply pick up a little concealer with your brush and go around the natural line of your lips to clean up your pout. Best of all, this hack highlights and creates the illusion of fuller lips.
Editor's note: Some people also use concealer in place of nude lipstick, but we'd recommend sticking with a product actually meant for your pout.
9. CONTOUR YOUR VISAGE
Thanks to concealer, sculpted cheekbones are perfectly accessible to everyone. You can carve out your cheekbones by contouring with a concealer that's a couple of shades darker than your skin tone. If you're asking how to apply concealer so that it sculpts your face, grab the L'Oréal Paris Infallible Full Wear Concealer Waterproof, Full Coverage in a shade that works for you. Apply stripes of it down the sides of your nose, below your cheekbones, on your temples, and along your jawline, then blend out with a makeup sponge. Ta-da, now look at those angular features!
Discover more tips & tricks
Keep your skin happy
See all articles
Shop Featured Makeup products
Discover More