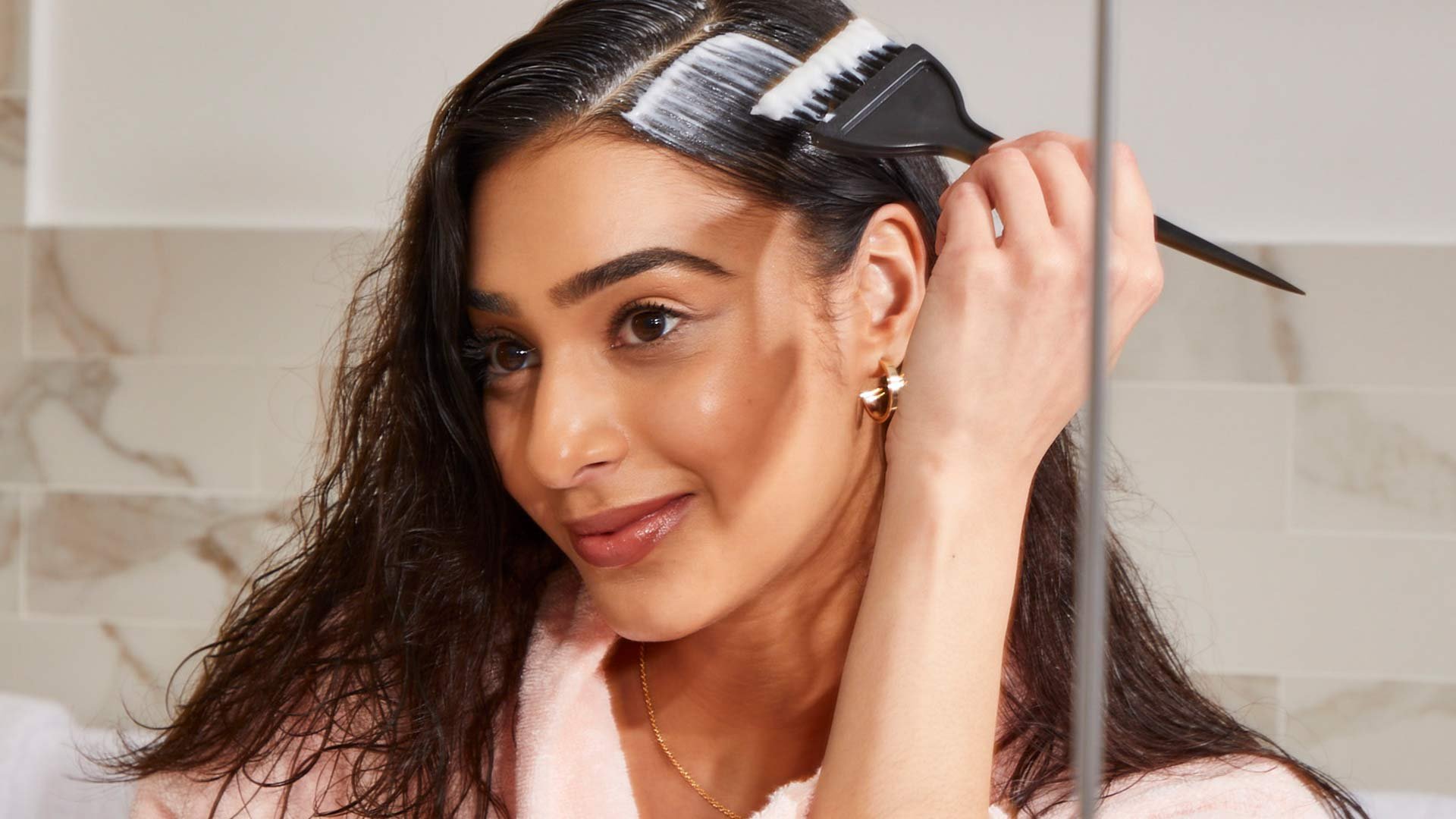 hair color tutorials
How To Lighten Dark Brown Hair
As the temperatures continue to rise, the amount of lighter hair color selfies on our Instagram and Tik Tok feeds also continues to increase. And if you've got dark brown hair, you might have dreamed of ways to change up your brunette hair color. Fortunately, there are a few options you can take advantage of when it comes to lightening your strands. And while you may not get to platinum status, these tips can help add some sun-kissed golden tones to your mane. Have we piqued your interest? Keep reading to learn how to lighten dark brown hair with the help of a few drugstore hair coloring products, as well as options for doing so naturally, so you can have the hair color of your timeline dreams.
Tips For Lightening Dark Brown Hair
Changing up your hair color can be an exciting process and there are several methods you can use to do so—ranging from bleach, dye, apple cider vinegar, lemon juice, and more. If you prefer staying away from bleach and hair dye, opt for natural hair lightening methods instead. However, the research on natural hair lightening is limited, so we recommend checking out different resources to learn about various techniques.
Henna, a plant-based hair dye, is also an option for coloring your hair without traditional hair dyes or bleaches—and it's one where we can provide a bit more info. Here's Your Introduction to Henna Hair Dyes for everything you need to know.
No matter what method you choose, you want to get it right the first time. Check out our tips below to help you determine the best way to lighten your brunette strands.
Tip #1: Choose The Right Shade
When going from dark brown hair to light brown hair, you'll want to take your skin's undertones into consideration. Choosing a hair color that complements your skin tone is much better than picking out a random hue you find appealing. Typically, if you have cool-toned skin, warmer hair colors will make your features pop, whereas warmer skin tones will look great with cooler shades. How do you know if you have cool or warm undertones? Flip your wrists and examine your veins—if they're blue, you're cool-toned; if they're green, you're warm-toned; if they're somewhere in the middle, you're neutral. You can learn more about choosing the right shade of brown by reading our article, How To Find The Best Brown Hair Color For Your Skin Tone.
Editor's Tip: There are many gorgeous brown hues to choose from, making it tough to decide on one color. Luckily, the L'Oréal Paris Haircolor Concierge is here to help you with all your hair color needs. Use it to consult with an expert colorist, check out video tutorials, learn hair coloring tips, and more.
Tip #2: Color Your Hair Gradually
To go from brown to blonde hair and to lighten brunette strands in general, you will need to have your base color lifted with bleach. The American Academy of Dermatology (AAD) suggests choosing a dye within three shades of your natural color to help maintain the health of your mane. Lightening your hair more than three shades requires higher volumes of peroxide, which can cause more hair damage. This also means you might not be able to dye it as light as you'd like in one application. You should wait at least 14 days between bleaching sessions. If you're getting your hair lightened at the salon, you should also take your time before booking a follow-up appointment in order to give your mane a chance to rest between sessions.
Editor's Tip: To bleach your hair at home, try using the L'Oréal Paris Feria Hyper Platinum Advanced Lightening System Bleach, which can lighten hair several levels, making it ideal for anyone starting with a darker base color. This kit also includes an anti-brass conditioner, formulated with purple pigments to help neutralize brass while conditioning and strengthening the hair. This conditioner will help keep your strands feeling healthy and strong.
How To Take Care Of Lightened Brown Hair
Once you have lightened your hair, you should consider switching up your hair care routine to help keep your strands strong and healthy. The following three tips are worth adding to your beauty arsenal.
Tip #1: Use A System Of Products Safe For Color-Treated Hair
To maintain your lightened hue for the long haul and keep your strands from becoming damaged, you'll need to use the right shampoo and conditioner. Reach for the L'Oréal Paris Elvive Color Vibrancy Protecting Shampoo and the L'Oréal Paris Elvive Color Vibrancy Protecting Conditioner. This system works to seal in hair color for up to sixty days, and it's formulated with antioxidants to keep your strands healthy. Follow up with a hair mask like the L'Oréal Paris Elvive Color Vibrancy Repair and Protect Balm in place of conditioner once or twice a week. It's formulated to smooth and protect hair color by deeply nourishing your strands.
Tip #2: Cut Down On Hot Tools
As much as you love the hairstyles hot tools can create, repeated exposure to heat can wear down your strands. Instead of skipping out on gorgeous looks, try creating no-heat hairstyles using the L'Oréal Paris Elvive Dream Lengths Air Volume Dry Shampoo. It instantly absorbs oil and won't leave behind any white residue. It can also be used as a texturizing spray throughout your mane to add body while it refreshes your strands.
Tip #3: Use A Hair Gloss
Enhance your new hair color by adding the L'Oréal Paris Le Color Gloss One Step In-Shower Toning Gloss into your hair care routine. This at-home treatment that works to brighten and tone your hair color while also deeply conditioning your strands. It's formulated with a coconut oil-infused deep-conditioning base and can be used on all hair types and textures. While hair toning gloss is typically thought of as an in-salon treatment, this product can be used in just 15 minutes at home. There's no mixing involved—you can just add it to your wash day routine for enhanced color and to add a boost of shine to your strands.
Photo Credit: Sarah Duvivier
Discover more tips & tricks
Keep your skin happy
See all articles
Shop Featured products
Discover More