Panel 1

Panel 2

Panel 3

Panel 4

Panel 5

Panel 6
An at-home balayage kit that lets you get perfectly blended highlights on your own. The formula is suited for blonde and brunette hair.
$16.99

find it nearby
Product details

Create beautiful, luminous, naturally blended highlights with Superior Preference Balayage At-Home Highlighting Kit. Inspired by the salon, this balayage hair color gives you natural blended highlights. Get multidimensional results without the hefty price tag. The kit also includes:

Expert applicator with an advanced comfort brush grip that allows for precise placement
Pro Toning Mask enriched with dye to blend and blur your roots and create a natural effect
How To Find Your Color

Superior Preference Balayage At-Home Highlighting Kit is ideal for blonde and brunette hair.
How To Use

Step 1. Divide hair into two sections, left and right. Clip away section 2 while you work on section 1.

Step 2. Place the applicator tool on your gloved middle and ring fingers and dip bristles into the lightening mixture.

Step 3. Brush mixture along each hair strand in one smooth motion and ensure ends are saturated. Repeat until you've covered your entire head.

Step 4. Let sit for 25–45 minutes depending on desired balayage result.

Step 5. Rinse hair and shampoo. Apply Pro Toning Mask throughout hair. Leave mask on for 10 minutes and then rinse.
Ingredients

Water, Cetearyl Alcohol, Propylene Glycol, Deceth-3, Laureth-12, Ammonium Hydroxide, Oleth-30, Lauric Acid, Glycol Distearate, Polyquaternium-22, Ethanolamine, Silica Dimethyl Silylate, Parfum / Fragrance, Carbomer, Edta Fil T70014607/1

Always read the ingredient list on the product label before use. Please consult the product packaging on the shade level for detailed product ingredients and application instructions.
NO APPOINTMENT NECESSARY​
Preference Balayage helps you create luminous, salon-inspired highlights at home.​ The easy-to-use Expert Applicator and the Pro Toning Mask are the perfect combination to achieve a multi-dimensional and natural-looking Balayage.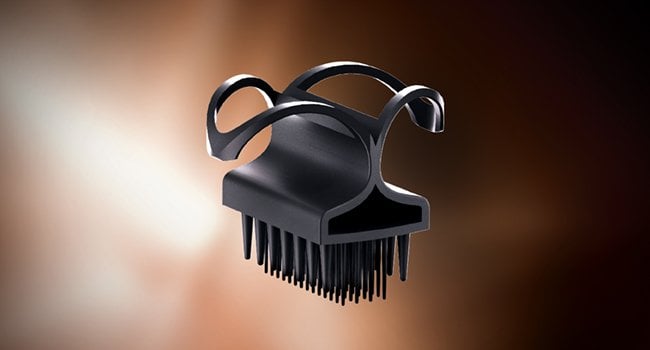 New Expert Touch Applicator with advanced comfort grip.​

Inner bristles hold onto formula for an even application.​
Outer bristles detangle and distribute formula evenly through the hair, from roots to tips.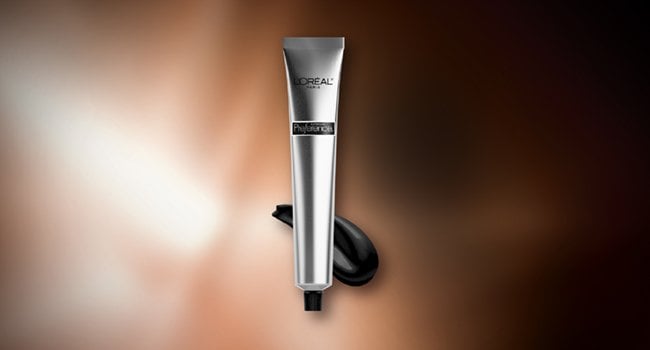 New Pro Toning Mask.​ ​
Enriched with pigments that help blur your root line and tone your highlights for a natural looking effect.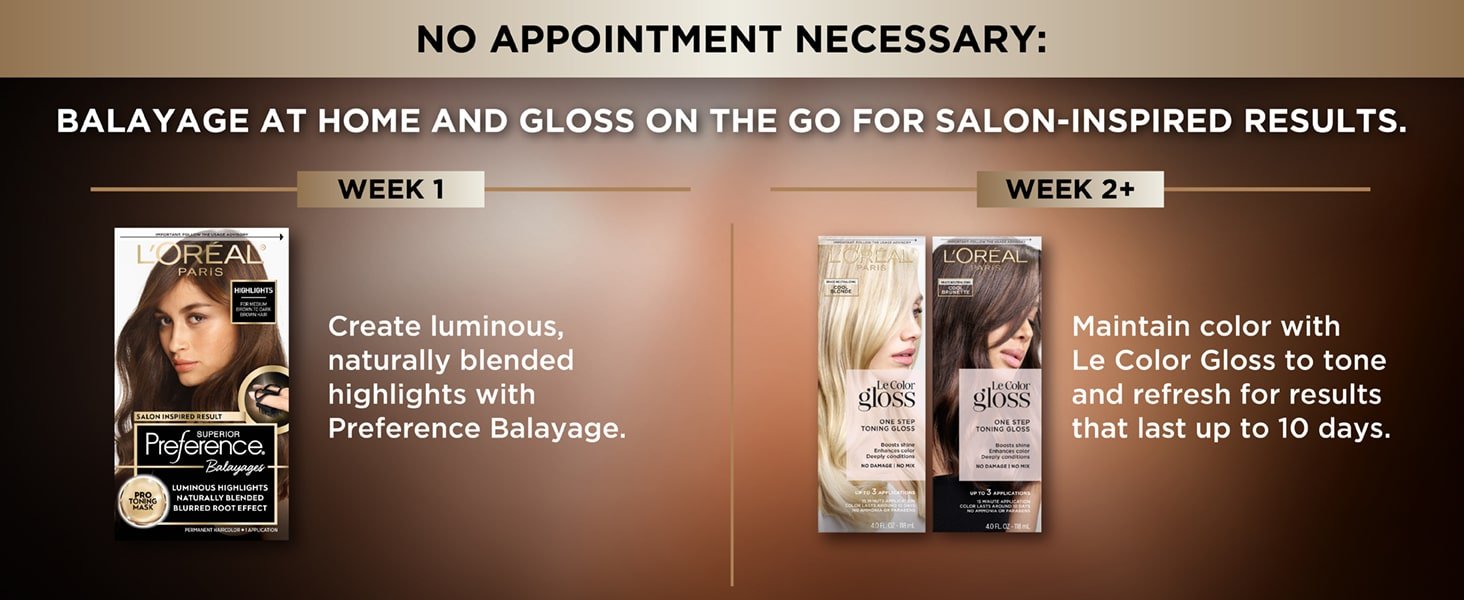 What is Balayage?

In French, the word Balayage means to sweep. Balayage highlights are typically painted onto the hair using a brush – applying where you think will look best. The goal is to leave your hair with naturally blended highlights and dimension.
What is the difference between Highlights and Balayage?

Balayage is a freehand technique whereas Highlights traditionally use foiling or cap techniques. With Balayage, the result is more natural and with foils, you get a more uniform finish.
How long does Balayage last?

Since the nature of Balayage is achieving naturally blended highlights, the process results in a more natural-looking grow out. Because of this, your Balayage can last up to 6 months, excluding any additional lightening or cutting.
How can I maintain my Balayage?

To keep your Balayage looking fresh, we recommend continued maintenance by glossing with L'Oreal Paris Le Color Gloss every 10 days.
What developer comes in the Preference Balayage kit?

The Preference Balayage Light Blonde to Dark Blonde and Dark Blonde to Light Brown options both include a 30-volume developer. The Preference Balayage Medium Brown to Dark Brown option includes a 15-volume developer.
{ "@context": "http://schema.org", "@type": "FAQPage", "mainEntity": [ { "@type": "Question", "name": "What is Balayage?", "acceptedAnswer": { "@type": "Answer", "text": "In French, the word Balayage means to sweep. Balayage highlights are typically painted onto the hair using a brush – applying where you think will look best. The goal is to leave your hair with naturally blended highlights and dimension."} } , { "@type": "Question", "name": "What is the difference between Highlights and Balayage?", "acceptedAnswer": { "@type": "Answer", "text": "Balayage is a freehand technique whereas Highlights traditionally use foiling or cap techniques. With Balayage, the result is more natural and with foils, you get a more uniform finish."} } , { "@type": "Question", "name": "How long does Balayage last?", "acceptedAnswer": { "@type": "Answer", "text": "Since the nature of Balayage is achieving naturally blended highlights, the process results in a more natural-looking grow out. Because of this, your Balayage can last up to 6 months, excluding any additional lightening or cutting."} } , { "@type": "Question", "name": "How can I maintain my Balayage?", "acceptedAnswer": { "@type": "Answer", "text": "To keep your Balayage looking fresh, we recommend continued maintenance by glossing with L'Oreal Paris Le Color Gloss every 10 days."} } , { "@type": "Question", "name": "What developer comes in the Preference Balayage kit?", "acceptedAnswer": { "@type": "Answer", "text": "The Preference Balayage Light Blonde to Dark Blonde and Dark Blonde to Light Brown options both include a 30-volume developer. The Preference Balayage Medium Brown to Dark Brown option includes a 15-volume developer."} } ] }
Discover the many ways to Blonde
Result
Salon-inspired, naturally blended highlights
What's included in the kit
Bleaching Powder, Developer, Lightening Cream, Toning Mask, Applicator, Gloves
Luminous, fade-defying permanent color with shine​
Developer, Color, Care Supreme Conditioner, Gloves
High lift, permanent color with shine
Developer, Color, Care Supreme Conditioner, Gloves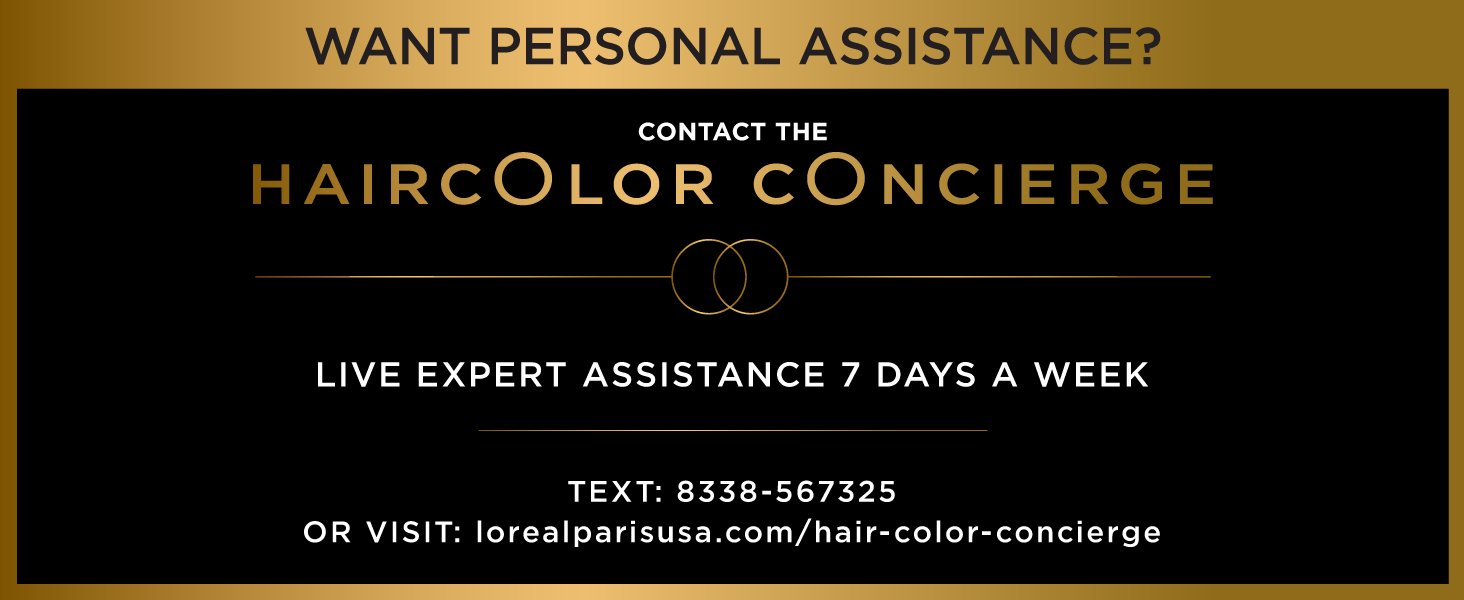 Ratings and Reviews
Complete the look
Superior Preference
Balayage At-Home Highlighting Kit
{ "@context": "http://schema.org", "@type": "BreadcrumbList", "itemListElement": [ { "@type":"ListItem", "position": 1, "item": { "@id": "/", "name": "Home" } } , { "@type":"ListItem", "position": 2, "item": { "@id": "https://www.lorealparisusa.com/hair-color", "name": "Hair Color" } } , { "@type":"ListItem", "position": 3, "item": { "@id": "https://www.lorealparisusa.com/hair-color/permanent", "name": "Permanent" } } , { "@type":"ListItem", "position": 4, "item": { "@id": "https://www.lorealparisusa.com/hair-color/permanent/preference-balayage-light-blonde-to-dark-blonde", "name": "Preference-Balayage-Light-Blonde-to-Dark Blonde" } } ] }
Live Chat