makeup looks
How to Apply Makeup: A Complete Step-by-Step Guide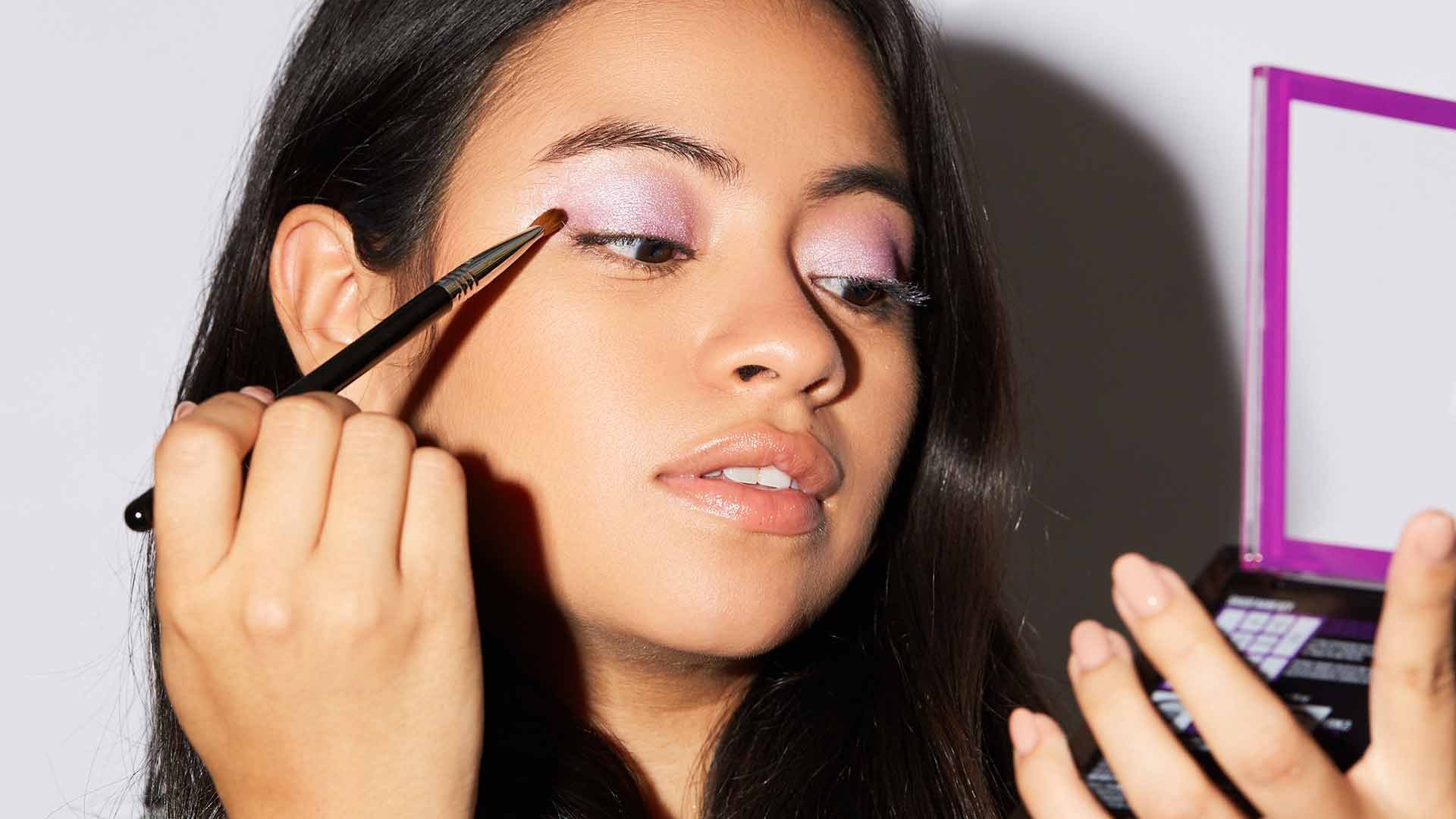 When it comes to applying makeup like a pro, there is a general order you should follow to achieve the best end results. However, different things work for different people, so there isn't just one perfect way to apply makeup. And if you're struggling with finding a method or wondering whether you should use concealer before or after foundation, you've come to the right place. To help you nail down a good makeup application flow, we've created a step-by-step guide you can use to learn how to apply face, eye, and lip makeup. We've also included product recommendations for the best foundations, mascaras, and more.
How To Prep Your Face For Makeup
Before applying makeup, it's important to prep your skin to create a good base. So be sure to complete your skin care routine before reaching for any makeup tools. Check out our three tips below for a quick and easy skin care prep routine.
Step 1: Facial Cleanser
The first step in your skin care routine should be washing your face. Reach for a facial cleanser, like the L'Oréal Paris Revitalift Bright Reveal Brightening Daily Scrub Cleanser, formulated with gentle micro-pearls and glycolic acid to help exfoliate and reveal brighter skin. It cleanses the skin without leaving it feeling dry and stiff. Squeeze a small amount of product into wet hands then gently massage it onto your skin and rinse off thoroughly.
Step 2: Facial Serum
Regardless of your skin type, adding a facial serum to your skin care routine could be very beneficial to the look of your complexion. Use the L'Oréal Paris Age Perfect Cell Renewal Midnight Serum, formulated with an exclusive antioxidant recovery complex that helps boost the skin's renewal process overnight. It also contains hyaluronic acid—a powerful hydrating ingredient that helps lock in moisture to keep the skin hydrated. Right after cleansing, apply three to four drops of this serum in the morning (yup, you can use it in the daytime) and night to help improve radiance and firmness in the skin.
Step 3: Moisturizer
Finish off your skin care routine by using a moisturizer that's formulated for your skin type. Grab the L'Oréal Paris Hydra Genius Daily Liquid Care for Normal/Oily Skin, L'Oréal Paris Hydra Genius Daily Liquid Care for Normal/Dry Skin, or L'Oréal Paris Hydra Genius Daily Liquid Care for Extra Dry Skin. Each of these moisturizers is formulated with hyaluronic acid and aloe vera water for long-lasting hydration.
The Best Order To Apply Face Makeup
After completing your skin care routine, you can begin the makeup process. And if you're wondering if it's necessary to use a primer or not sure if concealer should come before or after foundation—we can help. Check out our step-by-step guide below for an easy-to-do makeup routine.
Step 1: Apply A Primer
Using a primer is key to creating a great base for your beauty look, as it provides a grip for the products and works to extend the wear of your makeup. If you have dry skin grab the L'Oréal Paris Infallible Pro Glow Lock Makeup Primer, which will help give you a glowing finish. For those with oily skin reach for the L'Oréal Paris Infallible Pro Matte Lock Makeup Primer, formulated to mattify your complexion.
Step 2: Color Correct
Have dark under-eye circles or redness you want to cover up? Use a color correcting concealer, like the L'Oréal Paris True Match Color Correcting Crayons, which work to neutralize color and transform complexions. Simply blend a small amount of color-correcting concealer onto targeted areas of the skin using your ring finger.
Step 3: Apply Foundation
Foundation is among the few makeup essentials that you don't want others to see, meaning it's supposed to look just like your skin but better. So be sure to choose a formula that suits your specific needs. For example, if you have oily skin, you may want to consider using a matte (a.k.a. non-shiny) finish foundation, like the L'Oréal Paris Infallible Up to 24H Fresh Wear in a Powder, matte finish. Its breathable and weightless formula stays put for up to 24 hours. The best part? It's waterproof and sweatproof, so you won't have to worry about touch-ups throughout the day.
For those with dry skin, grab a radiant finish foundation, like the L'Oréal Paris Infallible Pro-Glow Foundation, which has a hydrating formula that will help give the skin a glowy look for up to 24 hours. Use a damp makeup blender like the L'Oréal Paris Infallible Blend Artist Foundation Blender when applying foundation to get even and natural-looking coverage.
Step 4: Conceal Your Under Eyes
Next, apply concealer under your eyes and over any blemishes. Foundation does a good job of covering up, but concealer can target any stubborn imperfections and make them nearly non-existent. For a full-coverage option, try L'Oréal Paris Infallible Full Wear Concealer Waterproof, Full Coverage, which comes in 25 various shades to match every skin tone and undertone. Use the included applicator to blend and buff the concealer into your skin.
For those looking to specifically cover up dark under-eye circles, use the L'Oréal Paris True Match Eye Cream in a Concealer, 0.5% hyaluronic acid. This multitasking product provides 24 hour hydration that works to keep the eye area looking fresh and brighter, thanks to its dose of pure hyaluronic acid.
Step 5: Contour To Add Dimension To Your Face
Now that you've created an even foundation base, it's time to add dimension by chiseling out your cheekbones and jawlines with some contour. Pick out a contour shade from the L'Oréal Paris Infallible Longwear Shaping Foundation Makeup Sticks, which have a creamy, glide-on formula that easily blends into the skin.
Step 6: Add Some Glow
Get your glow on or fake a rosy tone by applying a little bronzer, blush, and highlighter. Reach for the L'Oréal Paris True Match Glow Nude Highlighter Palette, which includes all three products. For bronzer and highlighter, apply them on areas where the sun would naturally hit your face (your forehead, nose, cheeks, and chin). Use a fluffy brush to apply the blush to the apples of your cheeks—and remember to smile while doing so! This will help give you a nice placement and add a pop of color to the cheeks.
The Best Order To Apply Eye Makeup
Now, it's time to move on to the eyes—grab your eyebrow pencil, eye shadow, mascara, and get ready to work!
Step 1: Define Your Eyebrows
Sculpt and define your eyebrows using the L'Oréal Paris Brow Stylist Waterproof Eyebrow Mechanical Pencil or the L'Oréal Paris Unbelievabrow Longwear Waterproof Gel. Both products will work to create a natural-looking well-defined arch.
Step 2: Add Color Your Lids
When applying eyeshadow, first, dust color onto your lids, then follow up with a crease color, and place a dab of highlighter along your brow bone. For a neutral eye makeup look, use the L'Oréal Paris Colour Riche Pocket Palette Eyeshadow in Boudoir Charme; for a shimmery nighttime eye makeup look, try the L'Oréal Paris Brilliant Eyes Shimmer Liquid Eye Shadow Makeup.
Step 3: Line Your Eyes
We've found that it's easiest to apply eyeliner before mascara and after eyeshadow. Reach for a waterproof eyeliner, like the L'Oréal Paris Infallible Pro-Last Waterproof Pencil Eyeliner. You can even use this eyeliner in your waterline (this technique is called tightlining) for added definition.
Step 4: Mascara
Finally, go for big bold lashes by using the L'Oréal Paris Air Volume Mega Mascara Lightweight Mega Volume Washable. This mascara features a cushioned double-bristle brush—the short side catches lashes from the root and the long side helps spread the product evenly for fully blown out lashes. Thanks to its air-whipped formula, your lashes won't feel weighed down.
The Best Order To Apply Lip Makeup
You're almost at the end! After you've finished your face and eye makeup, show your lips some love by swiping on some color.
Step 1: Lip Liner
Before you apply lipstick, use a lip liner to help prevent color from bleeding, which happens when your lipstick runs or smudges outside of your lip lines. Choose a lip liner and outline the natural line of your lips to help make your pout look fuller. You can also color in your lips with liner before applying lipstick to help create a smooth base. Try the L'Oréal Paris Colour Riche Lip Liner or L'Oréal Paris Colour Riche Matte Lip Liner based on the finish of the lipstick you choose.
Step 2: Lipstick
Next, swipe on your lipstick. With so many different colors and formulas available, the possibilities are nearly endless. Whether you opt for something shiny, like the L'Oréal Paris Brilliant Signature Shiny Lip Stain Lipstick, a matte formula like the L'Oréal Paris Colour Riche Ultra Matte Highly Pigmented Nude Lipstick, or something super pigmented like the L'Oréal Paris Colour Riche Les Nus by Colour Riche Intense Nude Lipstick, your pout is sure to look stunning.
How To Set Your Makeup Look
After all your work, it's essential to set your makeup to ensure that it stays in place and lasts throughout the day. Apply a few spritzes of the L'Oréal Paris Infallible Pro-Spray & Makeup Extender Setting Spray, formulated to set and prevent your makeup from settling into fine lines.
Shake well and hold the bottle about eight inches away from your face. Close your eyes and spray it four to six times in an X and T motion.
How To Remove Your Makeup At The End Of The Day
Sleeping in your makeup can lead to clogged pores—and clogged pores can lead to breakouts. So make sure to remove your makeup by using the L'Oréal Paris Micellar Cleansing Water Complete Cleanser Waterproof – All Skin Types. It will help lift dirt and oil from the skin so you don't lay foundation over bacteria that can cause breakouts. There's also no rinsing required, making it ideal for a quick cleanse. Pour some of the product onto a cotton pad, wipe the pad across your face, eyes, and lips.
Discover more tips & tricks
Keep your skin happy
See all articles
Shop Featured Makeup products
Discover More