color treated hair
What Is Toning Shampoo?
January 31, 2020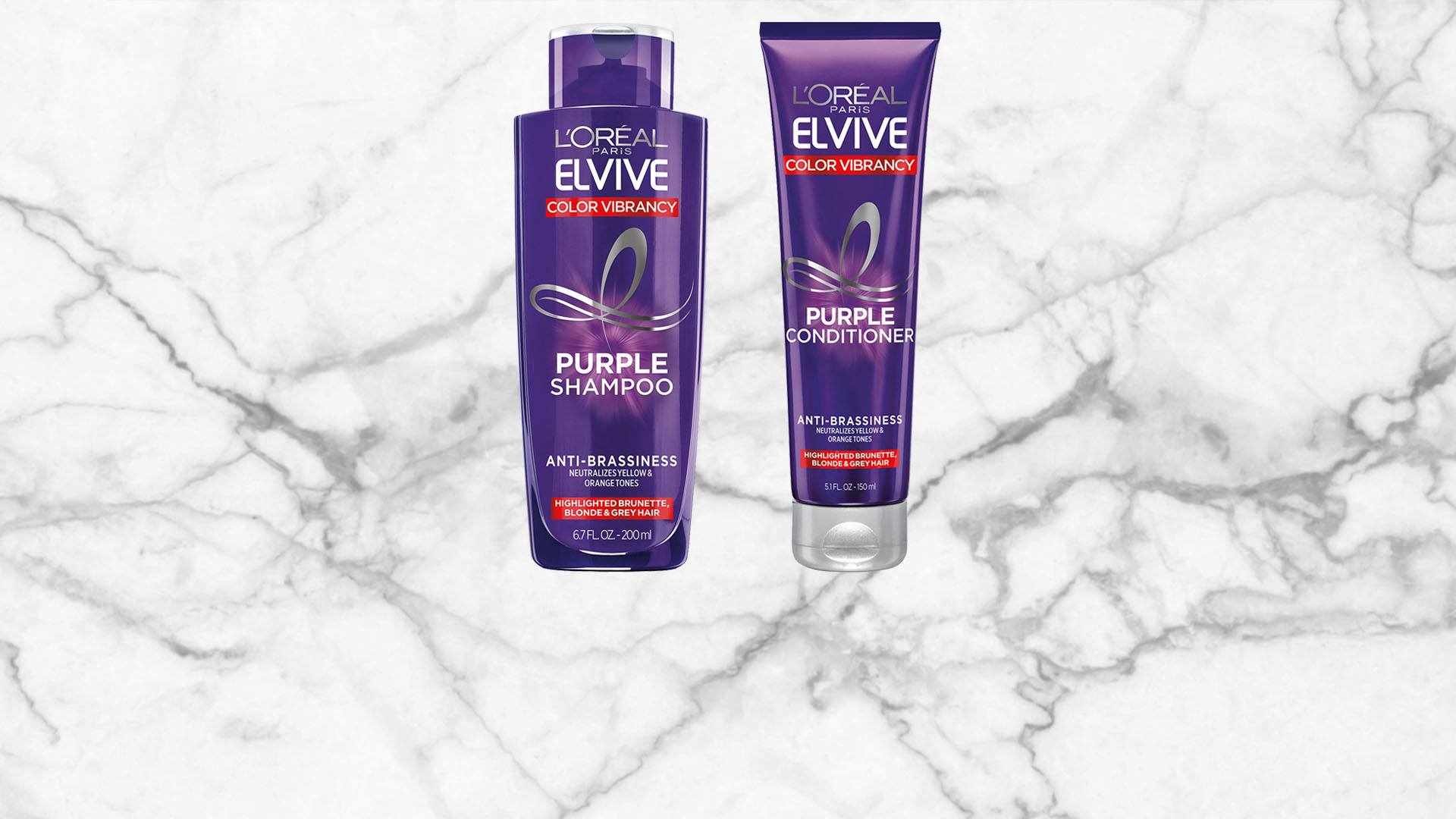 If you have bleached or highlighted hair, toning shampoo is a must for your hair care routine. You may have heard of the wonders of purple toning shampoo—but there's more to toning shampoo than that one holy grail product! Below, we're sharing the details on what exactly toning shampoo is and the different types you should know about, including blue toning shampoo. Ready for your hair care lesson? Let's get to it!
WHAT IS TONING SHAMPOO?
First thing's first, what is toning shampoo? The term toning shampoo is commonly used interchangeably with purple shampoo, but there's a bit more to it. Regardless of color (because there are different colors of toning shampoos), this product type is meant to help neutralize unwanted tones, especially brassiness, in colored hair. Using the hair color wheel, you can figure out which color of toning shampoo is best for your mane—just think back to elementary school art class. Like the color wheel you became familiar with back then, you'll want to use it to determine the shade that sits opposite of the one you want to counteract.
3 TYPES OF TONING SHAMPOO YOU SHOULD BE FAMILIAR WITH
Still unsure about the various types of toning shampoo and which one you should use? Next, we're filling you in on three popular toning shampoo options.
1. PURPLE TONING SHAMPOO
Even if you're a toning shampoo novice, chances are you've probably heard the term "purple shampoo" thrown around once or twice. As you can probably guess, this type of toning shampoo is purple in color. And if you look at the color wheel, you can see that purple is located across from yellow—AKA if you have unwanted yellow tones throughout your mane, you can use a purple shampoo to neutralize them. Interested in adding one to your routine? Lucky for you, we have two purple toning shampoos to try.
L'Oréal Paris Elvive Color Vibrancy Purple Shampoo for Color Treated Hair: With a color-correcting formula enriched with purple pigments, this purple toning shampoo neutralizes brass and helps keep your color vibrant between colorings. Yes, please!
L'Oréal Paris EverPure Brass Toning Purple Sulfate Free Shampoo: Prefer a sulfate-free option? This purple toning shampoo is formulated with hibiscus and purple dye to hydrate and neutralize brassy tones in blonde, bleached, highlighted, and silver hair. Along with being sulfate-free, it's also free of parabens and harsh salts.
Editor's note: Pair purple shampoo with a coordinating purple conditioner to get the best results. For the shampoos above, reach for either the L'Oréal Paris Elvive Color Vibrancy Purple Conditioner for Color Treated Hair or L'Oréal Paris EverPure Brass Toning Purple Sulfate Free Conditioner to complete your toning hair care system.
2. BLUE TONING SHAMPOO
Can you guess what blue toning shampoo features? Blue pigments! Now, when should someone use a blue shampoo? We'll give you a second to reference the color wheel—if you look at the hue located directly across from blue, you'll land on orange. With that knowledge, you can probably guess that blue shampoo should be your go-to if you're looking to cancel out orange tones in your strands. Makes sense, right?
Blue shampoo is a popular pick for brassy brown hair, as unwanted orange tones are a common problem for brunettes with colored hair.
3. GREEN TONING SHAMPOO
Our final noteworthy toning shampoo is green shampoo. Once again, the color wheel tells you what you need to know: Green can be found opposite of red on the wheel, so if you notice red tones popping through your hair color, green toning shampoo is the answer.
HOW TO USE TONING SHAMPOO IN YOUR HAIR CARE ROUTINE
Now that you know the basics of toning shampoo, we have one more topic to cover before we finish our hair care lesson: how to use toning shampoo. We promise it isn't rocket science—simply follow the steps below.
STEP #1: TONE YOUR STRANDS
Reach for the toning shampoo that best matches your hair color concerns. Apply it on wet hair in the shower. Some toning shampoos can be rinsed off immediately after a quick lather and massage (just as with your regular shampoo), while others may need to be left on your strands for a few minutes. Follow the directions on your shampoo bottle to ensure you're getting the most from your toning shampoo, then rinse.
STEP #2: FOLLOW WITH CONDITIONER
After you've used your toning shampoo, you'll want to follow with conditioner. If the unwanted tones in your hair are particularly prominent, pairing your shampoo with a coordinating toning conditioner may be just what you need. However, if you think your toning shampoo has you covered, any hydrating conditioner will do.
Next up: So, you know the deal with toning shampoo, but what about other types of hair toner? Check out our article, What is Hair Toner?, for your next lesson.
Discover more tips & tricks
Keep your skin happy
See all articles
Shop Featured Hair Care products
Discover More