all hair types
Is Slugging Good for Your Hair?
We called on an expert.
July 13, 2022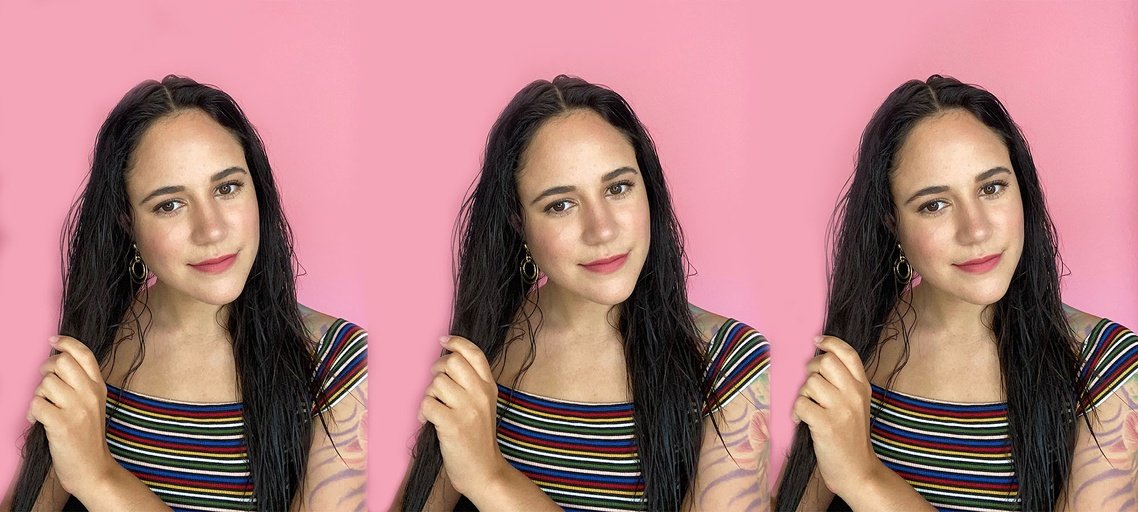 We know that slugging — slathering your skin with an occlusive like petroleum jelly to lock in moisture for soft and glowing skin — has been pretty popular in recent years. And since dermatologists have confirmed that locking in moisture in this way does in fact benefit the skin, it's natural to wonder if those same benefits can extend to your hair.
In fact, slugging your hair can help to boost hydration, softness and enhance shine, but you don't want to reach for your petroleum jelly just yet. We asked Jonathan Colombini, celebrity hairstylist and Creative Director of Style & Color at L'Oréal Paris for his thoughts on this viral skin care trend turned hair trend so keep reading to learn all about hair slugging.
What is Hair Slugging?
Hair slugging, like skin face slugging, involves slathering your strands with a hydrating product for an extended period of time to boost softness, shine and hydration. With skin, the most common slugging product is good ol' petroleum jelly. With hair, a hydrating oil like L'Oréal Paris Elvive Extraordinary Oil Treatment is a great, lightweight option.
Is Hair Slugging Good for Your Hair?
Slugging is great for the skin so the same goes for the hair, right? The signs point to yes but the way slugging can be detrimental to oily and acne-prone skin types, hair slugging has some limitations too.
"I think this technique can be beneficial, [but I would advise] not to do it overnight," says Colombini. "Any product that requires you to saturate your hair for extended periods of time can cause breakage as it leads to a weak cortex which is the innermost layer of the hair."
Instead of slugging overnight, try it for a few hours before it's time to wash your hair and think of it as a treatment to give your strands some much needed TLC. This way you get all the hydration, shine and softness benefits without putting your strands at risk for breakage.
How to Slug Your Hair
Hair slugging is the perfect treatment to add to your wash-day routine so read on to learn just how easy this process is.
1. Apply Oil to Your Strands
Once your hair is brushed, you can start slathering oil onto your strands. If you're hair slugging as routine maintenance or have super fine strands, focus the oil on the ends. If your hair is dry and damaged, you likely want to apply oil from the roots to the ends of your hair to get the most hydration and benefits.
Make sure your hair is coated but no need to soak the strands — you shouldn't have oil dripping down your hair when you're finished.
2. Secure Your Hair
The best way to secure your hair after you've oiled up is with a loose scrunchie or shower cap. A loose scrunchie offers hold but is gentle on the hair so there's no worry of breakage. Consider this step essential after slugging with oil to avoid any potential messes or oil transfer.
3. Wash it Out
Once a few hours have passed and it's time to wash out the oil, reach for a hair care system that is going to cleanse your oiled strands while continuing to add hydration. Try a shampoo like the L'Oréal Paris EverPure Sulfate-Free Glossing Shampoo and a conditioner like the L'Oréal Paris EverPure Sulfate-Free Glossing Conditioner. This color-safe duo works to cleanse and hydrate hair while enhancing shine, silkiness and smoothness — just what you want to complement your freshly slugged and hydrated strands.
How Often Should I Hair Slug?
Overdoing it on the hair slugging can lead to excess oil production and greasy strands — both of which no one wants, right? Save this treatment for once a week before it's time to wash your hair. If you really want to hair slug more often, you can do so by only applying the oil to the bottom of your strands.
Editor's tip: Multitask with ease and slug your strands while you rock a sleek, oiled bun and carry on with the rest of your day.
Alternatives to Hair Slugging
If your hair is super fine in texture or not damaged, you may find that slugging isn't a great option for you. In those cases, hair slugging can make your strands overly greasy and create more problems. When it comes to alternatives to hair slugging, Colombini suggests making sure, "the product you use has some sort of benefits, whether moisture or a protein which rebuilds."
Look for a hair mask that has restoring qualities like the L'Oréal Paris EverPure Sulfate-Free Signature Masque, Color Care Hair Mask. This mask goes the distance for colored strands, restoring smoothness, intensely hydrating and enhancing shine. Evenly distribute it onto clean, damp hair and let it sit for at least five minutes before rinsing it out.
Next: Can Using A Gua Sha Tool On The Scalp Help Promote Hair Growth?
Written by: Reece Andavolgyi, Photo credit: Jasmine Burnside
Discover more tips & tricks
Keep your skin happy
See all articles
Improve your routine
Show your new look more love:
makeup