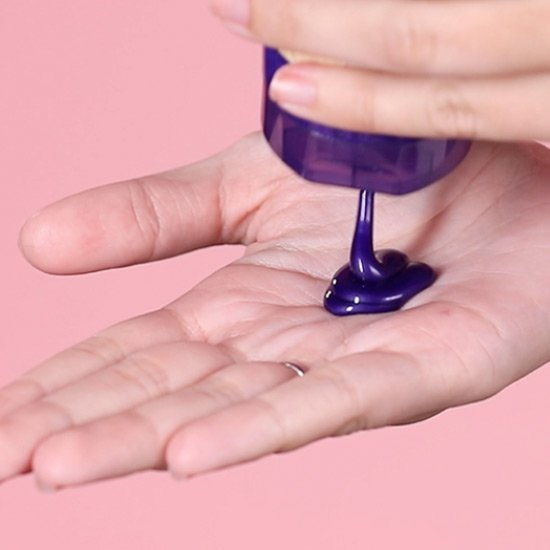 color treated hair
How to Use Purple Shampoo on Blonde Hair
If you have ashy blonde hair, especially color-treated, bleached hair, you likely already know about the constant, looming threat of brassy tones. And chances are if you're reading this, you've heard of the tone correcting wonders of purple shampoo. Technically speaking, brassiness refers to the unwanted yellow and orange tones that show up if you don't take proper care of blonde tresses. If you've ever noticed your cool blonde hair starting to turn brassy, listen up, because we're about to fill in you in on our blonde hair holy grail: anti-brass shampoo with purple pigments. Specifically, our best purple shampoos. Trust us, every blonde absolutely needs a purple shampoo in their shower.
A couple of days after you've colored your hair (whether you had it done at the salon or DIY-ed it at home), you may notice your blonde looking, well…less blonde and a lot brassier. Your vibrant, shiny blonde hair color can fade and become brassy over time due to a variety of reasons ranging from spending time in the sun to swimming in chlorine. And while a regular shampoo for blonde hair is a must, one with purple tones is equally as important—you just won't use it every day. But we'll get to that! Here's everything you need to know about adding a purple anti-brass shampoo to your hair care routine.
WHAT IS PURPLE SHAMPOO?
Let's cut to the chase—what is purple shampoo? As you can probably guess, purple shampoo is a shampoo formula that has purple or violet pigments (we'll explain why purple is the magic color later). This toning shampoo gets its name from its boldly colored formula, though it's sometimes also referred to as silver shampoo thanks to its ability to leave blonde and silver hair with a cool-toned finish. Basically, it's a must for anyone with lightened locks who never wants to see brassiness in their mane!
HOW DOES PURPLE SHAMPOO WORK?
To understand why purple shampoo is a must-have for brassy blondes, all you have to do is think about color theory. Purple and yellow are opposites on the color wheel, which means they can be used to counteract one another. See where this is going? Since blonde hair that's turned brassy looks yellow, a pigmented purple shampoo can actually neutralize the yellow hue and take you back to the blonde color you wanted in the first place. In addition to hair color chemicals, things like UV rays, chlorine, and mineral deposits in your shower water can also mess with your hair color and cause brassiness.
Editor's tip: Purple shampoo isn't just for blonde, brassy hair! It can also be used on brown hair with highlights to keep it brass-free. Here's How to Use Purple Shampoo on Brown Hair.
WHAT IS PURPLE SHAMPOO GOOD FOR?
What purple shampoo is good for is no secret—it's your line of defense against brassiness if you have blonde or bleached hair. You'll want to reach for a purple shampoo when you notice your strands starting to look yellow.
OUR BEST PURPLE SHAMPOO AND CONDITIONER
Ready to add a purple shampoo into your blonde hair care routine? Look no further than our best purple shampoo and conditioner! The L'Oréal Paris Elvive Color Vibrancy Purple Shampoo for Color Treated Hair and L'Oréal Paris Elvive Color Vibrancy Purple Conditioner for Color Treated Hair are enriched with purple pigments to neutralize brass and help keep color vibrant in between colorings. They'll neutralize brass and nourish your strands in just one use!
Prefer a sulfate-free option? The L'Oréal Paris EverPure Brass Toning Purple Sulfate Free Shampoo is our best sulfate-free purple shampoo. Pair it with the L'Oréal Paris EverPure Brass Toning Purple Sulfate Free Conditioner, which works in unison to deeply moisturize and neutralize brassy yellow and orange tones in blonde, bleached, highlighted, and silver hair. The formula of both the shampoo and conditioner is 100% sulfate-free, paraben-free, and gluten-free.
HOW TO USE PURPLE, ANTI-BRASS SHAMPOO
Using purple shampoo is simple; just swap it out with your regular shampoo for blonde hair! Apply it to wet hair and massage into a lather, then rinse out with lukewarm water. Follow with an anti-brass conditioner. As for how to use purple conditioner, it's also pretty similar to using a standard, non-tinted conditioner. Typically, you'll want to apply generously and let it sit for two to five minutes before rinsing thoroughly.
HOW LONG CAN YOU LEAVE PURPLE SHAMPOO IN YOUR HAIR?
The amount of time you let your purple shampoo sit on your hair should be based directly on the purple shampoo you're using! Read the directions on the back of the bottle to avoid any mishaps.
HOW OFTEN SHOULD BLONDES USE PURPLE SHAMPOO?
Purple shampoo is meant only to be used when your hair is looking brassy, not every day. Generally, you'll want to use one once your hair starts looking brassy by incorporating it into your hair care routine one to three times a week in place of your usual shampoo.
CAN PURPLE SHAMPOO CHANGE YOUR HAIR COLOR?
As long as you follow the directions, your hair color should remain the same (sans brass). If you know you have porous hair, which means that your hair will easily and readily absorb product, be cautious about leaving purple shampoo on for too long. However, if you do notice purple tones beginning to show, simply use your go-to clarifying shampoo, and they should fade right out.
Editor's tip: Want to see what your locks would look like with an ultra-temporary lavender tint? Letting your purple shampoo sit on your locks for a little extra time might just do the trick. Of course, you can also use the L'Oréal Paris Colorista Hair Makeup Temporary 1-Day Hair Color Spray in Pastel Lavender for another option that will easily wash out.
DOES PURPLE SHAMPOO CLEAN YOUR HAIR?
There's no need to shampoo twice—purple shampoo will cleanse your strands and tone simultaneously.
DOES PURPLE SHAMPOO MAKE YOUR HAIR DRY?
Purple shampoo does not have to dry out your hair. Our Elvive Color Vibrancy Purple and EverPure Brass Toning Purple systems moisturize and nourish in addition to neutralizing brassiness. Still, purple shampoo won't replace your everyday moisturizing shampoo. On the days you use purple shampoo in your routine, we also recommend pairing it with a coordinating conditioner to prevent unwanted dryness (and provide better results in general).
WHAT OTHER HAIR CARE PRODUCTS GO WITH PURPLE SHAMPOO?
Purple shampoo isn't the only way you can help keep your hair's blonde hue lustrous and fresh. There are other hair care products out there that are formulated to help address brassiness, including hair masks and treatments. In addition to using a purple shampoo, preserve your hair color by making sure you're using a system of hair care products meant for blonde hair. Try the L'Oréal Paris EverPure Blonde Shampoo, L'Oréal Paris EverPure Blonde Conditioner, and L'Oréal Paris EverPure Blonde Shade Reviving Treatment, which are formulated especially for blondes and specifically designed to neutralize the brassiness many blondes face. Here's how to incorporate the product trio into your hair care routine:
Step 1: Shampoo
Hop into the shower and saturate your hair with water before applying the blonde hair reviving shampoo to your wet tresses. Gently massage the shampoo onto your hair, creating a thick lather, then rinse thoroughly. Be sure to use lukewarm water, as turning the temperature too high could damage and dry out your hair.
Step 2: Conditioner
When your strands are free of any suds, follow up with conditioner. Apply it, focusing the product on the ends of your hair. Then, leave the conditioner on for one to two minutes (time you can use to exfoliate your body or start shaving) to really lock in the moisture. When your imaginary alarm rings, indicating that time is up, rinse out with more lukewarm water.
Step 3: Hair Mask
Shampooing and conditioning shouldn't be the full extent of your hair care regimen. Your blonde locks need a hair mask, too! Once a week, after shampooing and towel-drying your hair, apply the blonde shade reviving treatment instead of conditioner. Let the mask sit on your hair for three to five minutes, then rinse thoroughly.
Discover more tips & tricks
Keep your skin happy
See all articles
Shop Featured Hair Care products
Discover More