dry hair
7 Nourishing Products That Will Transform Your Dry Hair This Month
Quench your hair's thirst!
February 14, 2022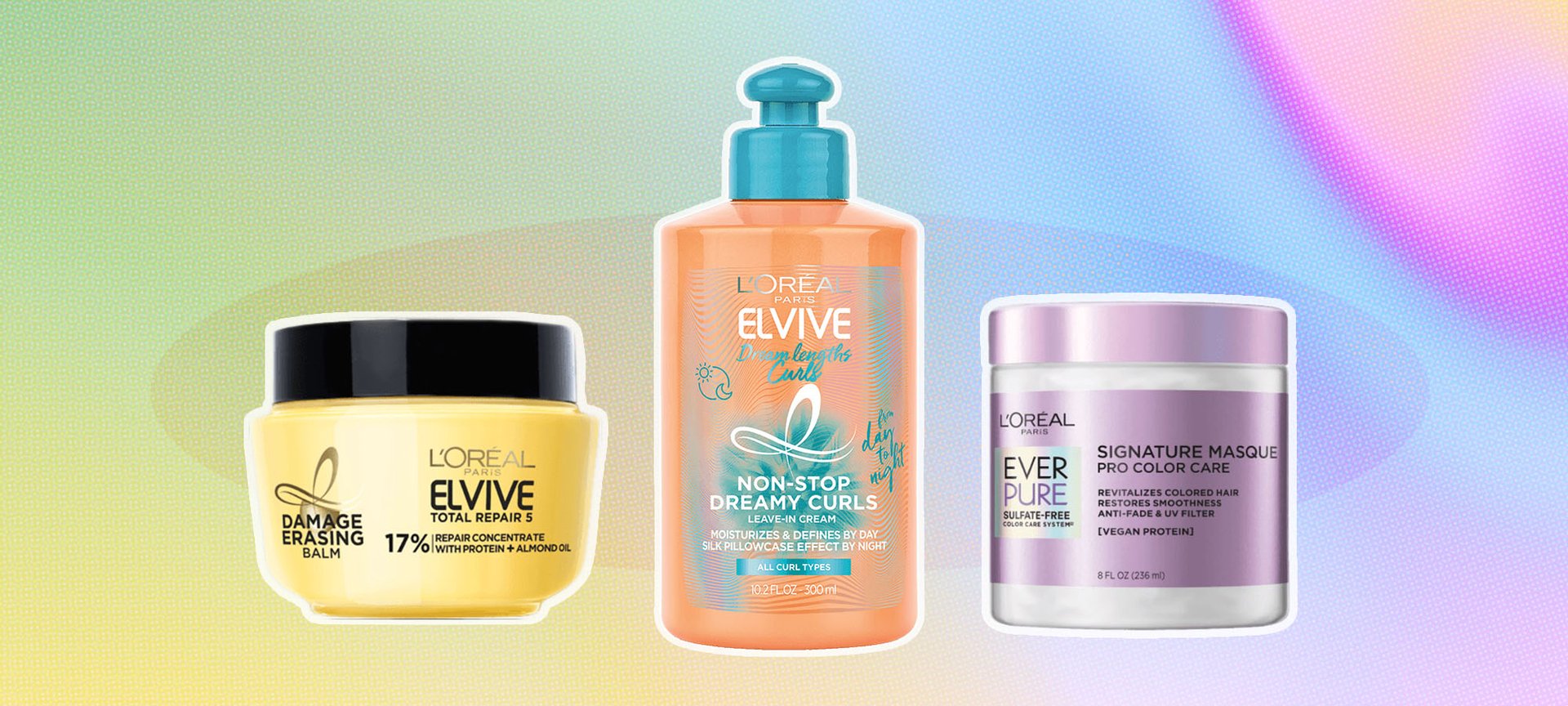 Now that we're smack in the middle of winter, it couldn't be a better time to show some extra love to your dry hair. With cooler temperatures comes a multitude of unfortunate woes, but incorporating nourishing hair care products into your hair care routine can help combat just about any concern you're experiencing.
If you're dealing with dry, brittle hair, a hair care system consisting of a moisturizing shampoo and conditioner can transform your thirsty tresses into silky-smooth luscious ones. How about damaged strands? If you apply a rich hair mask to your mane once a week, you can expect to see healthy-looking results over time.
Basically, what we're trying to say is, there's a whole world of nourishing hair care products out there and all you need is just one or two to get your hair to look and feel super luscious. With that said, we've rounded up seven of our best moisturizing hair care products that are sure to quench your parched strands this month.
Hydrated hair starts with a cleansed scalp. So consider washing your hair with this shampoo if you're looking to show your mane extra TLC. It's formulated with plant-based ingredients and naturally fragranced with an essential oil, making it a top pick for all hair types and textures. Plus, it's sulfate-, paraben-, dye- and gluten-free, as well as vegan.
Editor's tip: Pair the shampoo with the L'Oréal Paris EverPure Sulfate-Free Simply Clean Conditioner for an extra boost of moisture.
For a hair care product that does it all, look no further than this hair treatment. Just as its name suggests, the Total Repair 5 Damage Erasing Balm Rinse-Out Mask wipes away any signs of weak, fried, brittle and tangled hair, as well as split ends. Its formula contains good-for-you ingredients (hello, almond oil!) that intensely nourish and strengthen damaged hair.
After shampooing, massage the balm throughout wet hair and leave it in for three to five minutes before rinsing. Use it every day if you want to see visible results quicker.
If you have color-treated hair, this hair mask will be your new, favorite best friend. The hair mask is loaded with moisturizing ingredients, such as rose extract, that enhance shine and restore smoothness in color-treated hair while providing intense hydration. Its formula is also sulfate-, paraben-, dye- and gluten-free and vegan, making it a completely safe pick for all hair textures.
Once a week, apply the mask through clean, damp hair and leave it in for five minutes to help whip your strands back into place.
Attention all folks with curly hair: This one's for you! When your hair is feeling extra dry, reach for this paraben-free leave-in conditioner to provide your strands with a much-needed dose of rehydration. The leave-in cream is formulated with a powerhouse blend of hyaluronic acid and castor oil that saturates your waves, spirals and coils with an extra oomph of moisture. It's also great for reviving and sculpting curly hair and retaining its shape.
Distribute the superstar product through damp hair morning or night for 24-hour hydration, extra definition and frizz reduction.
L'Oréal Paris is all about a multitasking beauty product that addresses several hair concerns. Formulated with almond milk and rose extract, this leave-in treatment primes, protects and perfects hair by delivering a whopping 21 (yes, you read right!) essential benefits.
It helps preserve color vibrancy in dyed hair, detangles and moisturizes unruly hair, provides protection before heat styling, controls frizz and adds shine — just to name a few things.
Gone are the days of lifeless, lackluster hair thanks to this lightweight leave-in hair oil. Formulated with a cocktail of camellia and sunflower oils, the serum provides deep nourishment and leaves hair feeling oh-so-soft and brilliantly shiny.
What's more, the treatment is versatile enough to be used in many different ways on all kinds of hair textures. You can apply the treatment throughout the lengths of hair, concentrating at the ends before washing your hair, after taking a shower, before styling or as an extraordinary finishing touch to your 'do.
Last but certainly not least, this argan oil-infused leave-in treatment is a must-have for anyone who dyes their hair. Since coloring and chemical processes can alter hair's ideal pH range, the glaze is specifically designed with an acidic pH shine technology that seals cuticles, smooths out hair, adds shine and prevents color from fading.
Next: 14 Skin Care Rules to Follow If You Have Dry Skin
Written by: Sophie Dweck, Photo Credit: Crystal Simone
Discover more tips & tricks
Keep your skin happy
See all articles
Improve your routine
Show your new look more love:
makeup