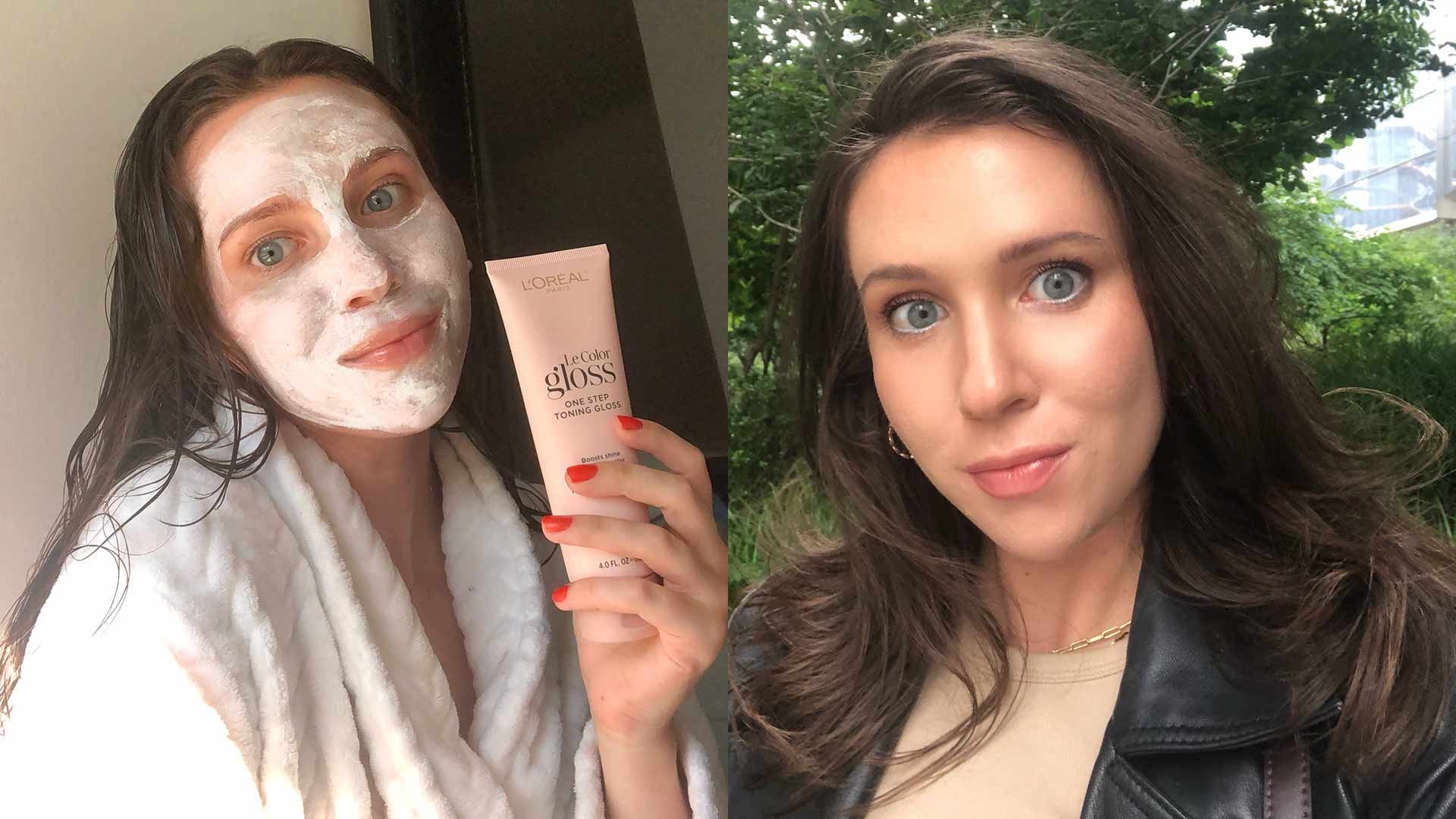 hair color ideas
Why This Editor Swears by the Le Color Gloss For Her Virgin Hair
This year, I've made it my goal to get my hair as healthy-looking as possible. And for me, that includes not coloring my strands. Recently though, I've been getting sick of my basic, brown locks and really miss playing around with color—so much so that I've been fighting the urge to call my colorist. Sure, I could experiment with braids or a new cut, but a timeline filled with selfies of influencers with bold new hair hues is making these hands color restless. But I've been exploring ways to switch up the look of my hair while staying dedicated to my no color goal, so when I got my hands on the L'Oréal Paris Le Color Gloss One Step In-Shower Toning Gloss in Clear, I couldn't wait to try it out, because at this point I was feeling like I'd try just about anything to make me feel more excited about my hair. Read on to find out how this at-home toning gloss brought my hair from basic to brilliant and had me hooked after just one session.
How I Used the L'Oréal Paris Le Color Gloss
If you aren't familiar with this product already, let me give you a brief 411. A toning gloss is a service typically performed in a hair salon to enhance hair color, tone and shine, but can also be done to deep condition your locks even if you don't have color-treated hair. The L'Oréal Paris Le Color Gloss delivers the same shine, color toning and deep conditioning gloss treatment right at home in your shower. The Le Color Gloss comes in nine shades, so you can tone the color you have or use the clear option (like I did) for a shine enhancing, ultra-moisturizing hair treatment without adding any color. It doesn't require any mixing, special gloves, or coloring expertise. You can just add it to your wash day routine.
Since I'm taking a break from coloring my hair, I decided to try the Le Color Gloss in Clear so that I could reap the benefits of the treatment (read: deep conditioning and high shine) sans color. Because my hair has been feeling boring and dull, I was hoping that the Le Color Gloss would give my strands some oomph and a shinier and healthier look, like I just got an expensive blow out (even though I'm very much a champagne-taste-on-a-beer-budget kind of gal).
After reading the box, I stepped into the shower and washed my hair like I normally do. Because I'm in repair mode, I've been using the L'Oréal Paris EverPure Bond Strengthening Shampoo and the L'Oréal Paris EverPure Bond Strengthening Conditioner to strengthen my weak and fragile strands. Once my hair was clean, I used a towel to squeeze out any extra water and then used a wide toothed comb to detangle any knots before squeezing Le Color Gloss into my palms. Then I evenly distributed the super creamy, sweet-smelling gloss through my hair and left it on for 15 minutes. The gloss looked pearly white, but when smoothed throughout my hair, it became completely clear. When my 15 minute timer went off, I rinsed out the product, hopped out of the shower and immediately ran my fingers through my hair. I knew that the treatment was infused with coconut oil, but I wasn't expecting my hair to feel as soft and silky as it did!
I let my hair partially air dry before spritzing on some of the L'Oréal Paris Elvive Dream Lengths Heat Slayer Pre-Iron Spray Leave-In to protect my hair from being damaged by hot tools. Then I blew out my hair to see the full effect of the gloss.
I was (and still am) totally impressed with Le Color Gloss. It didn't add or take away any color but left behind shiny, smooth and healthy-looking hair. It wasn't a dramatic change, which I realized after that first session that that wasn't what I wanted. My hair looks nourished and strong, and, well, pretty timeline-worthy. I will absolutely be using this throughout the summer and beyond to deep condition my hair and give it a boost of life whenever it needs a pick-me-up.
Photo Credit: Caitlyn Martyn
{ "@context": "https://schema.org/", "@type": "WebPage", "speakable": { "@type": "SpeakableSpecification", "cssSelector": ["speakable-content"] }, "url": "https://www.lorealparisusa.com/beauty-magazine/hair-color/hair-color-ideas/le-color-gloss-clear-review" }
Discover more tips & tricks
Keep your skin happy
See all articles
Shop Featured products
Discover More
{ "@context": "http://schema.org", "@type": "BreadcrumbList", "itemListElement": [ { "@type":"ListItem", "position": 1, "item": { "@id": "/", "name": "Home" } } , { "@type":"ListItem", "position": 2, "item": { "@id": "https://www.lorealparisusa.com/beauty-magazine", "name": "Beauty Magazine" } } , { "@type":"ListItem", "position": 3, "item": { "@id": "https://www.lorealparisusa.com/beauty-magazine/hair-color", "name": "Bold Ideas From Hair Color Pros" } } , { "@type":"ListItem", "position": 4, "item": { "@id": "https://www.lorealparisusa.com/beauty-magazine/hair-color/hair-color-ideas", "name": "Hair Color Ideas" } } , { "@type":"ListItem", "position": 5, "item": { "@id": "https://www.lorealparisusa.com/beauty-magazine/hair-color/hair-color-ideas/le-color-gloss-clear-review", "name": "le-color-gloss-clear-review" } } ] }