hair color tutorials
How to Lighten Black Hair With Minimal Damage
It takes patience, but it's possible!
February 16, 2022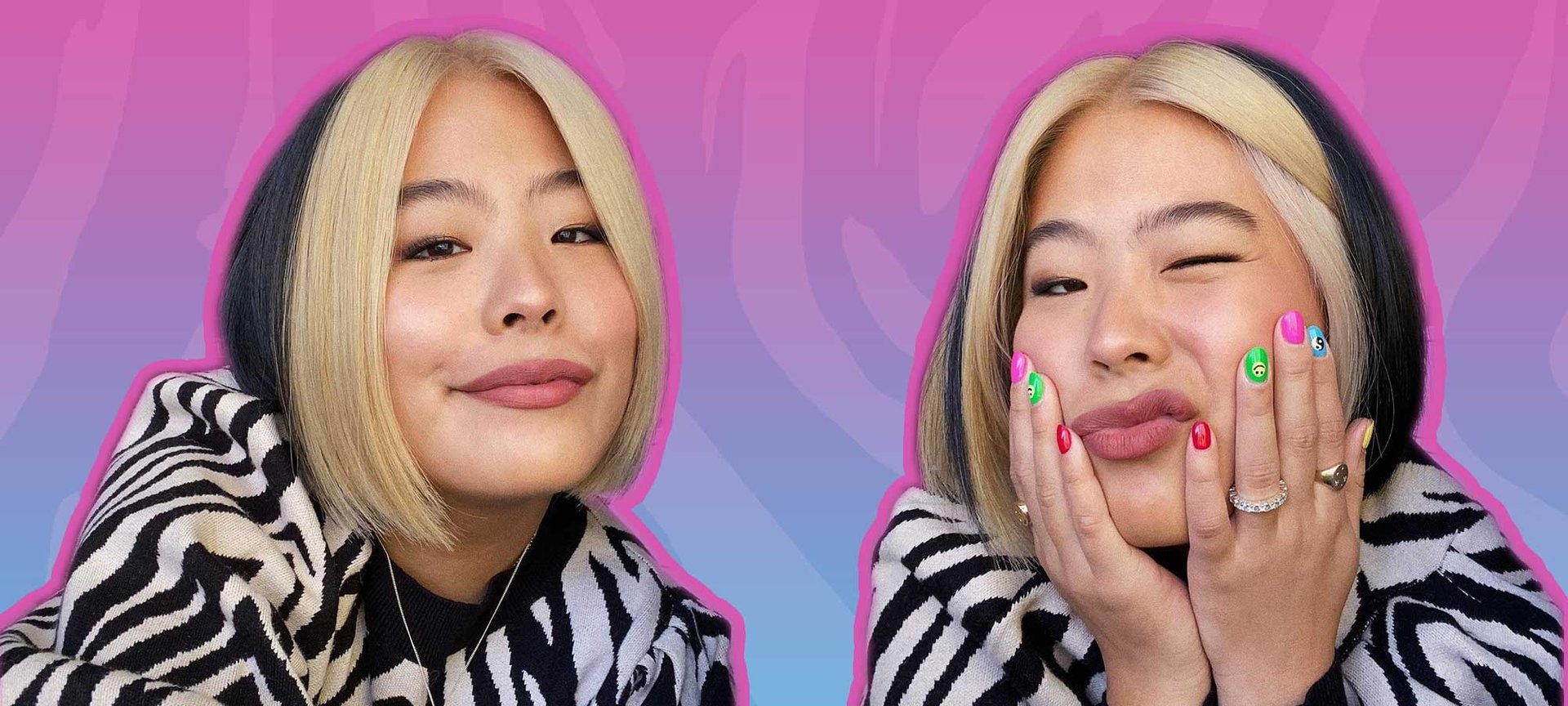 Sleek black hair is striking and beautiful — but it can be difficult to lighten if you decide you want to switch up your look. If you're finding yourself in this situation, you're probably wondering how exactly you go about lightening dark hair.
While lightening black hair may not be a one and done process, it's certainly possible to get a paler hair color with the right techniques. To help start you off on your hair color journey, we've outlined tips to keep in mind when you're trying to switch up your midnight color.

1. Don't Rush the Dyeing Process
When you're lightening ultra-dark hair, it's incredibly important to take your time so that you can help maintain your hair's integrity and not cause damage, such as breakage and split ends. Whether your end goal is something really light, like blonde hair, or something a bit deeper, it can often take a few dye sessions to achieve your desired result.
Instead of trying to go totally light all at once, color your hair two shades at a time — and wait a few weeks in between lightening sessions. If you're visiting a pro colorist, they'll be able to give you a better sense of how long it could take until you'd be able to achieve your desired hue, as well as what the process will entail.
Keep in mind that getting a lighter hair color will require bleaching your hair, and the darker your starting shade, the longer the process will take to achieve your desired hair color.

2. Try an At-Home Hair Color Kit (And Follow the Instructions)
If you want to skip the salon visit and lighten your hair at home, consider using an at-home color kit. Just be sure to follow the instructions in your kit of choice as they're not all created equal, and making up your own rules based on something you did on another occasion could cost you.
After bleaching your hair with the L'Oréal Paris Feria Hyper Platinum Advanced Lightening System Bleach, it's time to choose your color. If you're unsure about which color or products are right for you, try the L'Oréal Paris Hair Color Concierge for a personal consultation with a pro right from your home.
L'Oréal Paris Féria Multifaceted Shimmering Color is a great option because it provides intense, bright color with tons of dimension and shimmer. Plus, it comes in a variety of neutral and fun shades.
L'Oréal Paris Superior Preference Fade-Defying Shine Permanent Hair Color is perfect if you're low maintenance and don't want to do frequent touch-ups. The color will remain vibrant for up to eight weeks.
L'Oréal Paris Excellence Creme Permanent Triple Protection Hair Color is ideal for covering stubborn grays. Not only that, it's also formulated with a Pro-Keratine complex which protects against damage as it colors, making it an excellent option for people with breakage or split ends.

3. Opt for Highlights
If you're hesitant about making a bold change or putting all of your hair through multiple rounds of bleaching, opting for highlights is a great way to ease into altering your color.
Balayage highlights — a technique that was mastered by French colorists in the '70s where color is hand-painted onto your hair — is a great option for dark hair because they're placed below the roots and provide a lived-in look. They can leave you with a more natural-looking hair color than traditional highlights typically offer.
The best part is that they look seamless when your hair grows out, so you won't have to worry about frequent maintenance.

4. Be Prepared to Care for Color-Treated Hair
After you've lightened your black hair, you'll have to make a few key changes to your hair care routine. Color-treated hair requires special care, so reaching for shampoo and conditioner that are safe for colored hair is a must.
Try the L'Oréal Paris EverPure Sulfate Free Bond Strengthening Color Care Shampoo and the L'Oréal Paris EverPure Sulfate Free Bond Strengthening Color Care Conditioner, which strengthen the hair from the inside out by reinforcing weak hair bonds. This duo tackles damage caused by coloring, bleaching and heat styling, while remaining gentle on the hair and protecting it from potential future damage.
If you're finding that your new color is looking dull, revitalize it by using the L'Oréal Paris EverPure Sulfate-Free Signature Masque, Color Care Hair Mask once a week. It's formulated with protein and rose extract to enhance the shine of your hair while deeply hydrating it.

5. Know How to Hide Gray Hairs
If you've lightened your black hair you may not know how to hide gray hairs with your new color. If you've noticed gray roots growing in, grab a root cover up spray to temporarily hide them until you have time to actually touch up your hair color.
The L'Oréal Paris Magic Root Cover Up is a lightweight, quick-dry spray that comes out when you shampoo and is available in a variety of shades. To use, hold the can four to six inches from your head and spray directly onto new growth and partly through the length of your hair to blend in the color.
Next: How the Color Wheel Can Help You When Dyeing Your Hair

Edited by: Alyssa Kaplan, Photo Credit: IG/@nikkiryeo
Discover more tips & tricks
Keep your skin happy
See all articles
Shop Featured Hair Color products
Discover More