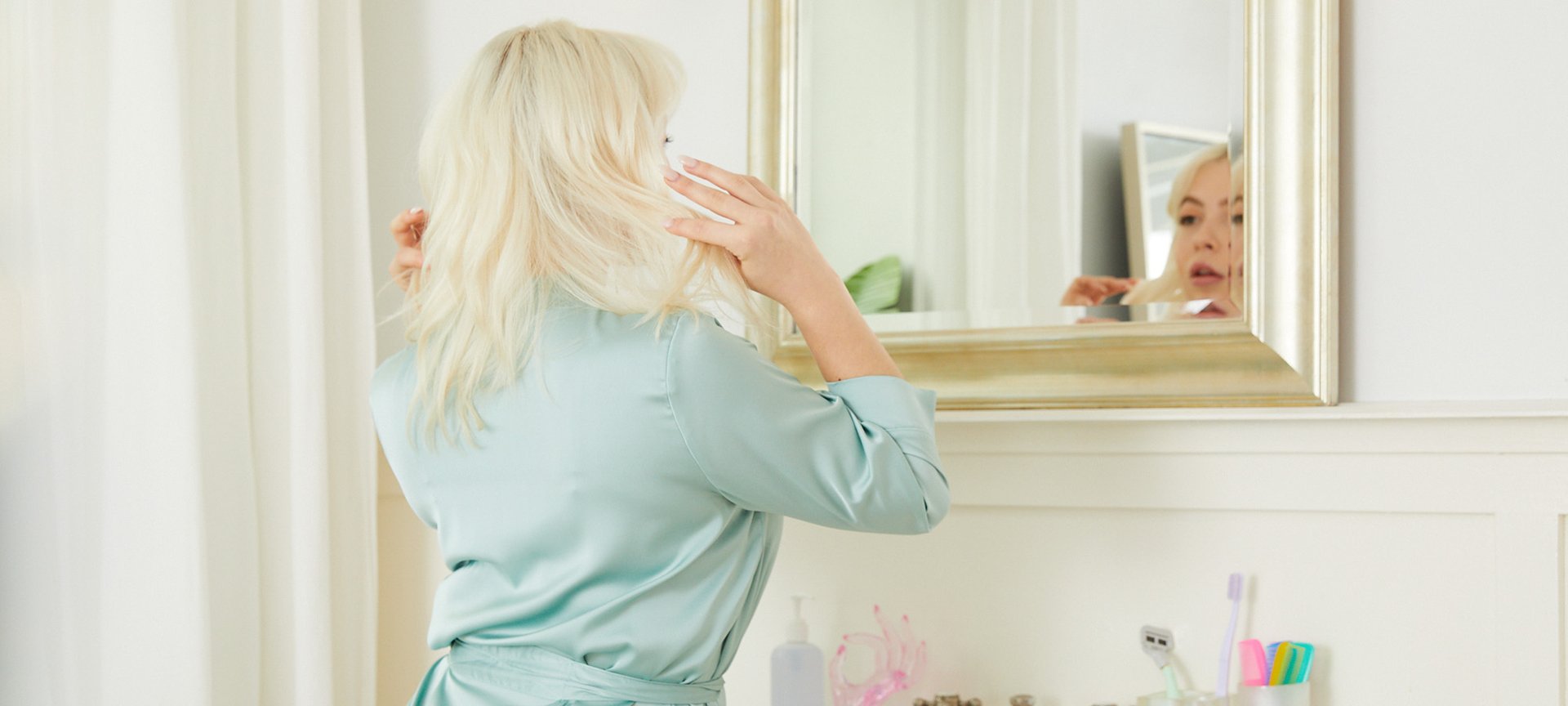 hair color ideas
14 Ways To Rock Icy Blonde Hair In 2022
These cool shades will be hot this year.
A light, cool-toned hue with hints of beige, icy blonde hair is supremely flattering and chic. And while 2022 is set to welcome new hair color trends, icy, platinum blonde will remain a popular favorite. The best part is, from blonde highlights to dimensional balayage, there are so many ways to make this popular shade your own. Ahead, we're sharing 14 different ways to try out icy platinum hair this year.

1. Platinum Blonde
There is no better way to take on the icy blonde hair color trend than with classic platinum blonde hair. This metal-inspired shade will instantly brighten up your complexion. Get the look at home with the L'Oréal Paris Féria Hyper Platinum Advanced Lightening System Bleach.

2. Smoked Marshmallow
If you're in search of a low-maintenance icy color, smoked marshmallow hair features dark brown roots that blend seamlessly into an icy blonde color. This lived-in blonde hair color is a solid pick for those who want ultra-light hair without the hassle of constant root touch-ups.
3. Silver Blonde
If a very cool-toned hair color is what you're after, you can't go wrong with a silver blonde shade. It has a beautiful balance of brightness and depth, and it's incredibly flattering on a wide variety of skin tones. Try it out with the L'Oréal Paris Superior Preference Fade-Defying Shine Permanent Hair Color in Soft Silver Blonde.

4. Dirty Silver Blonde
You're probably familiar with the timeless dirty blonde hair trend, but the latest iteration of the hue, dirty silver blonde hair, is gaining popularity. Featuring a dark root smudge technique that melts into a white-silvery blonde hue, this icy blonde hue falls right in line with a cool girl aesthetic.

5. Sandy Platinum Blonde
If you're intrigued by an icy hue but want something that leans neutral, this is no doubt the shade for you. It maintains its ultra-light integrity while holding onto a hint of sandy color. The L'Oréal Paris Féria in Very Light Natural Blonde is a great option if you're opting for a DIY dye session.

6. Ash Blonde
Gray tones remain incredibly popular in the hair color world, and ash blonde hair is leading the pack. This icy blonde hue is a gorgeous middle ground between cool platinum tones and more traditional warm blonde shades. Best of all, you can customize this shade to suit your style, going as light or as dark as you like. Give it a shot with the L'Oréal Paris Superior Preference Fade-Defying Shine Permanent Hair Color in Lightest Ash Blonde.
7. White Blonde
Without a doubt the iciest shade you can sport is a white blonde hair color. Although it lacks pigmentation, it's bold in its own bright way. Because it requires extensive bleaching, it's best to leave this hue to a professional.

8. Pearl Blonde
Icy shades have an intense brightness to them 一 but they don't always need to be completely cool-toned. If you want to dip your toes into the icy hair color world while maintaining some warmth, give the L'Oréal Paris Féria in Ultra Pearl Blonde a go. It's incredibly light and bright with a sunny tint to it.

9. Icy Silver Purple
You can still achieve an icy shade while playing with some out of the box color 一 and a pale, silver-purple hue is one of best ways to get it. Offering a shimmery, bright finish with a subtle pop of color, it's a great way to experiment with a playful hue.

10. Icy Pastel Blue
Pastel hair colors are trendy and fun, and icy blue hair is another great way to play with color while maintaining a frosty look. Go for the bold look with the L'Oréal Paris Féria in Smokey Blue.

11. Bronde With Platinum Balayage
If you prefer a richer color that incorporates hints of an icy shade, pair bronde hair with platinum balayage. The balayage technique will make the highlights appear natural, and the platinum pieces will add brightness to the color while maintaining lots of dimension.
12. Ash Blonde Hair With A Platinum Money Piece
To add some dimension and subdued contrast to your hair, pair an ash blonde hair color with a platinum money piece. The ultra-bright, face framing pieces will instantly illuminate your complexion without being a drastic departure from your base color.

13. Icy Blonde Ombré
If you're looking for a low maintenance way to rock an icy shade, getting icy blonde ombré hair is a great approach. Because your roots will be intentionally darker and then gradually fade into a light shade towards the end, you won't have to worry about frequent touch-ups at your roots.

14. Icy Blonde Sombré
If you like the idea of getting an ombré color but you prefer a more understated look, sombré is for you. It's the same technique as ombré but it has a much more subtle gradation of color.

How To Maintain Your Icy Hair Color
Once you've achieved your desired icy hue, you'll have to change up your hair care routine to keep it looking its best. Ahead, three tips to keep your color in prime condition.

1. Use A Color-Safe Hair Care System
To prevent your color from fading, it's extremely important to use hair care products that are specially formulated for color-treated hair. The L'Oréal Paris EverPure Sulfate-Free Bond Strengthening Color Care Shampoo and L'Oréal Paris EverPure Sulfate-Free Bond Strengthening Color Care Conditioner are particularly great for blondes because they're gentle on color while also strengthening the hair and addressing damage that can be a result of bleaching. They work to restore your strands by reinforcing weak hair bonds as well as preventing future damage with continued use.

2. Incorporate Purple Shampoo Into Your Routine
Fight brassy strands with the help of a purple shampoo, which helps to keep unwanted yellow or orange tones at bay. Once you notice brassiness rearing its ugly head, reach for the L'Oréal Paris EverPure Sulfate-Free Brass Toning Purple Shampoo and L'Oréal Paris EverPure Sulfate-Free Brass Toning Purple Conditioner which pair well together to help neutralize brass between your coloring sessions.

3. Use A Toning Gloss
Another great way to tone your hair color and keep it looking vivid is to use a hair color gloss, like the L'Oréal Paris Le Color Gloss One Step In-Shower Toning Gloss in Cool Blonde. In just fifteen minutes, it works to enhance shine and boost the tone of your hair. Plus, it's formulated with coconut oil to deeply condition the hair.
Next: 17 Biggest Hair Trends Of 2022

Edited by: Alyssa Kaplan, Photo Credit: Chaunte Vaughn
Discover more tips & tricks
Keep your skin happy
See all articles
Shop Featured Hair Care products
Discover More