hair color application
How the Color Wheel Can Help You When Dyeing Your Hair
Consider this an art class refresher.
January 21, 2022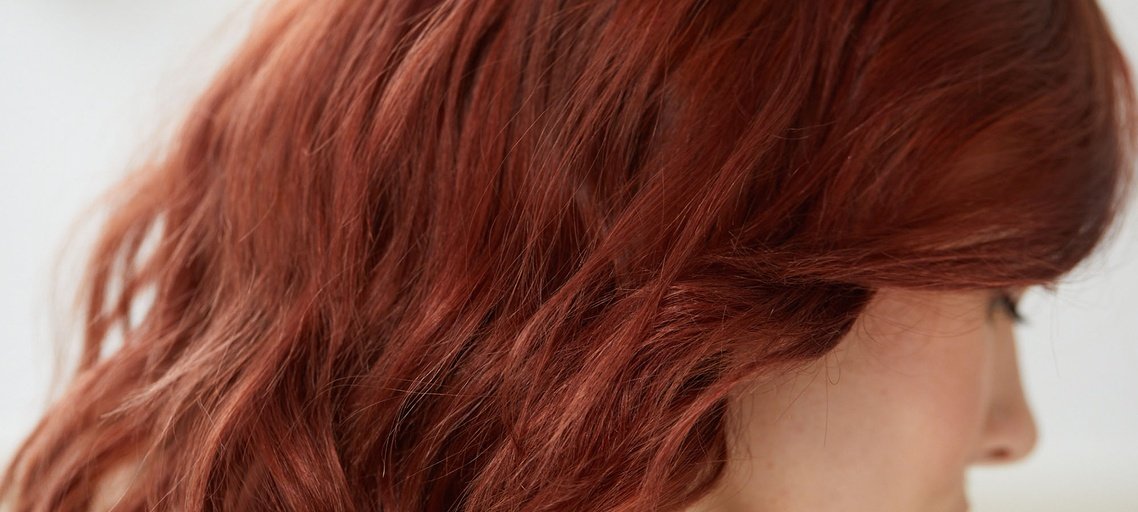 When it comes to dyeing your hair, there are a lot of factors to consider. Of course, there's the matter of deciding on which hair color you want to try, and what technique will get you there. But once you decide on a color, you'll have to make sure it looks good — and stays that way. That's where the color wheel comes into play — it's a tool professionals and amateurs alike can benefit from using, and luckily it isn't difficult to master. Below, we're sharing what you need to know about this color wheel, from what it is to how it will benefit you when dyeing your hair.

What Is the Color Wheel?
In case you need an art class refresher, the color wheel features 12 shades making up a wheel, with contrasting colors located across from each other. Its purpose is to display the relationship between different colors. The wheel starts with orange at the top right, and works its way through yellow, green, blue, purple, pink and red.

How the Color Wheel Is Relevant When Dyeing Your Hair
As for its relation to hair coloring, the color wheel comes in handy when fixing and color correcting a dye job gone wrong, in addition to strands that have become brassy over time. Depending on the state of the hair color, your colorist will either use permanent hair dye, a hair gloss, glaze, or hair toner to get the strands back to their ideal shade. If a client shows up with brassy, yellow hair, a colorist will likely use a purple product to neutralize their mane. If they're dealing with orange hair, blue products will fix it. Colorists are able to use their knowledge of the color wheel to counteract any unwanted hues showing up in the hair.

How to Use the Color Wheel for At-Home Hair Care
Just as your colorist can use the hair color wheel to get your strands back on track, so can you. Your at-home hair care routine could certainly benefit from a color wheel-inspired trick or two 一 like using a colored shampoo or conditioner to neutralize tones that shouldn't be there. If you're not sure which products are best for you, keep reading because we're breaking down some of the most common hair color concerns and products to address them, below.

To Neutralize Yellow Tones
To rid your hair of unwanted yellow tones, use a purple shampoo and conditioner. Like we mentioned, purple is located directly across from yellow on the hair color wheel, making it the perfect shade to neutralize yellow aka brass.
The L'Oréal Paris EverPure Sulfate-Free Brass Toning Purple Shampoo and L'Oréal Paris EverPure Sulfate-Free Brass Toning Purple are great because they're richly pigmented to tone the hair color, while remaining gentle and hydrating. You can use this duo up to three times a week to kick brassy yellow tones to the curb.
Editor's tip: If you're struggling to get rid of stubborn brass, try the L'Oréal Paris EverPure Sulfate-Free Anti Brass Purple Mask Treatment. It's packed with vibrant purple pigments for extra toning power. Plus, it's deeply nourishing for your strands.

To Neutralize Orange Tones
If you're noticing that your hair is turning orange 一 which is common in deep blondes and brunettes 一 use a blue shampoo. Since blue sits across from orange on the color wheel, blue pigments will get rid of unwanted brassy, orange tones.

To Neutralize Red Tones
If your hair is looking red unintentionally, a green shampoo is for you. Per the color wheel, green shampoo will counter unwelcome red tones.
Next: Is It Okay To Dye Your Hair While It's Wet?

Edited by: Alyssa Kaplan, Photography: Chaunte Vaughn, Associate Creative Director: Melissa San Vicente-Landestoy, Art Direction: Hannah Packer, Associate Creative Producer: Becca Solovay
{ "@context": "https://schema.org/", "@type": "WebPage", "speakable": { "@type": "SpeakableSpecification", "cssSelector": ["speakable-content"] }, "url": "https://www.lorealparisusa.com/beauty-magazine/hair-color/hair-color-application/hair-color-wheel" }
Discover more tips & tricks
Keep your skin happy
See all articles
Shop Featured Hair Care products
Discover More
{ "@context": "http://schema.org", "@type": "BreadcrumbList", "itemListElement": [ { "@type":"ListItem", "position": 1, "item": { "@id": "/", "name": "Home" } } , { "@type":"ListItem", "position": 2, "item": { "@id": "https://www.lorealparisusa.com/beauty-magazine", "name": "Beauty Magazine" } } , { "@type":"ListItem", "position": 3, "item": { "@id": "https://www.lorealparisusa.com/beauty-magazine/hair-color", "name": "Bold Ideas From Hair Color Pros" } } , { "@type":"ListItem", "position": 4, "item": { "@id": "https://www.lorealparisusa.com/beauty-magazine/hair-color/hair-color-application", "name": "Hair Color Application" } } , { "@type":"ListItem", "position": 5, "item": { "@id": "https://www.lorealparisusa.com/beauty-magazine/hair-color/hair-color-application/hair-color-wheel", "name": "hair-color-wheel" } } ] }