color treated hair
What Does Using Purple Shampoo on Red Hair Do?
It isn't just for blondes anymore.
June 23, 2021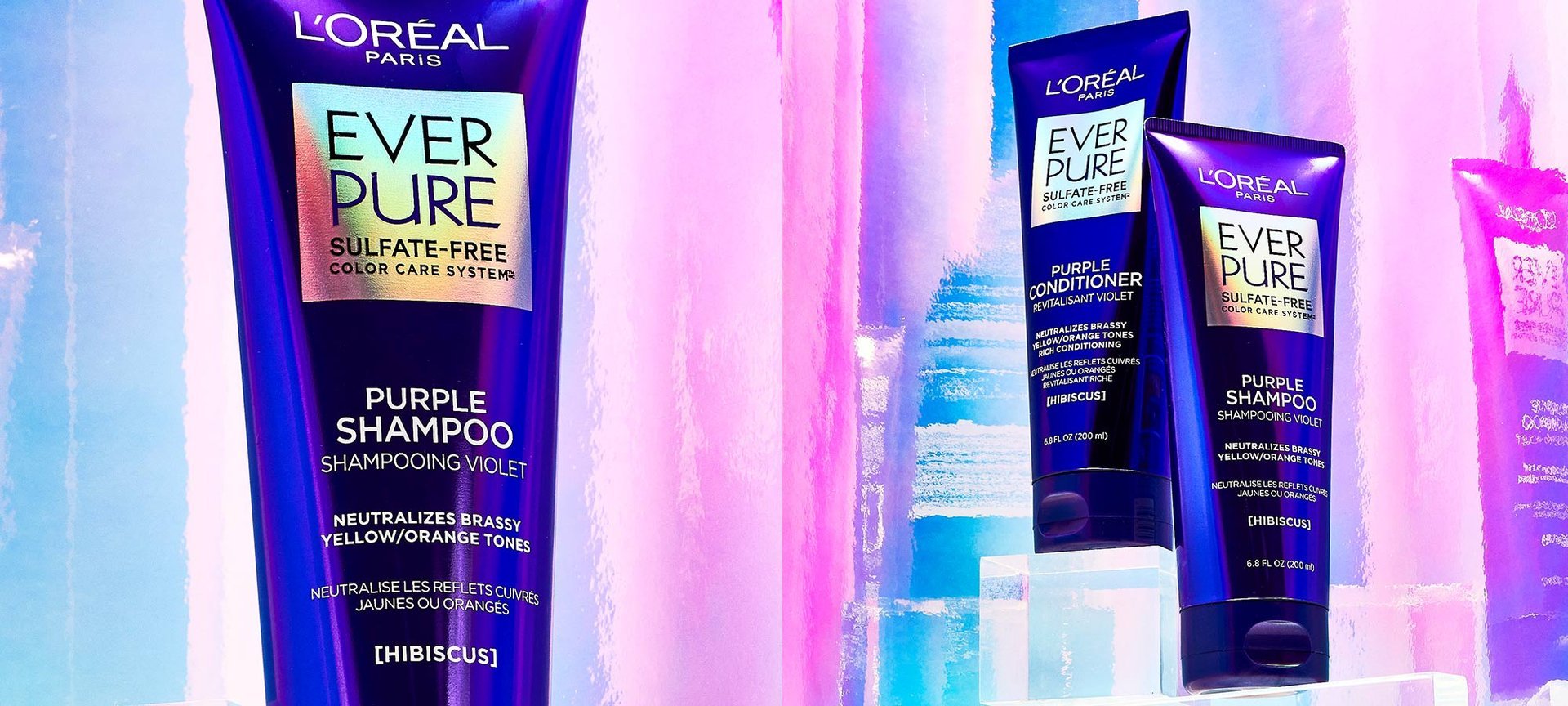 You're probably familiar with how to use purple shampoo on blonde hair. After all, it's key in keeping blonde hair looking fresh and toned and for keeping brass away. You may even know how to use this colored shampoo on brown hair and silver hair. But have you ever thought about using purple shampoo on red hair? If you're wondering why you would want to use this purple product on your ruby strands, we're here to fill you in on what purple shampoo does for red hair.
CAN YOU USE PURPLE SHAMPOO ON RED HAIR?
Yes, you can use purple shampoo on red hair! If you find yourself asking, will purple shampoo fade red hair? Don't worry, it's perfectly safe. This hair care product will only help to tone your hair color, not fade it. In fact, it can actually help to neutralize unwanted yellow and orange tones as your red hair color starts to fade.
WHAT DOES PURPLE SHAMPOO ON RED HAIR DO?
As we mentioned, purple shampoo can be used to neutralize brassy tones, like yellow and orange that can pop up as your red hair color starts to fade. This will help your overall hue look its best, and help you make your color last longer between salon visits (or at-home coloring sessions). While purple shampoo will help rid your hair of unwanted yellow and orange hues, you don't have to worry about it removing your gorgeous red hair color. Just look at the color wheel, and you'll see what we mean. To cancel out red tones, you would use a green shampoo because red and green sit opposite one another on the color wheel. Purple cancels out yellow which is perfect for addressing brassiness.
Red hair with blonde highlights can also benefit from purple shampoo, as the highlights are likely to get brassy over time. A purple helps zap that brassiness.
OUR BEST PURPLE SHAMPOOS FOR RED HAIR
Ready to add purple shampoo to your red hair care routine? Check out these picks that are also suitable for blonde, silver, and highlighted hair.
This color-correcting shampoo is formulated with purple pigments to neutralize brass, help keep color vibrant in between colorings, and nourish your strands. Use it in conjunction with the L'Oréal Paris Elvive Color Vibrancy Purple Conditioner for Color Treated Hair to further tone your strands and lock in moisture.
If you prefer a sulfate-free option, this purple shampoo is for you. The formula contains hibiscus and purple dye and works to hydrate and neutralize brassy yellow and orange tones. Pair it with the L'Oréal Paris EverPure Brass Toning Purple Sulfate Free Conditioner to ensure your hair is not only brass-free, but it's hydrated, too.
HOW TO USE PURPLE SHAMPOO ON RED HAIR
Now that you understand the benefits of using purple shampoo on red hair, you may be wondering how to actually put this product to use. It's simple! Follow the steps below when your red mane needs a little toning action.
#1. APPLY YOUR SHAMPOO
There's no need to use purple shampoo on red hair on a regular basis, but when you notice your strands getting brassy, you'll want to swap your daily shampoo with a purple alternative. While the focus of shampooing is normally on cleansing the scalp, when applying a purple shampoo it's important to fully coat your strands from your scalp to your ends to ensure that all of your hair receives the benefits of the purple pigments.
#2. WAIT IT OUT
Another difference between applying regular shampoo and purple shampoo is the wait time. After massaging the shampoo onto your hair, you'll want to let it sit for a few minutes to let the color work its magic.
#3. APPLY YOUR CONDITIONER
Next, follow up with your conditioner. You'll apply this to your strands just as you would apply your regular conditioner.
#4. WAIT IT OUT
You'll also want to let your purple conditioner sit on your strands before rinsing. Leave the formula on your hair for about five minutes, following the directions that coordinate with your purple conditioner of choice.
#5. REPEAT AS NEEDED
How brassy your hair is will help to determine how often you should use purple shampoo. The frequency will also depend on the product you're using. Some purple shampoos are meant to be used once a week, while others can be worked into your routine multiple times per week until the brassiness is gone.
Photo Credit: Photography: Matthew Zach, Senior Art Director: Melissa San Vicente-Landestoy, Associate Creative Producer: Becca Solovay

{ "@context": "https://schema.org/", "@type": "WebPage", "speakable": { "@type": "SpeakableSpecification", "cssSelector": ["speakable-content"] }, "url": "https://www.lorealparisusa.com/beauty-magazine/hair-care/color-treated-hair/purple-shampoo-on-red-hair" }
Discover more tips & tricks
Keep your skin happy
See all articles
Shop Featured Hair Care products
Discover More
{ "@context": "http://schema.org", "@type": "BreadcrumbList", "itemListElement": [ { "@type":"ListItem", "position": 1, "item": { "@id": "/", "name": "Home" } } , { "@type":"ListItem", "position": 2, "item": { "@id": "https://www.lorealparisusa.com/beauty-magazine", "name": "Beauty Magazine" } } , { "@type":"ListItem", "position": 3, "item": { "@id": "https://www.lorealparisusa.com/beauty-magazine/hair-care", "name": "All Things Healthy Hair" } } , { "@type":"ListItem", "position": 4, "item": { "@id": "https://www.lorealparisusa.com/beauty-magazine/hair-care/color-treated-hair", "name": "Color Treated Hair Care" } } , { "@type":"ListItem", "position": 5, "item": { "@id": "https://www.lorealparisusa.com/beauty-magazine/hair-care/color-treated-hair/purple-shampoo-on-red-hair", "name": "purple-shampoo-on-red-hair" } } ] }