makeup looks
Order of Makeup Application: Which Products Go First?
July 23, 2020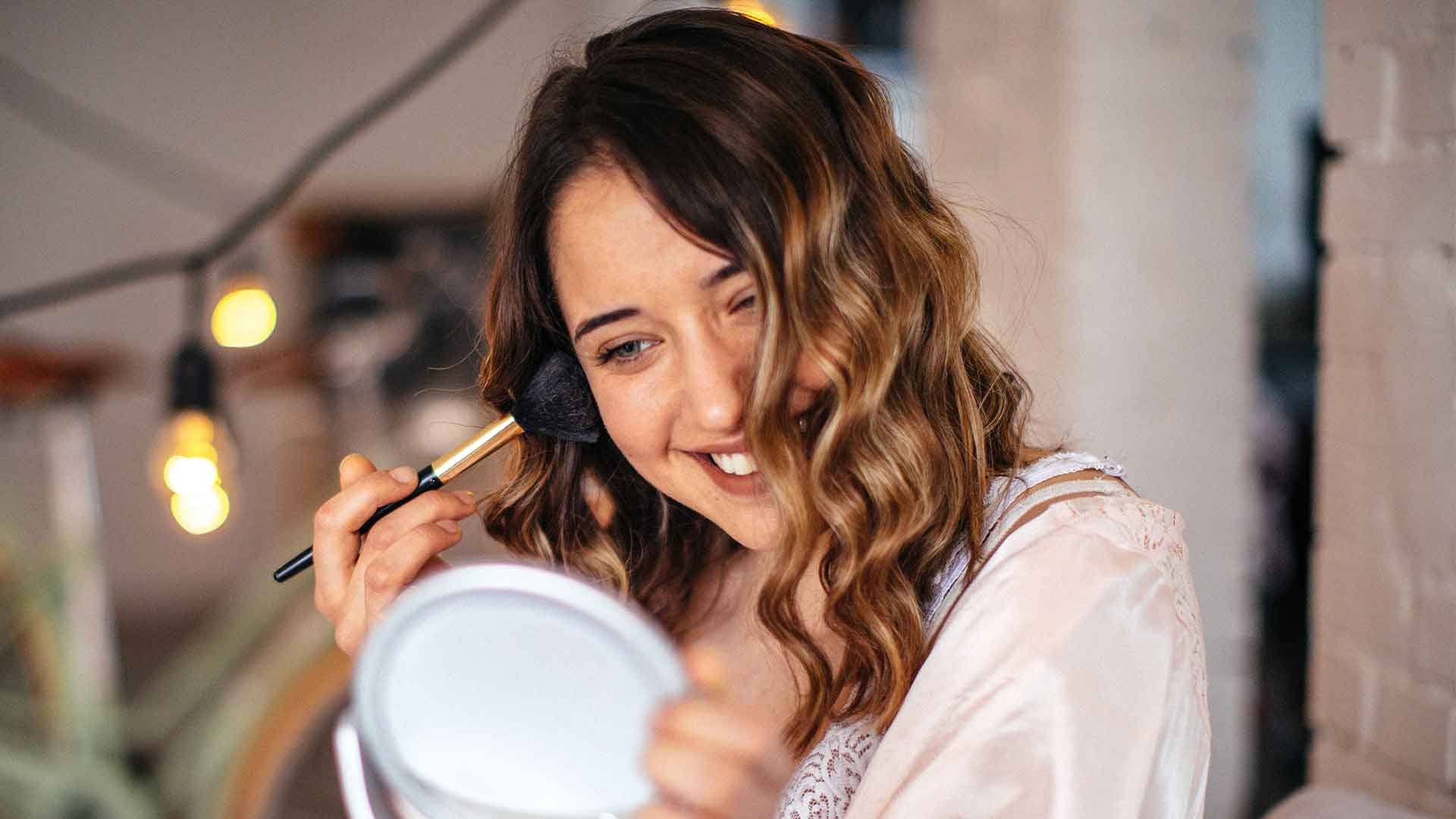 There's no denying that the correct makeup order can be a difficult topic to tackle in the beauty world. It's easy to see why questions like, "Should you apply concealer or foundation first?" or "Eye makeup before face makeup?" can make your head spin. Everyone seems to have a different answer, but they can't all be correct. While makeup is a great way to explore your creativity, there are rules when it comes to how to apply makeup—especially if you want to achieve a flawless beauty look.
If you're worried that the order of makeup application you've grown accustomed to isn't 100 percent correct, there's no need to panic. Lucky for you, we know just the right makeup routine order to help you whip your face into shape. Ready to get the ball rolling? Follow along as we share a step-by-step routine to help you craft the perfect makeup look.
STEP #1: PRIMER
When it comes to your makeup order, it's essential to start things off on the right note. That means always setting the stage for your face makeup with makeup primer. See, makeup primer works to give your entire face a smooth canvas for a seamless makeup application. Kick things off with a thin layer of the L'Oréal Paris Infallible Pro-Glow Lock Makeup Primer. Once your primer dries, you're ready for the next step.
STEP #2: COLOR CORRECTOR
You want to make sure that you disguise the appearance of your skin's discolorations and blemishes to help create a flawless base. This is where a color-correcting concealer, like the L'Oréal Paris True Match Color Correcting Crayon, comes into play. The rules of color correcting are that opposite colors cancel each other out. You'll want to use a color-correcting concealer in a shade that can neutralize whichever hue you want to disguise.
Yellow hides any purple or bluish discolorations like broken capillaries and dark spots. Green neutralizes the appearance of redness caused by blotchiness or blemishes. Yellow disguises blue and/or purple areas like broken capillaries and age spots. Peach, bisque, and orange diminish the appearance of dark circles, dark spots, and hyperpigmentation.
Apply the appropriate concealer sparingly where needed, then use your fingers to blend until even.
STEP #3: FOUNDATION
Now it's time to perfect your complexion. Foundation comes in handy to give your face a flawless finish. Reach for the L'Oréal Paris Infallible Pro-Glow Foundation, which provides medium, lightweight coverage and leaves your skin with a lasting glow. Squeeze a small amount of foundation onto a makeup blender, like the L'Oréal Paris Infallible Blend Artist Foundation Blender, and apply onto skin in rolling and dabbing motions for a smooth and even application.
STEP #4: CONCEALER
Take a look at your face. Do you see any imperfections peeking through? If so, you'll need to apply a concealer like the L'Oréal Paris True Match™ Super-Blendable Multi-Use Concealer. To give your eyes a well-rested appearance, apply the concealer in an upside-down triangle below each eye.
STEP #5: BLUSH, BRONZER, AND/OR HIGHLIGHTER
Once your face is beautifully even, you'll need to define your features. Apply the L'Oréal Paris True Match™ Lumi Bronze It Bronzer to the hollows of your cheeks and your temples to prevent your face from falling flat and act as a contour. Applying bronzer first also works in your favor, so you know where to apply blush.
Next, sweep on a neutral blush shade of the L'Oréal Paris True Match Blush to accentuate your cheekbones. Using a fan makeup brush, lightly dust the L'Oréal Paris True Match Lumi Shimmerista Highlighting Powder onto the high points of your face to achieve a lit from within glow.
STEP #6: EYEBROWS
Now that your face makeup is complete, it's time to turn your attention to your eye makeup. Since eyebrows work wonders to frame your face, you want to make sure that you create the perfect arch. Reach for the L'Oréal Paris Unbelievabrow Longwear Waterproof Brow Gel to sculpt your brows to perfection.
Start by outlining and defining the shape of your brow with the angled brush, then use the doe-foot applicator to fill in. Finish up by combing through brows with a spoolie for a gorgeous look. We love that following this makeup routine order and doing your eyebrows first serves as a guide for the rest of your eye makeup.
STEP #7: EYESHADOW
Do you apply eyeshadow or eyeliner first? That would be eyeshadow! Get ready to make your eyes do all of the talking with some shadow action. Using a fluffy eyeshadow brush, apply the L'Oréal Paris Infallible 24 HR Eye Shadow in Always Pearly Pink all over your lid and crease. Follow up by using a small angled brush to apply the shade on your lower lash line for a pretty-in-pink look that can go from day to night with ease.
STEP #8: EYELINER
Want to enhance the shape of your eyes? Eyeliner will rise to the occasion. Pick up a waterproof offering, like the L'Oréal Paris Le Liner Signature Easy-Glide Mechanical Eyeliner, Waterproof in Noir Cashmere, and line your lids. Once you reach the outer edge, gently flick the eyeliner to create a winged look.
STEP #9: MASCARA
While you may have heard that mascara should come before eyeliner, that's simply not the case. Applying mascara after your eyeliner ensures a more precise finish for a clean look. Plus, reversing the order can lead to smeared mascara on your lids. Sweep on a few coats of the L'Oréal Paris Bambi Eye Washable Mascara, Lasting Volume in Extra Noir to score lifted and curled lashes sans the mess.
STEP #10: LIPS
Since lip makeup is super easy to reapply throughout the day, it's always best to leave it as the final step in your routine. To get started, outline your lips with a lip liner like the L'Oréal Paris Colour Riche Matte Lip Liner in Matte-ing Call. This will help keep your lip color in place. Next, swipe your pout with the L'Oréal Paris Colour Riche Matte Lipstick in Matte-itude for a flirty touch.
STEP #11: SET YOUR MAKEUP
Congratulations, you've made it to the finish line and nailed your order of makeup application! To ensure that your makeup lasts throughout the day, spritz your face with four to six sprays of the L'Oréal Paris Infallible Pro-Spray and Set Make-Up Oil-Free Setting Spray in "X" and "T" shapes. This spray will give you a "just applied" makeup look that lasts.
Discover more tips & tricks
Keep your skin happy
See all articles
Shop Featured Makeup products
Discover More