face makeup
Powder vs. Liquid Foundation — Which Is Better?
May 08, 2020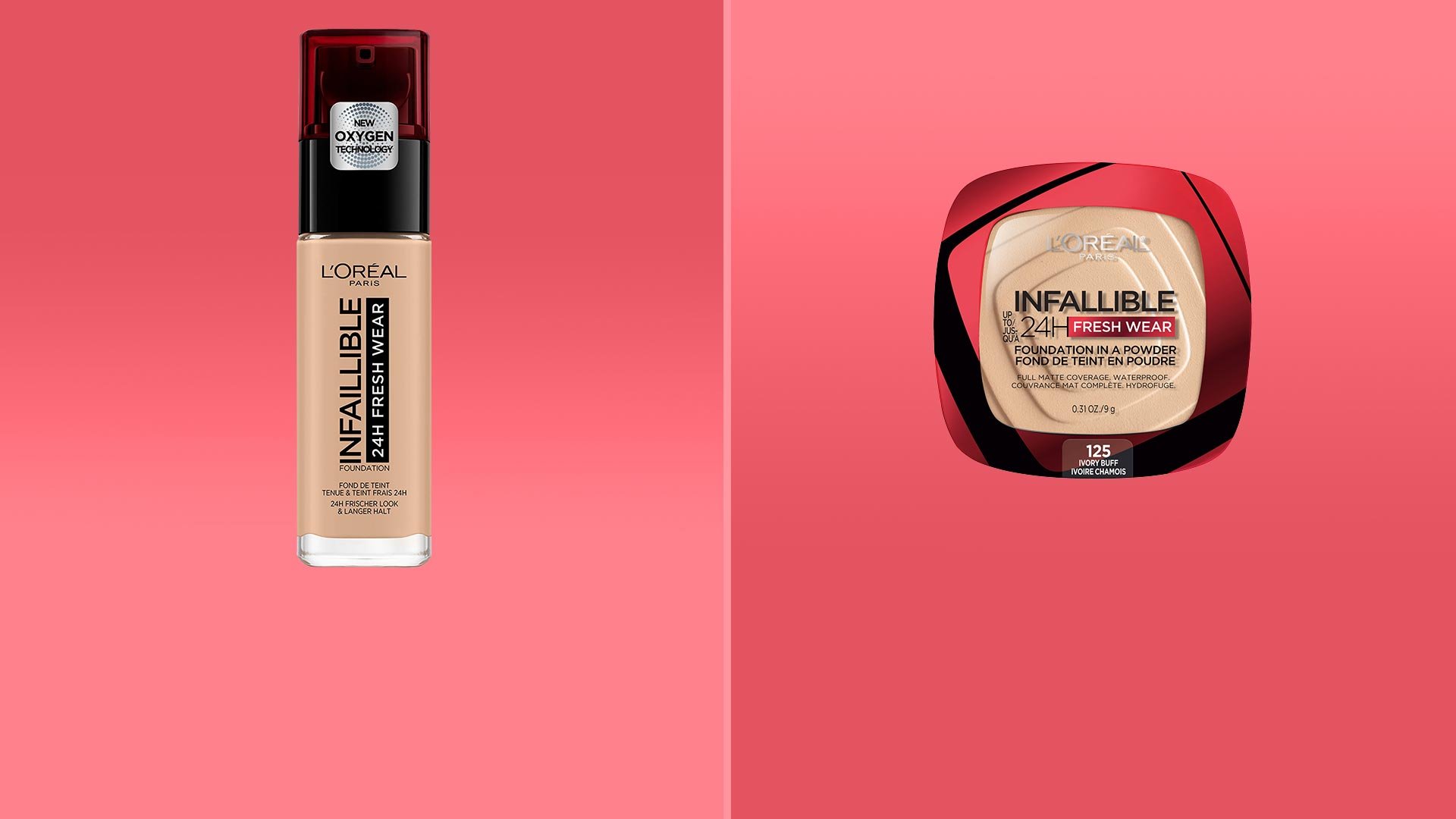 Foundation is a foolproof way to mask imperfections and get flawless coverage, so it's no surprise that this beauty staple is a hot commodity in the makeup world. But with so many different formats of foundation battling it out for space on your vanity, particularly liquid vs. powder, it can be hard to settle on the right formula for you. Dry skin types might want to opt for a more hydrating, liquid formula while oily skin types might prefer powder formulas. Keep reading as we give you the lowdown on foundation powder vs. liquid foundation so you can decide which formula to stock your beauty arsenal with.
What Is a Powder Foundation?
For those who prefer lightweight makeup, powder foundation is just the ticket. This type of formula is all about giving your skin a natural look with a soft touch. Thanks to the weightless feel of today's powders, you'll be able to provide your skin with breathable and buildable coverage that will go the distance. We also recommend powder foundation for those who have oily skin. It will help your skin look fresh, matte and shine-free throughout the day. We love the L'Oréal Paris Infallible Up to 24H Fresh Wear in a Powder for buildable, full coverage or the L'Oréal Paris True Match Super-Blendable Compact Makeup and Age Perfect Makeup Creamy Powder Foundation with Minerals for more sheer coverage.
What Is Liquid Foundation?
Known as a tried-and-true makeup essential, liquid foundation is an excellent option for those who love a seamless blend that disguises imperfections. You can also choose liquid formulas that have anywhere from light to full coverage, depending on your desired look. The finish is also up to you—whether you want a glowy visage or a matte beauty look. We also recommend a hydrating liquid foundation formula for dry skin types. opt for a water-based formula like the L'Oréal Paris Infallible 24HR Fresh Wear Foundation which will give you a radiant finish. If you want a little more coverage to conceal acne or uneven texture, try the L'Oréal Paris Infallible Pro-Matte Foundation.
Powder vs. Liquid Foundation — Which Should I Use?
Believe it or not, when it comes to the foundation powder vs. liquid foundation debate, there isn't one real winner. It's all about your personal preference and skin type. Powder foundations feel more lightweight on the skin, will keep you matte and have buildable to full coverage. It's also incredibly user-friendly to apply with a makeup brush or makeup sponge (the L'Oréal Paris Up to 24HR Fresh Wear in a Powder comes with its own compact sponge and mirror!), and can be touched up throughout the day with no fuss. Powder foundation also doesn't need too much blending, which is a plus for makeup rookies!
On the other hand, liquid foundation has its own share of benefits. While powder foundations can be full-coverage, it takes a few layers to get there, while liquid pretty much conceals blemishes or uneven texture with one swipe of the product. It's also very hydrating which can keep cracks or flakiness at bay and you can use any tool to apply it — makeup brushes, fingers or a blender.
Discover more tips & tricks
Keep your skin happy
See all articles
Shop Featured Makeup products
Discover More