face makeup
Does Concealer Go Before or After Foundation?
The classic way is often the best way.
September 23, 2022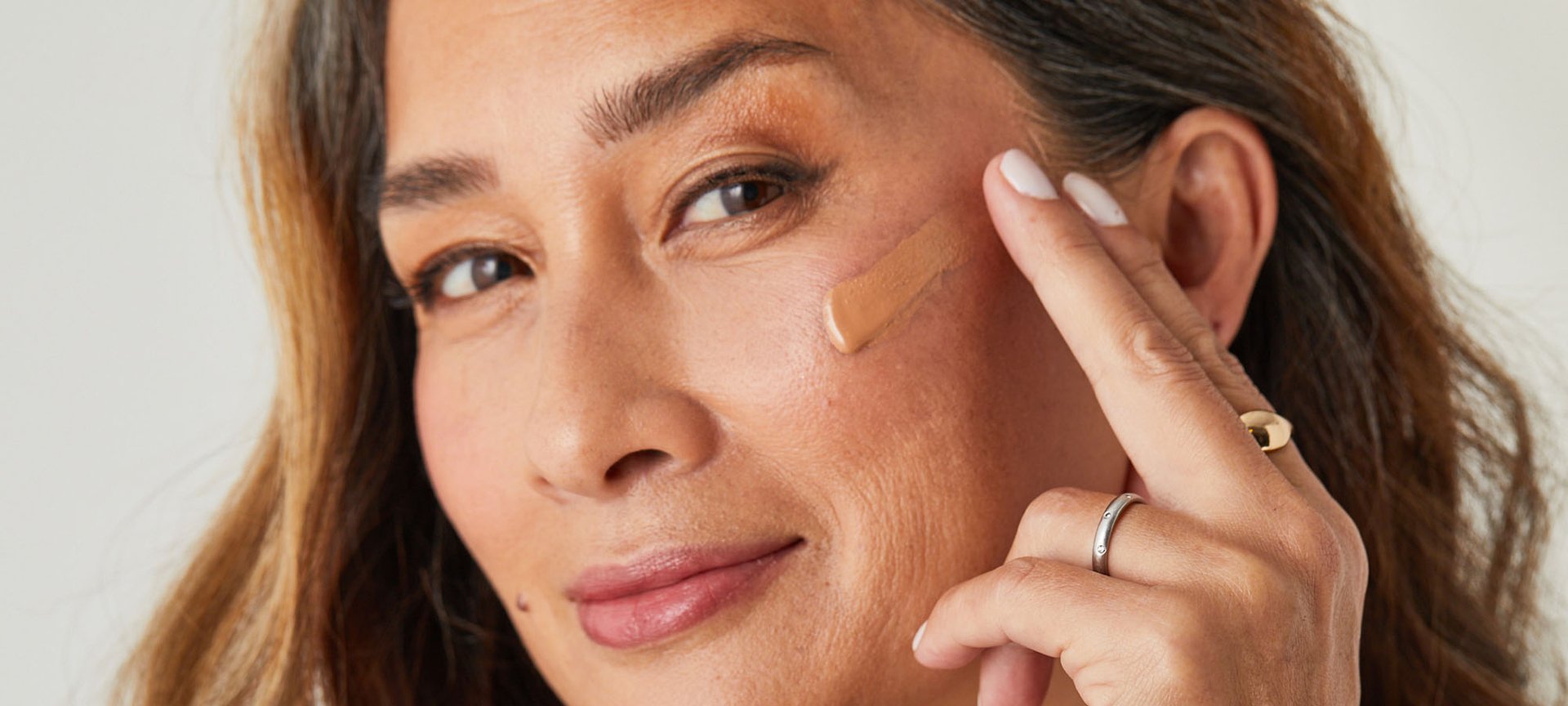 If you've been asking yourself if you're supposed to apply concealer or foundation first, don't feel like a rookie. These face makeup products are often used in alternating orders and depending on who you ask, you may find different answers on the foundation versus concealer first debate.
But, there is, in fact, a correct way to apply foundation and concealer, and doing so in the incorrect order is a common mistake that can actually impact your overall beauty look. Keep reading if you want to learn what goes first so you can nail the best application for your face makeup.
Concealer vs. Foundation — What's the Difference?
Before we get into your face makeup application order, let's talk a bit about the difference between concealer and foundation. Foundation is meant to do just what its name suggests — create an even foundation for the rest of your makeup. By this, we mean an even skin tone and all-over base.
On the other hand, the use of concealer can also be found in its name — it's a product intended to conceal. Concealer can be used to
hide blemishes
and dark spots, and it can provide targeted coverage to areas that may need a little more attention than the rest of your face. Since it can hide dark spots, you may also find that your concealer brightens different areas of your face, which is why it can double as a highlighting product as well.
Featured Products
What Goes On First, Concealer or Foundation?
So, do you use concealer before or after foundation? The proper way to apply the two products is to first smooth on a foundation and then apply your concealer. Foundation will create that even canvas we talked about earlier, and then concealer can be used to spot correct any outstanding areas that need extra coverage. Not to mention, you can also use concealer to help disguise under eye bags by applying a lighter shade under your eyes — after foundation, of course.
The reason you typically apply foundation and concealer in this order is that it allows you to use less product. When you've applied foundation first, you only need small dabs of concealer on the spots that require more coverage. Following this order can also be helpful because if you were to apply concealer first, blending your foundation on top may wipe the concealer away.
There are exceptions to the foundation and concealer order rule — one is color-correcting concealer. This type of concealer should be applied prior to both face makeup products to help neutralize any areas of discoloration. Also, if your under eye concealer is a skin care hybrid, you may dab a little onto your under eye area before applying foundation, and then a light layer on top after.
But with so many TikTok creators introducing hacks into their makeup routines, we wouldn't be surprised to see more and more people reversing the order of their foundation and concealer. If you're just getting used to how to apply makeup, stick to the basic rule. If you're a pro, you may find yourself experimenting — and we can always get behind some makeup exploration.
A Step-by-Step Concealer and Foundation Tutorial
Now that you know whether concealer or foundation goes first, put your knowledge to use with this step-by-step tutorial.

1. Prime Your Face
Before reaching for your concealer and foundation, first turn to a makeup primer. This will create a smooth canvas for your face makeup and help increase its lifespan. Smooth the L'Oréal Paris Infallible Pro-Glow Lock Makeup Primer over your face for an illuminating finish that lasts all day.
2. Color-Correct
Next, reach for a color-correcting concealer, like the L'Oréal Paris True Match Color Correcting Crayon. Apply accordingly to disguise dark circles, dark spots, and hyperpigmentation, based on your skin tone.
The L'Oréal Paris True Match Eye Cream in a Concealer, 0.5% Hyaluronic Acid is also great for those with under eye darkness, as it provides instant dark circle coverage while offering the hydrating benefits of an eye cream.
3. Perfect Your Complexion
Using a makeup sponge, like the L'Oréal Paris Infallible Blend Artist Foundation Blender, buff and blend your foundation of choice over your skin to perfect your complexion.
We recommend the L'Oréal Paris Infallible 24 Hour Fresh Wear Foundation since it has a buildable, lightweight formula with coverage you can customize. Working with a lightweight formula will also help prevent your makeup from looking cakey.
4. Conceal as Needed
Then, grab a concealer in a shade that closely matches your foundation. Remember the goal of this is to conceal any outstanding imperfections.
Dot the L'Oréal Paris Infallible Full Wear Concealer up to 24H Full Coverage where needed. To brighten your under eye area, use a color that's one to two shades lighter than your skin tone. Blend the concealer out with your makeup sponge for a look you can sport with confidence.
Next: How to Find Your Perfect True Match Foundation Shade
Edited by: Témi Adebowale, Photo Design: Sarah Duvivier
Discover more tips & tricks
Keep your skin happy
See all articles
Shop Featured Makeup products
Discover More