skin care essentials
The Benefits Of A Face Moisturizer With SPF
An easy way to do sun protection.
July 14, 2021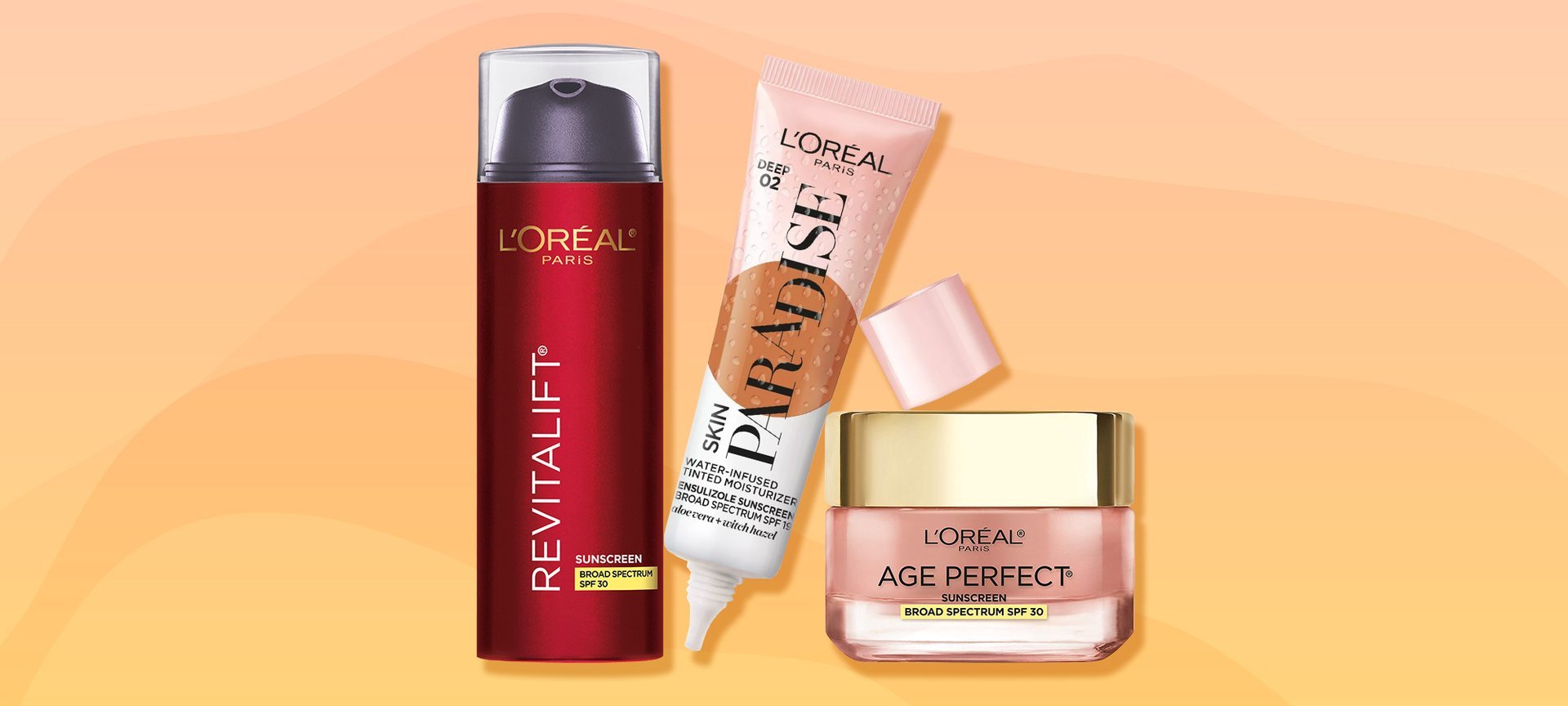 We've said it before and we'll say it again: wearing broad-spectrum sunscreen daily is crucial for preventing sun damage caused by UV rays and signs of aging like wrinkles and dark spots. Many of us are spending more time at home these days, and while it may feel unnecessary, SPF is still a must. Sun damage can happen when you're quickly walking the dog or sitting at your desk by a window, so it's important to protect your skin from both direct and indirect sun exposure. We're here to let you in on a little secret: moisturizers with SPF are about to become your best friend. Read on to find out why an SPF-infused moisturizer is a wise addition to your skin care routine, plus some of our favorites.

Can You Skip Moisturizer And Use Sunscreen?
When it comes to moisturizer and sunscreen, you can't exactly pick one or the other to use. It's common to hear of people skipping out on moisturizer and using sunscreen instead, assuming that's the most important step. And while SPF is essential, it won't do everything your skin needs. Sunscreen is strictly formulated to protect skin from the sun's harmful rays, not to moisturize your skin.
Moisturizer is also an absolute must, meaning you'll want to stick with using both a moisturizer and a sunscreen, or make the decision to try a product that blends your skin's two needs together, combining sun protection and moisture.
Are Moisturizers With SPF Effective?
According to The Skin Cancer Foundation, there are two different kinds of rays emitted from the sun: UVA and UVB. UVA rays are the ones that can lead to visible signs of aging years later. Meanwhile, UVB rays are the ones that cause sunburns. Using a moisturizer with broad-spectrum sunscreen (and taking other sun protection measures) can help protect your complexion from sun damage caused by UVA and UVB rays year-round.
If you reach for a face moisturizer with SPF specifically you can easily address multiple skin issues, pare down your routine and get out the door faster—with just one product.
The Skin Cancer Foundation confirms that you can use face moisturizer with SPF in place of regular facial sunscreen. They note that you'll want to make sure the moisturizer has a broad-spectrum SPF of 15 or more, though. It's also important that regardless of which moisturizer with SPF you choose, make sure to apply it as directed and take other sun protection measures to reap the benefits.

Our Best Moisturizers With SPF
L'Oréal Paris Age Perfect Rosy Tone Broad Spectrum SPF 30 Sunscreen: As skin matures, its ability to renew surface cells slows down, causing a buildup of dead skin cells on the surface. As a result, the complexion becomes dull, losing its natural youthful rosy tone. This ultra-hydrating cream is infused with imperial peony extract and LHA to instantly revive skin's rosy tone while protecting it from the sun's harmful rays with broad-spectrum SPF 30.
L'Oréal Paris Revitalift Triple Power Day Lotion SPF 30: This anti-aging face moisturizer is formulated with SPF 30, Pro-Retinol, vitamin C, and hyaluronic acid to reduce wrinkles and firm and brighten skin in one week.
L'Oréal Paris Revitalift Bright Reveal Brightening Day Moisturizer SPF 30: Brighten up the appearance of your complexion with this moisturizer with SPF, which visibly corrects the look of dull, uneven tones, lines, and wrinkles to reveal radiant, youthful-looking clarity.
L'Oréal Paris Revitalift Anti Wrinkle Firming Day Cream SPF 25: This firming moisturizer is formulated to deliver firmer, smoother skin in just four weeks, along with providing UVA/UVB SPF 25 sun protection.
Next: Our Best Foundations with SPF
Photo Design: Sarah Duvivier
{ "@context": "https://schema.org/", "@type": "WebPage", "speakable": { "@type": "SpeakableSpecification", "cssSelector": ["speakable-content"] }, "url": "https://www.lorealparisusa.com/beauty-magazine/skin-care/skin-care-essentials/why-you-should-be-using-moisturizer-with-spf" }
Discover more tips & tricks
See all articles
Shop Featured Skin Care products
Discover More
{ "@context": "http://schema.org", "@type": "BreadcrumbList", "itemListElement": [ { "@type":"ListItem", "position": 1, "item": { "@id": "/", "name": "Home" } } , { "@type":"ListItem", "position": 2, "item": { "@id": "https://www.lorealparisusa.com/beauty-magazine", "name": "Beauty Magazine" } } , { "@type":"ListItem", "position": 3, "item": { "@id": "https://www.lorealparisusa.com/beauty-magazine/skin-care", "name": "Skin Care For Every Age" } } , { "@type":"ListItem", "position": 4, "item": { "@id": "https://www.lorealparisusa.com/beauty-magazine/skin-care/skin-care-essentials", "name": "Skin Care Essentials" } } , { "@type":"ListItem", "position": 5, "item": { "@id": "https://www.lorealparisusa.com/beauty-magazine/skin-care/skin-care-essentials/why-you-should-be-using-moisturizer-with-spf", "name": "why-you-should-be-using-moisturizer-with-spf" } } ] }