face makeup
How To Hide Large Pores With Makeup
July 02, 2019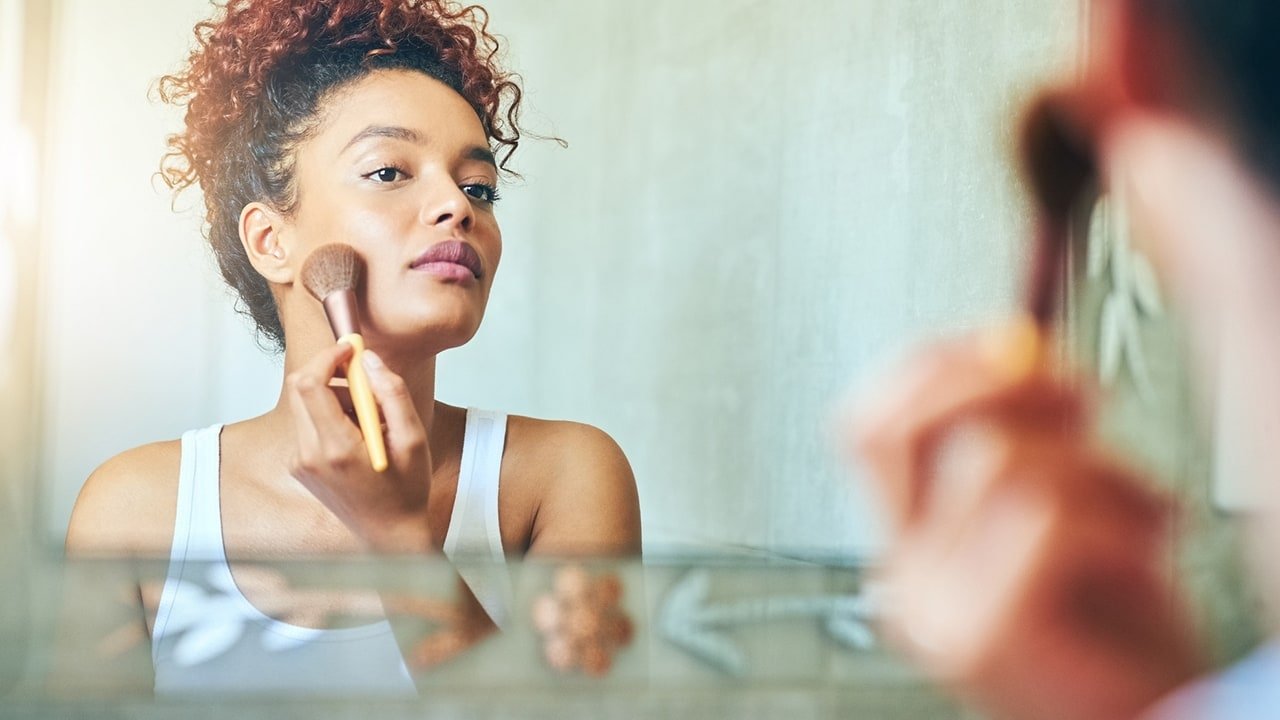 If you have large pores then you know how frustrating it can be when makeup only seems to make them look bigger. The size of your pores is mostly based on genetics, so there's not much you can do to shrink them either. Luckily, there are some tricks you can use to make it look like you did. And using the right makeup can help to minimize the appearance of large pores. learning how to hide them with makeup is a total game-changer. Want in on the scoop? Keep reading to learn how you can use different makeup products to reduce the appearance of large pores, especially around the nose area. Bye-bye large pores!
How To Minimize The Appearance Of Large Pores
Pores can look larger and more noticeable when they're clogged with dirt or oil. So before you start applying makeup, it's best to start with a clean base. Be sure to follow a skin care routine that includes facial cleansers and scrubs to help draw out impurities. After cleansing your face, be sure to follow up with a serum to help replenish your skin with nourishing ingredients. The L'Oréal Paris Age Perfect Cell Renewal Midnight Serum will provide a dose of antioxidants that help protect the skin. Its ingredients include an exclusive L'Oréal patented antioxidant recovery complex, which works to reinforce the skin's moisture barrier. The formula also quickly absorbs into the skin and won't clog pores or leave behind any sticky residue.
Now that you know how to prep your skin beforehand, it's time to learn how to use makeup to help make your pores visibly disappear.
The Best Makeup Routine For Large Pores
As far as common skin care concerns go, large pores are one of the easier imperfections to conceal. Check out our steps below to create a flawless makeup look, while minimizing your pores.
Step #1: Use A Primer That Targets Pores
Our best pore-minimizing primer can help smooth out your skin and make pores look smaller, leaving you with an even surface to apply your makeup. The L'Oréal Paris Studio Secrets Professional Magic Perfecting Base has a silky, lightweight formula that glides onto the skin, leaving it with a velvety-smooth matte finish. The non-comedogenic formula works to smooth out lines and hides pores. Apply the primer dot by dot and blend it out with a makeup blender.
Editor's Tip: For large pores, be sure to apply the primer to your nose and cheeks to help blur their appearance in those areas.
Step #2: Wear A Matte Foundation
Foundations with a dewy finish may enhance the look of large pores so opt for a pick with a matte finish like the L'Oréal Paris Infallible Up to 24H Fresh Wear in a Powder, matte finish. This fresh wear powder foundation has a breathable and weightless formula that stays put for up to 24 hours. The best part? It's waterproof and sweatproof, so you won't have to worry about touch-ups throughout the day. The powder applies onto the skin smoothly and it's easy to build without looking cakey.
Step #3: Use A Blendable Concealer
Follow up with a concealer to disguise and highlight parts of your face. Use the L'Oréal Paris Infallible Full Wear Concealer Waterproof, Full Coverage. Its waterproof, non-greasy formula provides full coverage with a matte finish, making it easy to mask imperfections, whether you're dealing with discoloration or blemishes. Aside from its coverage, the concealer also won't transfer, fade, or flake. Apply a few dots to target areas and use a damp makeup blender to dab the product onto your skin.
Editor's Tip: Put down your makeup brushes and pick up a makeup blender instead. Brushes can emphasize the look of your pores by leaving behind brush strokes, while a blender helps to create seamless coverage.
Step #4: Apply A Translucent Powder
Follow up with a loose, translucent setting powder like the L'Oréal Paris Infallible Pro-Sweep & Lock Loose Setting Face Powder to help keep the rest of your makeup from shifting throughout the day. Dip your makeup blender into the powder and apply a thin layer over your face to set your makeup. Let the powder sit for a few minutes to absorb into your skin and dab away any excess.
Step #5: Reach For A Matte Blush
Shimmery blushes can draw attention to large pores in the same way that illuminating foundations can. So opt for a matte blush using the L'Oréal Paris True Match Naturale Blush. Apply your blush color of choice lightly, skimming over the apples of your cheeks.
Step #6: Spritz With A Setting Spray
As the final step, set your makeup with the L'Oréal Paris Infallible Pro-Spray & Set Makeup Extender Setting Spray. Spritz the setting spray four to six times in a "T" and "X" shape to help extend the life of your makeup look for a long-lasting finish.
Photo Credit: Chaunte Vaughn
Discover more tips & tricks
Keep your skin happy
See all articles
Shop Featured Makeup products
Discover More