face makeup
Our Best Foundations with SPF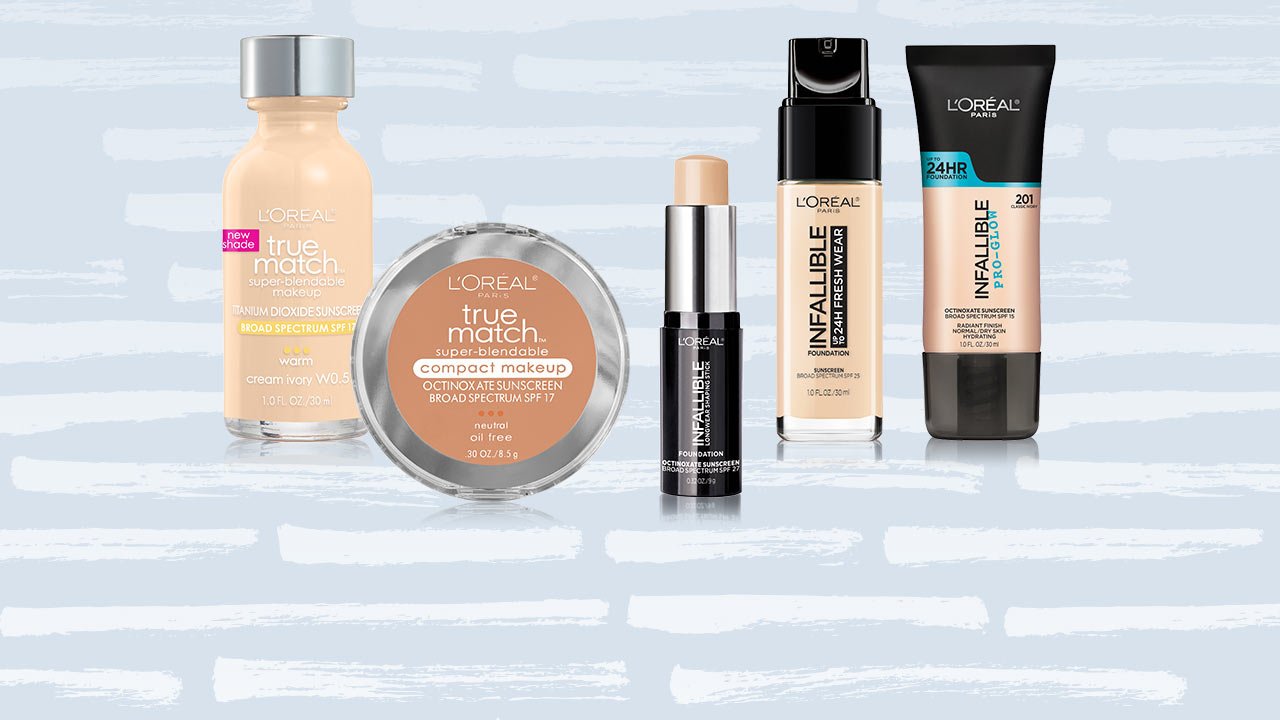 The birds are chirping, the flowers are blooming, and the sun is shining—warmer weather is finally here! While we definitely won't be missing our winter makeup routines, the rising temperature does bring about new issues for your makeup routine to address. It's time to start reaching for makeup products that can help you take on summer's biggest skin care concern: the sun! According to the American Academy of Dermatology (AAD), the sun can contribute to skin aging including redness, wrinkles, sagging, and an uneven skin tone. Luckily, the foundation you use in your daily makeup look can help protect your skin against those harmful rays. Below, find our best foundations with SPF.
OUR BEST FOUNDATIONS WITH SPF
Ready to add a foundation with SPF to your daily makeup routine? The Skin Cancer Foundation recommends looking for a foundation with an SPF value between eight and 15 for extra sun protection. Consider adding one of our five foundations with SPF to your daily routine!
L'Oréal Paris Infallible Up to 24HR Fresh Wear Foundation, Lightweight: You might assume foundation with SPF would feel extra heavy, but that doesn't have to be this case. This longwear foundation with breathable-skin technology provides medium-to-full coverage and has a lightweight feel that allows the skin to breathe. The formula, which contains SPF 25 and is suitable for all skin types, is non-comedogenic and sweat, water, and transfer resistant.
L'Oréal Paris Infallible Pro-Glow Foundation: Once summer hits, foundations with a glowing finish are our go-to. It's just the perfect time to look a little extra radiant, don't you think? Formulated with SPF 15, this lightweight, creamy, long-lasting foundation goes on smooth, leaving skin with a glowing finish that lasts. If your complexion also tends to dry out in the summer, this hydrating formula will be perfect!
L'Oréal Paris True Match™ Super Blendable Makeup: Do you struggle to find your foundation shade match, especially when you have a newfound summer tan? This foundation allows you to find your perfect hue since it goes beyond matching skin tone, to matching skin's undertone for a true-to-skin result. Available in 45 shades, the foundation also provides medium coverage, has a natural finish, and contains SPF 17.
L'Oréal Paris True Match™ Super-Blendable Compact Makeup: Prefer powder foundations? Also formulated with SPF 17, this foundation provides flawless natural coverage, a weightless feel, and the seamless blendability of a liquid formula. Never greasy and never cakey—the ultra-pure formula doesn't contain oils or pore-clogging fillers and doesn't have a heavy texture.
L'Oréal Paris Infallible Longwear Foundation Shaping Sticks: Did you know that you can use foundation not only for sun protection and coverage but also to sculpt and highlight your face? Stick foundation is perfect for doing just that! These buildable, medium to full coverage sculpting sticks contains SPF 27. Choose a shade lighter than your skin tone to brighten your complexion and one that's one to two shades darker than your skin tone to define your features. The creamy, glide-on formula will feel weightless and last all day!
4 OTHER SUMMER SUN PROTECTION TIPS
Per the Skin Cancer Foundation, your foundation shouldn't be your sole source of sun protection. It's wise to follow the Food & Drug Administration's guidelines and take additional sun protection measures. Keep reading for a few tips to keep in mind.
SUN PROTECTION MEASURE #1: USE A MOISTURIZER WITH SPF
Just as you can use foundation with SPF for protection, you can also use a moisturizer to help defend your skin against the sun! The Skin Cancer Foundation suggests looking for skin care products labeled "broad-spectrum" with an SPF of 15 or higher.
SUN PROTECTION MEASURE #2: COVER UP
The FDA recommends wearing a hat, sunglasses, and clothes that cover your arms and legs when possible to protect your skin against UVA and UVB rays.
SUN PROTECTION MEASURE #3: KEEP TRACK OF TIME
If you can, avoid being outside for long periods of time between the hours of 10 AM and 2 PM. According to the FDA, these are the sun's peak hours—meaning the sun's rays are at their strongest.
SUN PROTECTION MEASURE #4: APPLY IN ADVANCE
Don't expect your SPF to work immediately after application. The FDA suggests applying your sunscreen 15 minutes before you'll be outside.
Now, back to makeup. We know your summer makeup look will necessitate more than just foundation, and we can help. Here are 5 Day to Night Makeup Ideas for Summer to help you finish putting your look together!
Discover more tips & tricks
Keep your skin happy
See all articles
Shop Featured Makeup products
Discover More