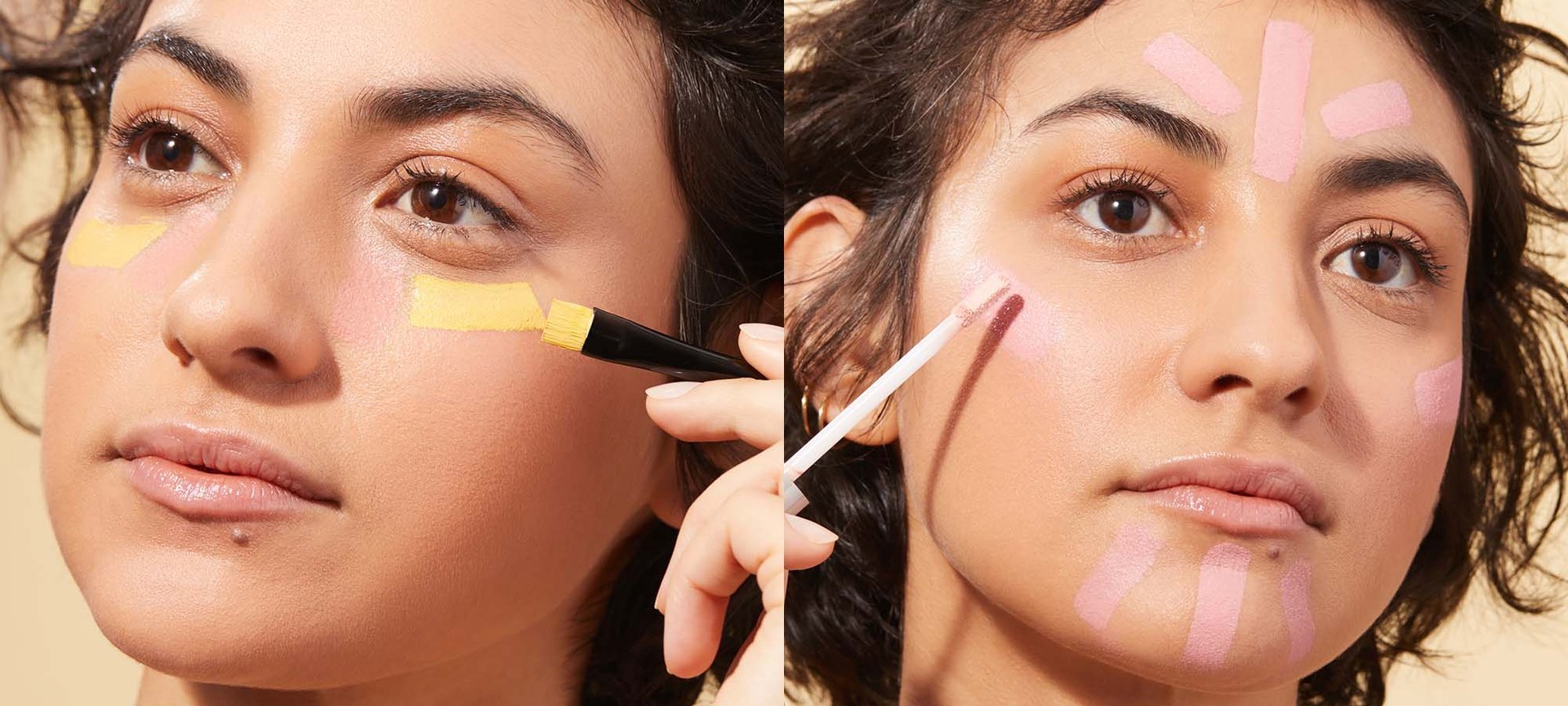 face makeup
Your Step-By-Step Guide To Color Correcting
Say goodbye to discoloration.

When it comes to masking skin concerns, concealer is the holy grail. If you're looking to blur dark circles or dark spots, which can be hard to cover, you may need something more. Sometimes, coloring correcting before applying concealer helps to provide better coverage. Unlike concealer which is pretty intuitive, there's a method to the madness of color correcting. So, we're sharing how peach, lavender, green and more color correctors work to reduce the appearance of several skin concerns. Keep reading for our complete guide on how to color correct.

What Is Color Correcting?
You probably know that color correction is a technique that can be used to conceal your skin's imperfections through a variety of colorful hues 一 but perhaps you're not sure how it works. Think back to when you learned about the color wheel in school. You were probably taught that the colors opposite of one another cancel each other out — and that same principle applies when it comes to color correcting with makeup. Think of the color of the imperfection you want to disguise, then imagine the color wheel and reach for a concealer in a shade that can cancel out that hue.

Which Colors To Use For Color Correcting
If you want a breakdown of how to color correct the most common skin concerns, check out the simple guide below.


How To Color Correct Dark Circles
Since dark circles have a bluish hue, shades of peach and orange will be perfect for canceling them out. Use peach if you have a fair to light skin tone, bisque if you have a light to medium skin tone, or orange if you have a deep medium to dark skin tone.

How To Color Correct Discoloration
If you have any purple discoloration, such as dark spots, use a yellow color corrector. Yellow can help to counteract the purple hues and also brighten the area.

How To Color Correct Redness
You can neutralize the appearance of redness, whether it's blemishes or blotchiness, with the help of a green color corrector. Green sits opposite of red on the color wheel, so a green concealer is your best bet to help disguise the appearance of redness. Many greens can be extremely pigmented, so layer it on very lightly and build up as needed if that's the case.

How To Color Correct Dullness
If your skin needs a brightening boost, combat dullness or sallowness with the help of a lavender color corrector. Simply apply it wherever your skin could use some extra radiance.

Your Step-By-Step Guide To Color Correcting
Now that you know just how beneficial color correcting can be, and which colors do what, all that's left to learn is how to apply your color corrector.

Step 1. Apply Your Color Corrector To Bare Skin
Once you've finished your skin care routine, the first step is to apply the color corrector you need according to your skin concerns. For ultimate coverage, use a small concealer brush to blend it in. If you want a more natural finish, pat in the color corrector with your fingertips or a makeup sponge. Start by applying a light layer, and slowly build up to your desired coverage.

Step 2: Apply Foundation
After color correcting, you'll want to even out your skin tone with foundation. If you prefer light to medium coverage, try the L'Oréal Paris True Match Super Blendable Makeup. If you prefer a more full coverage look, reach for the L'Oréal Paris Infallible Up to 24H Fresh Wear in a Powder, matte finish .

Step 3. Apply Concealer
To help brighten the look of your complexion or further conceal imperfections, dab a bit of the L'Oréal Paris Infallible Full Wear Concealer Waterproof, Full Coverage onto your skin. If you have a dry under eye area or prefer a lighter coverage, try the L'Oréal Paris True Match Eye Cream in a Concealer, 0.5% hyaluronic acid which is formulated with hyaluronic acid to provide hydration.

Step 4. Set Your Makeup
Now that your skin looks even, set your makeup with the L'Oréal Paris Infallible Pro-Sweep & Lock Loose Setting Face Powder which gives the skin a matte finish that doesn't appear cakey or dry. For a more dewy option, try the L'Oréal Paris True Match LUMI Shake & Glow Dew Mist.
Next: Refresh Your Makeup Bag With These Fall Must-Haves

Written by: Alyssa Kaplan, Photo Credit: Chaunte Vaughn
Discover more tips & tricks
Keep your skin happy
See all articles
Improve your routine
Show your new look more love:
makeup