face makeup
How To Properly Clean Makeup Brushes And Blenders
Bacteria, be gone!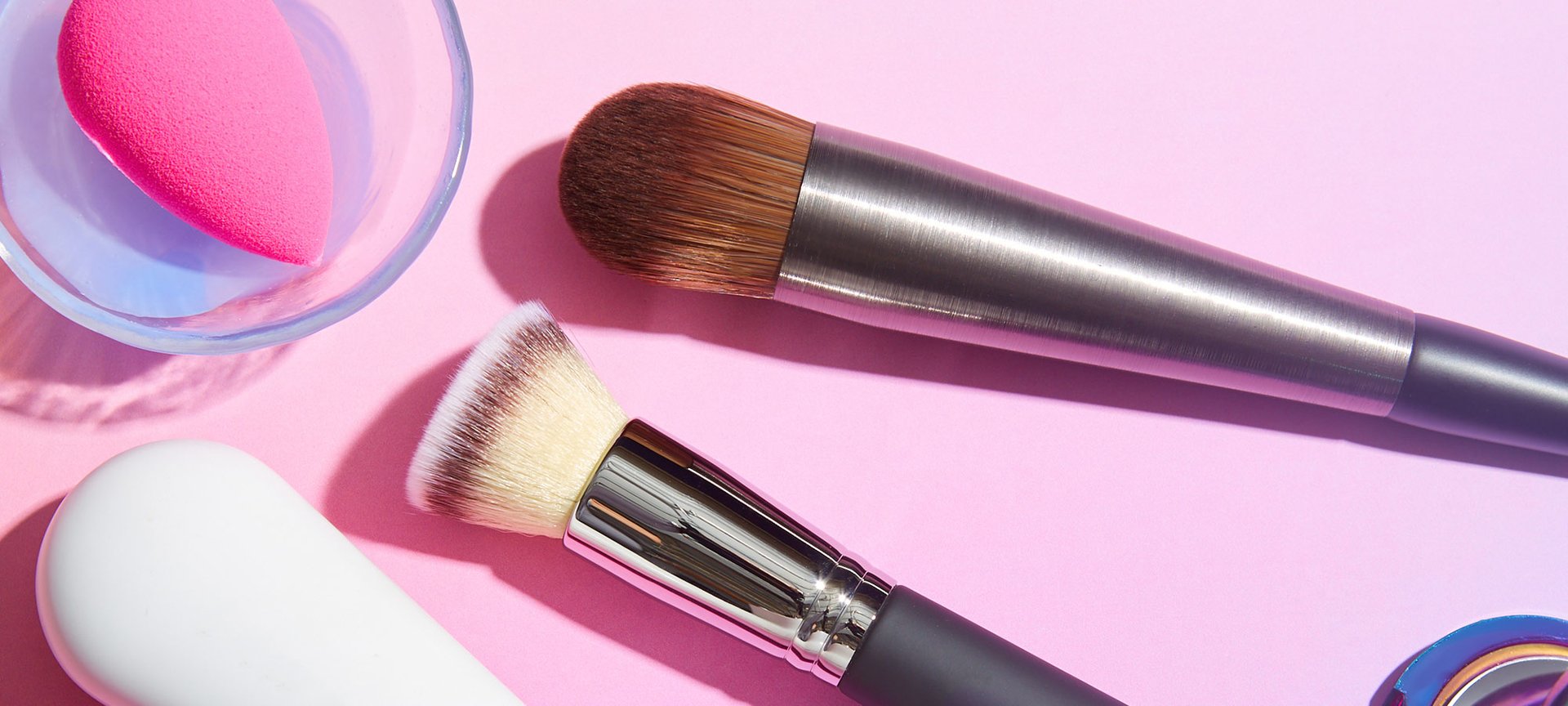 If you're enjoying this return to makeup just as much as we are, you're likely using your makeup brushes and makeup sponges almost every day—but are you cleaning them as often? If you want all the effort you put into your skin care routine to be worth it, then you're going to want to be washing your makeup brushes and makeup blenders regularly. It's no secret how valuable beauty tools—like makeup blenders and brushes—can be when it comes to applying foundation, concealer, blush, and more. They just make everything look so much better, right? There's just one major caveat: Beauty tools aren't nearly as valuable when they aren't clean. Not only do they not work as well if they're loaded up with old makeup, but makeup brushes and makeup blenders can be breeding grounds for bacteria.
If you aren't cleaning your tools regularly, storing them properly, and remembering not to share them with others, you could have a problem on your hands. The buildup of products and germs can contaminate your brushes—and if you don't clean them thoroughly, then you're going to transfer that to your face, which can lead to unwanted breakouts.
So keep reading to find out how to clean makeup brushes and makeup sponges the right way, plus home items you can use as DIY makeup brush cleaner.
How to Clean Makeup Brushes
Keeping your makeup brushes clean and free of dirt, oil, and bacteria is easy. Follow the steps below to ensure that your makeup tools stay clean and in top shape.

Step #1: Choose Your Cleanser
First things first, you need to get the right makeup brush cleaner. These days you can actually buy a brush cleanser made specifically for makeup brushes and makeup blenders, in the form of a bar soap or liquid. But if you don't have any on hand, you can keep it simple by using products you already have at home. A gentle shampoo, hand soap, or daily facial cleanser can work perfectly to help break down the makeup or dirt that has caked onto the bristles over time, without damaging your brushes.
Editor's Tip: There are instant brush "cleaner" sprays that are designed to prevent existing makeup from transferring onto your face when you need to use the same brush to apply different makeup back to back (for example, if you are using one brush to apply different eyeshadow colors as part of the same look). These are for temporary use and should not be used as a substitute for cleaning your brushes regularly.

Step #2: Lather and Swirl
Set up shop at the sink and start running warm water. Begin by wetting your dirty makeup brushes. Then, squeeze a small amount of cleanser in the palm of your hand. Take a brush and swirl the bristles in your hand to help loosen the debris. Once your brush is thoroughly sudsy and the cleanser that was in your hand has started to change colors, your brush is ready to be rinsed off. Repeat these steps until the water starts to run clear, and your tools have returned to their original color. Remember that some brushes are densely packed and have long bristles—like stippling brushes—so ensure that they're properly washed before you move on.
Step #3: Rinse and Dry
When you've finished rinsing, gently brush your tools against a microfiber cloth or towel (even a textured paper towel will do) to test their cleanliness and dislodge any last bits of dirt or makeup that might remain. Then lay your brushes down to dry on a towel, which will help absorb any excess water.
Editor's tip: You may be tempted to put all your makeup brushes in an upright position while they dry, but don't. Storing wet brushes standing up can cause water to leak into the metal bit beneath the bristles (ferrule), which can potentially lead to mold.

How to Clean Makeup Sponges
We love makeup blenders like the L'Oréal Paris Infallible Blend Artist Foundation Blender, because they help seamlessly apply liquid and cream makeup products like liquid foundation and highlighter. But if you're using dirty ones you could be doing your makeup routine more harm than good. The good news is, cleaning makeup blenders is just as easy as cleaning makeup brushes. Here's a recap on what to do.

Step #1: Lather Away
First, wet your dirty makeup sponge. Then, pour a small amount of cleanser onto the blender. Massage your cleansing product of choice into the blender to loosen makeup. An easy way to do this is to squeeze it in the palm of your hand—you should see the makeup-filled suds coming to the surface.

Step #2: Rinse and Repeat
Rinse, squeeze out the excess water, and repeat as necessary. Keep squeezing and wetting your blender as often as you need until the water runs clear. Feel free to add more cleanser if necessary. Leave your blender on a towel to dry, then store it in a cool, dry place.
Next: Should You Use a Silicone Makeup Sponge?
Photo Credit: Chaunte Vaughn
Discover more tips & tricks
Keep your skin happy
See all articles
Shop Featured Makeup products
Discover More