skin care concerns
Can You Get Rid of Dark Spots?
July 26, 2019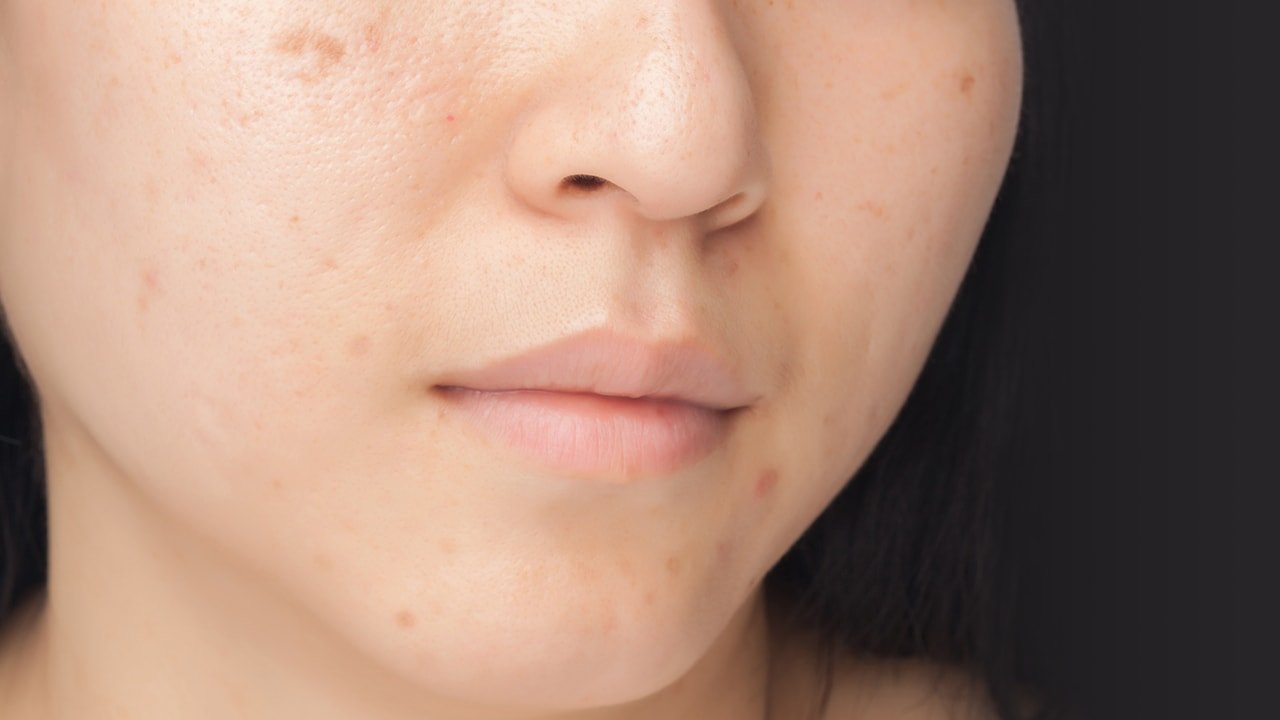 When it comes to your skin, it's probably safe to say that you're not a fan of fine lines and wrinkles or dark spots. As such, you might be wondering how to get rid of dark spots on your face or anywhere on your skin. We hate to be the bearer of bad news, but unfortunately, there's no way to snap your fingers and get rid of dark spots once you have them. Don't freak out, though! There is a silver lining: By maintaining a consistent skin care routine including a dark spot corrector, exfoliating face mask, and skin care products formulated with ingredients like glycolic acid, you can help minimize the appearance of dark spots over time. And of course, you can always conceal dark spots with makeup. Keep reading for everything you need to know about dark spots, including the best ways to minimize their appearance and camouflage them when you need to.
WHAT ARE DARK SPOTS?
If you're wondering what dark spots are, we're here to tell you. According to the American Academy of Dermatology (AAD), dark spots are a type of discoloration that can appear on the surface of skin, usually as the result of years of sun damage. Per to the AAD, those with darker skin tones are more prone to seeing dark spots appear—however, dark spots can occur on any skin tone.
WHAT CAUSES DARK SPOTS?
The AAD notes that the main cause of dark spots is sun damage. Here's what's going on: When you spend prolonged amounts of time in the sun without protection (ahem, like broad-spectrum SPF), this can lead to damage, which can show up as visible signs of aging like fine lines and wrinkles or dark spots down the road.
The AAD also names acne as a cause of dark spots. Without treatment, breakouts can lead to dark spots appearing as the acne clears. Either way, whether you have acne dark spots or sun spots, how you minimize their appearance will largely be the same—but more on that later.
CAN YOU GET RID OF DARK SPOTS?
When you have dark spots, you've likely searched and searched for tips on how to remove them. Unfortunately, like we said, it's not possible to get rid of dark spots—but, there are a few steps you can take in your skin care routine to help minimize the appearance of existing dark spots as well as prevent new dark spots from appearing. Don't worry—we're sharing the steps you can take (and the skin care products you can use) next.
HOW CAN YOU HELP REDUCE YOUR CHANCES OF GETTING DARK SPOTS?
Now that you know what can cause dark spots, you can create a consistent skin care routine to help address them. Since you can't get rid of dark spots completely once they appear, a strong offense—intended to help prevent their appearance in the first place—is a good idea. The most important thing you can do? Protect your skin—and that means taking sun protection measures every day!
1. Wear sunscreen. We've said it before and we'll say it again: Taking daily sun protection measures should be at the top of your skin care agenda—and that goes for everyone, not just those with dark spots. Pick a broad-spectrum sunscreen with an SPF of 15 or higher, since this can help protect against the sun's two types of rays: UVA and UVB. You know how we told you that spending time in the sun without taking the proper protection measures can lead to damage down the road? That's why it makes sense that wearing a sunscreen with broad-spectrum SPF can help to protect against future damage.
2. Reapply! Applying SPF once in the morning on your way out the door isn't enough. The Food and Drug Administration (FDA) recommends reapplying every two hours. As far as how much SPF you should use, the FDA says that the average person needs at least an ounce of sunscreen—aka about how much it would take to fill a shot glass.
3. Take other sun protection measures. Sunscreen isn't always enough; you should be taking other sun protection measures as well. Limit your amount of time in the sun (especially during peak hours, which are between 10 a.m. and 2 p.m.), seek shade, and cover up exposed areas in long sleeves, pants, a broad-brimmed hat, and UV-blocking sunglasses.
4. Be careful with breakouts. As for acne dark spots, your best bet for preventing them is to treat your skin and avoid picking at pimples. That's right, no pimple popping—no matter how trendy those videos are!
5. Visit a dermatologist. Like we said, forgoing acne treatment can lead to dark spots down the line. For that reason, if you're dealing with acne-prone skin, it could be helpful to visit your derm and get advice tailored to your skin.
HOW CAN YOU HELP MINIMIZE THE APPEARANCE OF DARK SPOTS?
Ready to learn how to actually minimize the appearance of those dark spots? Add the following three skin care tips for dark spots to your skin care routine.
1. Exfoliate, exfoliate, exfoliate! According to the Cleveland Clinic, alpha hydroxy acids like glycolic acid can help exfoliate skin's surface and reduce the appearance of dark spots over time. How often should you exfoliate, you ask? There's no one answer—it depends on the individual. While some people can handle daily exfoliation, others may only need to do so once or twice a week. Pay attention to how your skin responds to determine what works best for you.
Looking for an exfoliant with glycolic acid? The L'Oréal Paris Revitalift Bright Reveal Brightening Daily Scrub Cleanser, which is formulated with gentle micro-pearls and glycolic acid, is a perfect pick. It can help exfoliate dullness and impurities and improve skin tone. To use, lather it into wet hands, gently massage it onto your face in circular motions, then rinse thoroughly and pat dry. Since AHAs like glycolic acid may increase your sensitivity to the sun, you should always follow up by applying a broad-spectrum sunscreen with an SPF of 15 or higher as directed and taking other sun protection measures afterward.
2. Use a dark spot corrector. Daily UV exposure and age can result in the appearance of a dull, uneven skin tone. So, another skin care product worth using is a dark spot correcting cream or serum.
3. Take sun protection seriously. Now that you know that dark spots can be caused by sun damage—and may have experienced it firsthand—it's important to up your sun protection game, if you haven't already. Beyond taking all the sun protection tips we shared above, you can switch to using a moisturizer with SPF in its formula, like the L'Oréal Paris Revitalift Bright Reveal Brightening Day Moisturizer SPF 30. Apply as directed and don't forget to reapply at least every two hours or immediately after swimming or sweating.
4. Add a peel pad to your nighttime skin care routine. As you age, your skin's natural ability to shed dead skin cells slowly declines, which can cause dark spots and uneven tone to become more visible—and this can leave your skin looking duller and older. The L'Oréal Paris Revitalift Bright Reveal Brightening Peel Pads are formulated with glycolic acid to help reduce the look of uneven skin tone and wrinkles. These peel pads have a multi-ply texture, so they can also help physically resurface dead skin. The peel pads have an immediate brightening effect, and your skin tone will look more even with continued use over time. At night, gently smooth a peel pad over cleansed skin and follow up with moisturizer. In the morning, don't forget to apply a broad-spectrum sunscreen with an SPF of 15 or higher as directed because newly revealed skin can be more sensitive to the sun.
5. Use a vitamin C serum. Another potent skin care ingredient to look out for is vitamin C, and one of the best ways to utilize this ingredient is by using a vitamin C face serum, like the L'Oréal Paris Revitalift Derm Intensives 10% Pure Vitamin C Serum. This serum aids in reducing hyperpigmentation, improving clarity, and evening skin tone. To use, apply it directly onto skin after cleansing, then layer your moisturizer on top.
6. Use an overnight treatment. Nighttime is actually one of the best times to indulge in serious skin care since it's the time of day when your skin renews itself. As such, using an overnight skin-brightening treatment, such as the L'Oréal Paris Revitalift Bright Reveal Dual Overnight Moisturizer, will help deliver younger-looking skin while you catch your beauty sleep—and this includes helping fade dark spots. Simply apply onto your complexion every evening, smoothing it onto clean skin, then hit the hay.
HOW DO YOU CONCEAL DARK SPOTS WITH MAKEUP?
Have dark spots you want to disguise? You don't have to feel self-conscious about your complexion anymore. When it comes to hiding dark spots, it's all about using the right products and application techniques. So, what are you waiting for? Try the makeup tips for dark spots below!
1. Hop on the color correction bandwagon. If you have dark spots—or any other skin imperfection, for that matter—it's time to add a color-correcting concealer to your makeup bag. In order to really understand how the color-correcting technique works, bring yourself back to your middle school art class. Remember the color wheel? The colors that are opposite each other on the wheel cancel each other out—and color-correcting concealer uses the same concept. Peach can help to disguise dark spots and dark circles, yellow can help to conceal discoloration, purple can help to hide dullness, and green can help to neutralize redness. The L'Oréal Paris True Match™ Color Correcting Crayons come in three shades to mask the appearance of dark spots: peach for fair to light skin tones, bisque for light to medium skin tones, and orange for medium to deep skin tones.
2. Follow up with a flesh-toned concealer. Need a little extra coverage? Once you're done color correcting, use a flesh-colored concealer. The L'Oréal Paris Infallible Total Cover Concealing & Contour Kit comes with four shades. You can mix and match shades to create a custom hue that's close to your skin tone. When you have the perfect color, buff the concealer onto your skin using a makeup blender.
3. Apply a full coverage foundation. Once you've finished with concealer, it's time to move on to foundation. Try the L'Oréal Paris Infallible Total Cover Foundation, a long-lasting full coverage foundation available in 12 shades. Apply it with the L'Oréal Paris Infallible Blend Artist Foundation Blender, using dabbing and rolling motions to blend it onto your skin.
4. Finish with a spritz of setting spray. To help your makeup stay in place—and last longer—use a setting spray, like the L'Oréal Paris Infallible Pro-Spray & Set Makeup Extender Setting Spray. This micro-fine spray can help set your makeup after you're done applying. Shake the bottle well, then holding it eight to ten inches away from your face, close your eyes, and spray four to six times in an X and T motion.
Ready to move on to your next complexion concern? Check out our article, Can You Get Rid of Crow's Feet?
Discover more tips & tricks
Keep your skin happy
See all articles
Shop Featured Skin Care products
Discover More