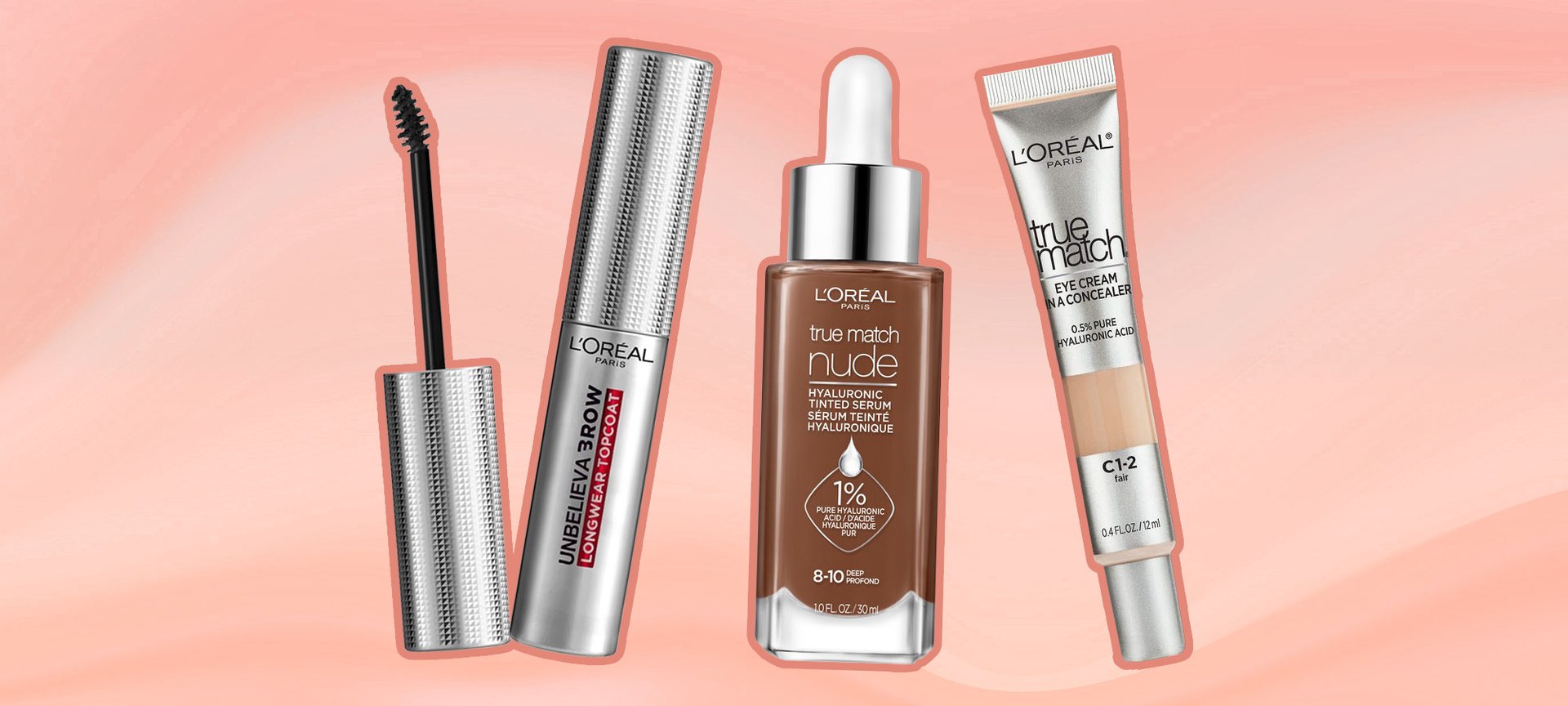 makeup trends
The 10 Best Products For a No-Makeup Makeup Look
Get the looks with these must-haves.
No makeup-makeup is not only easy to create when you're on the go, but it's also one of the year's biggest beauty trends (think skinimalism). While full-glam looks are certainly fun to sport for special occasions or days where you're in the mood to get creative, minimal makeup looks can be more practical for your day-to-day. If you're looking to create a natural makeup look to enhance your features and look ultra-polished, we're sharing the ten best products to help you create no-makeup makeup.

Full coverage foundations absolutely serve a purpose, but if you're looking to even out your skin tone with a natural-looking finish, a sheer base product like a tinted serum is a must. This tinted serum is formulated with hyaluronic acid to make the skin feel hydrated. The lightweight formula is sheer, yet buildable and it has a natural, luminous finish which leaves the skin looking bright and even. Plus, it's fragrance free and formulated for all skin types.

To conceal darkness under your eyes without creating a harsh highlighted look, try this eye cream and concealer hybrid. It has sheer to medium buildable coverage which blends into the skin seamlessly because of its lightweight, creamy texture. It's also formulated with hyaluronic acid which provides hydration to the sensitive under eye area that can tend to appear dry.

Ultra metallic highlighters can create an intensely glowing complexion, but subtle highlights create more natural looking skin. This luminous illuminator can be applied under foundation to enhance the skin's overall radiance, or applied over foundation on the high points of the face for a more targeted glow.

While powders can often be the culprit of cakey looking skin, this creamy powder foundation creates a shine-free finish without emphasizing dryness or texture. It offers medium coverage as foundation and can be used as a setting powder to provide a natural matte finish to the skin with a hint of additional coverage.
Our complexions typically have a natural flush to them which is why blush is a key component of a no-makeup makeup look. After evening out your complexion with tinted serum or foundation, add some color back to your face by applying a slightly luminous blush like this one. The hint of luminosity and creamy finish make it appear incredibly natural on the skin.
Contouring is great for creating a sculpted look to enhance your facial features, but if you're going for a natural makeup look, light dusting of bronzer is the way to go. This bronzer has fine shimmer in it to give it a bit of radiance which ensures it doesn't look flat on the skin. Apply a light layer to the perimeters of your face for a sun-kissed glow.
Ultra-defined brows pair nicely with more glam makeup looks, but when paired with a minimal makeup look, they can appear too harsh. Trade in bold brows for a natural look by simply setting your brow hairs in place with this brow top coat. The clear gel not only seals the brows for up to 30 hours, but it also adds a bit of volume and definition to them, too.
No good makeup look is complete without a coat of mascara—even a natural makeup look. Add just a bit of definition to your eyes with one to two coats of this lengthening mascara. Not only is it great for adding length to your lashes, but it's also excellent for separating them.
Ultra-matte lipstick is ideal for when you want a long wearing formula, but satin formulas pair beautifully with minimal makeup looks. Our classic lipstick formula provides rich pigment, a natural satin finish to the lips and comes in more than 50 shades. Plus, they're formulated with argan oil and sesame seed oil to nourish your lips.
One of the great things about minimal makeup is that you don't need many products to achieve your desired look. The Les Nus lipsticks are perfect for multitasking your makeup and can be used not only on your lips but on your cheeks too for a muted monochrome makeup look. The nude shades flatter a wide range of skin tones, and the soft, creamy finish makes them easy to work with.
Next: An Easy-To-Do Tutorial For A Neutral Makeup Look
Photo Credit: Sarah Duviver
Discover more tips & tricks
Keep your skin happy
See all articles
Improve your routine
Show your new look more love:
makeup