face makeup
5 Tips to Keep Powder Foundation From Clogging Your Pores
The power is in the powder.
February 28, 2022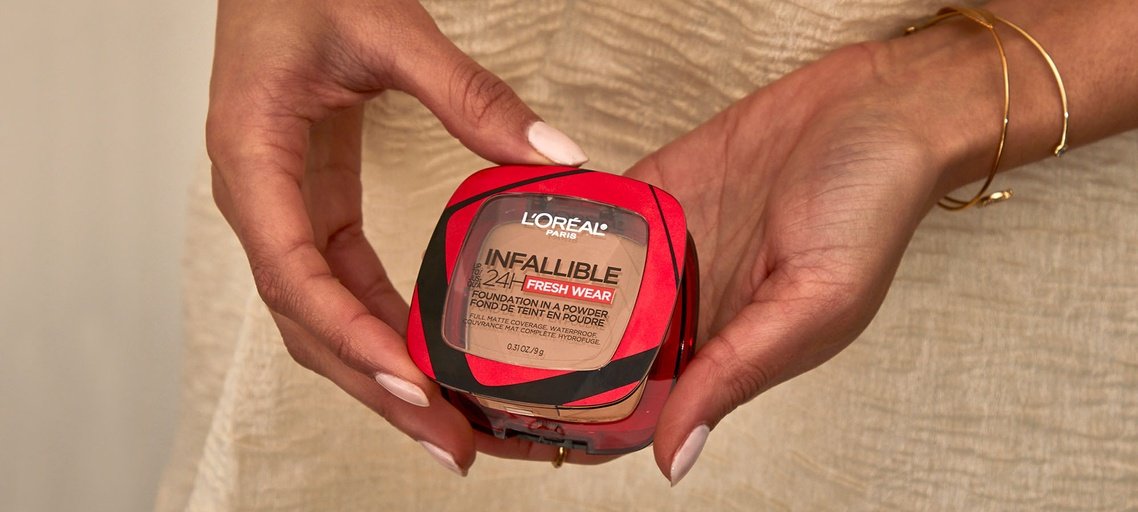 When it comes to foundation, those with acne-prone skin can be quite wary about choosing a product that won't clog their pores. Powder foundation, when applied and removed the right way, can actually be a great choice for those with oily, acne-prone skin and doesn't have to be relegated to just the warm weather months. Ahead, we're sharing tips on how to apply (and remove) powder foundation so that it won't clog your pores.
How to Keep Powder Foundation from Clogging Your Pores
While there are many different formulations to choose from, those with acne-prone skin shouldn't overlook a powder formula just because it's full coverage. Here's how to prevent it from clogging your pores.
Tip 1. Start With Skin Care
Makeup starts at the skin care level. If you have acne-prone skin, your skin may be excessively oily, so try to use products that combat oil. One way to combat oily skin is to cleanse every, morning and night, with an exfoliating formula like the L'Oréal Paris Revitalift Derm Intensives 3.5% Glycolic Acid Cleanser. This cleansing gel gently scrubs the top layer of skin to reveal smoother and brighter skin.
Tip 2. Use a Primer
Smooth the look of existing blemishes by prepping the skin with a mattifying, blurring primer, like the L'Oréal Paris Infallible Pro-Matte Lock Primer. Not only will the primer allow the foundation to stay put longer, but, according to the experts at L'Oréal Paris, it will also serve as a barrier between the skin and the foundation.
Tip 3. Choose A Non-Comedogenic Powder Foundation
When it comes to picking a powder foundation, be sure to choose a non-comedogenic a.k.a. non-pore clogging option like the L'Oréal Paris Infallible 24Hr Fresh Wear Foundation in a Powder. In case you missed it, this foundation went viral on TikTok after users with oily skin discovered it's ability to keep skin looking matte and flawless.
Tip 4. Use Clean Brushes
The way in which you apply the powder foundation is also key to ensuring it won't clog your pores. According to the experts at L'Oréal Paris, the cleanliness of your brushes matters more than anything else. Before applying any foundation to your skin, be sure the brush has been cleaned since its last use.
Every time you do your makeup, do a quick wipe down with an antibacterial spray or micellar water to take off any residue or oil, the experts advise. Makeup brushes can be a huge conduit for bacteria growth, so make sure to invest the time in cleaning your brushes. The L'Oréal Paris Micellar Cleansing Water Complete Cleanser Waterproof - All Skin Types is great for this as it gently purifies brushes (and skin) of pore-clogging makeup and dirt. Once you've cleaned your brush, dip it into the powder foundation and buff it onto your freshly-primed skin in a circular motion.

In that same vein, if you'll be applying makeup with your fingers, be sure to wash your hands before and after touching your face.
Tip 5. Removal
In order to keep your skin clear, the removal process is essential and when it comes to preventing breakouts, it's all about the take down. Double cleansing helps to clean the skin, reset pores and clear away oil.
Grab that same micellar water used to clean your makeup brushes and use it to saturate a cotton pad. Then, rub the cotton pad across your face to remove all of your makeup — foundation, mascara and all (even your waterproof formulas). Once you've finished removing your makeup, follow up with a cleanser, like the aforementioned glycolic acid cleanser to clear any traces of makeup that may be left behind.
Next: What Exactly Makes Makeup Waterproof?
Written By: Caitlyn Martyn, Photo: Chaunte Vaughn
{ "@context": "https://schema.org/", "@type": "WebPage", "speakable": { "@type": "SpeakableSpecification", "cssSelector": ["speakable-content"] }, "url": "https://www.lorealparisusa.com/beauty-magazine/makeup/face-makeup/how-to-avoid-powder-foundation-clogging-pores" }
Discover more tips & tricks
Keep your skin happy
See all articles
Improve your routine
Show your new look more love:
makeup
{ "@context": "http://schema.org", "@type": "BreadcrumbList", "itemListElement": [ { "@type":"ListItem", "position": 1, "item": { "@id": "/", "name": "Home" } } , { "@type":"ListItem", "position": 2, "item": { "@id": "https://www.lorealparisusa.com/beauty-magazine", "name": "Beauty Magazine" } } , { "@type":"ListItem", "position": 3, "item": { "@id": "https://www.lorealparisusa.com/beauty-magazine/makeup", "name": "Makeup Tips For Every Look" } } , { "@type":"ListItem", "position": 4, "item": { "@id": "https://www.lorealparisusa.com/beauty-magazine/makeup/face-makeup", "name": "Face Makeup" } } , { "@type":"ListItem", "position": 5, "item": { "@id": "https://www.lorealparisusa.com/beauty-magazine/makeup/face-makeup/how-to-avoid-powder-foundation-clogging-pores", "name": "how-to-avoid-powder-foundation-clogging-pores" } } ] }