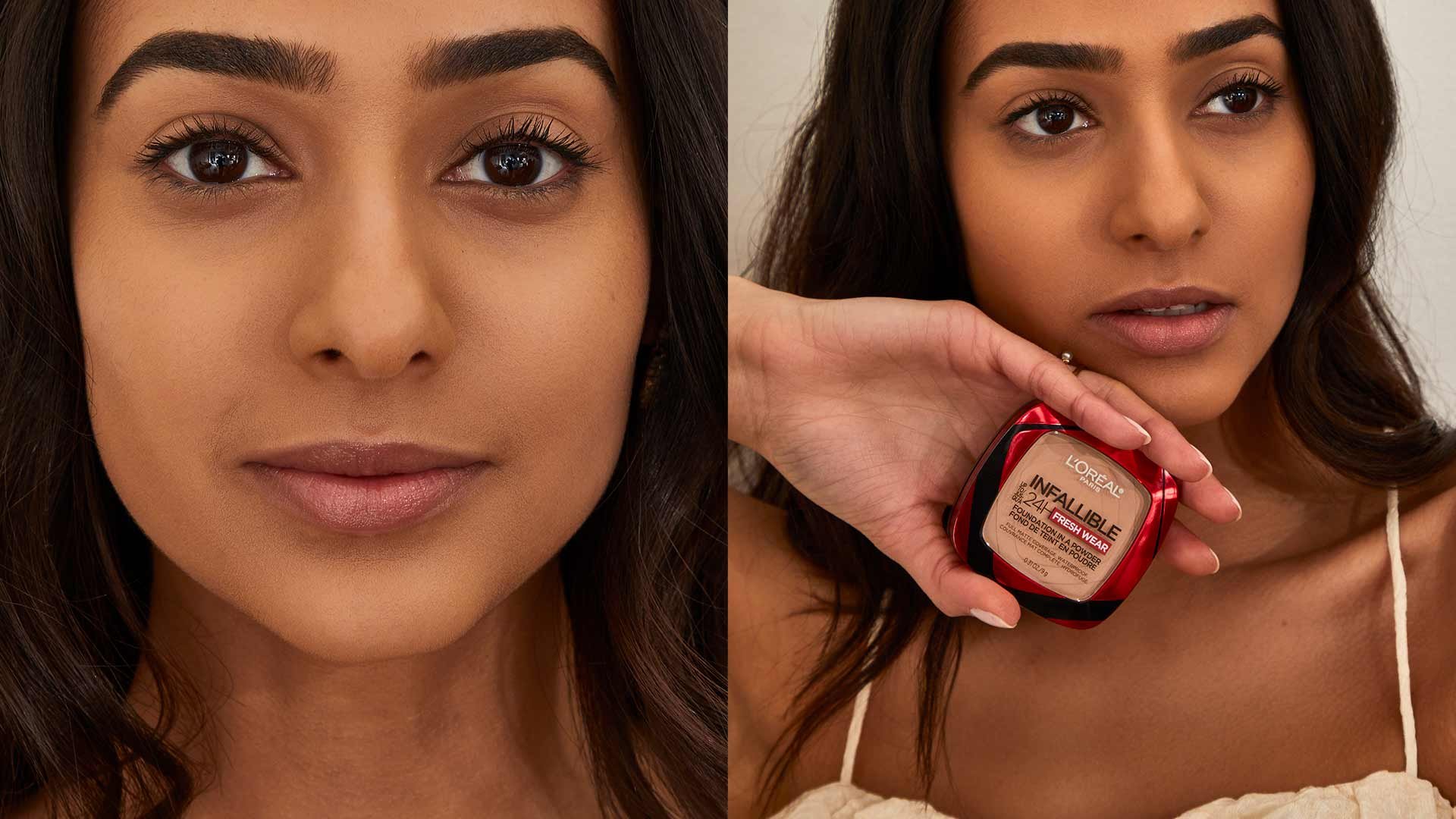 face makeup
5 Powder Foundation Hacks To Try For Summer
Playing with makeup can be done in more ways than you'd expect. That's right — you can use lipstick as an eyeshadow or blush, or an eyeliner pencil to line your lips. Another one of our favorite multitasking products is powder foundation, which can be used in many more ways than just on the face. Ahead, we rounded up our favorite powder foundation hacks from using it as a setting powder to concealing under-eye circles, so grab your favorite compact and give these a go.
HACK 1: Use Powder Foundation As a Setting Powder
We know, you're supposed to apply your powder foundation as you would any other kind, but if you want extra coverage, you can use it as a setting powder, too. First, apply your primer and liquid foundation (or cc cream!) as you normally would, then pick up the L'Oréal Paris Infallible 24HR Fresh Wear in a Powder on a big fluffy brush to set your entire look. your makeup won't smudge, budge or transfer onto your protective face mask, too.
HACK 2: Use Powder Foundation On Your T-Zone
If you struggle with oiliness (especially in the warmer months), we recommend using power foundation as quick-fix for T-Zone touch ups. Throughout the day when you start to get oily in these areas (we're talking on your forehead, and down or around your nose), pick up your powder foundation formula on a sponge and tap it over these areas. You'll be matte, shine-free and fresh in no time.
HACK 3: Use Powder Foundation to Conceal Dark Circles
Since powder foundation can provide quite a bit of coverage, use it on top of your under eye concealer to hide dark circles and puffiness in a snap. Start by applying your concealer—we love the L'Oréal Paris True Match Eye Cream in a Concealer— let it dry, then pack on a few taps of your powder foundation in the area. You'll look more awake and crease-free all day long.
HACK 4: Use A Blush Brush to Apply Powder Foundation
Typical powder foundations will come with their own sponge or blender to pack on all over your complexion, but L'Oréal Paris Expert and celebrity makeup artist Sir John tells us that using a blush brush will actually give you better results. "A blush brush has the best circumference for applying powder foundation and can allow you to manipulate around the nose, under the eyes, the hairline, around the chin and so on."
HACK 5: Use a Light Hand When Applying Powder Foundation
To avoid looking cakey and keep your makeup looking fresh, we recommend using a light hand when applying your powder foundation formula. Don't press on your sponge or brush too heavily – instead, press gently let the product do its thing. In the summer months, you'll be especially grateful for the more lightweight coverage it provides.
Discover more tips & tricks
Keep your skin happy
See all articles
Shop Featured Makeup products
Discover More