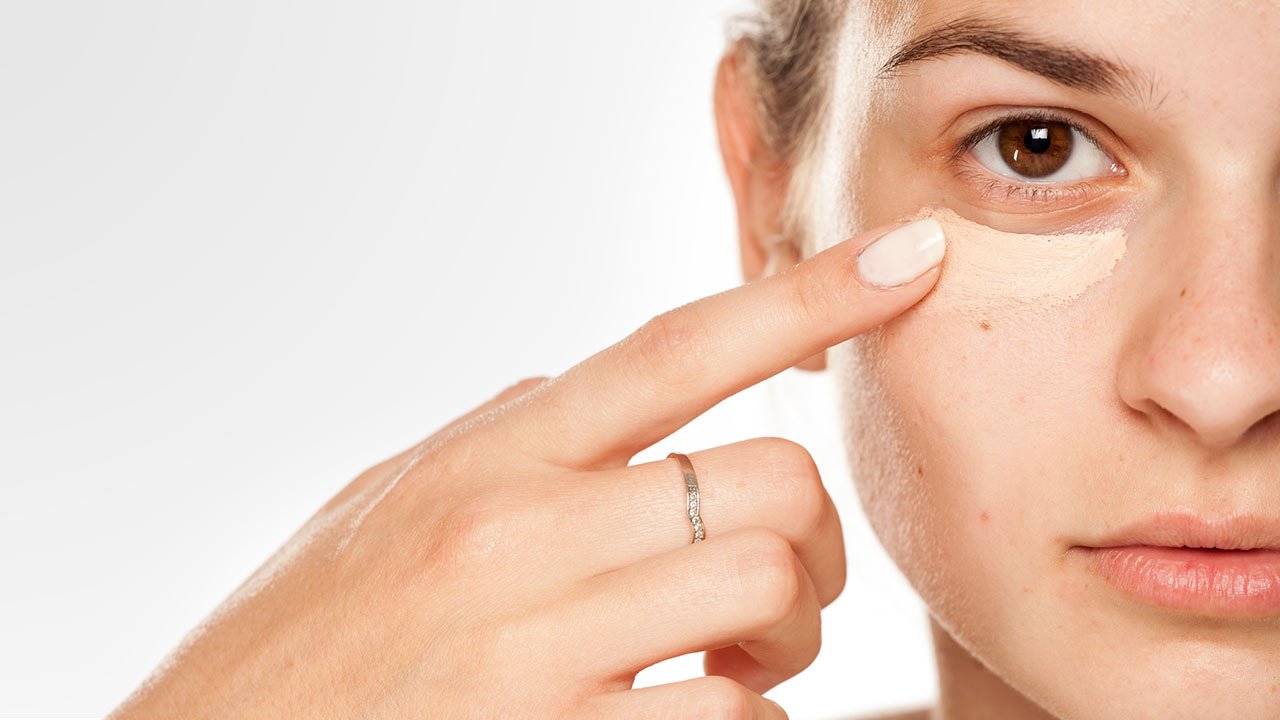 face makeup
How To Easily Conceal Under-Eye Bags
When your under-eye bags are looking not so swell, that last thing you likely want to hear is that you can't permanently get rid of under-eye bags. While it's true that maintaining a good skin care routine can help prevent unwanted bags, there's some under eye puffiness that even the most flawless skin care routine can't ward off. While that is certainly a bummer, we have some good news—you can always rely on makeup to help cover under-eye bags, and it's actually pretty easy to do. Wondering about the best concealer for under-eye bags? We know you are! Follow our five steps below to learn how to conceal under-eye bags with your makeup look—because no one has to know you're carrying any excess baggage. Plus, we're sharing a few science-backed ways to help reduce the appearance of under-eye bags. Good riddance!
STEP #1: use an EYE CREAM twice a day
While eye cream typically can't provide an instant fix for minimizing the look of under-eye bags, over time using one can help reduce the appearance of puffiness, which is why you shouldn't skip this skin care step. (We know, it can be hard to stay the course when instant gratification is what you're after.) Plus, the same way you moisturize your whole face before applying makeup, the skin under your eyes needs hydration, too. Using an eye cream before applying your makeup over top will help ensure a smooth application and finish.
One of our best eye creams for under-eye bags is the L'Oréal Paris Age Perfect Hydra Nutrition Manuka Honey Eye Gel, which features a rollerball applicator to easily smooth the product onto puffy skin. It's formulated with manuka honey, nurturing oils, calcium, and antioxidants, and with just one week of consistent use, puffy bags will appear reduced.
Of course, that's not your only eye cream option. You could also try the L'Oréal Paris RevitaLift Triple Power™ Eye Treatment, which has a cooling tip that can help diminish the appearance of under-eye bags and dark circles with continued use over time, or the L'Oréal Paris Eye Defense eye cream, which helps reduce puffiness, lines, and dark circles. To use either one, dot the eye cream under your eye and below your brow bone, then blend out with the pad of your finger.
STEP #2: APPLY COLOR CORRECTOR
Think back to your elementary school education and that ever-useful lesson on the color wheel. Colors that are opposite one another on the wheel are capable of neutralizing the appearance of each other, which is the idea behind color-correcting makeup. If you have both puffiness and dark circles, reach for a peach color corrector, which can help counteract the appearance of the circles. Draw upside-down triangle shapes under each of your eyes using the peach concealer shade from the L'Oréal Paris Infallible Total Cover Color Correcting Kit, then blend it out with a makeup blender. You can also use the green shade in the kit to camouflage redness, the purple shade to hide dullness, and the yellow shade to mask discolorations. (Here are 4 Areas on Your Face to Apply Color Correcting Concealer.)
If you'd rather own individual color correction shades based on your personal needs—instead of a full kit—try the L'Oréal Paris True Match™ Color Correcting Crayon. There are five colors available: green to counteract redness, yellow to hide purple or blue areas, peach to disguise dark circles for fair to light skin tones, bisque to hide dark circles for light to medium skin tones, and orange to disguise dark circles for medium to deep skin tones.
STEP #3: USE CONCEALER
Once you're finished color correcting, it's time to move on to concealer. Look for a creamy concealer with great coverage and place the product in the same upside-down triangle shapes to brighten the entire area under and around your eyes. After you've created your triangles, pick up your makeup blender and use it to bounce and buff the concealer out for a seamless finish. In case you need a product rec, here are three of our best concealers for under-eye bags:
L'Oréal Paris Infallible Full Wear Concealer Waterproof, Full Coverage: Not only is this concealer's formula super lightweight and long-lasting, but it also offers full coverage for any imperfections you want to conceal.
L'Oréal Paris Infallible Pro Glow Concealer: This concealer has a lightweight, radiant formula that does it all: conceal, correct, and highlight. After you've used it to brighten up under your eyes, try applying it on the high points of your face for an illuminating effect!
L'Oréal Paris True Match™ Super-Blendable Multi-Use Concealer: One of our best concealers for dark circles, this option is also great for under-eye bags. The buildable formula includes an active serum to help diminish the appearance of dark circles and fine lines while helping to brighten the skin.
STEP #5: BRONZE IT UP
Use a bronzer to warm up your face. By applying a bronzer to the hollows of your cheeks, you will draw attention to your amazing cheekbones instead of your excess baggage. Use the L'Oréal Paris True Match Lumi Bronze It Bronzer for a lit-from-within glow.
STEP #6: USE A HIGHLIGHTER
A highlighter is a great way to brighten your face and give the illusion of awake, under-eye bag-free eyes. Apply a highlighter below and above the arch of your eyebrows to give your eyes an instantly more lifted look. Here are some of our best highlighters:
L'Oréal Paris Infallible Longwear Highlighter Shaping Sticks: This highlighter has a convenient stick format that makes it easy to apply and perfect for throwing in your bag when traveling. Simply swipe it where needed and blend out with your fingers. The shimmery pigment helps create a naturally glowing complexion.
L'Oréal Paris True Match Lumi Glow Amour Glow Boosting Drops: These glow drops can be used alone or added to your facial moisturizer or foundation. The highly-pigmented drops illuminate the skin for a dewy, glowing look.
L'Oréal Paris True Match Lumi Shimmerista Highlighting Powder: This loose highlighting powder can be used on your face and body. The ultra-fine powder blends seamlessly onto skin and reflects light.
STEP #7: BRIGHTEN YOUR EYES
Once your face makeup is complete, you'll want to brighten your eyes to leave them appearing awake and refreshed. This will perfectly complement your newly camouflaged under-eye bags. Use a white or nude eyeliner on your waterline to open up your eyes and make them appear bigger. The L'Oréal Paris Infallible Pro-Last Waterproof, Up to 24HR Pencil Eyeliner in Nude has a long-lasting, waterproof formula that is perfect for your waterline.
Once your eyeliner is complete, you'll want to use eye shadow to brighten your eyes as well. Take a white or ivory eye shadow, like the L'Oréal Paris Colour Riche Monos Eye Shadow in Petite Perle, and apply it to the inner corner of your eyes as well as below the arch of your eyebrow. The formula of this eye shadow will give you exquisite color richness that will help open up your eyes.
STEP #8: APPLY MASCARA
Use mascara to finish creating the eye makeup portion of this look. Long lashes will leave your eyes looking more awake by giving the illusion of a lifted eye. The L'Oréal Paris Voluminous Paradise Mascara in Mystic Black creates voluptuous volume and intense length in just one coat, leaving you with the sort of lashes that are needed to fake fully rested eyes. Skip lower lash mascara to completely avoid any product smudging underneath your eyes.
STEP #9: SPRAY TO SET
Now that you've perfectly concealed your under-eye bags with makeup, the last thing you need is for it to shift or stray throughout the day. Before you move on, break out a setting spray, like the L'Oréal Paris Infallible Pro-Spray & Set Makeup Extender Setting Spray, to lock your look in place and keep those under-eye bags under wraps. This micro-fine spray has a long-lasting finish and extends the life of just-applied makeup so you can have a "just applied" makeup look for the whole day. Spritz a few times and you're good to go.
4 tips to reduce the appearance of undereye bags
In addition to covering up your under-eye bags with makeup, there are a few other tips you can try to help reduce their appearance.
#1: get more sleep
We know—easier said than done! If under-eye bags are a consistent issue for you, you might need to get a bit more sleep. According to the Mayo Clinic, this can help reduce or eliminate bags under the eyes. Aim for somewhere between seven and nine hours every night.
#2: sleep with your head slightly raised
According to the Mayo Clinic, one factor that can contribute to under-eye bags is built-up fluid near the eye area. To remedy this, they suggest sleeping with your head slightly raised to help prevent fluids from building up around the area while you catch your beauty sleep. Simply use a second pillow to prop yourself up a few inches.
#3: use a cold compress
Applying a cold, damp washcloth to the area underneath your eyes can help to reduce bags, per the Mayo Clinic. Another cooling option? Our aforementioned manuka honey eye gel, which has a cooling formula and a cool, metal rollerball applicator.
#4: limit salt in your diet
This tip might seem surprising, but it makes total sense: Consuming too much salt increases your body's fluid retention, according to the American Academy of Ophthalmology. As we mentioned earlier, under-eye puffiness is often caused by too much fluid building up underneath the eyes, so eating less salt may be beneficial when it comes to reducing the appearance of under-eye bags.
Want more info on using an eye cream? Remember, they're good for more than just helping with puffiness! To get the complete lowdown, read our article, When Can You Start Using Eye Cream?
Discover more tips & tricks
Keep your skin happy
See all articles