face makeup
How To Reduce The Appearance Of Under-Eye Bags
Puffiness be gone!
February 25, 2022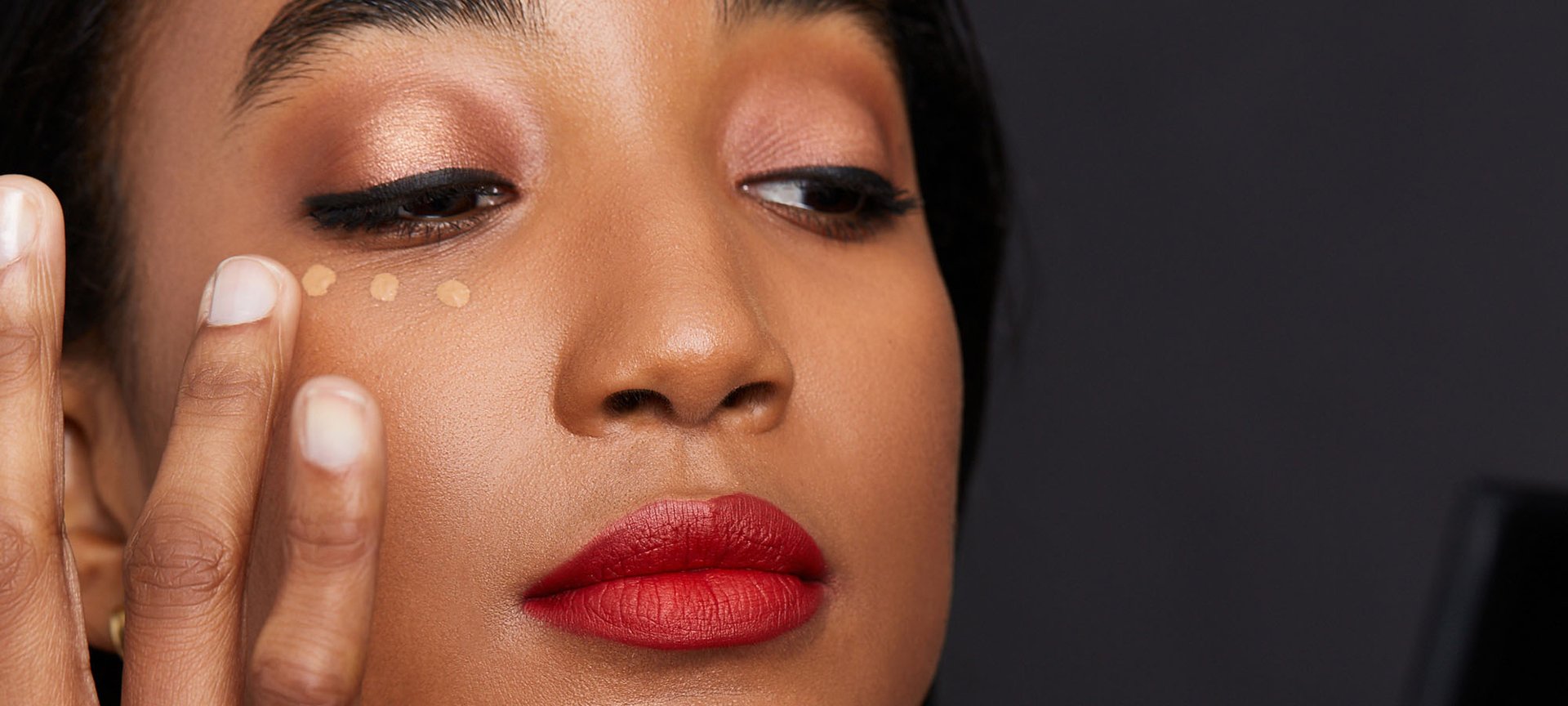 If you're struggling with puffiness in your under-eye area, the last thing you want to hear is that you can't permanently get rid of under-eye bags. While it's true that maintaining a good skin care routine can help prevent unwanted bags, there's some under-eye puffiness that even the most flawless skin care routine can't ward off. While that's certainly a bummer, we have some good news — you can always rely on makeup to help blur the appearance of puffiness in the area. Below, we're sharing the best concealers for the under-eye area, techniques to conceal puffiness, and a few science-backed ways to help reduce the appearance of under-eye bags.
How To Conceal Under-Eye Bags With Makeup
Unfortunately you can't permanently conceal under-eye bags, but makeup can be used to temporarily reduce their appearance. Below, we're sharing how to use concealer to hide puffiness under your eyes.
1. Use Eye Cream Or Eye Serum Twice Daily
You might be thinking that eye cream isn't makeup, and you're right. But the first step to achieving a more concealed under-eye area is to ensure the skin is smooth and hydrated so that concealer applies seamlessly. Be sure to apply eye cream once or twice daily to keep the area hydrated and puffiness at bay.
If you're concerned about signs of aging like fine lines and wrinkles as well as dryness under your eyes, try the L'Oréal ParisWrinkle Expert 55+ Anti-Wrinkle Eye Treatment. It works to address visible signs of aging and keep the area hydrated. To hydrate the area and reduce puffiness, let the L'Oréal Paris Revitalift Derm Intensives with 1.5 Percent Hyaluronic Acid, 1 Percent Caffeine Eye Serum be your go-to. Hyaluronic acid hydrates the delicate area, and the triple roller applicator can be massaged onto the skin to help depuff the under-eyes.


2. Select Your Concealer Formula
When trying to conceal puffiness, it's important to find the balance between a concealer with significant coverage and one with hydrating benefits. A concealer that's too dry will emphasize texture under your eyes. If you're dealing with a lot of darkness, try the L'Oréal Paris Infallible Full Wear Concealer Waterproof, Full Coverage. It provides full coverage without drying out the area. If you're in need of less coverage and prefer a more creamy, hydrating formula, the L'Oréal Paris True Match Eye Cream in a Concealer, 0.5% hyaluronic acid is for you. It's an eye cream and concealer hybrid that keeps the area smooth and hydrated while providing buildable coverage.
3. Start With A Color-Correcting Shade
Under-eye bags are often accompanied by dark circles or hyperpigmentation due to blood pooling in the area which can appear purple or blue in color. To counteract this darkness, start by applying a concealer in a peachy or salmon shade if you have a light to medium skin tone. Peach sits opposite of blue and purple on the color wheel, meaning it works to counteract the darkness. If you have a deep skin tone, a deeper orange shade will work best for you as it sits across from deep blue on the color wheel. Apply a light layer of a color-correcting shade onto the darkest area and gently pat it out with your ring finger, blending it into your skin.

4. Follow Up With A Brightening Shade
After covering the darkness, brighten the area with a hydrating concealer in a color that's one or two shades lighter than your skin. In order to maintain a natural appearance, be sure not to select a shade that's significantly lighter than your skin. Blend it over your under-eye area to further conceal and brighten the area.

5. Lightly Set With Powder
Because under-eye bags are often textured (think dryness and fine lines), part of the goal in concealing them is to minimize the texture to fake a smoother appearance. Texture can be enhanced by dryness, but it can also be enhanced by an overly dewy finish or creasing concealer. To prevent this while not causing excess dryness, dust a bit of a translucent powder like the L'Oréal Paris Infallible Pro-Sweep & Lock Loose Setting Face Powder onto the area with a fluffy brush to set the concealer and slightly mattify the finish.
How To Reduce The Appearance Of Under-Eye Bags
Makeup is a great tool for concealing under-eye bags, but combining it with ways to help reduce their appearance is ideal. Read on for tips on how to minimize puffiness.

1. Consider Your Sleep Habits
We know — getting more sleep is easier said than done. If under-eye bags are a consistent issue for you, you might need to get a bit more sleep. According to the Mayo Clinic, this can help reduce or eliminate bags under the eyes. Aim for somewhere between seven and nine hours every night. The Mayo Clinic also suggests sleeping with your head slightly raised which can help to prevent fluid from building up in your eye area.

2. Address Allergy Symptoms
Allergens can contribute to facial swelling and puffiness. If you have allergies that you're not addressing, it's a good idea to consult your doctor who can help you manage them. You might also be having an allergic reaction to cosmetics you're using, so if you think this is a possibility, try switching things up or stopping use of the products you think could be causing puffiness and see how you fare.

3. Limit Salt In Your Diet
This tip might seem surprising, but it makes total sense. According to the American Academy of Ophthalmology, consuming too much salt increases your body's fluid retention. As we mentioned, under-eye puffiness is often caused by too much fluid building up underneath the eyes, so eating less salt (especially at night) may be beneficial when it comes to reducing the appearance of under-eye bags.
Next: 5 Tips To Treat Puffy Eyes Fast
Edited by: Alyssa Kaplan, Photo Credit: Chaunte Vaughn
Discover more tips & tricks
Keep your skin happy
See all articles
Shop Featured Skin Care products
Discover More