makeup trends
11 Makeup Products Everyone With Dry Skin Should Own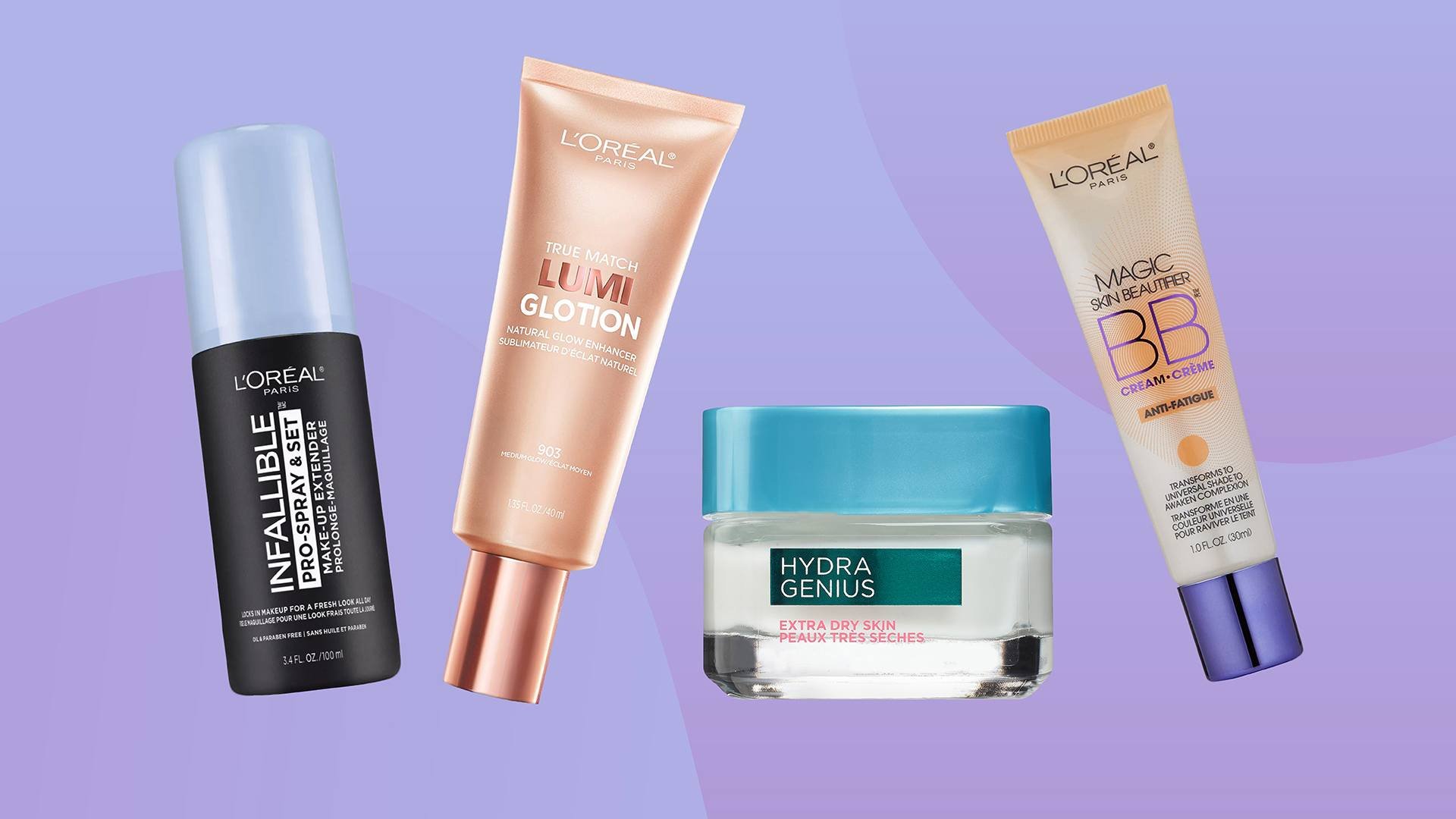 Makeup is a fun way to enhance your beauty, but applying it on dry skin can have the opposite effect. It can make your complexion look drier and flaky, which is a major no-no. So it's essential that you prep your skin beforehand and use the right makeup products. A hydrated face goes a long way in helping you achieve a smooth and seamless makeup application.
Start off your beauty routine by cleansing your skin with L'Oréal Paris Micellar Water Complete Cleanser Waterproof and follow up by moisturizing with the L'Oréal Paris Hydra Genius Daily Liquid Care - Extra Dry Skin. Lastly, be sure to apply a broad-spectrum sunscreen with an SPF of 30 or more to help protect your skin against UV rays. Try using the L'Oréal Paris Revitalift Bright Reveal Brightening Day Moisturizer SPF 30, which will help correct uneven skin tone, thanks to its dose of vitamin C.
Now that you've cleansed and moisturized, it's time to have some makeup fun. Read on as we share the best makeup products that can help you get glam while easing your dry skin.
The Best Makeup Products For Dry Skin
1. Primer
Dry skin can give off a dull appearance, so it's best to reach for a primer with illuminating qualities. Before applying makeup, start by using the L'Oréal Paris Infallible Pro-Glow Lock Makeup Primer. It will help get you a radiant, healthy glow that lasts all day.
2. Liquid Foundation
Powder makeup can settle on your skin and make it look even drier. Switch to a liquid foundation, like the L'Oréal Paris Infallible Up to 24HR Fresh Wear Foundation, Lightweight. This foundation will provide you with a natural, breathable finish, and you can build it up as much as you want without it getting cakey.
3. Makeup Blender
Great makeup application also lies in the beauty tools you use, so make sure to invest in a makeup blender. Try the L'Oréal Paris Infallible Blend Artist Foundation Blender. Applying makeup on dry skin with a blender — rather than your fingers — allows for a more seamless and barely-there skin finish.
4. BB Cream
This skincare-makeup hybrid provides lightweight coverage and moisture for dry skin. We love the L'Oréal Paris Magic By Studio Secrets Skin Beautifier BB Cream because of its skin-soothing ingredients, including Vitamin E. It helps to provide a more even-looking complexion, hydrates for all-day moisture and hides imperfections. BB creams are great to use when looking to shorten up your makeup and skin care routines.
5. Liquid Highlighter
Highlighter is one of those products that can help instantly transform your face, and you can do that with the L'Oréal Paris True Match™ Lumi Glotion Natural Glow Enhancer. This multi-use product can be worn in so many ways — alone, under your makeup, or applied to the high points of your face. It will instantly hydrate and luminize your skin for an all-over natural glow.
6. Liquid Concealer
You can't expect a flawless face without the addition of a concealer. When dealing with dry skin, make sure to opt for a liquid formula. The L'Oréal Paris Infallible Pro-Glow Concealer provides a lightweight, radiant finish that allows you to conceal and correct imperfections with ease.
7. Cream Blush
If you want to add a pop of color to your cheeks, opt for a blush with a cream-based formula. The L'Oréal Paris Infallible Longwear Blush Shaping Sticks has a super-glide formula that will give your cheeks a long-lasting flush.
8. Cream Contour
Don't forget to chisel out and contour those cheekbones! Use the L'Oréal Paris Infallible Longwear Foundation Shaping Sticks in a color that's one to two shades darker than your skin tone. These creamy sticks will help give your face a sculpted appearance and complement your complexion without looking cakey.
9. Cream Eyeshadow
There's just something oh-so-pretty about a shimmery cream eyeshadow. We also love that they're great for dry skin types. The easiest way to apply a cream eyeshadow is to use your fingers. Take your pick from the 12 shimmer shades available using the L'Oréal Paris Brilliant Eyes Shimmer Liquid Eye Shadow Makeup.
10. Lip Gloss
Finish your look with a moisturizing pout product and choose a hydrating lip gloss. We love the L'Oréal Paris Infallible 8HR Pro Gloss. If you have dry lips and really prefer rocking a matte finish, you can still make it happen. Start with a lip scrub to slough away dead skin cells from the surface of your pout. Then, follow up with a hydrating matte lipstick, like the L'Oréal Paris Colour Riche Creamy Matte Lipstick, Rich Hydration.
11. Makeup Setting Spray
Skip setting powder and opt for setting spray to keep your makeup in place without drying out your skin. Spritz the L'Oréal Paris Infallible Pro-Spray and Set Make-Up Oil-Free Setting Spray in 'X' and 'T' motions over your face. You can also try the L'Oréal Paris True Match Lumi Shake & Glow Dew Mist for a boost of hydration while preserving your flake-free makeup look.
Next: Your Guide to Taking Care of Very Dry Skin


Discover more tips & tricks
Keep your skin happy
See all articles
Shop Featured Skin Care products
Discover More