face makeup
Why This Foundation Has TikTokers Hooked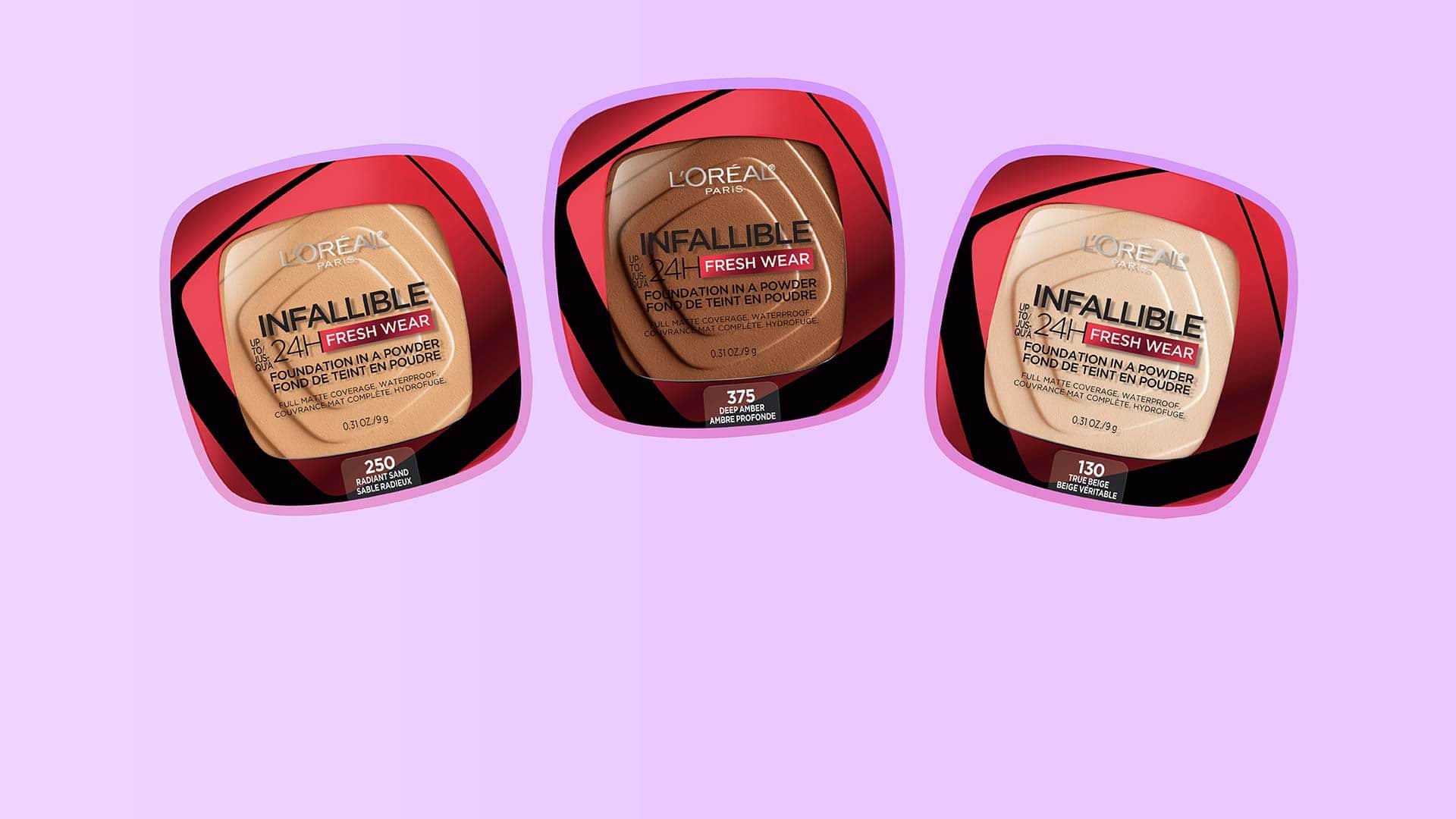 Finding a full-coverage foundation that blends with your skin while maintaining it's natural appearance is like finding the perfect-fitting pair of jeans— it's ultra satisfying when it happens, but realistically, it occurs less often than we'd like to admit. But when it does, you want to tell everyone about it. So it's no surprise that when TikTok makeup enthusiasts and influencers discovered the new L'Oréal Paris Infallible Up to 24HR Fresh Wear Foundation in a Powder they turned on their cameras to testify about it to their followers.
This light powder foundation provides a full-coverage, matte finish without looking cakey. It's also waterproof, heatproof, sweatproof and transfer-proof, so no need to be wary about masking up while wearing it. And if you're typically not a powder foundation kind of gal or guy (dry skin type, perhaps?) you'll love that you won't be able to feel the difference between this and a liquid foundation once it's on.
WHAT TIKTOKERS ARE SAYING ABOUT IT
It's safe to say that our editors love it for its long-wearing benefits, along with its skin-like matte finish, but we aren't the only ones obsessing over it. While the buzz on TikTok surrounding this product is entertaining and in many cases downright funny (social media videos never cease to make us laugh) we get that the product results are no joke. Video after video shows users of the platform running store to store to get their hands on this foundation—some putting it to the test before even exiting the parking lot. Check out some of what they're saying:
It covers scars and rough texture.
After expressing struggles with her skin, including enlarged pores, texture and hyperpigmentation, @belindaarosee put the foundation to the test. With just one swipe, her eyes lit up as she exclaimed "Oh my god it's freaking working! Whaaat? You guys!" Viewers could see the product immediately blur her imperfections, creating a gorgeous, even complexion.
Dry skin types can use it.
After just one swipe, user @rocio.roses was hooked. "This is insane. Like whaaat? That is beautiful!" she says in her video. After her first video received 5.5 million views, Rocio went on to make a second video to address a frequently asked question she received about the foundation: Is this for dry skin? Rocio explained that she has a dry skin type and it looked beautiful on her. She then recommended that those with dry skin prep with a rich moisturizer before applying the foundation, and set it with setting spray after application.
It's lightweight.
Another fan of the full-coverage foundation, @bonnieleetoks, showed her followers how she applied it and then shared her final thoughts, saying, "I highly recommend it. It looks flawless. It feels so good and light."
You can go filter-free.
"My face was [in shock] the entire time watching that video," says user @mikaylanogueria as she watched another TikToker apply the foundation. "I love the L'Oréal Infallible Fresh Wear line. I have high hopes for this!" This new powder in a foundation did not disappoint. After just two swipes she said it looked like she put a filter on her face. She swore (literally!) to its transformative power. "Okay, who do I have to thank for this? Seriously!" she asks as she closes out the video with flawless looking skin.
It's quick and easy to apply.
In her video where she reviews trending drugstore products, user @samperakslis says "This literally has me rethinking why I don't use powder foundation more. It took me 10 seconds to apply." She concluded the video by rating it a ten out of ten.
Well, there you have it! The new L'Oréal Paris foundation is TikTok approved. So don't be surprised when you stop using your filters but your DMs are at an all-time high.
Design: Sarah Duvivier
Next: How To Pick The Right Type Of Foundation For Your Skin Type
Discover more tips & tricks
Keep your skin happy
See all articles
Shop Featured products
Discover More