face makeup
How to Apply Liquid Foundation
March 13, 2020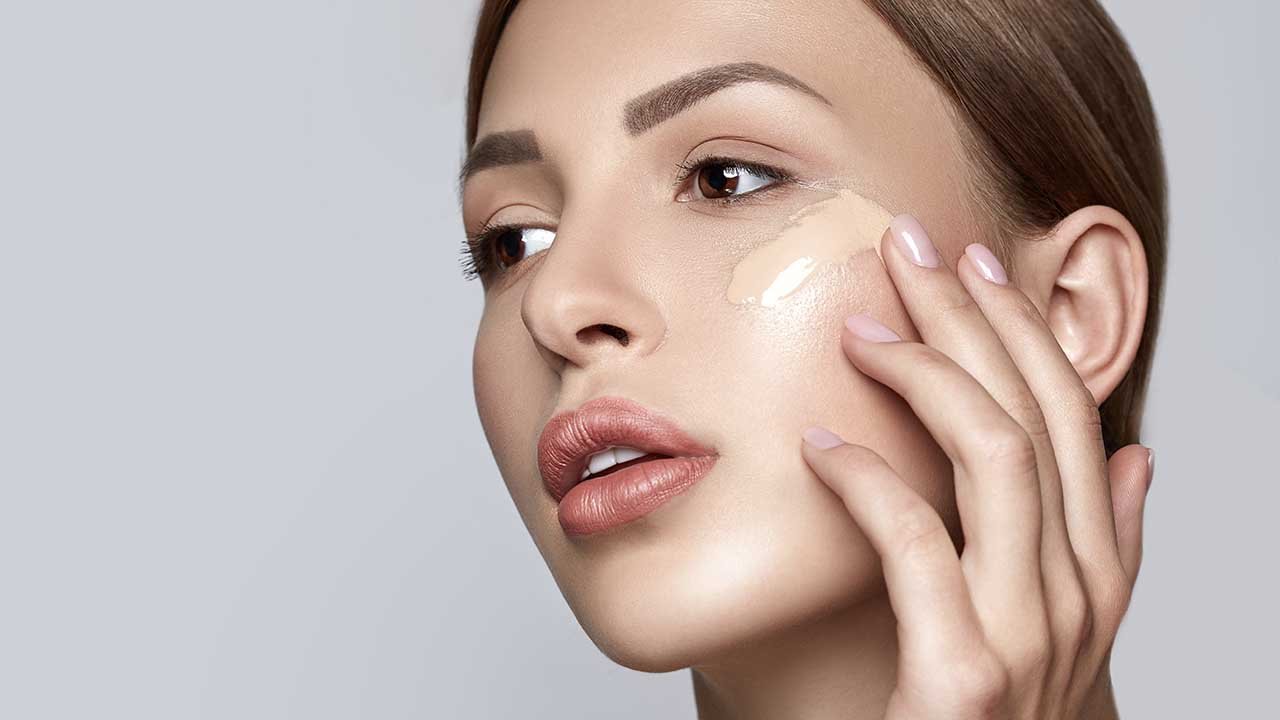 As with most makeup, liquid foundation is not a one-size-fits-all type of a product. But liquid foundation can work on all skin types—you just have to spend a little time and do some research to find a shade that best matches your skin tone and an application method that works for you. From lightweight to full coverage and from matte to dewy, there are a ton of options you can choose from to get the finish you're after. There's also no singular answer on how to apply liquid foundation. You can get a flawless base using a liquid foundation brush, your fingers, or a makeup sponge. The key, as with most things, is finding what's right for you! Here, we're helping you find your liquid foundation match and breaking down six different ways to apply liquid foundation formulas.
HOW TO FIND THE BEST LIQUID FOUNDATION FINISH FOR YOUR SKIN TYPE
Before you can choose a liquid foundation, you need to decide on what finish you're interested in using. For example, if you are looking for heavier coverage, reach for a liquid or cream formula that offers full coverage. On the other hand, if you prefer a more natural look and feel, opt for a lightweight or weightless liquid foundation formula. If you want your skin to have a radiant-looking glow, choose a dewy-finish foundation. Meanwhile, if excess shine is a concern for you, try a matte formula.
WHAT TO AVOID WHEN PICKING A LIQUID FOUNDATION
Choosing the best liquid foundation for your skin type also depends on your complexion's particular needs. For example, if you tend to have oily skin, it's probably a good idea to stay away from any foundation that claims to have a dewy finish. That's because it could make your oily skin look even shinier—which is probably the opposite of what you want. And if you have dry skin, steer clear of matte formulas, since they won't do anything to help you look more radiant.
OUR BEST MATTE LIQUID FOUNDATION
The L'Oréal Paris Infallible Pro-Matte Foundation offers long-lasting medium coverage with a demi-matte finish. The foundation has an air-light texture and is oil-free.
OUR BEST DEWY LIQUID FOUNDATION
The L'Oréal Paris Infallible Pro Glow Foundation offers long-lasting medium coverage with a radiant finish and air-light texture. Plus, it is formulated with SPF 15!
HOW TO APPLY LIQUID FOUNDATION
From using your hands to working with a liquid foundation brush, there are numerous answers to how to apply foundation. Not sure which one is for you? Here, you'll learn six ways to apply liquid foundation for your most flawless complexion yet.
HOW TO APPLY LIQUID FOUNDATION WITH YOUR HANDS
Start by washing your hands to make sure you're not covering your face with bacteria or germs when applying your foundation. Rub the foundation between your palms to emulsify it, then press it onto your skin. Using this technique can give you a natural-looking, second-skin appearance.
HOW TO APPLY LIQUID FOUNDATION WITH YOUR FINGERS
Again, make sure your hands are clean before trying this technique. Squeeze the foundation onto your wrist and use your fingers to warm it up. Apply the liquid foundation on your face in circular motions, making sure to blend and distribute evenly as you go.
HOW TO APPLY LIQUID FOUNDATION WITH A TAPERED FOUNDATION BRUSH
Think of this liquid foundation brush as a way to "paint" the foundation onto your face. When using a tapered foundation brush, make sure to apply the foundation in short, downward, and outward strokes. Finish off by blending any lines or creases that may have formed.
HOW TO APPLY LIQUID FOUNDATION WITH A STIPPLING BRUSH
If you want sheerer coverage, this type of liquid foundation brush can help you get the look. Blend and press the foundation all over your face in light, circular motions using your stippling brush.
HOW TO APPLY LIQUID FOUNDATION WITH A ROUNDED FOUNDATION BRUSH
When using a traditional liquid foundation brush with rounded bristles, blend the liquid formula onto your face, alternating between swirling and stroking motions.
HOW TO APPLY LIQUID FOUNDATION WITH A MAKEUP BLENDER
This industry fave can give you a natural finish, but it also provides buildable coverage. Take the L'Oréal Paris Infallible Blend Artist Foundation Blender and squeeze a small amount of foundation onto the pointed tip of the makeup blender. Use the rounded edge to dab and roll the foundation onto your skin.
HOW TO PERFECT A LIQUID FOUNDATION MAKEUP LOOK
Here's how to add liquid foundation to your makeup routine for a gorgeous look.
STEP 1: PRIME YOUR FACE
Even when you apply your liquid foundation with the right techniques, it may not last if you don't prep your skin first. If you really want your flawless foundation look to last, be sure to start your makeup routine off with a makeup primer. Depending on if you want a matte or glowing visage, reach for the L'Oréal Paris Infallible Pro-Matte Lock Primer or L'Oréal Paris Infallible Pro-Glow Makeup Primer. Blend a dab onto your face and wait for it to dry before moving on to the next step.
STEP 2: COLOR CORRECT
Next, take a peek at your face. Do you notice any dark circles, redness, dullness, or sallowness? No worries, there's a color corrector for that. For concealing all of your complexion concerns, before picking up classic concealer, reach for the L'Oréal Paris True Match™ Color Correcting Crayon in the shade of your choice. Peach shades can help balance out dark circles, green works to camouflage redness, and yellow combats sallowness and dullness. After applying your colored concealer, be sure to blend it out evenly. Don't worry if the color is still noticeable, as you'll be covering it up with multiple other products.
STEP 3: APPLY LIQUID FOUNDATION
Whichever liquid foundation application method you most resonated with above, do that during this step.
STEP 4: CONCEAL
If any complexion concerns shine through your foundation, it's time to touch up with the L'Oréal Paris True Match™ Super-Blendable Multi-Use Concealer. We especially love applying this creamy concealer under your eyes for an instant brightening effect. Just be sure to blend it out after applying so that your skin continues to look even and natural.
STEP 5: CONTOUR
Using one of L'Oréal Paris Infallible Longwear Foundation Shaping Sticks in a color that's two to three shades darker than your natural skin tone, trace the hollows of your cheeks, down the edges of your nose, and around the outer edges of your forehead. Use your fingers or a makeup sponge to blend everything out and revel in how angular your face looks.
STEP 6: HIGHLIGHT
While your foundation is the star of this look, a little poppin' highlighter never hurt anyone. Glide one of the L'Oréal Paris Infallible Longwear Highlighter Shaping Sticks across your cheekbones, the tip of your nose, and the inner corners of your eyes for a look that's sure to turn heads and hold attention.
STEP 7: SET YOUR LOOK
Now that your foundation and the rest of your face makeup has been expertly applied, give it a little extra staying power with a quick dusting of the L'Oréal Paris Infallible Pro-Sweep & Lock Loose Setting Face Powder. This can help keep oil at bay while ensuring your foundation doesn't smear.
HOW TO REMOVE LIQUID FOUNDATION AT THE END OF THE DAY
Girl, you're looking good. Know what's not a good look, though? Falling asleep in your makeup. While seemingly harmless, doing so can actually lead to a whole slew of complexion concerns, including irritation, dullness, and even breakouts. Since we know that's the last thing you want, we recommend that, in addition to committing to a tailored liquid foundation application technique, you do the same with your cleansing routine.
Once you're done flaunting your perfect foundation, be sure to remove your makeup before heading to bed. If you're feeling especially tired, you can go for the easy option and reach for a bottle of the L'Oréal Paris Micellar Cleansing Water Complete Cleanser Waterproof – All Skin Types and a couple of cotton pads.
If, on the other hand, you have a little extra time to spare, consider treating your complexion to a clay facial cleanser. Depending on your skin type, you can choose from the L'Oréal Paris Pure-Clay Detox & Brighten Cleanser, or L'Oréal Paris Pure-Clay Exfoliate & Refine Cleanser. Both clay formulas transform to a deep-cleansing mousse when mixed with water and massaged onto skin. Designed to rinse away all of the day's makeup, dirt, and impurities, you can expect clean, clear skin post-cleansing.
Next up: Looking for another liquid foundation recommendation? Check out our L'Oréal Paris Infallible Up to 24HR Fresh Wear Foundation Swatches.
{ "@context": "https://schema.org/", "@type": "WebPage", "speakable": { "@type": "SpeakableSpecification", "cssSelector": ["speakable-content"] }, "url": "https://www.lorealparisusa.com/beauty-magazine/makeup/face-makeup/how-to-apply-liquid-foundation" }
Discover more tips & tricks
See all articles
Shop Featured Makeup products
Discover More
{ "@context": "http://schema.org", "@type": "BreadcrumbList", "itemListElement": [ { "@type":"ListItem", "position": 1, "item": { "@id": "/", "name": "Home" } } , { "@type":"ListItem", "position": 2, "item": { "@id": "https://www.lorealparisusa.com/beauty-magazine", "name": "Beauty Magazine" } } , { "@type":"ListItem", "position": 3, "item": { "@id": "https://www.lorealparisusa.com/beauty-magazine/makeup", "name": "Makeup Tips For Every Look" } } , { "@type":"ListItem", "position": 4, "item": { "@id": "https://www.lorealparisusa.com/beauty-magazine/makeup/face-makeup", "name": "Face Makeup" } } , { "@type":"ListItem", "position": 5, "item": { "@id": "https://www.lorealparisusa.com/beauty-magazine/makeup/face-makeup/how-to-apply-liquid-foundation", "name": "how-to-apply-liquid-foundation" } } ] }