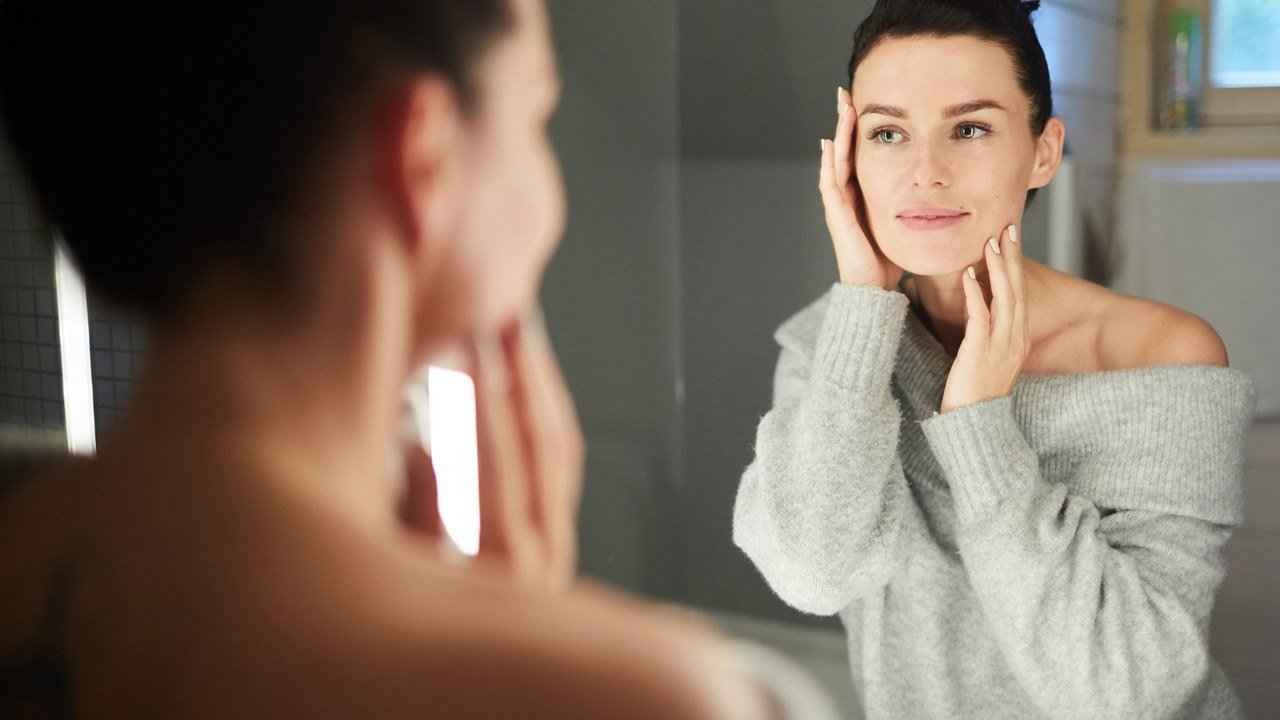 skin care essentials
The Best Skin Care Routine for Your 30s
Turning 30 is a major life milestone—and it can come with a lot of changes. In addition to no longer being able to party quite as hard as you did in your 20s, you may notice that your skin's needs change during this decade of your life. In your 30s, you may shift from having oily skin to dry skin—and you may even begin to see visible signs of aging, like dark spots and crow's feet. That's why putting together a skin care routine specifically for your 30s is key. Here, we'll walk you through the basics of a daily skin care routine for 30-year-olds and beyond, as well as a couple of simple skin care swaps you can make before bed.
THE BASIC SKIN CARE ROUTINE FOR YOUR 30S
Your skin care routine in your 30s doesn't need to become overly complicated; here are four basic steps to base your routine around.
STEP 1: CLEANSE YOUR SKIN
One thing that shouldn't change as you enter a new decade? How often you cleanse. You should always wash your face morning and night, no matter your age. That being said, you may want to consider switching up what facial cleanser you use. Try the L'Oréal Paris Revitalift Bright Reveal Brightening Daily Scrub Cleanser, which is formulated with gentle micro-pearls and glycolic acid. It exfoliates dullness and impurities from the surface of skin to improve skin's tone. Immediately, skin looks more radiant. Every morning and evening, lather the facial cleanser into wet hands and gently massage it onto your skin in a circular motion, rinse thoroughly with lukewarm water and pat dry.
Keep in mind that alpha hydroxy acids (AHAs) such as glycolic acid can increase your skin's sensitivity to the sun, so sun protection is a must! Apply a broad-spectrum sunscreen with an SPF of 30 or higher as directed, limit your amount of time in the sun (especially during peak hours, which are from 10 a.m. to 2 p.m.), seek shade, and cover up any exposed areas.
STEP 2: APPLY CICA CREAM
Consider adding an anti-aging product, such as a cica cream, to your skin care routine. Why? Well, skin's moisture barrier weakens with age, resulting in greater loss of moisture, more prominent wrinkles, and loss of firmness. Enter cica cream. The L'Oréal Paris Revitalift Cicacream Face Moisturizer Pro-Retinol & Centella Asiatica is formulated with both Pro-Retinol and centella asiatica, the latter being an herb (also known as tiger grass) from traditional Chinese medicine.
But seriously, what is cica cream? Well, our lightweight cica cream helps strengthen and repair the skin barrier to help resist visible signs of aging that a weakened barrier can accentuate. Immediately, skin feels softer, smoother, and more supple, while firmness and tone look improved. With continued use over time, skin looks rejuvenated, the appearance of fine lines and wrinkles is reduced, and clarity improves. The skin barrier is stronger, helping to resist signs of aging with continued use over time. Every morning and evening, smooth our cica cream over your face until thoroughly absorbed. For best results, use in conjunction with other Revitalift products.
STEP 3: APPLY EYE CREAM
Because the skin around your eyes is so delicate, it's often the first spot to show signs of aging, such as dark circles and crow's feet. Reach for an eye cream that can help minimize the appearance of signs of aging around the eyes with continued use over time, like the L'Oréal Paris Age Perfect Hydra Nutrition Manuka Honey Eye Gel. Use the rollerball to massage the formula onto your skin in circular motions and enjoy the built-in facial massage while you're at it. Gently pat any excess with your fingers, and you're free to move on to your last essential step.
STEP 4: MOISTURIZE AND PROTECT SKIN FROM THE SUN
As a busy thirtysomething, chances are you may not have quite as much time to spend on your skin care routine as you'd like. But that doesn't give you a free pass to skip out on sun protection in your 30s. Use a moisturizer formulated with broad-spectrum SPF sunscreen, like the L'Oréal Paris Revitalift Bright Reveal Brightening Day Moisturizer SPF 30, which combines moisturizing and sunscreen application into one. This moisturizer formulated with broad-spectrum SPF sunscreen is hydrating and helps skin look brighter. Apply it as directed and make sure you're also taking the other sun protection measures we mentioned earlier, like limiting your time outside during the sun's peak hours.
4 STEPS TO CONSIDER ADDING TO YOUR NIGHTTIME SKIN CARE ROUTINE
Nighttime provides quite the opportunity to care for your skin. Below, find four additional steps you may want to add to your regimen to create the best skin care routine for your 30s.
STEP 1: DOUBLE CLEANSE TO REMOVE MAKEUP AT NIGHT
Cleansing is especially important at night, as you don't want to sleep in your makeup. When you do that, the makeup can mix with the dirt and oils that have built up on the surface of your skin, leading to clogged pores—and clogged pores can lead to breakouts. To effectively remove all your makeup, you can try double cleansing with a micellar water like the L'Oréal Paris Micellar Cleansing Water Complete Cleanser Waterproof – All Skin Types. Simply pour some micellar water out onto a cotton pad and wipe the pad across your face, then follow up with your rinse-off facial cleanser.
STEP 2: ADD A PEEL PAD TO YOUR NIGHTLY REGIMEN
Before going to bed, take a second to wipe your face with a peel pad post-cleansing. The L'Oréal Paris Revitalift Bright Reveal Brightening Daily Peel Pads physically resurface dead skin cells to reveal the appearance of brighter-looking skin. Use nightly on clean skin. Gently wipe the peel pad over your skin, then follow up with moisturizer. As with the facial cleanser we told you about earlier, these peel pads are formulated with glycolic acid. So, be sure to apply broad-spectrum sunscreen and take additional sun protection measures in the morning.
STEP 3: TRY A DUAL-ACTION OVERNIGHT MOISTURIZER
Another skin care step you can take pre-slumber is applying the L'Oréal Paris Revitalift Bright Reveal Brightening Dual Overnight Moisturizer. You don't need to use moisturizer with SPF at night, so switch out your daytime moisturizer for one that targets specific skin care concerns while you sleep. This dual-action night cream has an exfoliating concentrate in one chamber and a brightening infusion in the other. The next morning, you'll notice skin that looks fresher and more radiant and feels more hydrated. With continued use over time, the appearance of fine lines and wrinkles is diminished, as is the appearance of dark spots. Every night, smooth the moisturizer gently over cleansed skin—and remember to take all your sun protection measures when you wake up, as this moisturizer is also formulated with an AHA.
STEP 4: SHOW YOUR SKIN EXTRA LOVE WITH A FACE MASK
If you find that you have extra dry skin in your 30s, consider using an overnight face mask as the last step in your routine. The L'Oréal Paris Revitalift Triple Power™ Anti-Aging Overnight Mask is a luxurious, hydrating face mask that forms a virtual protective mask to cradle skin. Immediately, skin feels more hydrated and looks more radiant. To use, smooth the face mask over your face, neck, and jawline until absorbed. Leave it on overnight, then rinse it off in the morning and work your way through your daily skin care routine once more.
Discover more tips & tricks
Keep your skin happy
See all articles