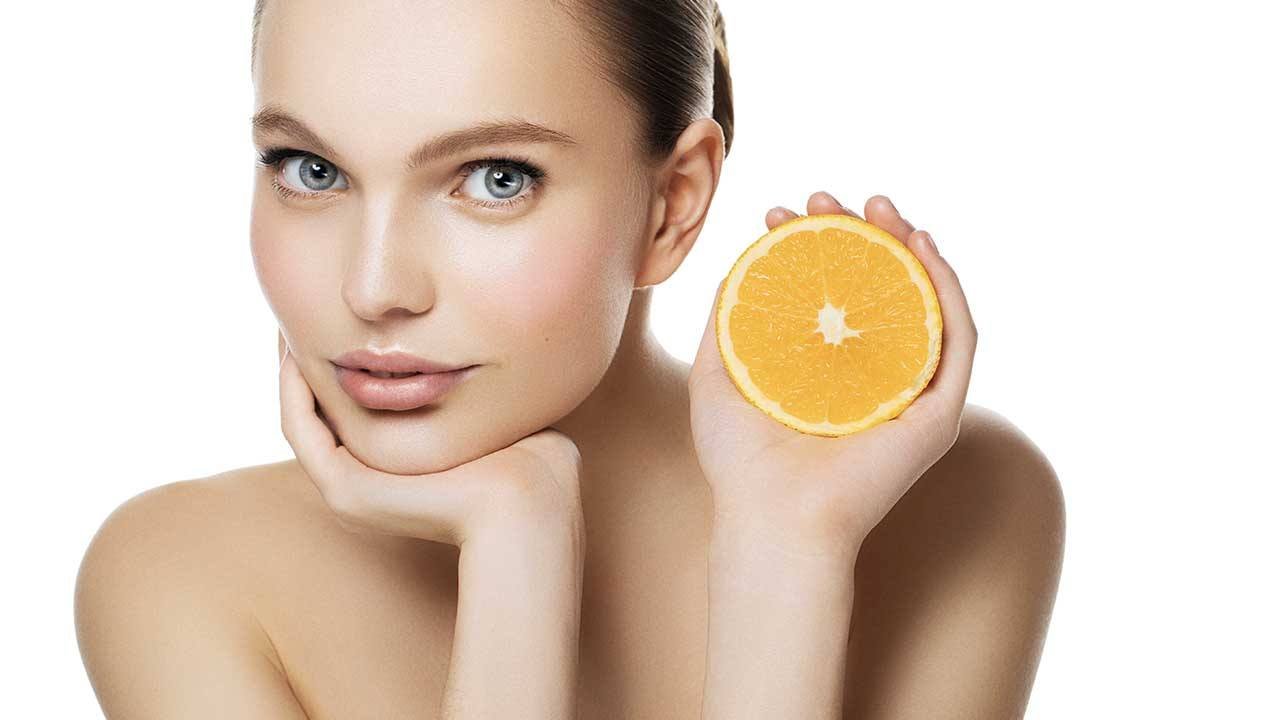 skin care essentials
What Can Vitamin C Do for the Skin?
There's basically a whole alphabet of vitamins out there—but today, we'd like to talk to you about one of our favorites in particular—and how to incorporate it into your skin care routine. We're talking about vitamin C! At the moment, topical vitamin C is very on trend in the skin care world—and with good reason. Wondering how vitamin C benefits the skin? Well, we're here to answer all your questions about skin care products with vitamin C. Plus, if you want to get in on the topical vitamin C action yourself, we'll tell you all about our best vitamin C serum, not to mention our other products with vitamin C. So, what are you waiting for? Keep reading!
WHAT IS TOPICAL VITAMIN C?
Vitamin C is found in more than just your morning glass of orange juice. Ascorbic acid—the pure form of vitamin C—is a natural antioxidant. Since humans do not produce vitamin C, they resort to ingesting it (like that glass of OJ) and applying it topically with skin care products.
If you're still left wondering, "What do antioxidants do?", let us get you up to speed. First things first, you'll need to understand what free radicals are. According to the Skin Cancer Foundation, free radicals are produced by melanin and other skin tissues exposed to light. These free radicals are unstable, highly reactive oxidized molecules that can cause tissue damage. And that's where antioxidants come into play, they can help neutralize the negative effects of damaging free radicals. For that reason, antioxidants like vitamin C are sometimes included in sunscreen formulas and—as the American Academy of Dermatology shares—are popularly used in other skin care products for their anti-aging benefits.
How can vitamin c benefit skin?
Vitamin C can help protect your skin from sunburns and free radicals. Pretty cool, right? As you're probably already well aware, free radicals can lead to visible signs of aging like dark spots and wrinkles down the road—so it's no small feat.
How CAN YOU TAKE ADVANTAGE OF VITAMIN C's BENEFITS?
Ready to hop on the vitamin C bandwagon? We thought you would be interested! There are a few different ways you can incorporate topical vitamin C into your skin care routine in order to take advantage of its benefits. Follow our tips below to get started:
1. Add a Vitamin C Serum to Your Skin Care Routine
One of the best ways to add vitamin C into your skin care routine is through using a serum with vitamin C. These potent formulas are an amazing way to provide your skin with vitamin C's benefits. Want a recommendation? Try our vitamin C serum, the L'Oréal Paris RevitaLift 10% Pure Vitamin C Serum. The lightweight serum helps restore radiance in just one week and visibly reduces fine lines and wrinkles in just two weeks. Pretty sweet, right? To use, smooth the vitamin C serum onto your face every morning and evening, in-between your cleansing and moisturizing steps. If your routine also includes a hyaluronic acid serum, it should come before your vitamin C serum.
2. Pair skin care products formulated with vitamin C with broad-spectrum SPF
You know how we told you that using vitamin C can help protect your skin from free radicals? Well, as such, vitamin C pairs nicely with broad-spectrum sunscreen—which should already be part of your daily skin care routine. If it isn't, what are you waiting for? The Food & Drug Administration recommends using a broad-spectrum sunscreen with an SPF value of 15 or higher every single day and taking other sun protection measures. If you're concerned about overcomplicating your skin care routine, consider using a moisturizer that's formulated with SPF. After applying your vitamin C serum, use the L'Oréal Paris RevitaLift Triple Power Day Lotion Moisturizer SPF 20. Just be sure to toss the bottle in your bag when you're done since SPF should be reapplied at least every 2 hours.
If you prefer to keep your moisturizing and SPF steps separate, apply the L'Oréal Paris RevitaLift Triple Power Intensive Anti-Aging Day Cream Moisturizer before your sunscreen of choice. This beloved moisturizer is trusted by women all across the United States—as evidenced by the recent #RevitaLiftChallenge where over 10,000 women tried the day cream for two weeks and when polled afterward, shared they trusted the product and would continue to use it.
3. Store your products formulated with vitamin C correctly
It turns out that how you store your vitamin C skin care products matters. You should keep your products formulated with vitamin C away from air and sunlight (think: somewhere dark). If you don't, you risk your products losing their potency or destabilizing. Thankfully, the vitamin C serum we just told you about comes in a protective, air-tight metal tube that helps maximize potency and stability—just don't leave your tube on your windowsill.
Wondering what other popular skin care ingredients can do for your skin? Head on over to our article, How Hyaluronic Acid Benefits Skin.
Discover more tips & tricks
Keep your skin happy
See all articles
Shop Featured Skin Care products
Discover More