anti aging
7 Best Night Creams to Add to Your Anti-Aging Routine
They grind while you snooze.
May 20, 2022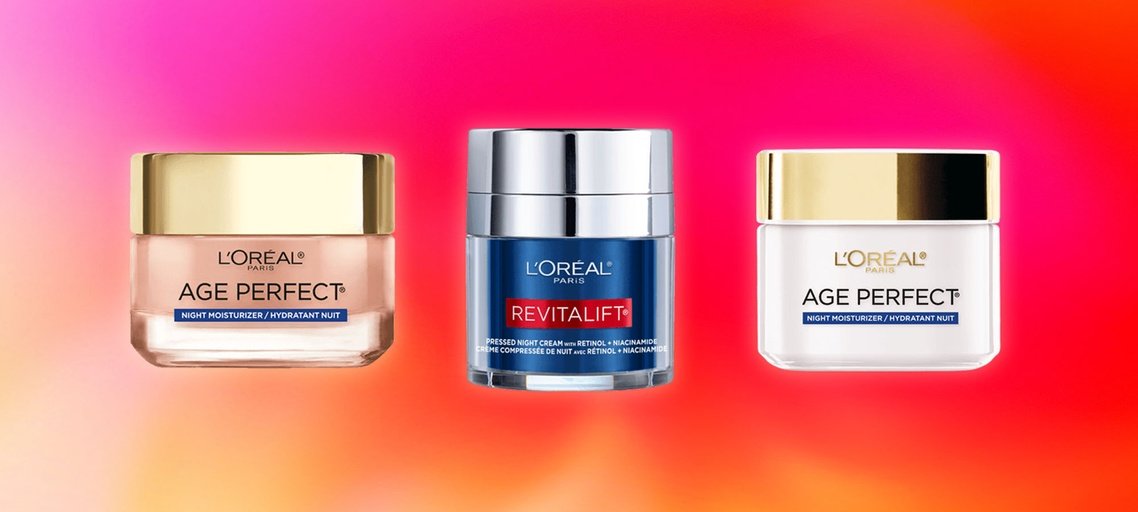 Perfecting your skin care routine requires both time and research — something that also holds true for finding a night cream that works for you. Just as you wouldn't pick the first house you see when you're looking to move, it may not be your best bet to pick the first nighttime moisturizer you come across.
While this beauty staple is known to provide lasting hydration, not all formulas are created equal. So, it's important to nail the best night moisturizer that suits your skin type. That's where we come in.
Ahead, we're giving you the complete scoop on picking the best drugstore night cream for your skin care regimen, whether you have mature skin and need extra moisture or are just starting to use anti-aging skin care products.
Why You Should Use A Night Cream
Before we dive into finding the best nighttime moisturizer for you, let's go over why it's important to use a night cream in the first place. As you may already know, moisturizing morning and night is a must. However, there are some key differences on what you should be looking for in a moisturizer for daytime and for nighttime.
A day moisturizer will likely be lighter and may contain SPF. On the flip side, night cream can be thicker and provide intense moisture. It also might be formulated with exfoliating ingredients, which can increase your skin's sun sensitivity.
How to Choose A Face Cream That's Best For You
There are two things to consider when you're trying to find the best night cream for your skin — your skin type and any anti-aging skin concerns you may have.
It's important to help keep your skin hydrated regardless of your skin type. That said, how you take care of oily skin will differ from caring for mature or dry skin. A lightweight night cream may be a smart option for oily skin, whereas if you have dry skin, you may want to opt for a thicker formula.
Whether you have wrinkles and fine lines or want to brighten up a lackluster-looking visage, night creams are usually formulated to address specific anti-aging concerns. Some also have ingredients, such as retinol and vitamin C, that can help improve blemishes and dark spots if those are also concerns for you.
The Best Night Creams for Every Skin Concern
The first step in perfecting your bedtime skin care routine is to find the best night cream for your skin's unique needs. Whether you have dry skin, dark spots, sagging skin, or fine lines and wrinkles, there's a night cream out there for you — and we're here to help you find it. Below, find the details on our best night creams.
Aging skin can sport a sagging appearance, and using a night cream that's designed to improve elasticity can help. This pick for mature skin, which is formulated with powerful antioxidants and vitamin E, promotes cell renewal for radiant and firm skin. With continued use, you'll see a younger-looking complexion.
This nighttime moisturizer is specifically designed with mature skin in mind. It's formulated with imperial peony to gently exfoliate dull skin and stimulate surface cell renewal every day, reviving skin's natural rosy tone. It also absorbs quickly, instantly cools the skin, and provides lasting hydration with a non-greasy feel.
As you age, your skin may start to look and feel less firm, and the appearance of wrinkles may become more visible. If wrinkles are a major concern for you, look to a night cream with retinol. Retinol is a derivative of vitamin A that helps to minimize the appearance of fine lines and wrinkles over time, per the Mayo Clinic. This moisturizer contains pro-retinol, which is a more stable version of retinol. It also contains centella asiatica, which provides lasting hydration.
Collagen is a protein that is naturally found in the skin that provides bounce and firmness, so skin sagging can be common once collagen production slows down after 50. This moisturizer replenishes the skin with much needed collagen peptides, as well as niacinamide to brighten the complexion.
If you're looking for a cream that can address anti-aging and brightening, this moisturizer can tackle both. Formulated with niacinamide — which can help even the skin tone and brighten dark spots — and retinol, this night cream makes the complexion hydrated and glowy.
This moisturizer is targeted toward those who want to say goodbye to wrinkles and other signs of aging. It contains a combination of calcium and vitamin B5 to speed up the skin's cell renewal process and strengthen the skin barrier to reveal youthful skin. It also visibly reduces the appearance of sagging skin and density loss.
Some nights, you can take a break from using night cream and opt for an overnight face mask instead. It's the perfect way to show your complexion a little extra TLC. This mask is a luxurious, hydrating leave-on option with retinol and vitamin C that forms a protective layer to cradle skin.
Next: 9 Best Anti-Aging Creams and Moisturizers We Swear By
Edited by: Shannon Stubbs, Photo Design: Crystal Miller
Discover more tips & tricks
Keep your skin happy
See all articles
Shop Featured Skin Care products
Discover More