anti aging
How To Find The Best Night Cream For You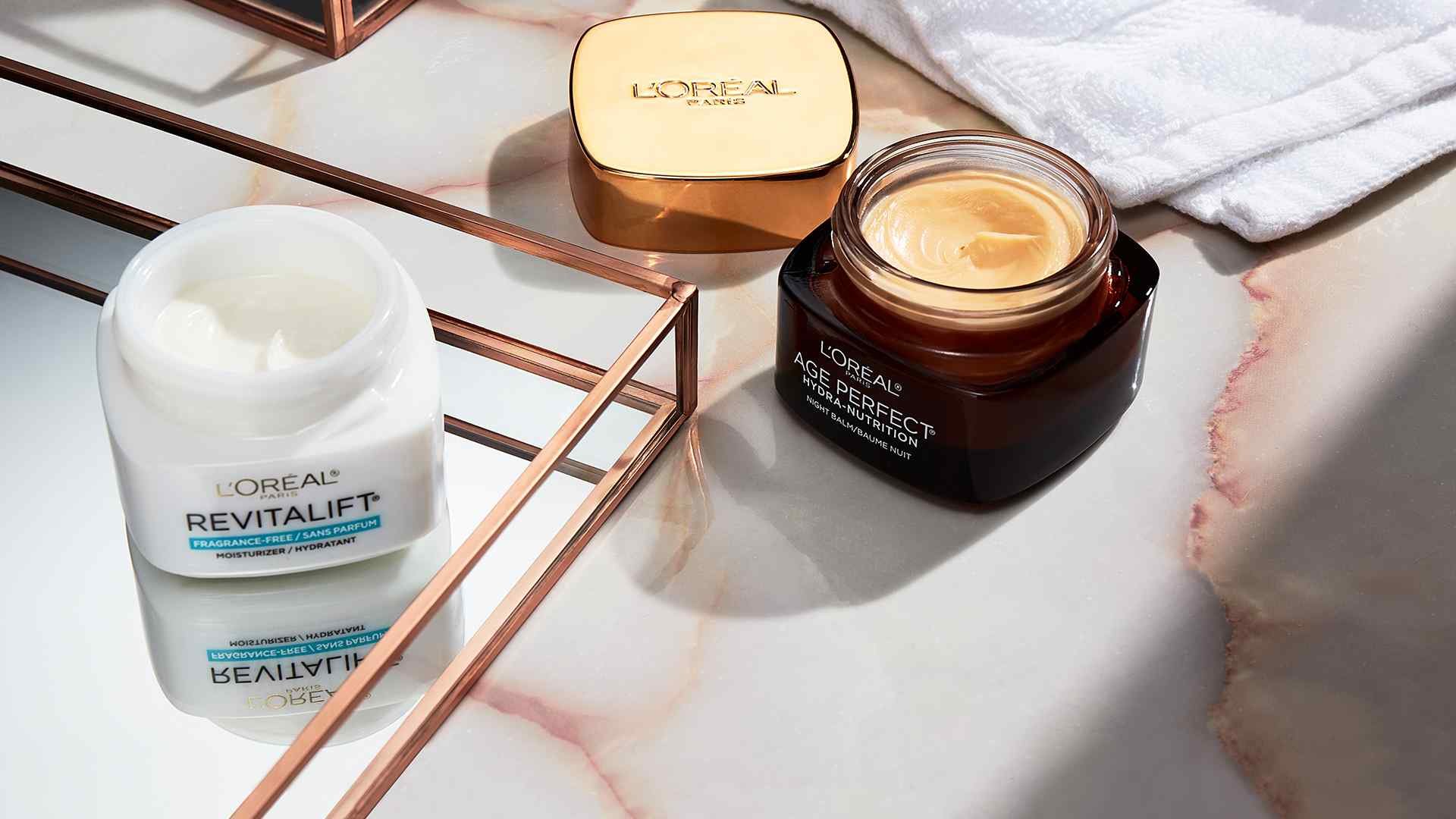 Perfecting a skin care routine requires both time and research—and that holds true for finding the best night cream. Just as you wouldn't pick the first house you see when you're looking to move, it may not be your best bet to pick the first nighttime moisturizer you come across. While this beauty staple is known to provide lasting hydration, not all formulas are created equal. So, it's important to nail the best night moisturizer that suits your skin type. That's where we come in. Ahead, we're giving you the complete scoop on picking the best drugstore night cream for your skin care regimen, whether you have mature skin and need extra moisture or are just starting to use anti-aging skin care products. Plus, we have tips on how to upgrade your nighttime skin care routine as a whole.
WHY YOU SHOULD USE A NIGHT CREAM
Before we dive into finding the best nighttime moisturizer for you, let's go over why it's important to use a night cream in the first place. As you may already know, moisturizing in the morning and at night is a must. However, you shouldn't hydrate with the same product regardless of the time of day, since both daytime and nighttime moisturizers have different benefits to look out for. A day moisturizer will likely be lighter and may contain SPF. On the flip side, night cream can be thicker and provide maximum moisture. It can also be formulated with ingredients that increase sun sensitivity.
HOW TO FIND YOUR PERFECT NIGHT CREAM MATCH
Answer these two questions to help you find the right night cream for your skin.
Question #1. What is your skin type? It's important to help keep your skin hydrated regardless of your skin type. That said, how you take care of oily skin will differ from caring for mature or dry skin. A lightweight night cream may be a smart option for oily skin, whereas if you have dry skin, you may want to opt for a thicker formula.
Question #2. Do you have any anti-aging concerns? Whether you have wrinkles and fine lines or a desire to brighten up a lackluster-looking visage, oftentimes, night creams are formulated to address specific anti-aging concerns.
OUR BEST NIGHT CREAMS FOR EVERY SKIN CARE CONCERN
The first step in perfecting your bedtime skin care routine is to find the best night cream for your skin's unique needs. Whether you have dry skin, dark spots, sagging skin, or fine lines and wrinkles, there's a night cream out there for you—and we're here to help you find it. Below, find the details on our best night creams.
L'Oréal Paris Age Perfect Rosy Tone Cooling Night Moisturizer: This nighttime moisturizer is specifically designed with mature skin in mind. It's formulated with imperial peony to gently exfoliate dull skin and stimulate surface cell renewal every day, reviving skin's natural pink tone. It also absorbs quickly, instantly cools the skin, and provides lasting hydration with a non-greasy feel.
How to use it: Layer a small dollop of night cream over your face every night until thoroughly absorbed.
L'Oréal Paris Age Perfect Hydra Nutrition Honey Night Balm: If you're dealing with very dry skin, this night balm makes for a solid choice. This offering is formulated with nurturing oils and manuka honey extract. It melts onto skin to provide incredible nourishing comfort with long-lasting, non-greasy, non-sticky hydration.
How to use it: Smooth the balm over your face, neck, and chest each evening after cleansing. Apply the L'Oréal Paris Age Perfect Hydra Nutrition Manuka Honey Eye Gel to your under-eye area to massage away the look of puffiness, under-eye bags, and dark circles.
L'Oréal Paris Revitalift Anti-Wrinkle + Firming Night Cream: As you age, your skin may start to look and feel less firm, and the appearance of wrinkles may become more visible. If wrinkles are a major concern for you, look to a night cream with retinol. Retinol is a derivative of vitamin A that helps to minimize the appearance of fine lines and wrinkles over time, per the Mayo Clinic. This moisturizer is one of our best anti-aging night creams formulated with Stimuplex and Pro-Retinol. It also provides lasting hydration.
How to use it: Gently smooth the night cream over your face and neck after cleansing with the L'Oréal Paris Revitalift Radiant Smoothing Cream Cleanser. Before calling it a day, apply the L'Oréal Paris Revitalift Anti-Wrinkle + Firming Eye Cream.
L'Oréal Paris Age Perfect Night Cream: Aging skin can sport a sagging appearance, and using a night cream that's designed to improve elasticity can help. This pick for mature skin, which is formulated with soy seed proteins, helps to firm skin and provide intense hydration. With continued use, you'll see a younger-looking complexion.
How to use it: After using your facial cleanser, apply the night cream gently onto your face. Let it absorb completely.
L'Oréal Paris Age Perfect Cell Renewal Night Cream: Dull skin can easily take a toll on your complexion, but the right night cream can turn things around. This option is formulated with LHA, which helps with surface skin renewal. As a result, you'll be left with a radiant-looking visage.
How to use it: After cleansing and applying a serum, smooth this night cream over your face using circular motions until thoroughly absorbed. Consider pairing it with the L'Oréal Paris Age Perfect Nourishing Cream Cleanser and L'Oréal Paris Age Perfect Cell Renewal Golden Serum.
L'Oréal Paris Revitalift Triple Power Anti-Aging Overnight Face Mask: You can take a break from using night cream and opt for an overnight face mask instead. It's the perfect way to show your complexion a little extra TLC. This mask is a luxurious, hydrating leave-on option that forms a protective layer to cradle skin.
How to use it: Apply it to clean skin before bed and leave it on overnight to see results.
5 OTHER NIGHTTIME SKIN CARE HABITS TO ADOPT
Besides applying night cream before bed, there are a few other nighttime skin care steps you should take. Follow our step-by-step routine below.
NIGHTTIME SKIN CARE HABIT #1: TAKE OFF YOUR MAKEUP
Going to bed with a full face of makeup on is not exactly the best idea. When you sleep with your makeup on, it can mix with oil and debris on the surface of your skin, leading to clogged pores. This can also cause breakouts and blackheads to emerge.
Use micellar water, like the L'Oréal Paris Micellar Cleansing Water Complete Cleanser - All Skin Types, to remove your makeup all in one step. Micellar water is made up of tiny micelles—oil molecules—that gently remove makeup and impurities from your skin. No rinsing or harsh rubbing required. To remove eye makeup, saturate a cotton pad with the cleansing liquid, then hold the pad over your eyes for a few seconds. Wipe gently to remove. For an all-over cleanser, swipe the pad over your skin until it's clean.
NIGHTTIME SKIN CARE HABIT #2: WASH YOUR FACE
In case you haven't realized, washing your face with a hydrating facial cleanser—twice a day—is non-negotiable. This step helps to remove dirt and debris from skin to help keep breakouts at bay. As we mentioned, you should choose skin care products based on your skin type. If your skin is usually dry, pick a cream facial cleanser that's specifically formulated to hydrate dry skin while removing impurities from the surface of your face. Use the facial cleanser of your choosing every morning and evening. Lather it in wet hands and gently massage it onto your skin using circular motions, avoiding your eye area. Rinse thoroughly with lukewarm water and pat dry.
NIGHTTIME SKIN CARE HABIT #3: USE A SERUM
After cleansing your face, smooth on a serum, like the L'Oréal Paris Revitalift Derm Intensives 10% Pure Vitamin C Serum. This serum is a lightweight, potent offering that works to restore skin's radiance in one week and reduce wrinkles over time. The L'Oréal Paris Revitalift Derm Intensives 1.5% Pure Hyaluronic Acid Serum is another solid pick that contains hyaluronic acid and immediately replenishes hydration for visibly plumped, youthful-looking skin. You can even use both serums in the same regimen. Start by applying the hyaluronic acid serum, then follow up with the vitamin C offering.
NIGHTTIME SKIN CARE HABIT #4: USE AN EYE CREAM
Regardless of your age, adding an eye cream to your nighttime skin care routine can help prevent puffiness, dark circles, under-eye bags, and wrinkles. Since the skin around your eyes is thinner than other parts of your face, it's more prone to show early signs of aging. Play it safe and add an eye cream to your regimen now.
NIGHTTIME SKIN CARE HABIT #5: SLEEP ON A SILK PILLOWCASE
Sleeping on a silk pillowcase will be gentler on your skin thanks to its soft, smooth texture. Not to mention, they feel super luxe.
Next up: If you're game to amp up the moisture in your routine, we can help. Check out our article, Your Ultimate Guide To Skin Hydration, to get some pointers.
Discover more tips & tricks
Keep your skin happy
See all articles
Shop Featured Skin Care products
Discover More