Panel 1

Panel 2

Panel 3

Panel 4

Panel 5

Panel 6
An anti-aging retinol serum for all skin types. The quick-absorbing formula is non-comedogenic, fragrance free, paraben free, silicone free, dye free, mineral oil free and dermatologist tested.
$39.99
Product details

The Revitalift Night Serum, 0.3% Pure Retinol is formulated with soothing ingredients like glycerin and hyaluronic acid to help balance the potential drying effects of retinol. The allergy tested serum is suitable for all skin types and boasts a number of effective results:

Immediately skin feels moisturized
Skin texture feels smoother and more refined
Complexion is brighter, luminous, and glowing
Overtime, wrinkles are visibly reduced, even forehead wrinkles

What Is Pure Retinol?

While there are many retinols available in the market — complexes, derivatives and pure — dermatologists recommend pure retinol because it is the most researched and effective anti-aging ingredient. Pure Retinol is an optimal concentration that has been dermatologist-validated for fast, visible results.

Though most effective, it is unstable when exposed to air and light, causing it to be less effective overtime. L'Oreal Paris's exclusive technology, Retinol Guard™, helps to protect the formula so it is potent and effective from the first drop to the last.

*Results based on a 12-week clinical study of women aged 35-75 when used as directed.

*An external panel of dermatologists validated that Revitalift Derm Intensives serums uphold strict formulation standards and reviewed independent clinical testing results and protocols.
Who Should Use

Revitalift Night Serum, 0.3% Pure Retinol is suitable for all skin types, including
When To Use

After cleansing your skin at night, layer on the Revitalift Night Serum, 0.3% Pure Retinol. In the morning, be sure to finish your skin care routine with SPF as retinol has been proven to increase skin's photosensitivity.
How To Use

Your skin may need time to get used to this powerful serum, so it's important to introduce it gradually. Use a couple of times a week at first and slowly move to nightly use.

Week 1. Apply 2-3 drops to clean and dry skin twice a week and before Triple Power Moisturizer.

Week 2. Use every other night.

Week 3. Use nightly if tolerated. When using retinol products, always use a broad-spectrum SPF the morning after, such as Revitalift Triple Power Day Lotion SPF 30.

This product contains high potency retinol which may cause initial redness, tingling or dryness which is normal even if you've used retinol before. Read the product package before use.
Ingredients

Retinol (also called Vitamin A) is a molecule that is found in the natural vegetal world. Lipophilic, it is stored in the liver and in the skin. Retinol is one of the gold standard molecules used by dermatologists to correct the signs of ageing, including superficial and deep wrinkles, inhomogeneous complexion and pigmentation disorders. Highly effective, sometimes less well tolerated by sensitive skin, it works by accelerating epidermal cell renewal and by reinforcing skin structure network. At L'Oreal Paris, it is used in the form of Pro-retinol, a molecule that is suitable for all skin types even sensitive, and that the skin is able to bioconvert into Retinol.

Retinol is a fat-soluble derivative of vitamin A. Retinol's ability to promote skin-rejuvenation is key to enhancing the skin's overall appearance. By speeding up cell-turnover rate, retinol may help to visibly revitalize skin, as well as improve the appearance of facial lines and skin-discoloration. Topical application of retinol skin products can also exhibit potent antioxidant effects that help to neutralize free radicals that are present in the environment.

Vitamin E represents two classes of molecules — tocopherols and tocotrienols. As the most-abundant lipid-soluble antioxidant in the body, vitamin E serves to prevent the production of cell-damaging free radicals. Sun exposure causes the skin to form harmful free radicals, which prematurely ages the skin. Topical application of vitamin E is known to boost the skin protection against free radicals generated after exposure to UV.

Other Ingredients:
Water, Glycerin, Alcohol denat., Glycine soja oil / soybean oil, Isononyl isononanoate, Pentylene glycol, Dicaprylyl ether, Propylene glycol, Peg-6 caprylic/capric glycerides, Ppg-6-decyltetradeceth-30, Dicaprylyl carbonate, Glyceryl isostearate, Sodium hyaluronate,
Retinol, Ammonium polyacryloyldimethyl taurate, Caprylyl glycol, Citric acid, Trisodium ethylenediamine disuccinate, Xanthan gum, Butylene glycol, Tocopherol, Pentaerythrityl tetra-di-t-butyl hydroxyhydrocinnamate, Phenoxyethanol fil code b249713/1
Derm Validation

Our Derm Intensives formulas have been validated by an external panel of dermatologists that had unprecedented access to the clinical testing, stability, safety, and ingredients used in these products.

"I recommend Pure Retinol to help reduce wrinkles and exfoliate, improving skin's texture and tone. Start with 0.3% and let your skin acclimate."

Dr. Melissa K. Levin, MD
Board-Certified Dermatologist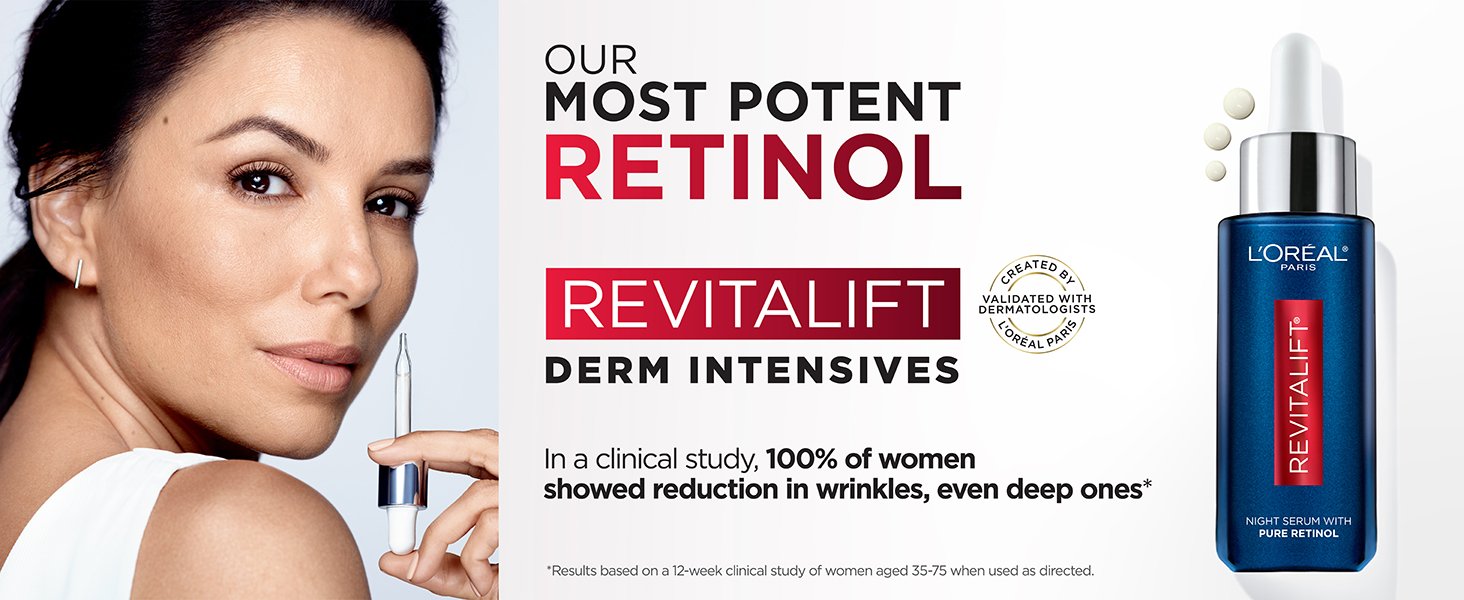 Frequently Asked Questions
What is Retinol and what does Retinol do?

Retinol is a form of Vitamin A that helps stimulate skin cell turnover, which decreases with age. Retinol can refine and resurface the skin to improve the appearance of wrinkles, texture and uneven tone.
What is the difference between Pure Retinol and Retinol derivatives/complexes?

Many brands don't use PURE retinol, though most effective. Dermatologists recommend to use PURE retinol because it is proven to work faster than other forms of retinol. This formula remains stable and effective from the first drop to the last.
Is 0.3% a high concentration of Pure Retinol?

0.3% Pure Retinol is considered a potent concentration and it has been dermatologist validated. This optimal level allows for fast and visible results you expect from Retinol limiting the discomfort this ingredient may cause.
Can Retinol be used by all skin types or ages?

Retinol can be used by all skin types and ages. Retinol use in your 20's and 30's is important for preventing early signs of aging. In your 40's and 50's retinol will continue to work on cell turnover, and wrinkles, including deep ones.
Is there anything I need to know before introducing Pure Retinol to my routine?

Pure Retinol is a potent ingredient, your skin will need time to adjust. Introduce gradually. Week 1, apply Pure Retinol Serum 2 nights a week before moisturizer. Week 2, use every other night. Week 3, use nightly as tolerated. Follow with SPF in AM.
Watch & Learn More
What You Need To Know About Pure Retinol
Retinol Myths and Facts
Why The L'Oréal Paris Pure Retinol Serum Is Still A Must-Have

READ MORE
SKIN CARE COMPARISON
COMPARE L'ORÉAL SKIN CARE PRODUCTS
Concern
Fine Lines, Wrinkles
Ratings and Reviews
Discover more tips & tricks
Keep your skin happy
See all articles
Related Products
Discover More
face-serums
Complete the look
1 fl.oz.
Revitalift Derm Intensives
Night Serum, 0.3% Pure Retinol