Panel 1

Panel 2

Panel 3

Panel 4

Panel 5
A potent eye serum that depuffs and visibly brightens the eye area. The formula is fragrance-free, paraben-free, allergy tested, ophthalmologist tested for safety, and contact lens suitable.
$32.99

find it nearby
PRODUCT DETAILS

1.5% Hyaluronic Acid + 1% Caffeine Eye Serum visibly replumps, brightens and reduces crow's feet in the eye area. The non-greasy formula includes hyaluronic acid to enhance skin's moisture retention and caffeine, which is known to re-energize skin to help reduce the appearance of dark circles and puffiness.

Validated in partnership with an advisory panel of dermatologists, the serum even layers well under makeup. Instantly, skin feels moisturized and eyes look less tired. Over time:

Fine lines and crow's feet are visibly smoother
Dark circles look noticeably brighter
Eyes look younger
Skin feels firmer

What's Unique About The Applicator?

Our triple roller applicator includes three cooling, stainless steel balls that bend, providing a full eye contour massage to leave eyes looking refreshed, well-rested and noticeably depuffed.
WHO SHOULD USE

Reach for this powerhouse eye serum when you have:
Pesky under-eye wrinkles
Unwanted crow's feet
Dry skin in the eye area
Dark circles
WHEN TO USE

The order of your skin caste products will depend on their consistency — the general rule of thumb is to go with the thinnest formulas first to allow for easy absorption. Since this eye serum has a thin, lightweight texture you'll want to layer it on after your Revitalift Derm Intensives 1.5% Pure Hyaluronic Acid Serum and before your moisturizer.
HOW TO USE

Use on clean skin every morning and evening with the following steps:

Step 1. Dip the applicator into the bottle once and smooth over your eyelid.
Step 2. Massage the serum in small circles under the eye to the temple, repeating four times.
Step 3. Gently tap in any excess serum with your fingers. Repeat on the other eye then proceed with your usual skin care routine.
INGREDIENTS

Main Ingredients:

Hyaluronic Acid: Hyaluronic Acid (HA) is a potent hydration-attracting molecule naturally found in the skin, but we lose it as we age which leads to lack of firmness and dryness. It forms an imperceptible film on the skin which also prevents moisture loss. Hyaluronic acid is a safe ingredient used by dermatologists for its intensely hydrating and replumping properties.

Caffeine: Caffeine has been observed to be effective in penetrating the skin barrier. This factor, in addition to promoting the body's antioxidants, makes it an ideal ingredient to seek for any topical treatments. Antioxidants are molecules that help prevent the chain reaction that causes cell damage. In addition, caffeine is a widely used ingredient in eye creams, as it reduces the appearance of under eye bags and dark circles.

Other Ingredients: Water, Glycerin, Hydroxyethylpiperazine Ethane Sulfonic Acid, Niacinamide, Sodium Hyaluronate, Caffeine, Citric Acid, Hydroxyacetophenone, Trisodium Ethylenediamine Disuccinate, Ascorbyl Glucoside, Caprylyl Glycol, Chlorphenesin Fil B274593/1
DERM VALIDATION

Our Derm Intensives formulas have been validated by an external panel of dermatologists that had unprecedented access to the clinical testing, stability, safety, and ingredients used in these products.

"In my practice, I often use Hyaluronic Acid as injectables but when applied topically, it has been shown to help visibly replump and reduce lines."

Dr. Melissa K. Levin, MD
Board-Certified Dermatologist
ENVIRONMENTAL & SOCIAL IMPACT

L'Oréal Paris is committed to continually improving the impact of its products throughout the product lifecycle, including the production and anticipated usage. This tool is designed to help assess the relative environmental & social impact of US L'Oréal Paris Products compared to other L'Oreal Groupe products in the same category around the world in 2020.

The calculation method was developed with the help of independent scientific experts and Bureau Veritas Certification, an independent auditor. The score takes into account 14 environmental impact factors all along the product's life cycle.

Learn more about the methodology, here

Overall environmental impact

Compared to other similar L'Oréal Groupe products sold worldwide in 2020

Carbon Footprint

6.5g1 per average amount used
171g per 10mL

Water Footprint

0.32 per average amount used
10 per 10mL

Every consumer product has some impact on the environment. A good score here does not mean a product has a positive impact or no impact on the environment.  The letters and colors used in this tool are designed to help you make comparisons to other similar products in L'Oréal's global portfolio, so you can make more informed choices.

Manufacturing conditions

Made in a
95%
Renewable Energy:
42%

Packaging facts

% of cardboard/paper certified FSC™ or PEFC:
100%
% of recycled material including colorant3 :
20%
Refillable or rechargeable:
No

Social impact of the product

The ingredients and components of this product are sourced from suppliers committed to respect the .

1 or more suppliers used in the making of this product are part of the .

1 Grams of CO2 equivalent ("eye care" category average = 7.8g)
2 Water index including water quality + water scarcity (m3) - "eye care" category average = 1.5
3 Excluding pumps and/or caps


Discover our evaluation methodology and all that we are implementing to reduce our impacts together.

LEARN MORE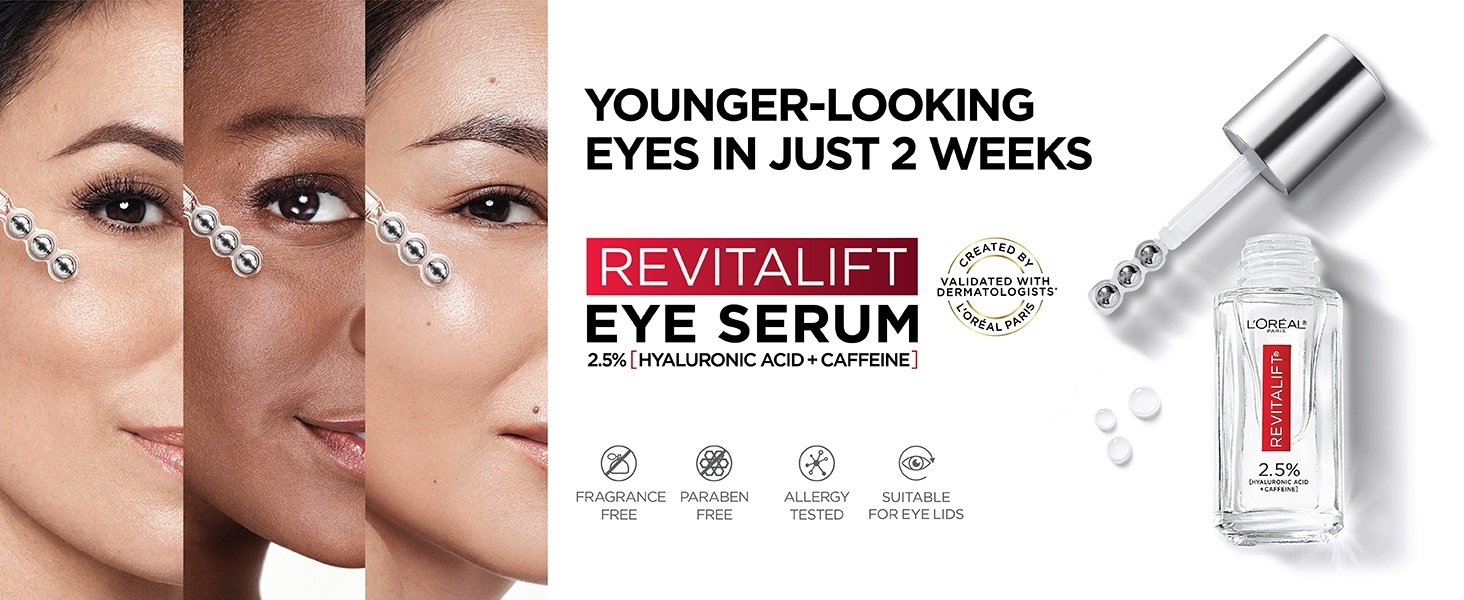 Frequently Asked Questions
Why is it important to use an eye serum?

Skin around the eyes is the thinnest & is in constant motion, so this area is more likely to show 1st signs of aging such as fine lines, crow's feet wrinkles. It is also prone to dark circles and puffiness. The eye serum helps address these concerns.
How do I apply this eye serum?

Use this Revitalift eye serum every morning and evening: using the applicator, massage in small circles under the eye to the temple, repeating 4x times. Then, smooth over your eyelids. Gently tap in excess with fingers.
What is Pure Caffeine? Is it safe to use on my under-eye area?

Pure Caffeine is an antioxidant, known for its ability to re-energize skin to effectively reduce dark circles and puffiness. This formula has been Dermatologist tested suitable for sensitive skin. Allergy tested.
Can I use this product under my concealer?

Yes, this serum formula is non-greasy and layers well under make-up.
Can I use this product if wear contact lenses?

Yes, this serum is ophthalmologist tested for safety and is contact lens suitable.
Watch & Learn More
L'Oréal Paris Revitalift HA Eye Serum | Dermatologist Validated
5 Star Reviewed Eye Serum
Revitalift eye serum with 1.5 percent pure Hyaluronic acid, 1 percent pure caffeine to visibly replump, brighten dark circles and reduce crow's feet.
7 Reasons Why You Need A Hyaluronic Eye Serum

READ MORE
SKIN CARE COMPARISON
COMPARE L'ORÉAL SKIN CARE PRODUCTS
Key Ingredient
Hyaluronic Acid
Ratings and Reviews
Complete the look
0.67 fl.oz
Revitalift Derm Intensives
Revitalift Derm Intensives 1.5% Hyaluronic Acid + 1% Caffeine Eye Serum