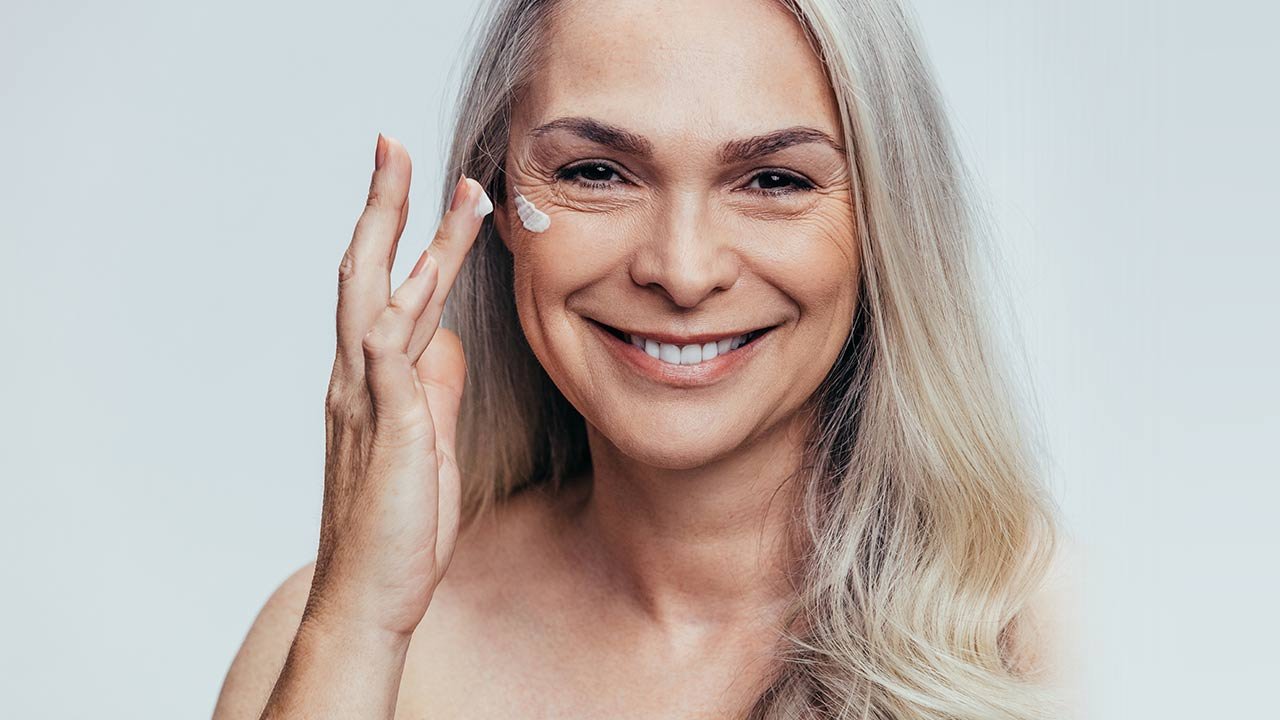 anti aging
The Best Anti-Aging Skin Care Routine
As the popular saying goes, "With age comes wisdom," but so does mature skin. However, that doesn't necessarily mean what you think it does. See, most people get caught up in thinking that once your skin starts to age, you can't keep visible wrinkles and noticeable dryness at bay—but that isn't the case. The key to giving your mature skin a youthful and radiant appearance is to form a solid skin care routine that caters to your aging skin. And this is where we come in. There are some easy ways to help care for mature skin when you're in your 40s and 50s—and we're not just talking about the basics like facial moisturizer and eye cream, which you likely already know. Make sure the following anti-aging steps are part of your skin care routine ASAP.
STEP #1. WASH WITH A CREAM CLEANSER
Regardless of your skin type or skin care concerns, daily cleansing is always a must. But if you have visibly aging skin, reach for a nourishing cream cleanser rather than a foaming one. As skin matures, it loses moisture, nutrients, and natural oils, resulting in skin that looks—and feels—drier. A creamy cleanser can help replenish moisture to the surface of your skin for a fresh look.
The L'Oréal Paris Age Perfect Nourishing Cream Cleanser is formulated with replenishing oils and gently removes all traces of makeup. Cleanse without over-drying for softer, smoother, more supple skin. Every morning and evening, lather the cleanser in wet hands before gently massaging it onto skin. Rinse thoroughly and pat dry.
STEP #2. EXFOLIATE WEEKLY
When it comes to exfoliation, keep in mind that everyone's skin is different. While some people can handle daily exfoliation (with the right skin care products), others may only be able to tolerate exfoliating once or twice a week. Pay attention to how your skin responds to determine what works for you. That said, if you notice visible signs of aging, exfoliation should be part of your skin care regimen because sloughing off dead skin cells is an essential anti-aging measure.
Reach for a gentle facial exfoliator, such as the L'Oréal Paris Revitalift Bright Reveal Brightening Daily Scrub Cleanser, which contains micro-pearls and glycolic acid, to help exfoliate away dullness and bring out more radiant-looking skin.
Editor's tip: Some facial exfoliators, such as the L'Oréal Paris Pure-Sugar Nourish & Soften Cocoa Scrub, can also be used on your lips. Aim to use a lip scrub once or twice a week (before applying your lipstick) to keep your pout looking its very best, too.
STEP #3. APPLY A SERUM
Once skin is cleansed, you're ready to move on to serum. Find the right one for your aging skin concerns below:
L'Oréal Paris Age Perfect Cell Renewal Golden Serum: As you age, cell regeneration can slow down, causing a decrease in your skin's overall vitality and radiance. Skin instantly feels smoother and softer and appears refreshed after using this non-greasy, lightweight serum, while skin feels firmer and renewed with continued use over time. Apply the serum to cleansed skin morning and night.
L'Oréal Paris Revitalift Derm Intensives 1.5% Pure Hyaluronic Acid Serum: As women mature, their skin is gradually depleted of essential nutrients, which results in less-hydrated skin. Additionally, with years of environmental damage—like the sun's aging rays—skin can become dull and parched and lose its resilience. This serum helps to replenish the skin's protective moisture barrier and helps skin look more radiant. It's formulated with hyaluronic acid, which helps to replenish moisture for softer, more supple skin.
Apply it on freshly cleansed skin before moisturizing, morning and night. When you're in a rush, you can also use it as a lightweight alternative to moisturizer. Place two to three drops in your hand and gently smooth it over your entire face and neck until thoroughly absorbed.
L'Oréal Paris Revitalift Derm Intensives 10% Pure Vitamin C Serum: As the name suggests, this targeted serum contains 10% pure vitamin C, or ascorbic acid, which is a powerful natural antioxidant. As you may know, vitamin C is naturally found in the skin, but over time, we lose the ability to produce it. Apply this serum to clean skin in the morning and evening, before you layer on your moisturizer.
STEP #4. MOISTURIZE—AND DON'T FORGET YOUR NECK AND DÉCOLLETAGE
If you have mature skin, try using a moisturizer that's formulated to revive your skin tone and stimulate skin cell renewal, like the L'Oréal Paris Age Perfect Rosy Tone Moisturizer for Mature, Dull Skin. In addition to the above, this lightweight cream has a pink hue that helps bring back skin's natural rosy look that often gets lost as skin ages.
When you apply your facial moisturizer in the morning and evening (atop your serum and underneath your makeup), don't stop at your jawline—moisturize your neck and chest area, too. Think about it: This area is just as prone to becoming dry and showing signs of fine lines, so it's important to protect and prevent.
Show your neck and décolletage some love with the help of manuka honey. This potent anti-aging skin care ingredient contains nurturing, natural oils that provide non-sticky, long-lasting hydration. To incorporate it into your routine, try using the L'Oréal Paris Age Perfect Hydra Nutrition Manuka Honey All Over Balm - Face, Neck, Chest and Hands. This balm is a true multitasker: It can be used on your face, neck, chest, and hands.
STEP #5. USE A TARGETED EYE CREAM
Don't forget to show your eye area some love, too. Choose an eye cream that addresses the visible signs of skin aging you see around your eyes, whether that's visible dark circles, fine lines, wrinkles, or under-eye bags. Try the L'Oréal Paris Age Perfect Eye Renewal Eye Cream, which can help immediately hydrate your skin, increase radiance, and diminish the look of dark circles, under-eye bags, and wrinkles with continued use over time.
Apply a small amount around your entire eye area using your fingertips and pat gently until thoroughly absorbed. Use morning and night.
Editor's tip: Honestly, you're never too young to start using an eye cream. Even if you haven't started seeing signs of aging, eye cream should have a place in your routine. If you think anti-aging skin care isn't relevant to you, check out our article, 6 Anti-Aging Tips For Beginners.
STEP #6. TRY A FACIAL OIL IN THE MORNING
As skin matures, natural oil production can decrease. Daily exposure to harmful UV rays further compromises its ability to retain moisture, leaving skin looking dehydrated and lackluster—and that's where facial oil comes in. You can use an oil to give your complexion an extra dose of nourishment and help lock in moisture. Use a lightweight, non-greasy facial oil that absorbs quickly, applying it over your moisturizer to help nourish mature skin.
STEP #7. GRAB A HYDRATING FOUNDATION
Just because you're working with mature skin doesn't mean you should avoid makeup. Rather, you'll want to look for makeup products that offer some of the same benefits as your skin care essentials, making them an honorary part of your skin care routine. For example, after you've made your way through your standard routine in the morning, apply a hydrating foundation like the L'Oréal Paris Age Perfect Makeup Radiant Serum Foundation with SPF 50. This lightweight formula evens your skin tone, moisturizes your skin, and provides natural-looking coverage for a picture-perfect finish. Best of all, this offering is formulated with SPF 30 to help protect your skin from the sun.
STEP #8. BRIGHTEN UP
Aging skin is often dull skin, and your skin care products aren't your only line of defense. You can also help brighten your complexion with makeup. For starters, try the L'Oréal Paris Age Perfect Makeup Radiant Concealer With Hydrating Serum, which is formulated with glycerin and a hydrating serum and can be used to illuminate, hydrate, and brighten your under-eye area for a glowing finish.
Once your concealer is in place, show your cheeks some love with the L'Oréal Paris Age Perfect Makeup Radiant Satin Blush with Camellia Oil. Formulated with camellia oil, this blush provides your cheeks with a luminous splash of color without the fear of a cakey or dry appearance. Be sure to follow up with a setting spray to keep your makeup in place for a long-lasting look.
Editor's tip: Nothing completes a makeup look like a set of voluminous lashes. Feel free to take your look to new heights with the L'Oréal Paris Age Perfect Makeup Lash Magnifying Mascara with Conditioning Serum. Perfect for mature lashes, this jojoba oil-rich mascara gently defines and lengthens your lashes.
STEP #9. REMOVE MAKEUP GENTLY
Let's skip to the end of the day: Before you can catch some Z's, you'll need to remove your makeup. Sleeping in your makeup is a mistake, no matter your age. To avoid the clogged pores that snoozing in makeup can bring, reach for a bottle of micellar water before bed. A cleansing water is a smart choice, since it's formulated to remove makeup, dirt, and debris in an extra-gentle manner. Saturate a cotton pad with the L'Oréal Paris Micellar Cleansing Water Complete Cleanser Waterproof - All Skin Types and sweep it over your skin until completely clean.
STEP #10. REACH FOR A WRINKLE CREAM AT NIGHT
According to the American Academy of Dermatology, sleep gives your body time to refresh and renew itself. Take advantage of that time and apply a wrinkle-fighting night cream before you drift off. That's right; it's best to use a moisturizer meant for nighttime at, well, night. Try the L'Oréal Paris Age Perfect Rosy Tone Cooling Night Moisturizer, which is formulated with imperial peony and LHA and absorbs quickly to instantly cool the skin and provide night-long hydration.
Next up: It's time to dive into your makeup routine. If you have aging skin, it impacts how you should apply foundation, eyeshadow, and everything in-between. Here are 10 Makeup Tips For Women Over 50 so you can be in the know.
Discover more tips & tricks
Keep your skin happy
See all articles