Panel 2

Panel 3

Panel 4

Panel 5

Panel 6

Panel 7

Panel 8
Bright Reveal
12% [Niacinamide + Amino Sulfonic + Ferulic Acid] Dark Spot Serum
A dermatologist validated serum that visibly fades all types of dark spots, including sun & age spots, and post-acne marks*.
$39.99

find it nearby
PRODUCT DETAILS

Bright Reveal 12% Niacinamide + Amino Sulfonic Acid + Ferulic Acid Dark Spot Serum is the answer to your dark spots, post-acne marks and imperfections. It's formulated with niacinamide to help visibly reduce the appearance of dark spots — even stubborn ones in just 1 week — plus ferulic acid and amino sulfonic acid to help gently exfoliate skin surface cells and brighten skin. The lightweight, non-greasy formula delivers visible results:

Instantly reveals more luminous and fresher-looking skin
Skin looks clearer after 2 weeks
Visibly fades all types of dark spots such as age spots, sunspots and post-acne marks*
Suitable for all skin types, including sensitive skin
Made for all skin tones
*in a clinical study over 12 weeks, expert grading of dark spots (age & sun spots) & post-acne marks
WHO SHOULD USE

Bright Reveal 12% [Niacinamide + Amino Sulfonic + Ferulic Acid] Dark Spot Serum is suitable for all skin types, including mature skin and sensitive skin. You should especially reach for this dark spot serum if you have:

Post-acne marks
Age spots
Sunspots
Dull skin
WHEN TO USE

Use Bright Reveal Dark Spot Serum after washing your face and before applying your moisturizer. Use as part of your morning and nighttime skin care routine.
HOW TO USE

Step 1. Wash your face with your Revitalift cleanser of choice.

Step 2. Apply 3 to 4 drops of Bright Reveal Dark Spot Serum to your face.

Step 3. Follow with your usual moisturizer and our NEW

Bright Reveal SPF 50 Daily UV Lotion

in the morning to protect skin.
INGREDIENTS

Niacinamide (also known as nicotinamide and vitamin B3) is a component of important coenzymes involved in hydrogen transfer. Topical application of niacinamide has a stabilizing effect on epidermal barrier function and helps decrease water loss from the skin. It improves the surface structure of aging skin and smoothes out wrinkles.

Other Ingredients:
Water, Glycerin, Alcohol Denat., Hydroxyethylpiperazine Ethane Sulfonic Acid, Dimethicone, Isopropyl Lauroyl Sarcosinate, Octyldodecanol, Peg-20 Methyl Glucose Sesquistearate, Citric Acid, Ferulic Acid, Phenylethyl Resorcinol, Sodium Hyaluronate, Trisodium Ethylenediamine Disuccinate, Cetearyl Ethylhexanoate, Isopropyl Myristate, Acrylamide/Sodium Acryloyldimethyltaurate Copolymer, Ammonium Polyacryloyldimethyl Taurate, Ci 77891 / Titanium Dioxide, Isohexadecane, Mica, Poloxamer 338, Polysorbate 80, Sorbitan Oleate, Tin Oxide, Tocopherol, Xanthan Gum, Dimethiconol, Phenoxyethanol, Fragrance. (F.I.L. N70019036/1).
DERM VALIDATION

This formula has been validated by an external panel of dermatologists that had unprecedented access to the clinical testing, stability, safety, and ingredients used in these products.
ENVIRONMENTAL & SOCIAL IMPACT

L'Oréal Paris is committed to continually improving the impact of its products throughout the product lifecycle, including the production and anticipated usage. This tool is designed to help assess the relative environmental & social impact of US L'Oréal Paris Products compared to other L'Oreal Groupe products in the same category around the world in 2020.

The calculation method was developed with the help of independent scientific experts and Bureau Veritas Certification, an independent auditor. The score takes into account 14 environmental impact factors all along the product's life cycle.

Learn more about the methodology, here

Overall environmental impact

Compared to other similar L'Oréal Groupe products sold worldwide in 2020

Carbon Footprint

12g1 per average amount used
168g per 10mL

Water Footprint

0.62 per average amount used
7.8 per 10mL

Every consumer product has some impact on the environment. A good score here does not mean a product has a positive impact or no impact on the environment. The letters and colors used in this tool are designed to help you make comparisons to other similar products in L'Oréal's global portfolio, so you can make more informed choices.

Manufacturing conditions

Made in a
100%
Renewable Energy:
>99%

Packaging facts

% of cardboard/paper certified FSC™ or PEFC:
100%
% of recycled material including colorant3 :
39%
Refillable or rechargeable:
No

Social impact of the product

The ingredients and components of this product are sourced from suppliers committed to respect the .

1 or more suppliers used in the making of this product are part of the .

1 Grams of CO2 equivalent ("face care" category average = 9.6g)
2 Water index including water quality + water scarcity (m3) - "face care" category average = 1.9
3 Excluding pumps and/or caps


Discover our evaluation methodology and all that we are implementing to reduce our impacts together.

LEARN MORE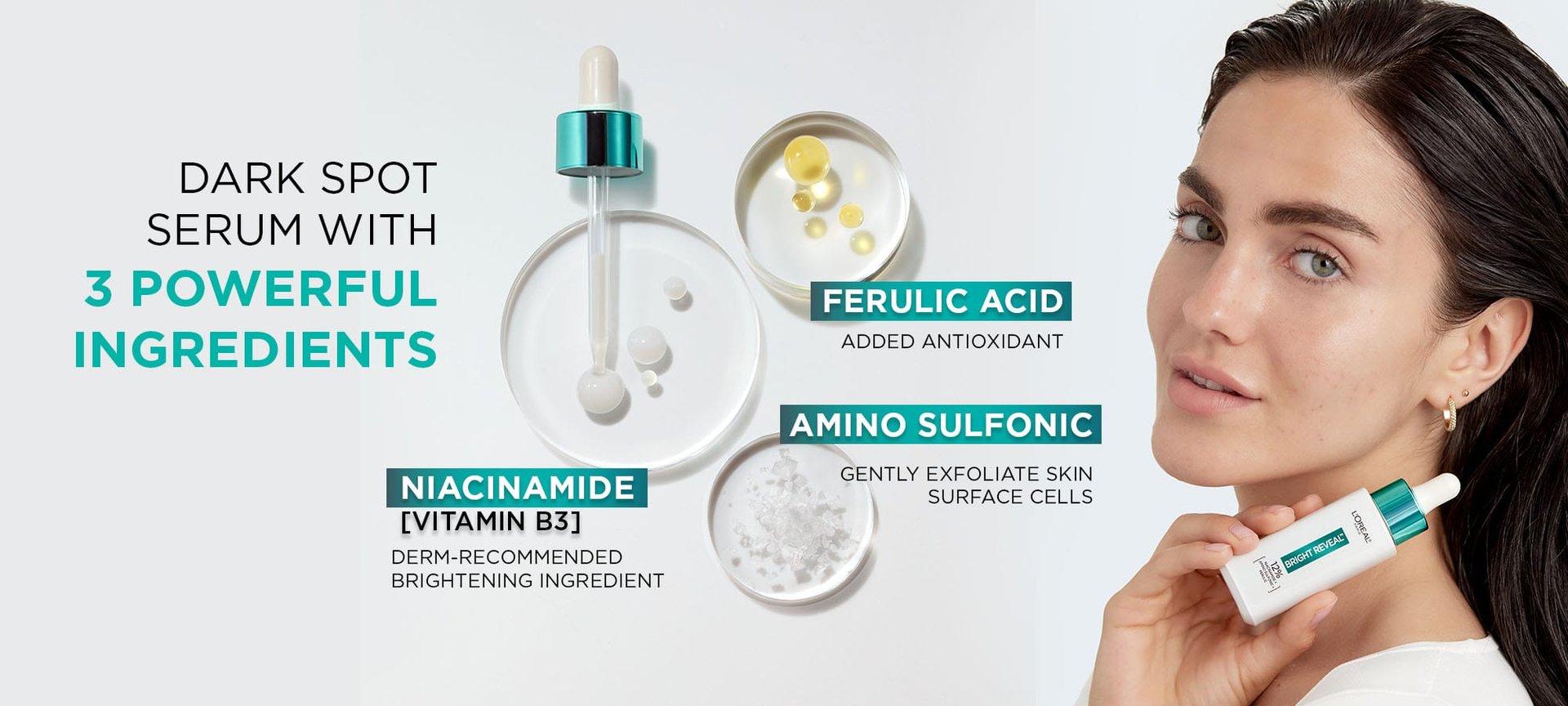 { "@context": "http://schema.org", "@type": "VideoObject", "name": "How to", "description": "Your Dark Spot Routine with Bright Reveal by L'Oréal Paris", "thumbnailUrl": "https://prd-cd-01-oap-us-us.lorealparisusa.com/-/media/project/loreal/brand-sites/oap/americas/us/products/skin-care/face-serums/revitalift-derm-intensives-12-niacinamide-amino-sulfonic-ferulic-acid-dark-spot-serum/new-medias-21-09-23/new-atf/lop_bright-reveal-real-women-application-b-thumbnail.jpg?rev=de5c3885ef794e43af9ac6e64ecd38e5", "uploadDate": "2022-09-15T15:25:56+00:00", "embedURL": "https://www.youtube.com/embed/XQZkXP9gr8E" }
Ratings and Reviews
Bright Reveal
12% [Niacinamide + Amino Sulfonic + Ferulic Acid] Dark Spot Serum
{ "@context": "http://schema.org", "@type": "BreadcrumbList", "itemListElement": [ { "@type":"ListItem", "position": 1, "item": { "@id": "/", "name": "Home" } } , { "@type":"ListItem", "position": 2, "item": { "@id": "https://prd-cd-01-oap-us-us.lorealparisusa.com/skin-care", "name": "Skin Care" } } , { "@type":"ListItem", "position": 3, "item": { "@id": "https://prd-cd-01-oap-us-us.lorealparisusa.com/skin-care/face-serums", "name": "Face Serum" } } , { "@type":"ListItem", "position": 4, "item": { "@id": "https://prd-cd-01-oap-us-us.lorealparisusa.com/skin-care/face-serums/bright-reveal-12-niacinamide-amino-sulfonic-ferulic-acid-dark-spot-serum", "name": "Bright-Reveal-12-Niacinamide-Amino-Sulfonic-Ferulic-Acid-Dark-Spot-Serum" } } ] }