face makeup
The Best Foundations For Acne Prone Skin
January 24, 2020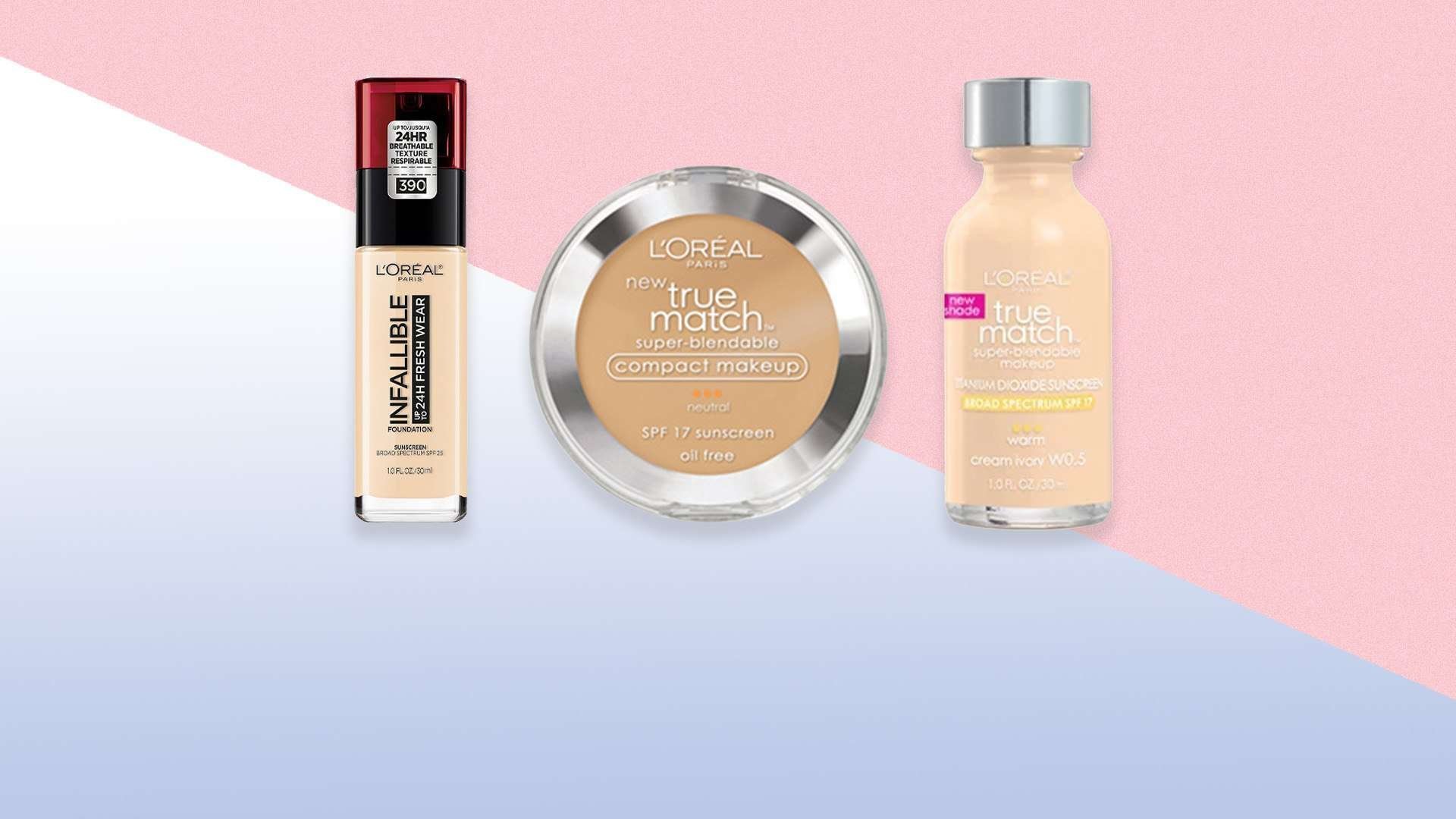 If you have acne-prone skin, you know how frustrating it is to wake up with a blemish (or a face full of them). Your first instinct may be to grab whichever foundation and concealer are in reach to cover your spots—but it's important to find the right foundation for acne-prone skin. Not all formulas are right for everyone—some might not have enough coverage while others could contain ingredients that may cause breakouts. No, thanks! Take a little time to learn about our best foundations for acne-prone skin so you'll be more equipped to cover breakouts with makeup next time.
HOW TO CHOOSE THE BEST FOUNDATION FOR ACNE-PRONE SKIN
Before heading out to buy a new foundation that will suit acne-prone skin, make sure you're familiar with the term non-comedogenic. Non-comedogenic makeup is makeup that is formulated to reduce the chances of clogging pores. You know that clogged pores can lead to breakouts—so, if you have acne-prone or oily skin, always check the label to see if the formula is non-comedogenic. Now that you're aware of what non-comedogenic foundation is, read on to find the best foundation for keeping your blemishes undercover.
OUR BEST FOUNDATIONS FOR ACNE-PRONE SKIN
While you might want to cover blemishes ASAP, you'll want to make sure that your face makeup isn't clogging your pores, too. To strike the right balance, here are our best foundations for acne-prone skin.
This foundation provides medium-to-full, buildable coverage that doesn't weigh down your skin or clog your pores. It's lightweight, long-lasting, and resistant to heat, sweat and transferring, making it the perfect choice if you have a long day (or night) ahead of you. It's also non-comedogenic and formulated with SPF, so it will cover and protect your skin at the same time.
This ultra-lightweight, matte, powder foundation gives gorgeous full-coverage without looking heavy on the skin. It beautifully blurs skin imperfections, is heatproof, sweatproof and transferproof all while being non-comedogenic and suitable for acne-prone and sensitive skin.
In addition to being formulated with Precise Match™ Technology to help you match your skin tone (seriously, it comes in 45 shades), it's one of our best foundations for acne-prone skin because it's also free of oils, fragrances, and pore-clogging fillers. It has a medium coverage with a natural finish so it will blur skin imperfections without looking cakey.
When you're on the go, a compact foundation is a great portable option since you don't run the risk of liquid spilling in your bag. Besides the convenience factor, this foundation is a prime pick thanks to its oil-free formula and weightless finish.
HOW TO APPLY FOUNDATION TO ACNE-PRONE SKIN
Once you've chosen from our list of foundations for acne-prone skin, it's time to actually apply your makeup. For a seamless finish, consider using a makeup sponge, like the L'Oréal Paris Infallible Blend Artist Foundation Blender. Apply a small amount of foundation onto the makeup sponge and pat it onto your skin to blend your foundation and cover any blemishes you might have. Build coverage to your desired level, and you're good to go.
Editor's Note: When you have acne-prone skin, it's extra important to clean your makeup blenders and brushes often to rid them of any acne-causing bacteria that could transfer from the tools to your skin.
YOUR FACE MAKEUP ROUTINE FOR ACNE-PRONE SKIN
Foundation isn't the only product in your makeup bag that might need an upgrade. Follow this step-by-step makeup routine for acne-prone skin.
STEP 1: APPLY PRIMER
When you have acne-prone skin, one of the best makeup products you can use is primer. Before applying foundation, smooth a mattifying primer, like the L'Oréal Paris Infallible Pro Matte Lock Makeup Primer, on your skin. Primer can help smooth out your skin texture and blur the appearance of imperfections like blemishes.
STEP 2: USE COLOR CORRECTOR
Have spots or marks that appear red? Reach for a green color corrector, like the L'Oréal Paris True Match™ Color Correcting Crayon in Green, to help neutralize the appearance of redness. Use the crayon point to draw over blemishes and blend well with a makeup brush or your fingers.
STEP 3: SMOOTH ON FOUNDATION
Now's the time to pick up your foundation and apply it just like we taught you above!
STEP 4: CONCEAL
If blemishes are still peeking through, finish your face makeup routine with concealer. Reach for the L'Oréal Paris Infallible Full Wear Concealer Waterproof, Full Coverage, and cover up any imperfections that are visible. This full-coverage concealer will cancel out any redness without being too heavy.
STEP 5: SET WITH POWDER
The last step in your acne-prone foundation routine is to lightly set your face with powder to make sure your makeup stays in place. The L'Oréal Paris Infallible Pro-Sweep & Lock Loose Setting Face Powder is a great option because it's translucent meaning it won't alter the color of your foundation, and it's ultra-lightweight so it won't make your makeup look cakey.
Photo Credit: Sarah Duviver
Next: This Powder Foundation Completely Changed My Makeup Routine
{ "@context": "https://schema.org/", "@type": "WebPage", "speakable": { "@type": "SpeakableSpecification", "cssSelector": ["speakable-content"] }, "url": "https://www.lorealparisusa.com/beauty-magazine/makeup/face-makeup/best-foundations-for-acne-prone-skin" }
Discover more tips & tricks
Keep your skin happy
See all articles
Shop Featured products
Discover More
{ "@context": "http://schema.org", "@type": "BreadcrumbList", "itemListElement": [ { "@type":"ListItem", "position": 1, "item": { "@id": "/", "name": "Home" } } , { "@type":"ListItem", "position": 2, "item": { "@id": "https://www.lorealparisusa.com/beauty-magazine", "name": "Beauty Magazine" } } , { "@type":"ListItem", "position": 3, "item": { "@id": "https://www.lorealparisusa.com/beauty-magazine/makeup", "name": "Makeup Tips For Every Look" } } , { "@type":"ListItem", "position": 4, "item": { "@id": "https://www.lorealparisusa.com/beauty-magazine/makeup/face-makeup", "name": "Face Makeup" } } , { "@type":"ListItem", "position": 5, "item": { "@id": "https://www.lorealparisusa.com/beauty-magazine/makeup/face-makeup/best-foundations-for-acne-prone-skin", "name": "best-foundations-for-acne-prone-skin" } } ] }