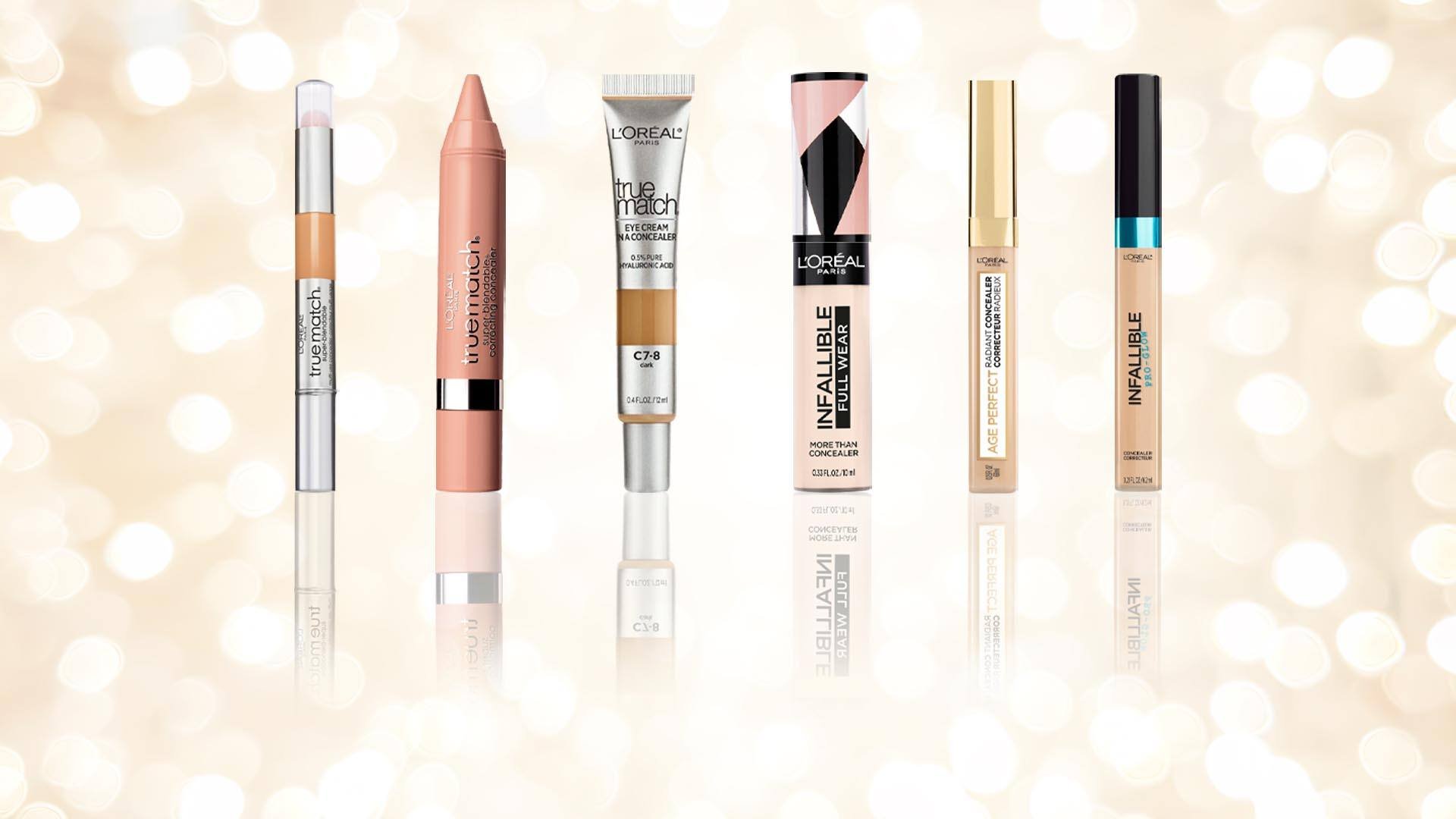 face makeup
How To Pick The Best Concealer For You
By now, you probably know that concealer is a must for your makeup bag. But just because you know it's a necessity doesn't mean you're using the right formula for your individual needs. If you're on the hunt for the best concealer for you, we have you covered. Ahead, we break down our best L'Oréal Paris concealers for your next makeup look, based on what you're looking for.
Our Best Concealer For Full Coverage
If you want a concealer that will cover even the most stubborn of blemishes (and even tattoos!), turn your attention to the L'Oréal Paris Infallible Full Wear Concealer Waterproof, Full Coverage. Aside from offering full-coverage, the pick also has our widest shade range with 25 colors total. It also features an extra-large applicator for maximum coverage in a single swipe and a flawless matte finish.
How to use it: Apply concealer directly onto imperfections and blend with your finger, a brush, or makeup blender.
Our Best Concealer With Skin Benefits
Skin care-makeup hybrids are all the rage as of late, which is why a concealer with skin care benefits may be on your radar. Our L'Oréal Paris True Match Eye Cream in a Concealer, 0.5% Hyaluronic Acid is a concealer-eye cream—yes, two products in one. The formula contains hyaluronic acid and is meant to provide long-lasting hydration while simultaneously covering dark circles instantly. This is an ideal option for those who love to streamline their routine with multi-tasking products.
How to use it: Dab around the eye area or blemishes and gently smooth with your fingers, brush, or a makeup sponge to blend onto your skin.
Our Best Concealer For Mature Skin
Those with mature skin may find that they need makeup products formulated specifically for their skin type. That's where our L'Oréal Paris Age Perfect Makeup Radiant Concealer with Hydrating Serum comes in. The formula contains a hydrating serum and glycerin, working to hydrate and illuminate mature skin while minimizing imperfections.
How to use it: Dot concealer onto imperfections or under your eyes. Pat with your finger or a makeup sponge to blend.
Our Best Concealer For Natural Coverage
If you don't have a lot of blemishes to worry about, are simply using a concealer to brighten your under-eye area, or notice your foundation did most of the work, you may be looking for an offering that resembles your skin. Our L'Oréal Paris True Match Super-Blendable Multi-Use Concealer fits the bill. The medium-coverage option is infused with haloxyl and glycerin, working to conceal and correct dark circles while brightening the under-eye area for an awakened, radiant look. It also has a soft-touch cushion applicator that makes using the product a breeze.
How to use it: Twist the end of the concealer pen to release the formula into the retouching applicator. To conceal dark circles, apply to the under-eye area in an upside-down triangle shape. For correcting and concealing blemishes, dot onto specific areas and blend.
Our Best Concealer For Color-Correcting
Concealer isn't just for covering up. It can also be used to neutralize areas of discoloration on your face. That's where the best color-correcting concealers, like our L'Oréal Paris True Match Color Correction Crayon, come in. This option features five pastel shades that are meant to camouflage common concerns like dark circles, hyperpigmentation, and blemishes. For more information on the method of color correction and the color wheel, here's Your Guide To Color Correcting.
How to use it: Apply under foundation to targeted areas.
Our Best Concealer For Radiance
We'll always be in favor of a little extra glow when it comes to our face makeup. That's why our best concealer for radiance, the L'Oréal Paris Infallible Pro-Glow Concealer, is worth knowing. The lightweight offering has an ultra-blendable, longwear formula that offers luminous, buildable coverage. It's perfect for adding a dose of glow while disguising any areas you'd like to hide.
How to use it: Apply over foundation to conceal imperfections and dark circles. For a highlight, use a shade lighter than your skin tone on your cheekbones, inner corners of your eyes, bridge of your nose, and center of your forehead.
Discover more tips & tricks
Keep your skin happy
See all articles
Shop Featured Makeup products
Discover More