face makeup
These Silicone-Based Primers Help Makeup Last All Day
September 11, 2020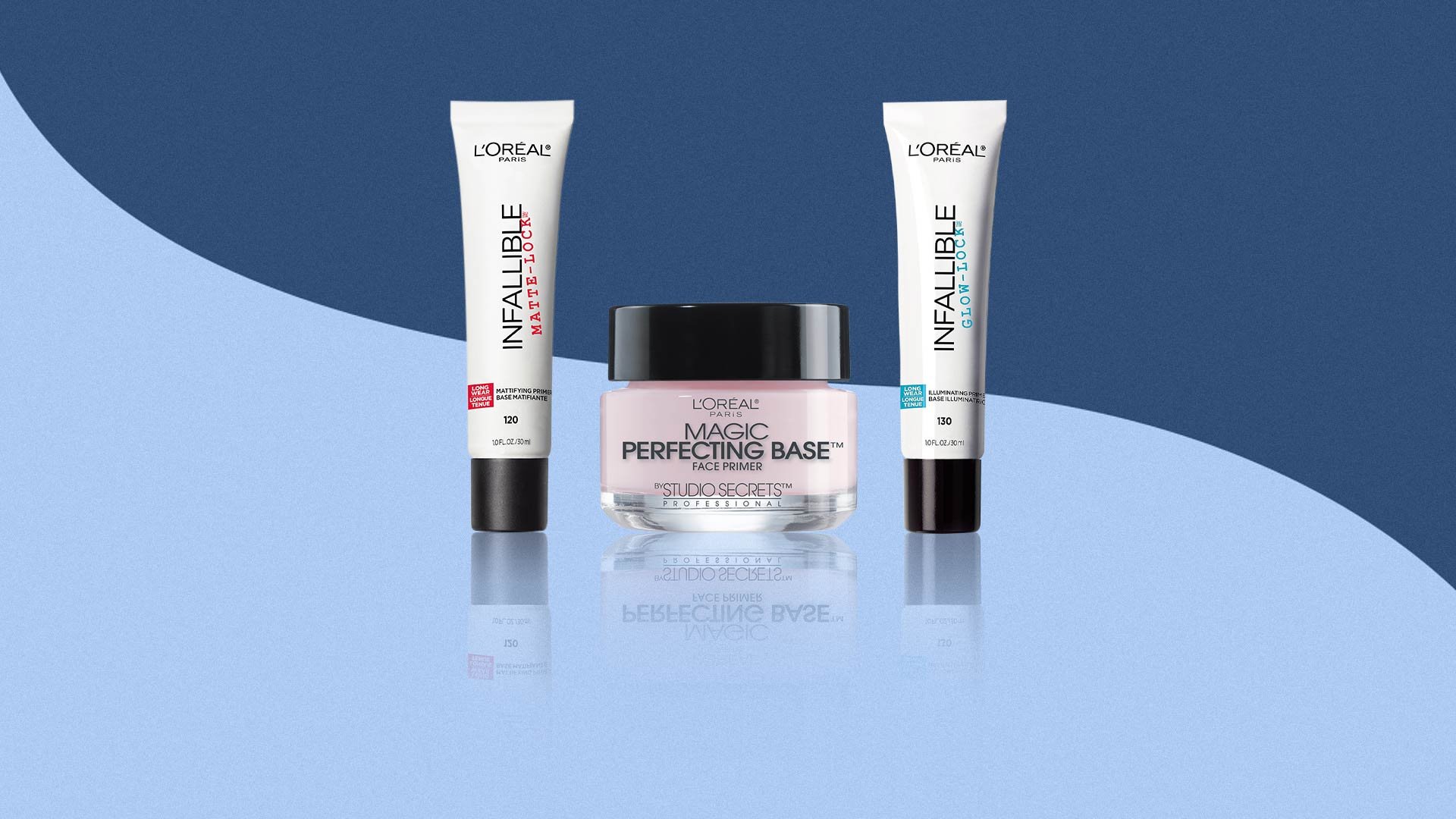 As a makeup lover, chances are you're no stranger to the wonders of makeup primer. This handy makeup product helps create a smooth, even base for the products to follow—not to mention it keeps your makeup look from budging or fading throughout the day and night. If you're looking to add one to your makeup bag stat, consider reaching for a silicone primer. To make your life easier, we've done the work for you by putting together a list of our very own L'Oréal Paris silicone-based primer options. But first, let's cover what silicone primer is and how it differs from other formulas.
What Is a Silicone-Based Primer?
A silicone primer is one that's formulated with silicone; it's as simple as that. The alternative is a water-based primer.
Like all good makeup primers, silicone-based primers help create a smooth canvas for applying makeup while increasing how long your look wears. This type of primer in particular is ideal for visibly reducing the appearance of fine lines and wrinkles and minimizing the look of large pores. They often have blurring properties in addition to helping your making last longer. Typically, silicone primers will also leave your skin with a velvety feel.
Our Best Silicone-Based Primers
Without further ado, here are our best silicone-based primers to try.
L'Oréal Paris Studio Secrets Professional Magic Perfecting Base: It's safe to say we'd all like to have perfect skin texture, and that's where this silicone primer comes into play. Our Magic Perfecting Base instantly smooths the appearance of your skin. The silky, lightweight formula glides onto skin and minimizes the look of pores and fine lines. It will also give your complexion a unified, matte finish that's ideal for those with oily skin.
How to use it: Allow your moisturizer to absorb completely. Apply dot by dot and blend in a gentle circular motion over the whole face or on targeted areas, such as under your eyes to smooth over fine lines, the nose and cheeks to minimize the appearance of pores and blemishes, or your T-zone for a matte finish.
L'Oréal Paris Infallible Pro-Matte Lock Makeup Primer: If you're a fan of silicone-based primers with a matte finish, we have another option up our sleeve that you're sure to find enticing. This face primer perfects your complexion by smoothing skin for better makeup application. The formula blurs imperfections and keeps oil at bay, leaving you with a matte finish that lasts all day (and night).
How to use it: Apply the primer to clean skin, focusing on areas prone to oil (think: forehead, nose, and chin), before reaching for foundation.
L'Oréal Paris Infallible Pro-Glow Lock Makeup Primer: For those that prefer a radiant complexion, you'll want to use a primer that has a glowing finish. This silicone primer preps for makeup, perfects your complexion, and illuminates while it hydrates your skin for better makeup application. The glowing formula leaves skin with a healthy, radiant glow that lasts all day. Thanks to its hydrating properties, it's a noteworthy pick for those with dry skin.
How to use it: Apply the primer all over cleansed skin to prep for makeup.
L'Oréal Paris Magic Lumi Primer Magic Lumi Light Infusing Primer: Another illuminating option, the unique liquid lightweight formula of this silicone-based primer blends seamlessly into skin to boost its liveliness and luminosity. It smooths the texture and evens the tone for a natural-looking complexion.
How to use it: For a subtle, dewy look, apply the primer to cleansed skin before heading out the door. You can also mix it with your foundation for an all over radiant finish or dab it on key areas as a highlighter.
L'Oréal Paris Visible Lift Radiance Booster: This skincare-based primer instantly boosts radiance while hydrating skin all day. The formula is enriched with nourishing oils and iridescent pearls, leaving skin looking and feeling softer and more luminous. The lightweight, non-greasy primer never settles into lines or wrinkles and instead creates a smooth, clean canvas for your makeup application.
How to use it: Use alone for all-over radiance or under makeup to create a smooth, illuminated base.
Next up: Now that you're familiar with silicone-based primer, switch gears and learn about a popular water-based makeup product with Your Guide To Water-Based Foundation.
{ "@context": "https://schema.org/", "@type": "WebPage", "speakable": { "@type": "SpeakableSpecification", "cssSelector": ["speakable-content"] }, "url": "https://www.lorealparisusa.com/beauty-magazine/makeup/face-makeup/silicone-based-primer" }
Discover more tips & tricks
Keep your skin happy
See all articles
Shop Featured Makeup products
Discover More
{ "@context": "http://schema.org", "@type": "BreadcrumbList", "itemListElement": [ { "@type":"ListItem", "position": 1, "item": { "@id": "/", "name": "Home" } } , { "@type":"ListItem", "position": 2, "item": { "@id": "https://www.lorealparisusa.com/beauty-magazine", "name": "Beauty Magazine" } } , { "@type":"ListItem", "position": 3, "item": { "@id": "https://www.lorealparisusa.com/beauty-magazine/makeup", "name": "Makeup Tips For Every Look" } } , { "@type":"ListItem", "position": 4, "item": { "@id": "https://www.lorealparisusa.com/beauty-magazine/makeup/face-makeup", "name": "Face Makeup" } } , { "@type":"ListItem", "position": 5, "item": { "@id": "https://www.lorealparisusa.com/beauty-magazine/makeup/face-makeup/silicone-based-primer", "name": "silicone-based-primer" } } ] }