skin care concerns
What Does Non-Comedogenic Mean, Plus Our Best Non-Comedogenic Products
October 11, 2019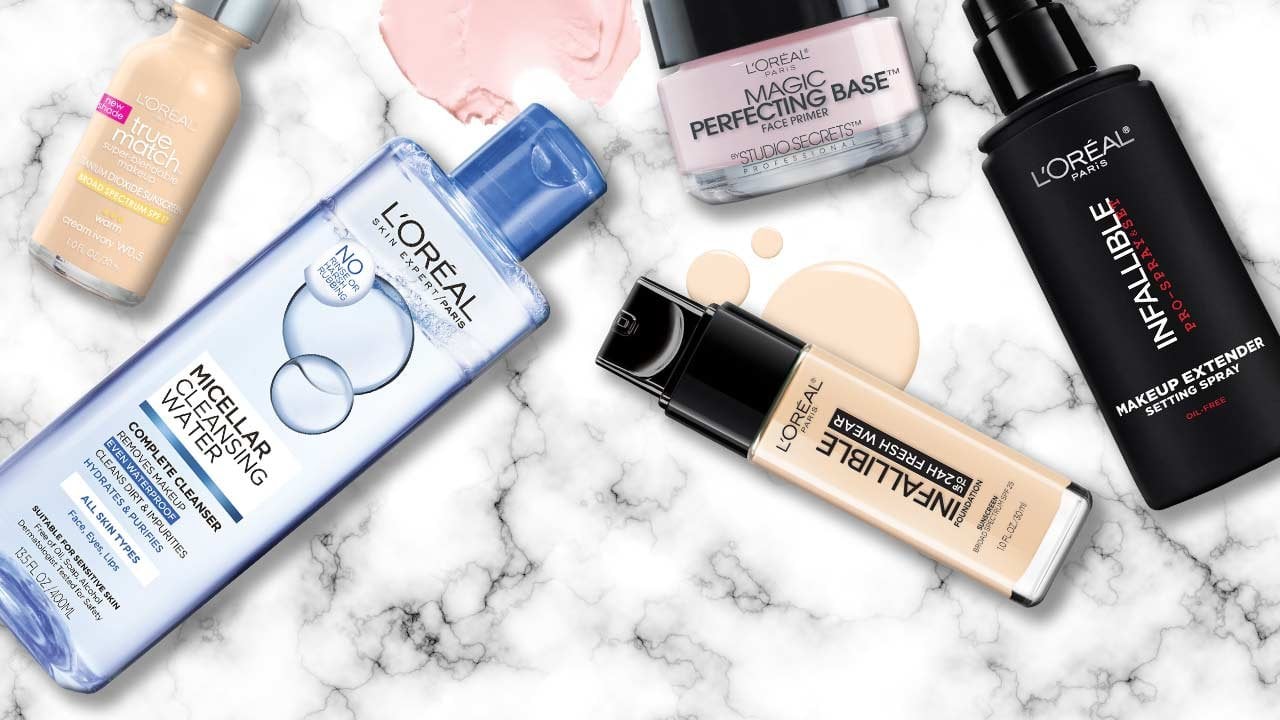 On a list of beauty terms commonly found on product labels, the word "non comedogenic" would sit pretty close to the top. Chances are a handful of your favorite skin care and makeup products have "non-comedogenic" plastered on the label, especially if you use products designed for acne-prone skin. While it is a buzzword in the beauty industry, not everyone is aware of exactly what it means—or how beneficial products like non comedogenic moisturizer and sunscreen can be. That's where we can help. Below, we're explaining the meaning of the term and sharing our picks for our favorite non comedogenic makeup and skin care products (including non comedogenic foundation) to add to your arsenal.
WHAT IS A COMEDO?
To understand the origin of the word "non-comedogenic," it's important to explain what a comedo is first. A comedo is a clogged pore. A comedo can be closed (also known as a blackhead) or open (also known as a whitehead). The larger a comedo is, the more noticeable it will be. The clog is typically a combination of excess sebum—the waxy substance that lubricates the skin's surface—dirt, impurities, and dead skin cells. To help reduce the risk of a comedo forming on your skin, experts recommend cleansing twice per day and using non-comedogenic beauty products.
WHAT DOES NON-COMEDOGENIC MEAN?
When non-comedogenic is listed on a product's label, it indicates that the product has been specially formulated not to clog the pores. Many people wrongly assume that all non comedogenic products can help address the look of pre-existing acne, but this is not necessarily the case. Non-comedogenic products can reduce the risk of future blemishes forming due to blocked pores, which is why they are often recommended for acne-prone skin types.
OUR BEST NON-COMEDOGENIC MAKEUP PRODUCTS
If you want to give non-comedogenic makeup products a try, we've rounded up a handful of our favorite non-comedogenic makeup formulas, below.
L'Oréal Paris True Match Eye Cream in a Concealer, 0.5% Hyaluronic Acid: This concealer-eye cream hybrid is really all we could ask for when it comes to a non-comedogenic concealer. The formula offers instant dark circle coverage while also providing your eye area with long-lasting hydration thanks to the help of pure hyaluronic acid.
How to use it: Dab around the eye area and gently smooth the formula with your fingers, a brush, or a sponge to blend onto your skin and cover dark circles.
L'Oréal Paris Studio Secrets Professional Magic Perfecting Base Face Primer: If you aren't currently using a primer before your makeup application, allow this skin-perfecting face primer to change your mind. Suitable for all skin types, this lightweight formula can smooth lines and minimize the look of pores and imperfections. The result is skin that's velvety smooth and prepped for makeup.
How to use it: After moisturizing, apply the primer on bare skin. Blend using gentle, circular motions over the entire face. Follow with your foundation of choice. If you're not wearing makeup, no problem—this primer can also be worn on its own for a flawless matte finish.
L'Oreal Paris True Match Super Blendable Makeup: The main purpose of foundation is to even the skin's tone and mask the look of imperfections. While there's no shame in applying foundation daily, the best formulas are those that blend out seamlessly and don't look cakey. For an easily blendable formula that can match both your skin tone and undertone, reach for any one of True Match Super Blendable Makeup's 45 true-to-skin shades.
How to use it: Dot the foundation onto your cheeks, nose, chin, and forehead. Blend the foundation out toward your hairline using your fingers, a makeup sponge, or a foundation brush. For longer-lasting wear, sweep your favorite translucent setting powder over top.
L'Oreal Paris Infallible Up to 24HR Fresh Wear Foundation, Lightweight: If you're looking for a non-comedogenic foundation formula that can stand up to just about anything, meet your match. This lightweight foundation is sweat, transfer, and water-resistant—which is exactly what you need. Bonus: If you're trying to find a non-comedogenic sunscreen, this foundation is formulated with broad-spectrum SPF 25.
How to use it: Apply all over the face with your fingers or a brush, or use a beauty sponge to blend.
L'Oreal Paris Infallible Pro-Spray and Set Make-Up Oil-Free Setting Spray: If you're investing time and energy into your makeup look, of course you'll want it to last for as long as possible. This lightweight, oil-free setting spray can help prolong the look of your face makeup and prevent smudges and smears.
How to use it: Shake well. Close eyes and spray your face four to six times in an "X" and "T" motion. Avoid spraying in the eyes.
OUR BEST NON-COMEDOGENIC SKIN CARE PRODUCTS
If you're searching for some non-comedogenic skin care products, consider one (or more) of the below!
L'Oréal Paris Revitalift Derm Intensives Night Serum, 0.3% Pure Retinol: If you're interested in trying retinol, this non-comedogenic serum fits the bill. The formula works to reduce the appearance of wrinkles, smooth skin, and leave you with a brighter-looking complexion—all without clogging your pores.
How to use it: Since this serum contains a high potency of retinol, you'll want to give your skin time to adjust. Start by using two to three drops a few times a week onto cleansed skin before moisturizer, gradually increasing your usage each week until you slowly move to nightly use.
L'Oréal Paris Ideal Clean All Skin Types Foaming Gel Cleanser: This gel cleanser has a non-comedogenic formula that gently removes makeup and buffs away impurities, leaving skin refreshed and radiant. It's fit for all skin types and won't leave any tightness or residue.
How to use it: Wet face and hands with lukewarm water, then work a small amount of gel into a foamy lather and massage onto face with a gentle, circular motion. Rinse with lukewarm water and pat dry with a soft towel. Follow up with a non-comedogenic moisturizer.
L'Oréal Paris Micellar Cleansing Water Complete Cleanser Waterproof - All Skin Types: Another non-comedogenic cleanser option, this micellar water removes makeup—even waterproof mascara. The formula completely cleans skin in one step, leaving it feeling hydrated and purified.
How to use it: Saturate a cotton pad, then gently wipe over your face until skin is completely clean.
L'Oréal Paris Clean Artiste Waterproof & Long Wearing Eye Makeup Remover: This non-comedogenic eye makeup remover instantly dissolves every trace of eye makeup, even long-wearing foundations and waterproof mascaras, while gently conditioning your lashes.
How to use it: Saturate a cotton ball with the remover, close eyes, and sweep the cotton ball gently across your lids until all traces of makeup are gone.
Discover more tips & tricks
Keep your skin happy
See all articles
Shop Featured Makeup products
Discover More